Best Zoho Projects Alternative for Business Management
Business management can be affordable and simple if you're using the right tool. Try our all-in-one cloud-based solution Flowlu, the Best Zoho Projects Alternative for Business Management. Manage your projects, track progress, and collaborate with your team and customers efficiently. Try Flowlu as Zoho Projects Alternative to make your business management simple, quick and affordable!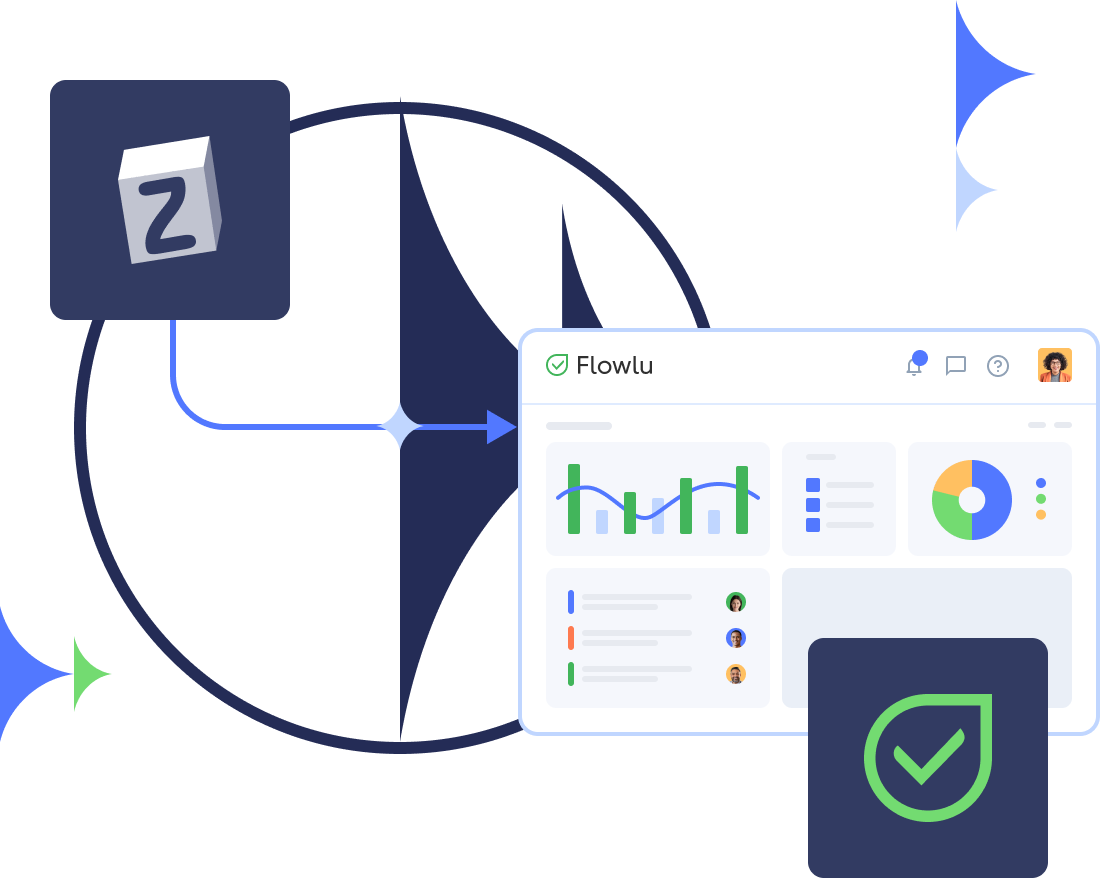 All-in-One Software for Business Management
Finding the best and affordable alternative to Zoho Projects is not a challenge anymore, because with Flowlu, you can manage your entire business and with fewer resources. Flowlu provides you with fully customizable tools, while Zoho does not. Flowlu is a user-friendly tool and has an intuitive interface. You don't have to deal with too complicated tools anymore.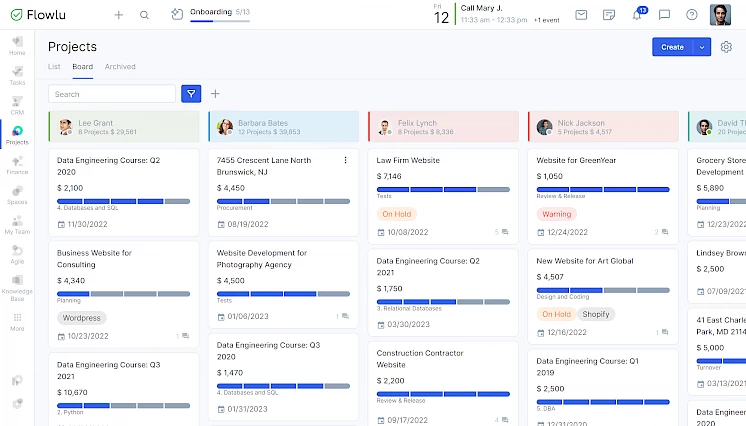 Visualize Workflow With Kanban Board
Each project is unique, so why not customize the task board to your needs? Flowlu Kanban board allows you to create custom task stages and track progress more accurately. Assign employees and collaborators and set up permissions. With Flowlu, the task board covers the needs of each business.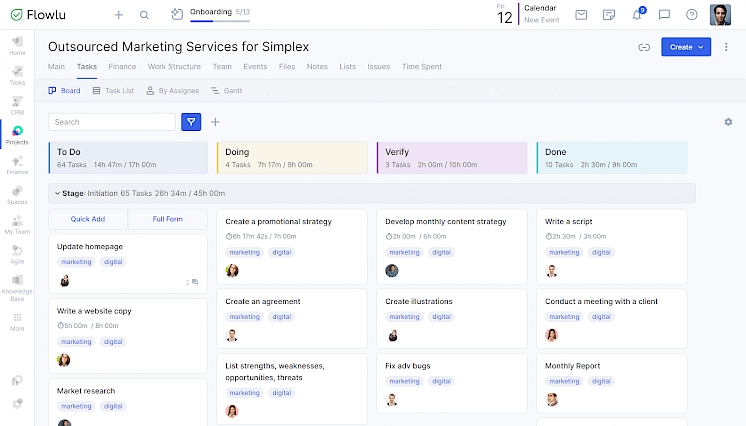 Track Required Time with Ease
Track the time elapsed with powerful tools. Each task or the whole project — everything can be estimated with Flowlu. Log billable hours manually or automatically to get the payment based on your efforts. In Flowlu, invoices can be created automatically due to estimated time, while you can focus on more profitable things.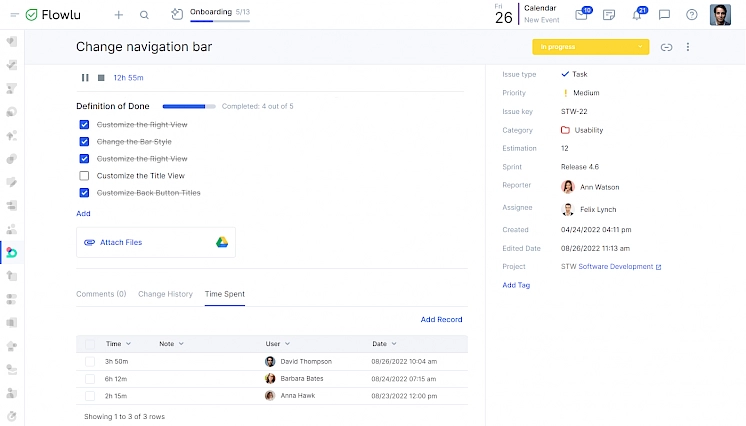 Create Custom Fields, Lists and Templates
We know that sometimes you need more than just default fields, that's why you can set up custom lists and fields. Now you can add more context to your CRM cards to provide smooth sales, while custom lists will help you to organize information relying on your needs. To save more time, you can create templates for any activity, from tasks to invoicing.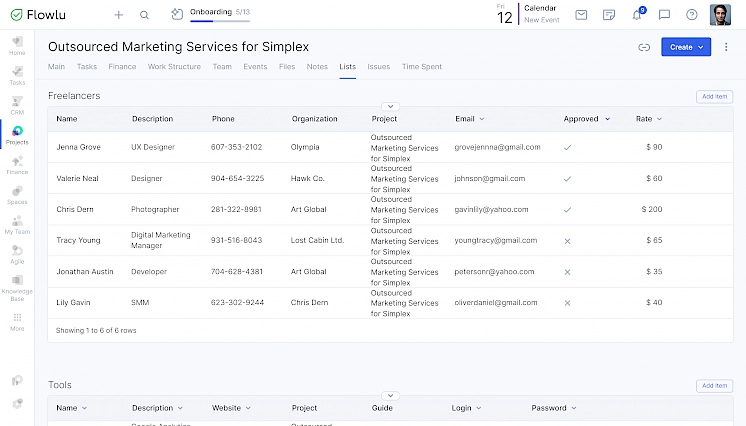 Integrate With Other Apps
Want to integrate issues, tasks or whole projects from other apps? That's not a problem with Flowlu. Try ready-to-use integrations or use a Flowlu open API to set up your own integration. Popular email and telephony integrations can be linked in a few seconds. Calendars or mailboxes — with Flowlu, you will keep all data in one place.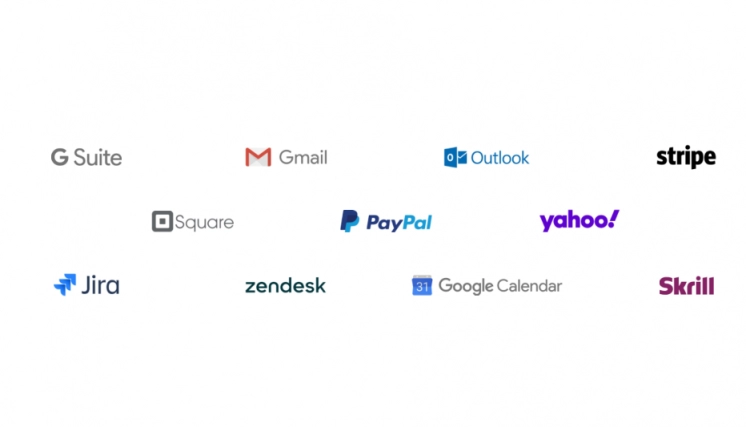 Set Up Project Workflows and Automation
Plan your project from start to finish. Set up workflows and define each stage, assign performers to tasks and customize automation rules to make workflow smooth. As it works on its own, you can focus on more important things. Highly configured workflows and automation rules will help you to keep profitable and bring value to your customers.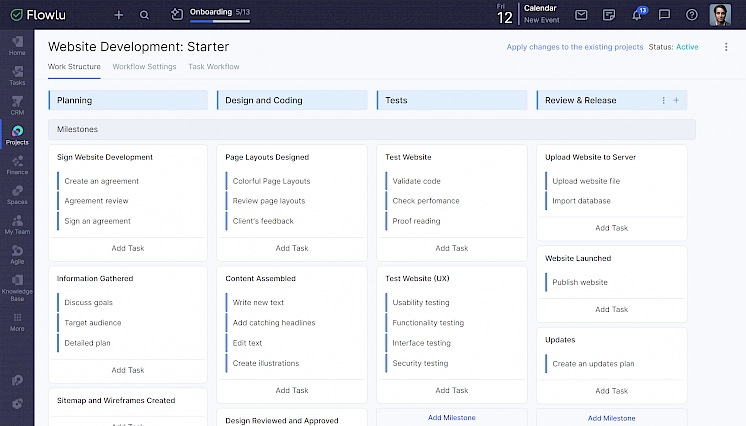 Get Full Overview with Reports
Create detailed reports or place dynamic data on your dashboard. With Flowlu, you can track each part of your projects. An advanced reporting system allows you to get the whole overview with Gantt Chart for tasks, a cash flow for each project, CRM results and other indicators. Full insights will help to make your business and budget management effective.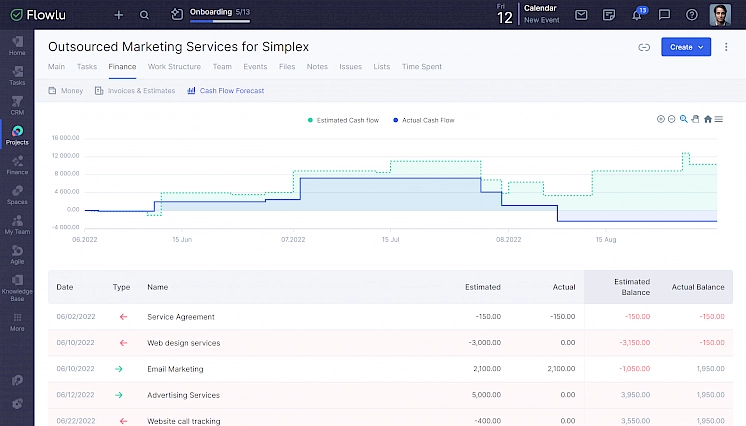 Record Project Issues
Import issues from other apps or create tickets right on the project card, that's all possible with Flowlu. Issue logging is a powerful tool for managing bugs and team cooperation. Keep all suggestions in one place and organize tickets to quickly resolve issues.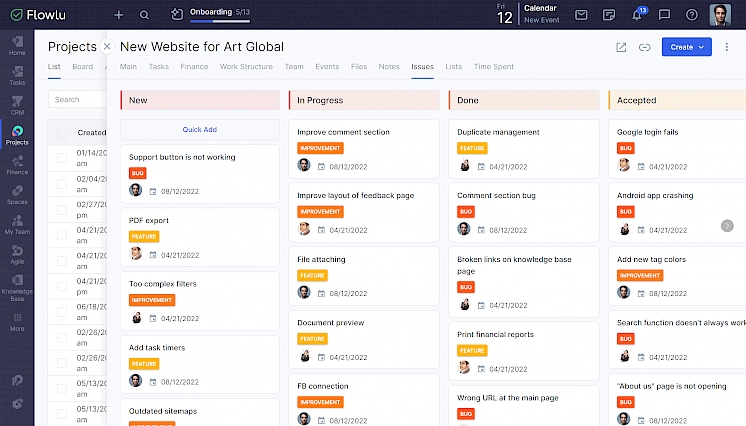 Manage Agile Projects
Flowlu will help you to manage your project planning and stay flexible with Agile and Scrum. Create backlogs and sprints, estimate your progress in story points and get the whole insights of your projects. While other apps give you strict frameworks, Flowlu is a good alternative if you want to deliver quick and better results based on dynamic data. Stay tuned on your project with task scheduling, which you can track even in a mobile app.