Registration
---
The registration in Flowlu service is very simple and takes less than a minute.
To create an account, click the Sign-Up button to register on the official website of the service.
1. Enter the following information:
e-mail—your e-mail, where information on registration and system notifications will be sent to;
website address—for example, your company name. Then, link to your website will look like this: https://mycompany.flowlu.com
password—it should not be less than 6 characters.
2. Choose a module that you're planning to use. You can delete modules you do not need and install new ones at any point of time.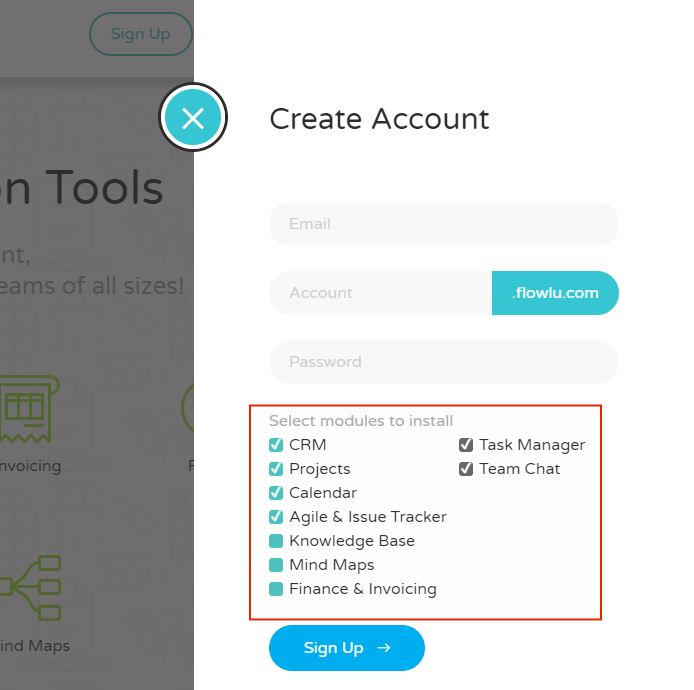 After successful registration in Flowlu, you will get an e-mail confirmation containing a link to an account and your login.
Congratulations on registration in Flowlu service!
After registration, you are immediately transferred to the Feed. Let's take a closer look at the main elements of the interface and fill in your personal profile.
In the Feed, you will see useful tips on working with the service. All employees, who are invited to the website, will be able to post regular messages, announcements, and polls.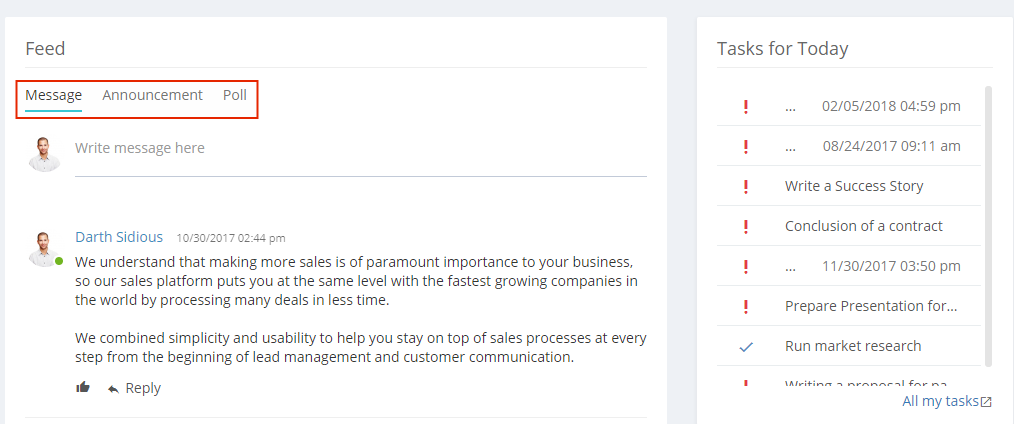 If needed, you can delete tips on working with the system. For this purpose, place the cursor on a tip and the cross sign will appear in the top right corner.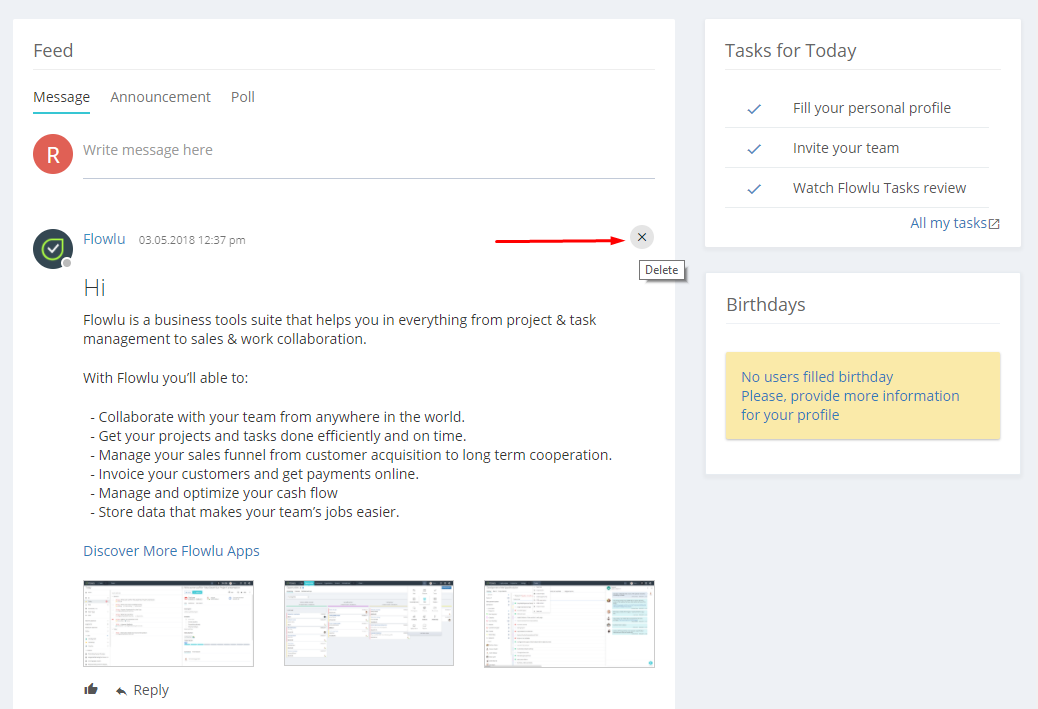 The buttons for the system applications—Tasks, CRM, Projects, Knowledge Base, Reports, etc. are placed in the top right corner. Clicking Get More Apps, you can go to the full list of applications to install new or delete unnecessary applications.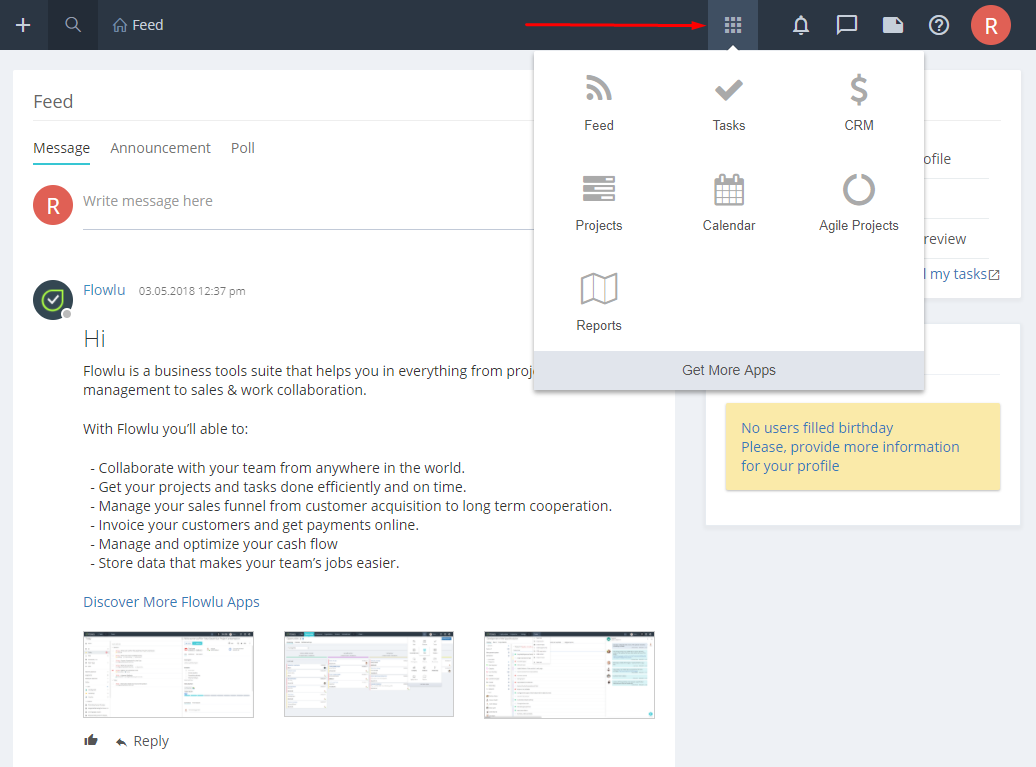 On the top panel, next to Flowlu logo, there is a "+" button which allows you to create a task, an event, a project, an opportunity, new CRM organization or CRM contact and other (1). Next to it, there is the button which provides a global search of information in the system (2). Here is the name of the section where you are now (3).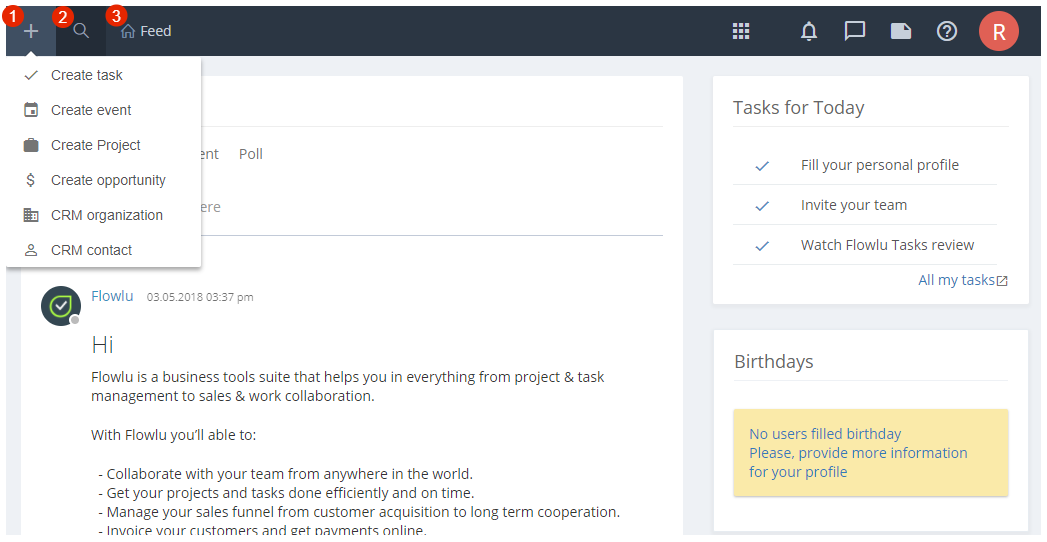 In the top right corner, there are buttons for quick access to notifications (1), chats messenger (2), personal notes (3), online support and last system update (4), personal profile and system settings (5).

Your tasks for today and the upcoming birthdays of your colleagues will be displayed below.
---