How to Set Up a Custom Email Address
How to Set Up a Custom Email Address
---
All emails such as invoices, invites, etc. are sent from Flowlu internal address.
You can replace this address with your own custom email address, e.g. invoice-service@yourcompany.com.
You'll also need access to your DNS settings to send email from your own custom email domain.
What messages are sent from our internal address?
user invitations to the account
email notifications (duplicate to email option)
messages for sending invoices and estimates
thank-you-for-payment emails

Please note that you can send your own emails (not system emails) from your address using email integration.
How to verify your custom email address
Go to System Settings → Main Settings → Custom Email Domain.
Enter your domain address, e.g. example.com, and click Add. Please note that you should indicate here the domain name without any @ symbols (not an email address).

Copy the SPF in your Flowlu account.
Open the DNS settings of your domain and create a new TXT record.
In the Target (Content) field, add the copied text from the SPF record. Save it. If the SPF record already exists, add only "include: _spf.flowlu.com".
Go back to Flowlu settings and copy the Host field from the DKIM section.
Create a new TXT record in your DNS settings. In the Name field paste the copied text from Host (DKIM). Please do not save at this step.
In your Flowlu account, copy the Value field from the DKIM section.
Paste this text into the Value (Content) field of the TXT record. Save.
It takes a while for SPF and DKIM to be available on the DNS server. Please wait for about an hour and only then click Validate.
Once the domain is validated, you will see the confirmation next to its name.
You can always disable sending emails from your domain by simply clicking on the appropriate button.
Please note: Sometimes the hosting providers do not allow to create long TXT records (DKIM). Contact your domain host to find out if TXT records longer than 255 characters are supported. If it is supported, find out what steps are required to update your DNS records with the domain key. The steps are different for different domain hosting services.

If you were unable to authenticate your domain

You can check the SPF record with this tool https://toolbox.googleapps.com/apps/dig/#TXT/
Records should look like this (where it will be your domain instead of goesflow.com):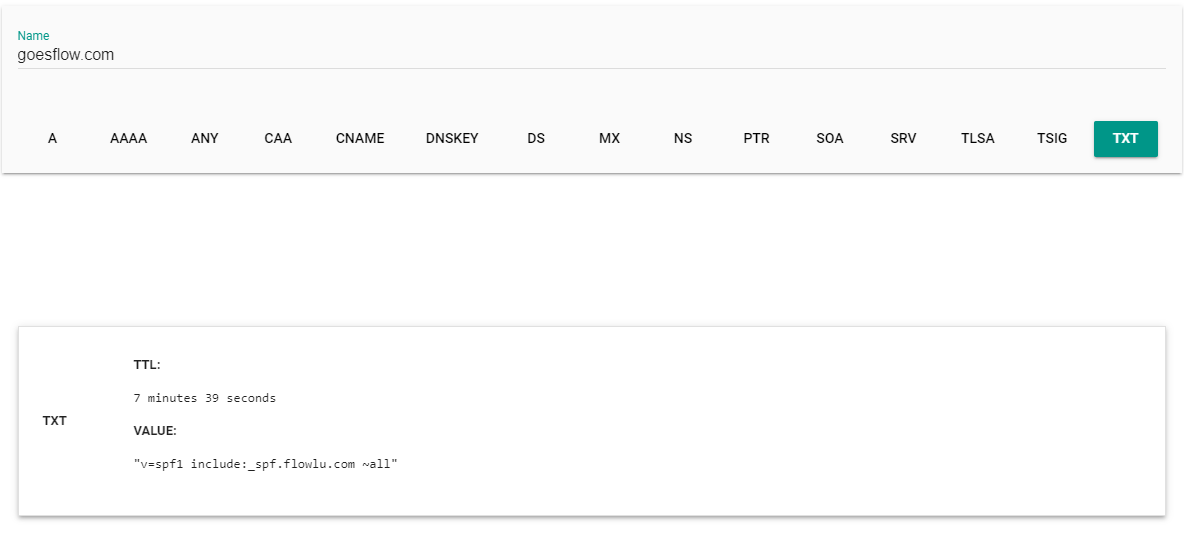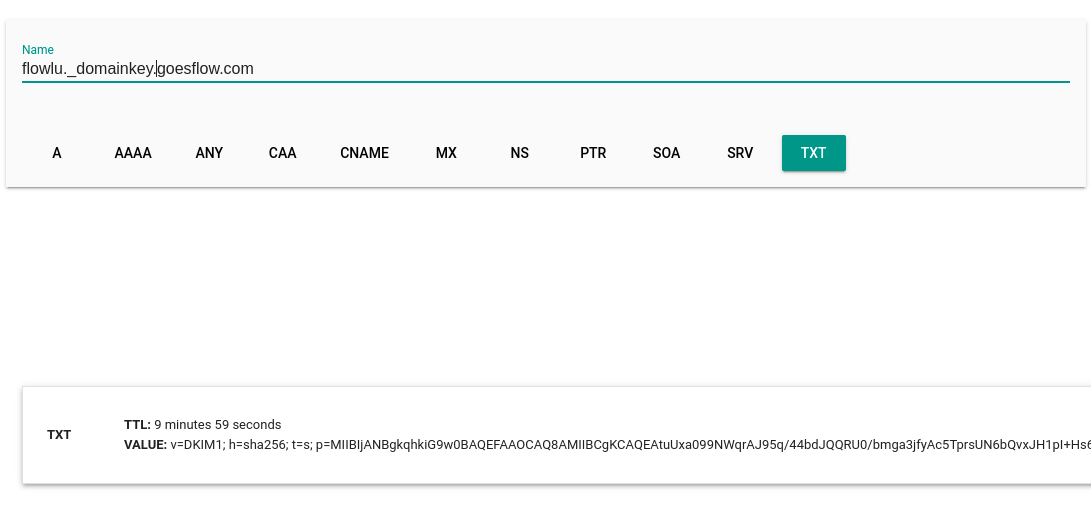 IMPORTANT: there must be only one SPF record! If you already have one, you need to add include:_spf.flowlu.com to the existing record.