Use Case: Flowlu for Task Management
Use Case: Flowlu for Task Management
---
Flowlu is a solid tool for task management that allows you to prioritize your work, stick to deadlines and gain control of your team's assignments.
Let's get started!

Step 1: Create Task Statuses

Each task follows a specific path like To Do, In Progress, Completed. In Flowlu, you can create task statuses specific to your business needs. Moreover, you can configure several sets of statuses to apply to different processes.
Read this guide to learn how to create task statuses.

Step 2: Add Custom Fields

Create unique fields for your task with the custom fields. You can choose between various field types such as text, date, price, number, formula, checkbox and much more. For example, you can create a drop-down field for a task assessment or a task category. After that, you can easily filter your tasks by the custom fields.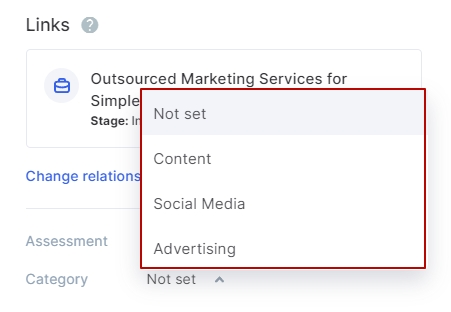 Step 3: Enable Notifications
Choose which notifications you would like to get on the task updates. Flowlu offers browser, web (in-app), mobile and email notifications.

Step 4: Import Your Tasks (Optional)
If you're using another tool for task management and want to switch to Flowlu, check out our guide for importing tasks. In Flowlu, you can import your tasks from a CSV file and then map all the fields such as task owner, status, description, etc.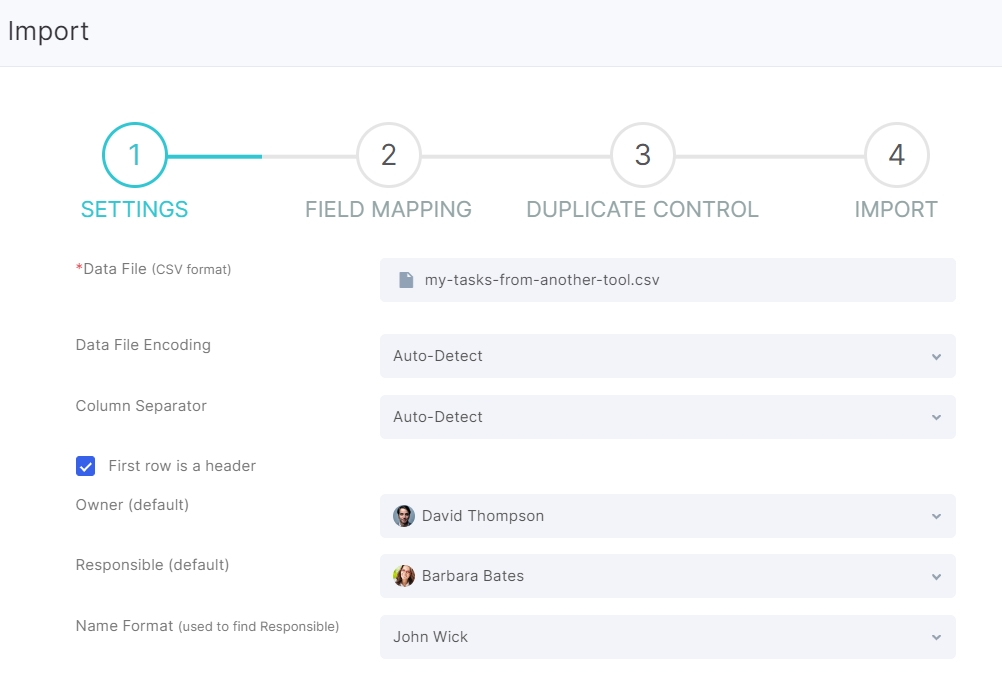 If you're starting from scratch, then skip this step.
Step 5: Add Automation to Your Tasks
Automation rules give you the ability to eliminate routine work from your task management. You can create automation for each task stage so it triggers specific action when the pre-configured conditions are met.
For example, if your task goes through several stages, you can create a rule to change the assignee at a particular stage. Let's say there is a task to create a blog post. Once it changes stages, the task can be automatically assigned to copywriter, editor, reviewer, content team leader, etc.

---
Flowlu For Personal Task Tracking vs. Team Task Management

You can use Flowlu for both personal tasks and team task management. We're discussing each of the use cases below.

Personal Task Management

Flowlu tools help to track your daily tasks and prioritize them effectively.
Reminders
When creating a new task, activate a reminder to avoid missing the task deadline. Flowlu allows you to add several reminders, so each task will be always completed on time.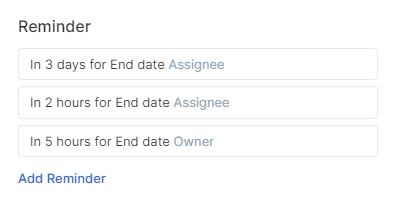 To-Do List
If you're planning to use Flowlu for personal task management, we recommend using the To-Do List section. This section is inspired by GTD methodology and brings together all the tasks that are related to you. By heading to the Today folder, you can find the most important tasks right now. You can learn more about this section in our guide.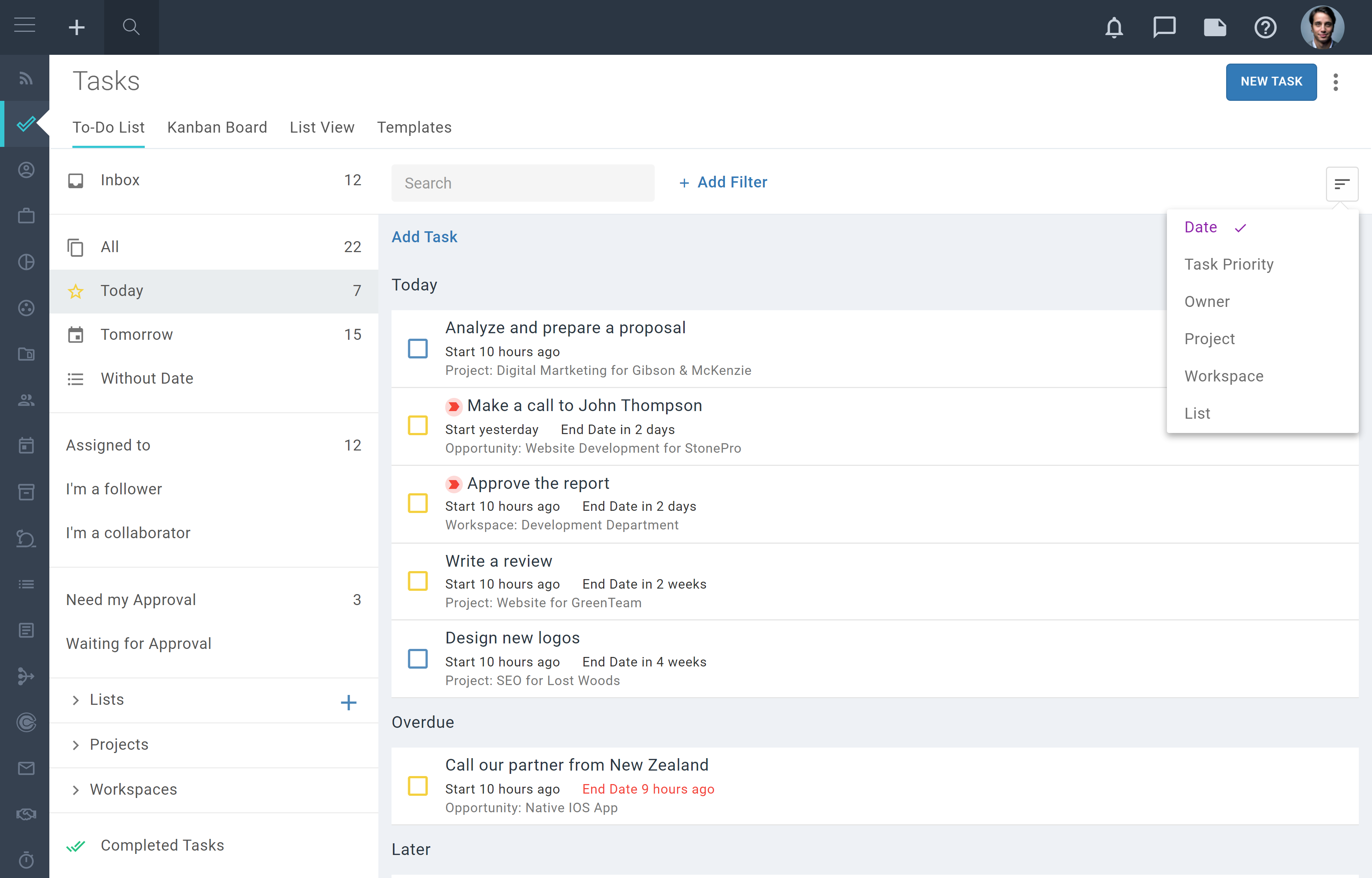 Here you can categorize tasks by lists, projects and workspaces. Lists are similar to tags and help you to sort your task into categories like Design, Marketing, etc. Workspace is a hub dedicated to a specific professional area or role (Accounting, Sales). They accumulate not only tasks but also projects, notes, documents. They are ideal for managing medium and large companies.

If you do not see workspaces, please make sure you have installed this module in the Apps.
Calendar
This is another way of displaying your tasks which can be found in the Menu. Remember to enable this option in the Calendar settings if you would like to view and create tasks there.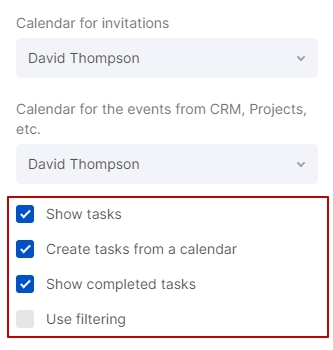 Templates and Recurring Tasks
If you perform similar tasks, create templates with the pre-configured description, checklist, subtasks, etc. And if you want to bring a little automation, create a recurring task, so it will be automatically created for you weekly, monthly or whenever you need.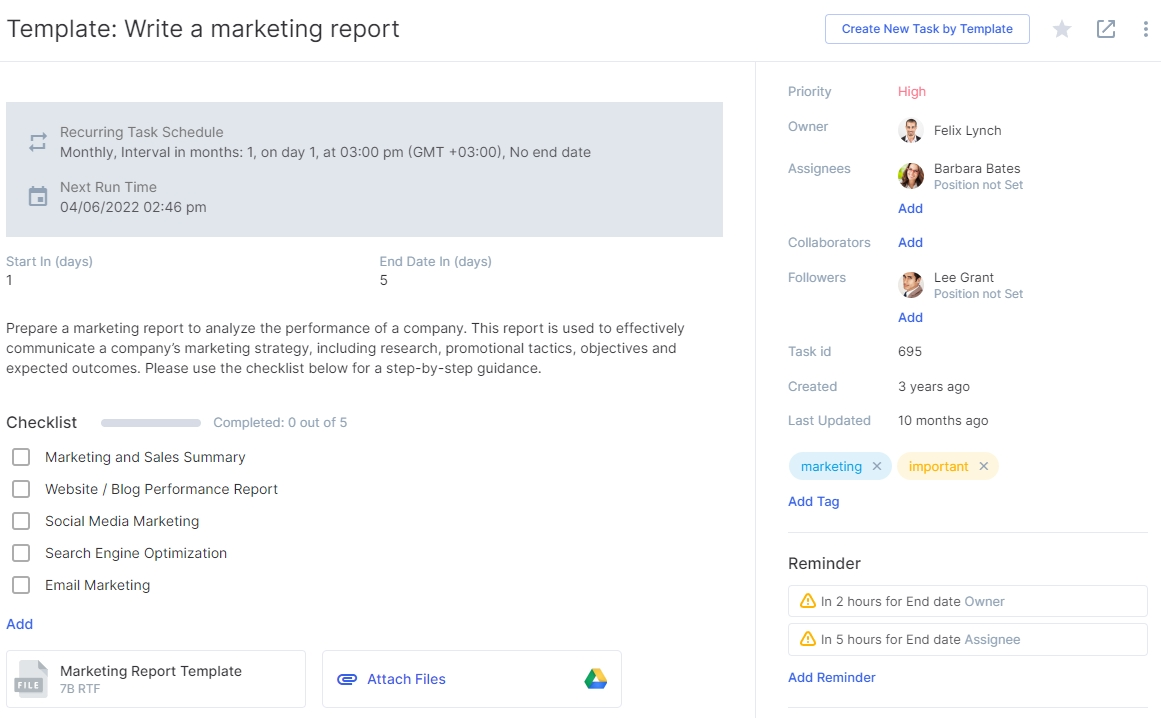 Team Task Management

Teams love managing their assignments and work in Flowlu for its multiple views, insightful reports and time tracker.
Invite Your Teammates
Once you set up your tasks, it's time to assign them to your teammates. Invite your team or external users to collaborate in real time and give them an Employee access right to the Tasks module. This can be done in advance using roles or after a user is accepted the invitation (System Settings > Tasks > Users Access Settings).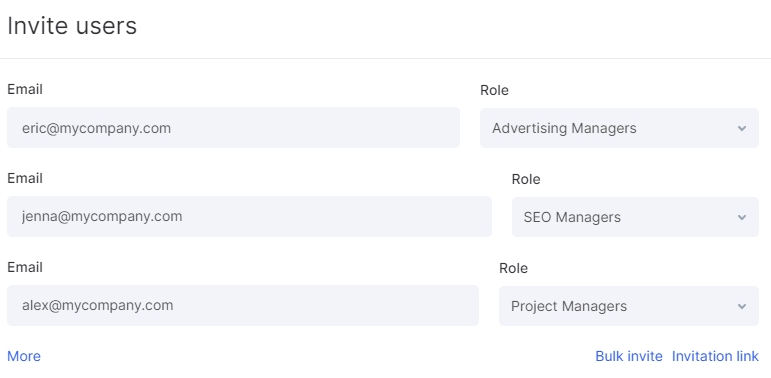 Use Time Tracker
Ask your teammates to track time spent on each task to see if no one over- or under-worked. You can also set the hourly rate for each task and charge your clients according to the time spent.

Monitor Tasks
You can monitor team tasks by going to Tasks > Kanban Board. You can filter your team's tasks by a task workflow (statuses), deadline, assignee, custom fields and so on. Create pre-configured filters to quickly see tasks of a particular person or those tasks which deadlines are long gone.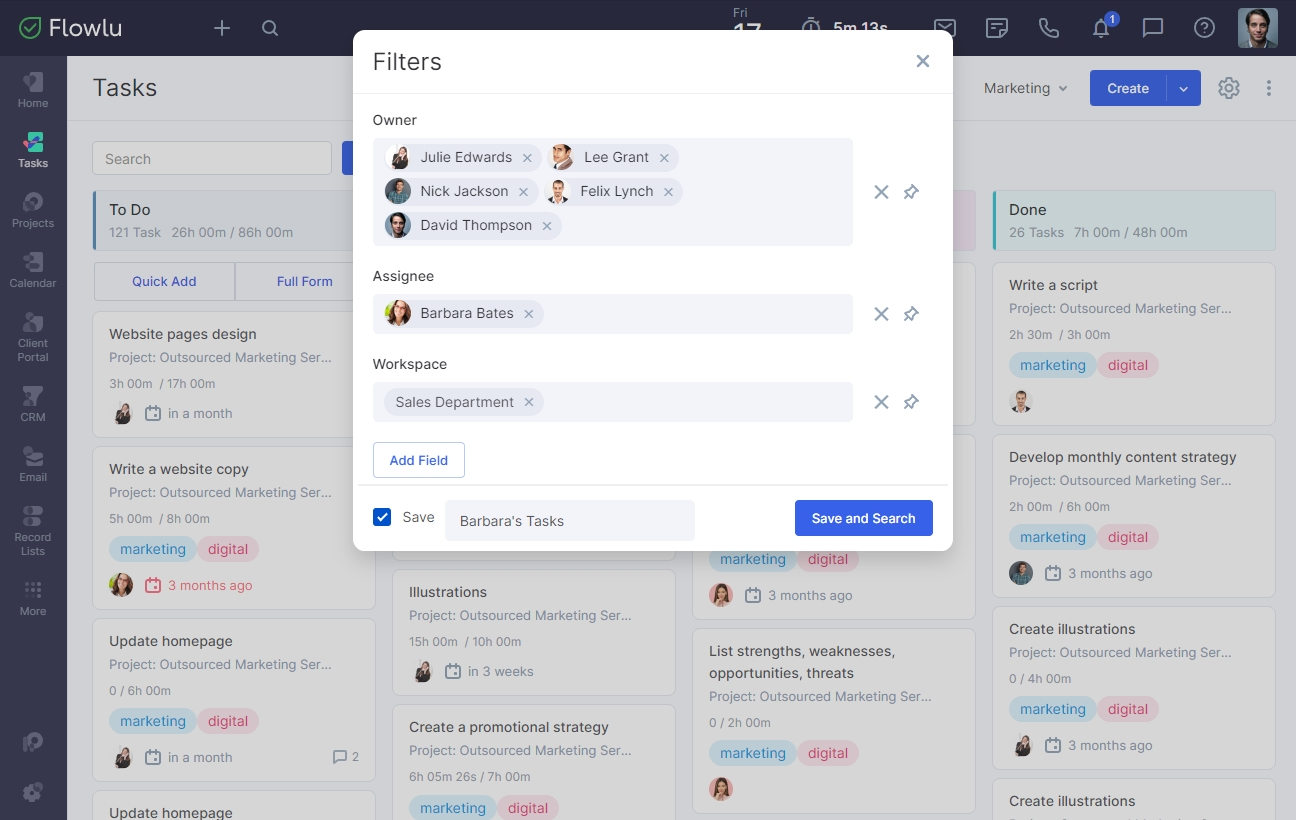 Task Approval
In Flowlu, you can activate task approval so no tasks will be marked as completed before they are approved by the task owner. To enable this option, go to the System Settings > Tasks > Main Settings > Task Approval.

Bulk Editing
If you need to apply changes to multiple tasks at the same time, go to Tasks > List View. This table allows you to quickly change the assignee, start date, deadline, custom fields, etc. for several tasks at once. This comes in handy if one of your teammates resigns and you need to re-assign his tasks to another person.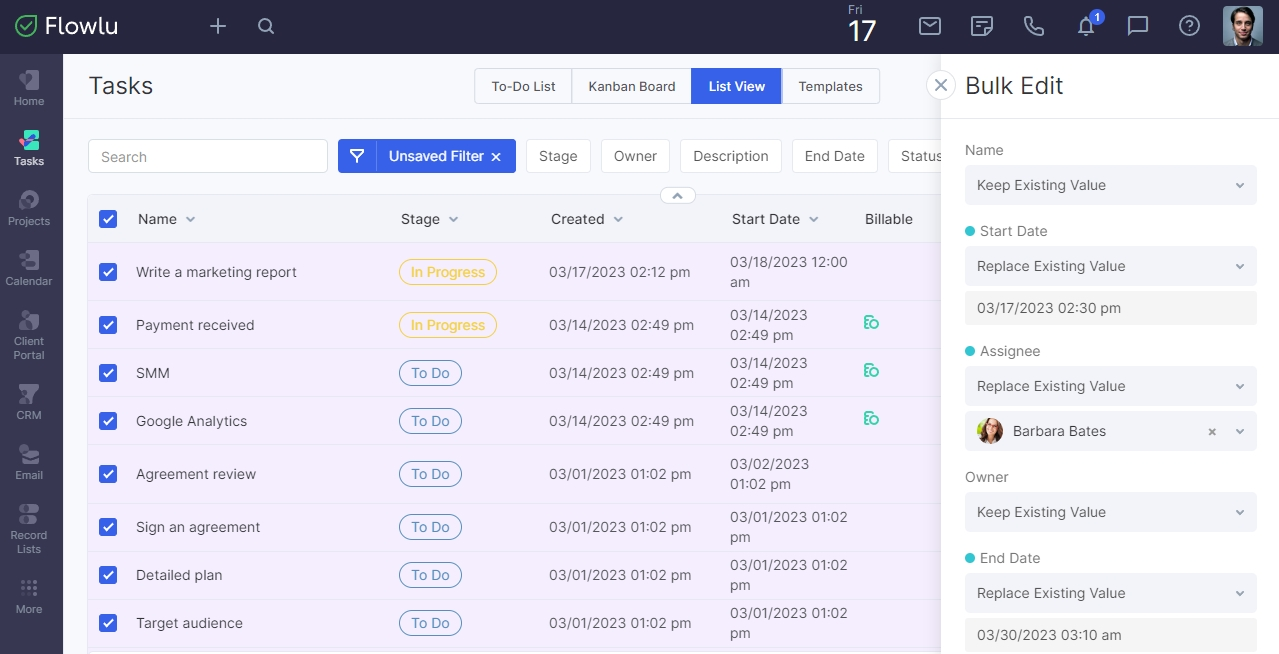 Reports
You can find task reports by heading to the Reports > Tasks. They reflect your team's performance, number of hours spent weekly, tasks in progress and more.