Use Case: Flowlu for Project Management
Use Case: Flowlu for Project Management
---
Flowlu is online project management software that helps to keep track of all projects details, monitor workload and collaborate with your team. In Flowlu, all project data is securely stored in the cloud. As a result, you always see the final version of work progress no matter where you're accessing your information or from what device.
Want to learn how to effectively use Flowlu for project management and set up your projects? Let's get into it.
Step 1: Set Up Task Statuses
The first thing you need to do is to customize task statuses that are displayed on the Kanban board in each project. To do this, navigate to the System Settings > Tasks > Workflows. These task workflows represent processes in your company, and define what stages your task should go through until the it reaches a completion stage.

Step 2: Create Custom Fields

We know that all business processes are unique and some basic fields are sometimes just not enough. That is why Flowlu offers custom fields to record your company's specific information. For example, using custom fields, you can add more than one customer to the project, attach a guide from the Knowledge Base, assign a project category or put any other information.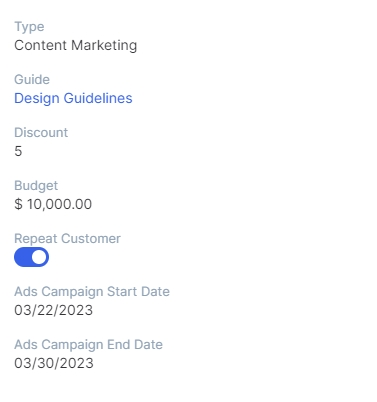 Step 3: Add Customers
Each project can be linked to a specific customer from your CRM. You can add them manually or import your customer base in bulk.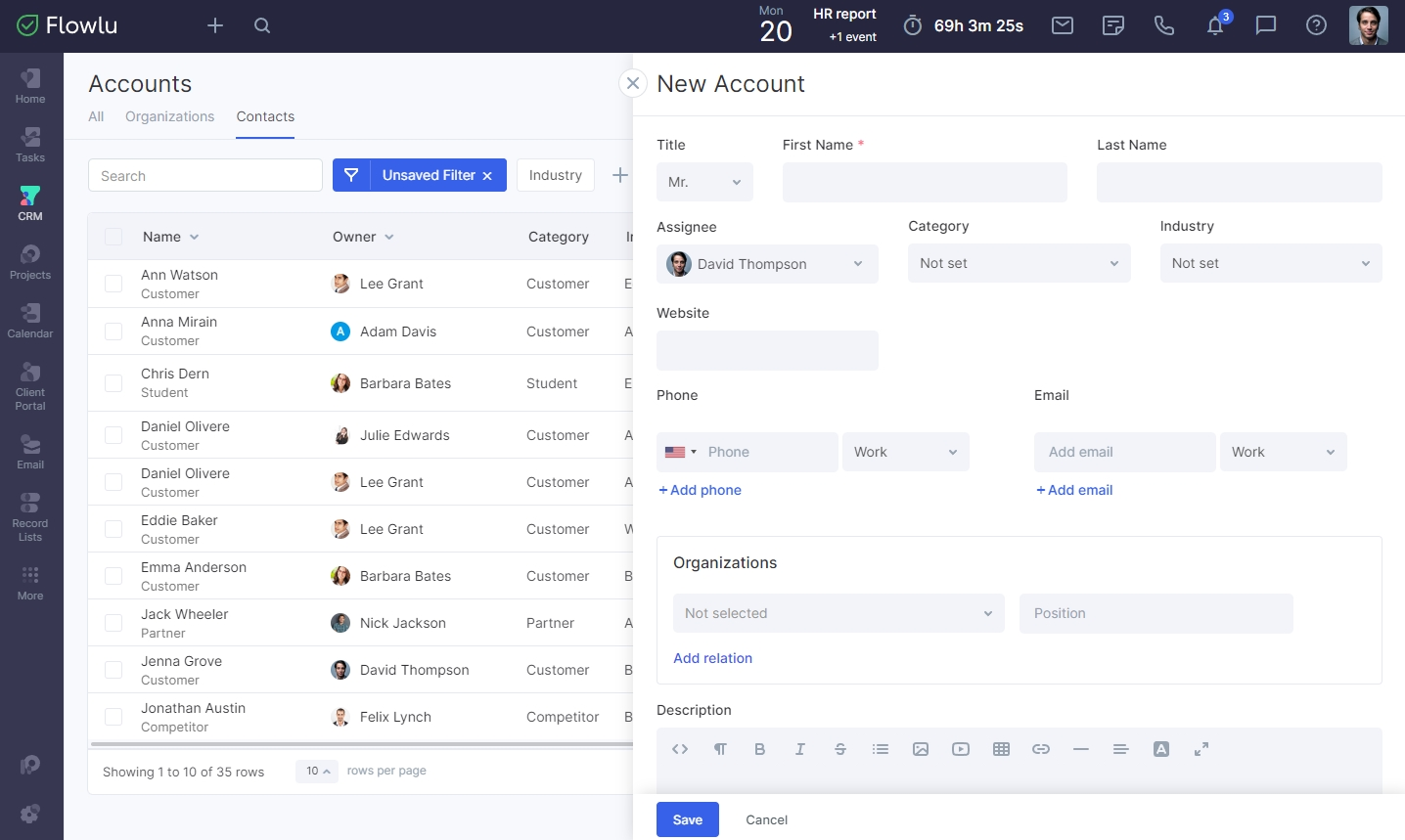 Step 4: Invite Your Team

To ensure effective collaboration, invite your teammates to the company account and assign them an Employee access level to the Projects module. In this case, they won't see any financial data in your projects and would not be able to edit any information. However, they will be able to perform tasks, see project progress, leave comments and upload files.
Permissions can be assigned after you add a user or in advance — using roles.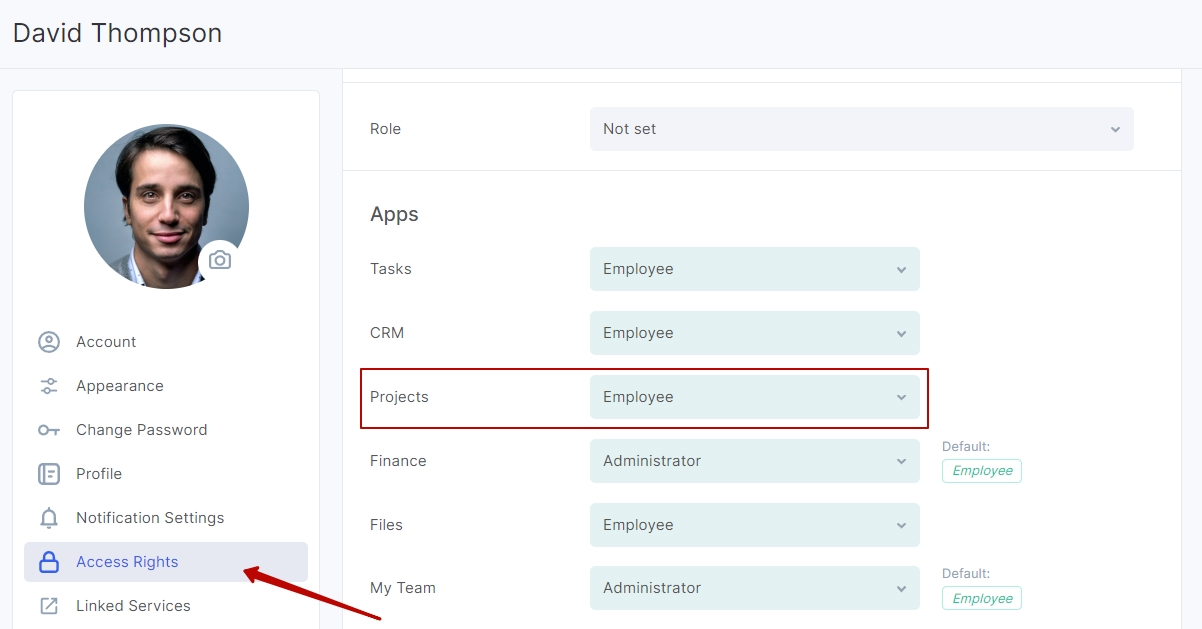 Step 5: Configure Settings for Your Projects

If you go to the Portal Settings > Projects > Main Settings, you'll find some additional settings that may help you customize your projects even better.
If you would like your project to move to the next stage once all the milestones on the current stage are completed, turn on this setting.
If you would like your project managers to access all the projects and not only their own, check this setting.
If you would like your teammates to be able to remove active projects (not just archived), turn on this setting.

We also recommend using financial management options in projects and activating it there. You can always turn it off for a particular project.

This section also includes some customization options like changing border color for the overdue projects or including project card cover images on the board.
Step 6: Enable Notifications
Choose which notifications you would like to get on the project updates. Flowlu offers browser, web (in-app), mobile and email notifications.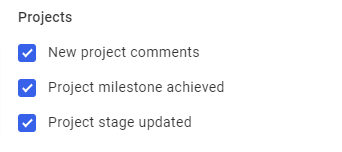 Step 7: Create a Project
Once we configure all the necessary information, we can start creating our first project.
Enter the project name and choose a priority.
You can connect your project to a workspace. If you do not see this option, please install the Workspaces module.
Enter a detailed description.
Select a customer and a project manager. Please note that only users with either the Administrator or Project Manager access level to the Projects module can be selected as a project manager.
In Project Workflow, choose Custom Project.
In Task Workflow, select your pre-configured task workflow.
Add a project team and activate project chat. You would not be able to turn it on after your project is created.
Place your project in a portfolio, if you want to observe all the information related to projects with lookalike goals and strategies at once. You can learn more about portfolios in this guide.

Enable a financial management. You can learn more about finance management in this guide.
Select project start and end dates.
Fill out custom fields, if you have any.
Save your project. Hooray, you've just created your first project in Flowlu!
Step 8: Map Out Your Processes

After you create your project, it's time to assemble a project plan. Go to the Work Structure and break down your project into main stages and milestones. Add tasks for each milestone. After all the tasks are closed, the milestone is automatically closed. The same goes for stages, after all the milestones are achieved, the project moves to the next stage.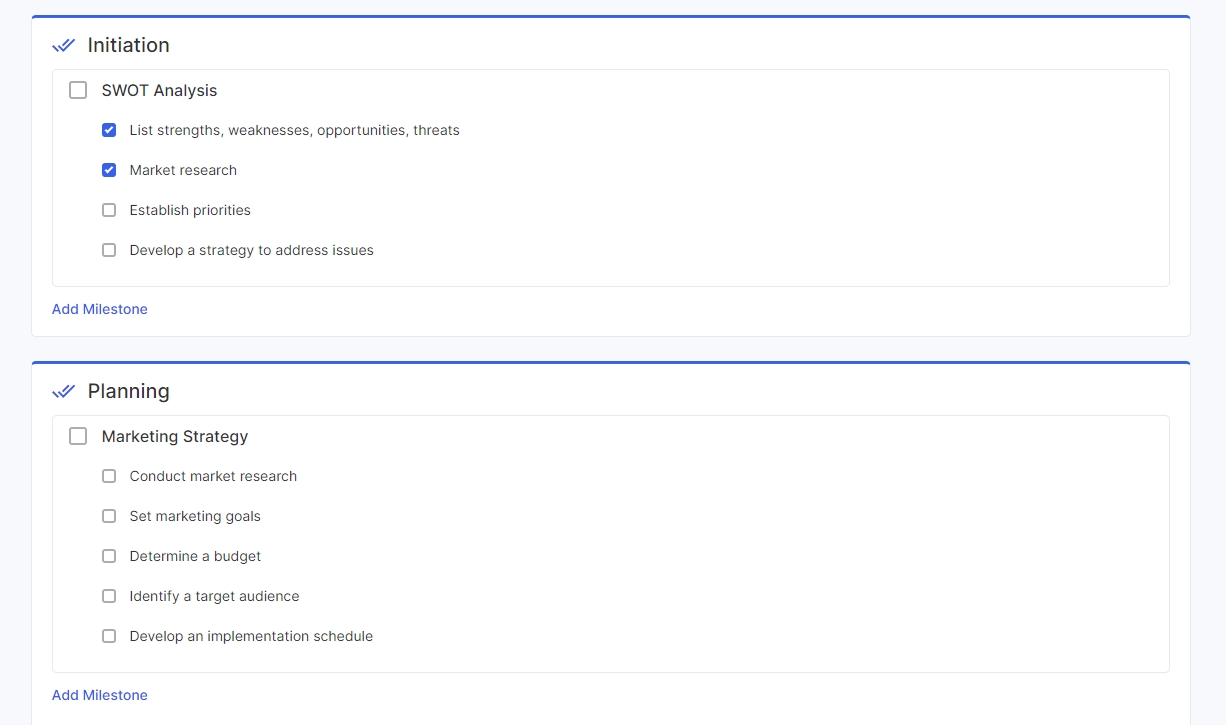 Step 9: Assign Tasks and Monitor Progress
Flowlu offers several views for visualizing project progress: the Kanban board, Gantt, table or a list by assignees. Head to Tasks (project card) and choose a task view that works best for you. Use drag-and-drop to put the preferable view in the first place.

Assign project tasks to the relevant teammates and keep track of their performance. Tip: You can bulk assign tasks using the list view.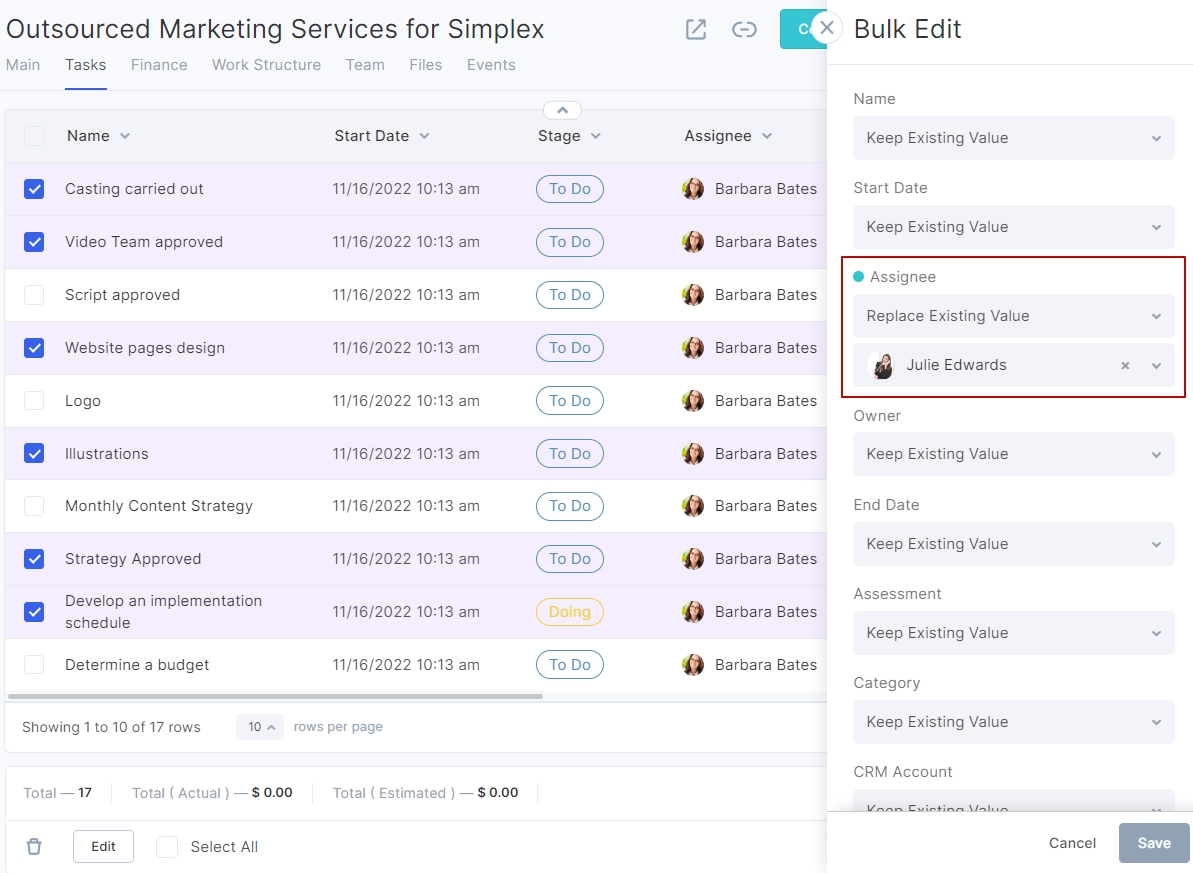 On the board, you can create additional tasks by clicking on the "Add Task" button at the bottom of the first column of your workflow. Or, utilize the "Create" button at the right top corner.

As you execute your project, simply drag and drop your cards to the next stages. Or, change their stage from their detailed page.

Tip: You can label task cards using tags for better organization on the board.

Flowlu projects let you upload documents, collaborate in the project chat, create events, leave notes, create issues based on customer's comments and suggestions, record expenses and issue invoices. Everything is connected to your project and displayed in its card.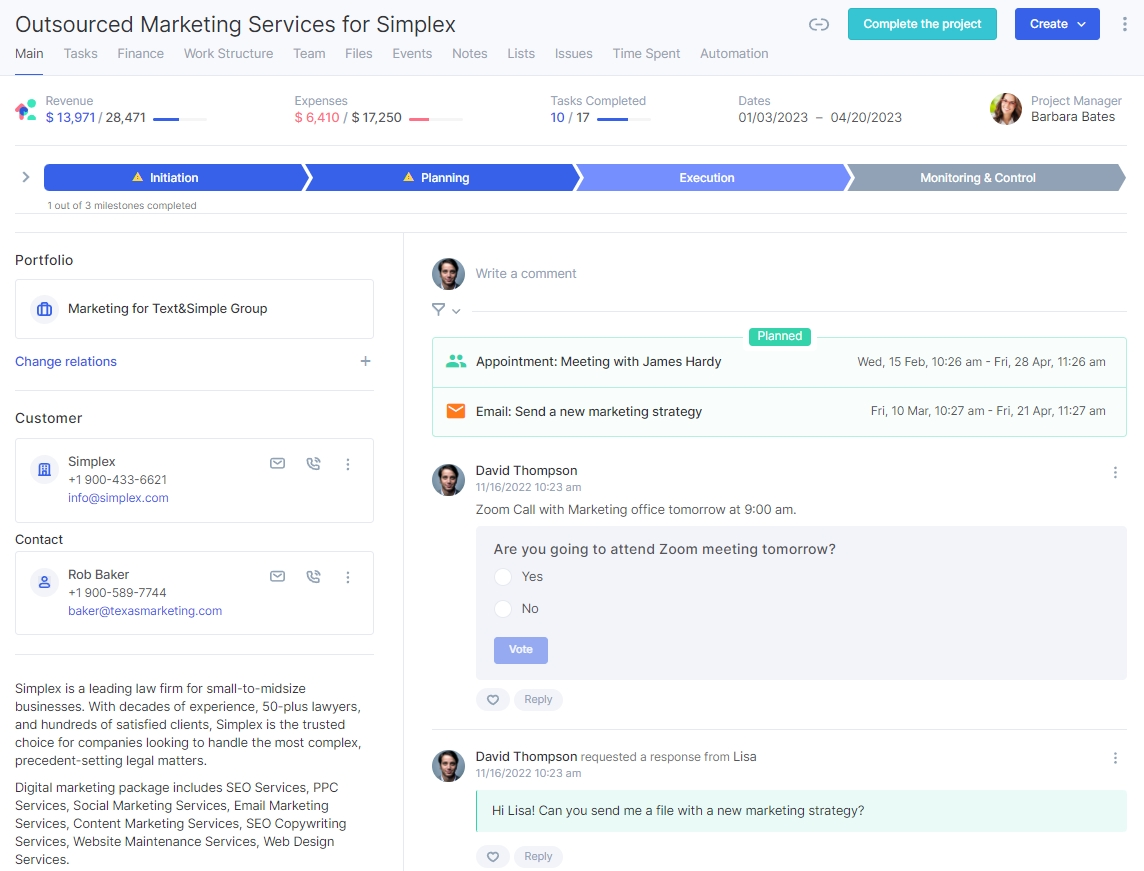 Step 10: Complete a Project
Once you accomplish all the stages, you can complete project as successful. You can also pause project or close it as failed. Completed projects can be easily restored from the Project Archive anytime you want.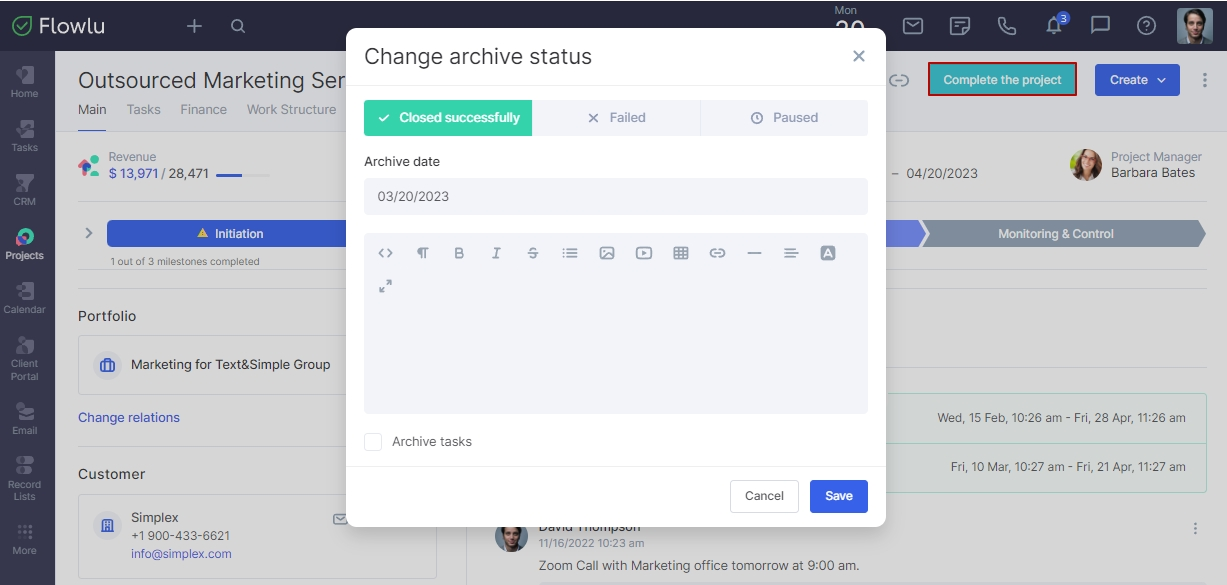 Want to boost your project management even more? We recommend checking out these resources: