Use Case: Flowlu for Client Management
Use Case: Flowlu for Client Management
---
Flowlu is an all-in-one tool for project and team management, as well as an easy-to-use CRM. This means that you can handle an entire scycle from the client's first contact to the paid invoice within one platform. In this guide, we will learn how to configure Flowlu for successful client management.
In Flowlu, CRM includes contacts and organizations. Each contact can be associated with a particular organization. It can be this contact's occupation or any other relation.
Once a prospect reaches you out, you need to create a contact/organization (or both) and link it to a new opportunity. You will then manage the sales process in this opportunity record and move this opportunity through the sales pipeline towards a win and a finalized purchase.
Step 1: Customize Categories and Industries
Each business is unique, so it's crucial that your CRM solution caters to your company's specific needs. In Flowlu, you can set up your own categories (Customer, Partner, Vendor) and industries they represent (Construction, Media, Government).
Both organizations and contacts can be assigned a category or an industry.
To set up your own categories and industries, go to Portal Settings > CRM > Reference.
Here you can also set up loss reasons and sources of your opportunities.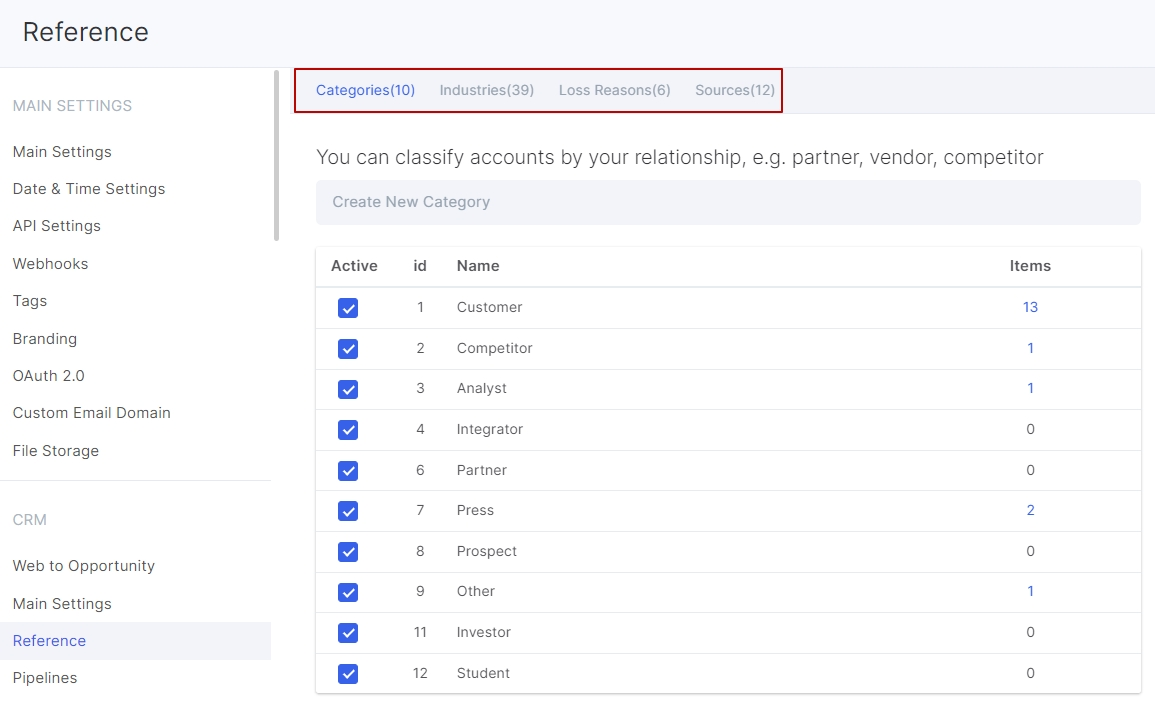 Step 2: Add Custom Fields
Create unique fields for your contacts, organizations and opportunities with the custom fields. You can choose between various field types such as text, date, price, number, formula, checkbox and much more. For example, you can create a checkbox field for a preferred method of communication for your client or a lead score. After that, you can easily filter your data by the custom fields.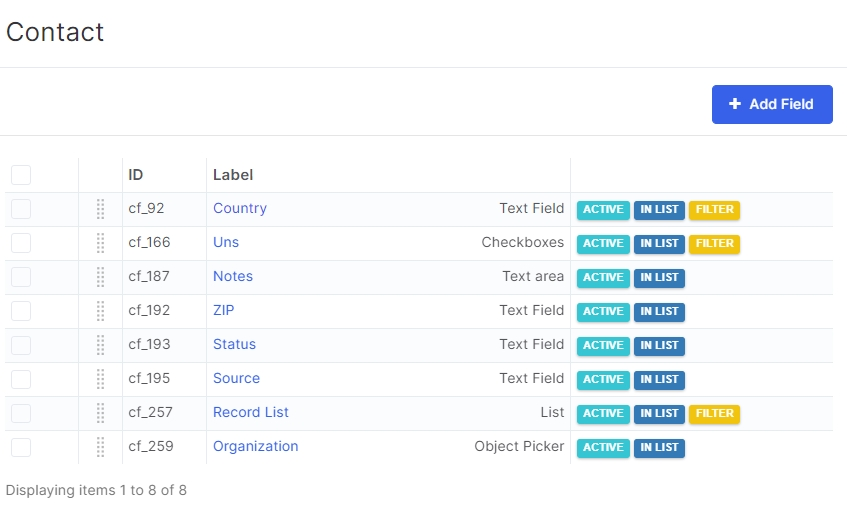 Use list settings to display only required columns and fields for your client base.
Step 3: Import Client Base (Optional)

If you're using spreadsheets or another tool for client management, check out our guide for importing contacts and organizations into Flowlu. You can import your clients from a CSV file and then map out all the fields such as phone number, email, description, category, your own custom fields, etc.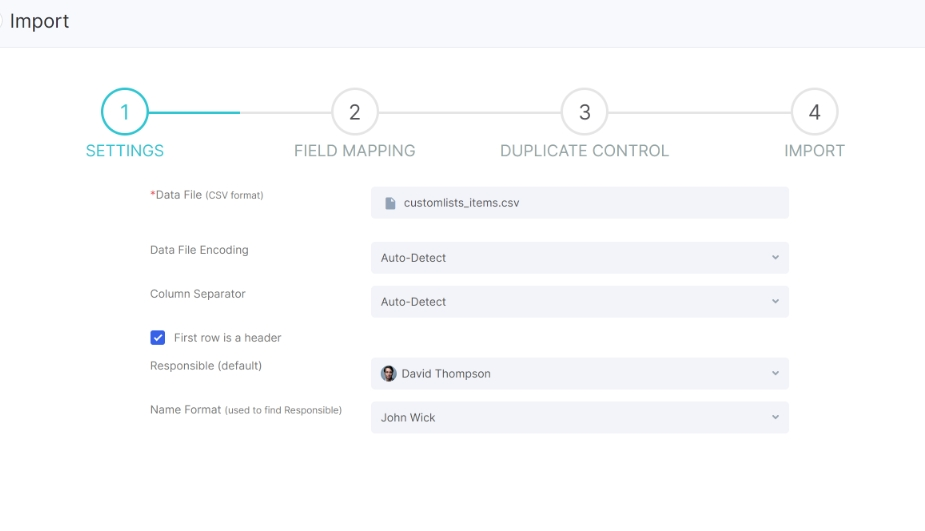 If you're starting from scratch, then skip this step.
Step 4: Check Additional Settings
Each module can be additionally customized in Flowlu. Go to the Portal Settings > CRM > Main Settings.
Most of the settings here are dedicated the user access to the records. Please check that all the permissions are correct before going to the next step.
Plus, here you can enable the cover picture for your opportunities on the board and hide the "All Accounts" section.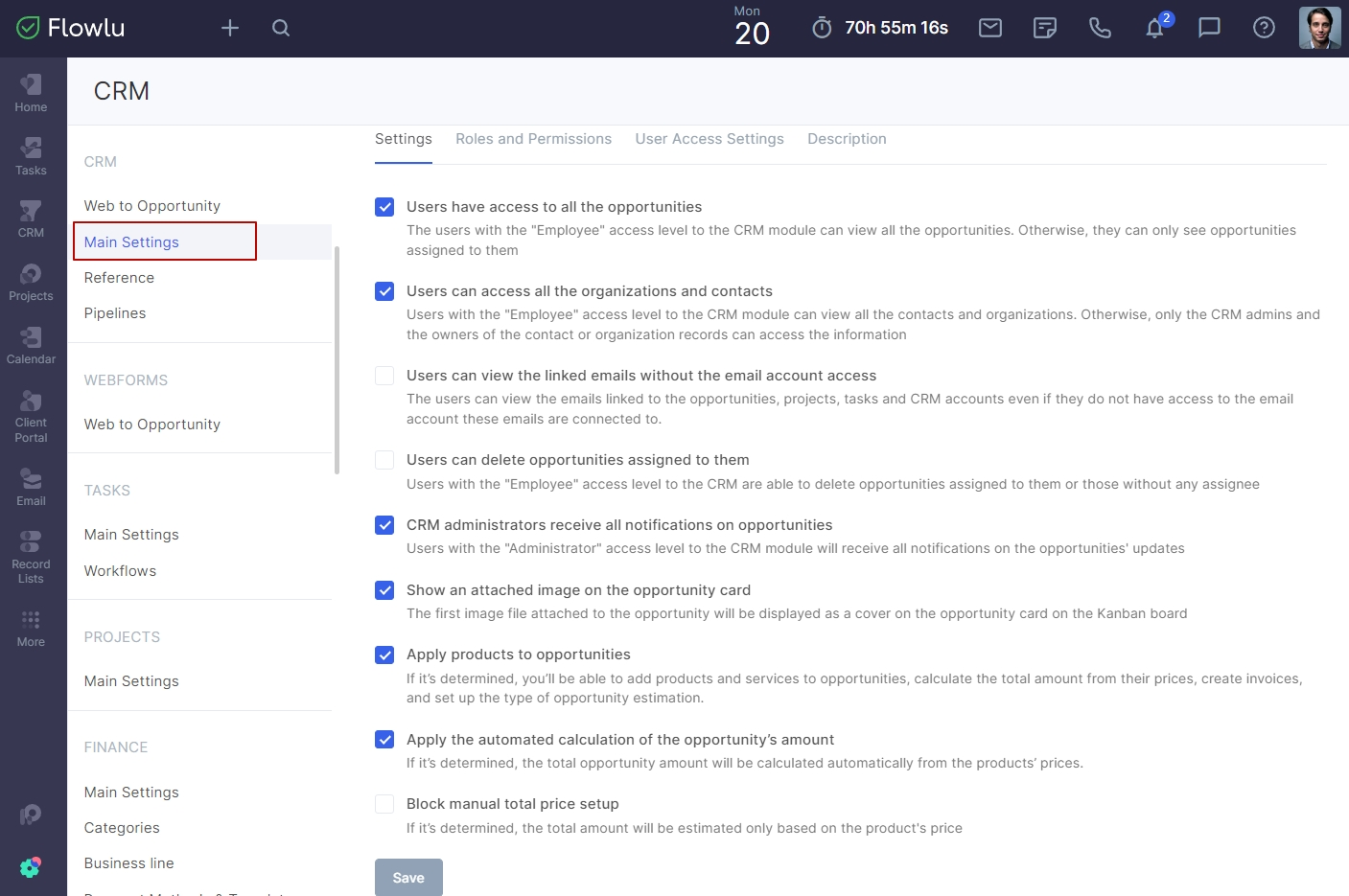 Step 5: Invite Your Team

To ensure effective collaboration, invite your teammates to the company account and assign them an Employee access level to the CRM module. In this case, they will see only CRM accounts and opportunities assigned to them (check the previous step).
Moreover, they won't be able to export your client base via CSV. However, they will be able to leave comments and upload files, change the opportunities' stages and edit the information in their records. They will also be able to create new CRM records.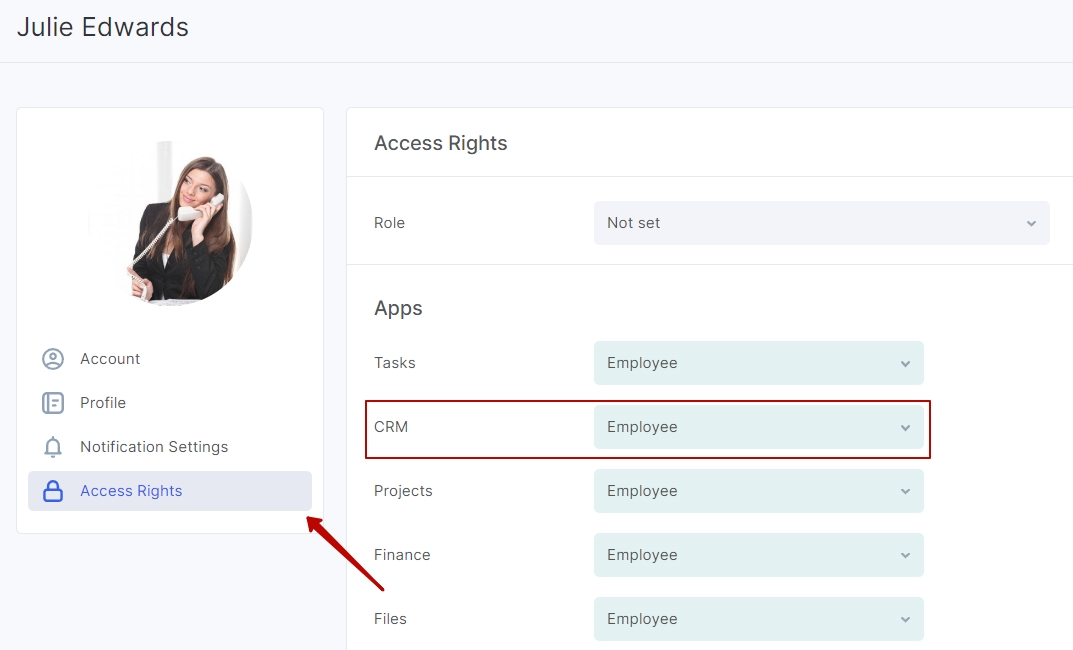 Permissions can be assigned after you add a user or in advance — using roles.
Step 6: Create a Pipeline

Now let's create a pipeline for new prospects. You can create a new pipeline both on the board and from the Portal Settings > CRM > Pipelines. We recommend creating several boards for different professional services or products your company sells.

Step 7: Add New Prospects

First, let's answer the following question: How do you get your leads?

a) With a form on the website
Place Flowlu's intake forms on your website and capture leads automatically. Once the form is submitted, Flowlu creates a new opportunity on a specified pipeline.

b) With an email request
Connect your email inbox and generate new opportunities out of new emails and requests. You can pre-define source and pipeline for such opportunities.
c) With a phone call

With the telephony integration, once you get an inbound call, Flowlu adds a new opportunity to the pipeline of your choice.
You can also create new opportunities manually at a few clicks.
Step 8: Set up Automation

We promise you, the automation rules will be your new best friends. You need just to configure them once. After that they will automatically schedule meetings, send follow-up emails, move the opportunities down the pipeline and assign tasks. Check out our step-by-step guide on Flowlu automation to streamline your processes and eliminate the busywork.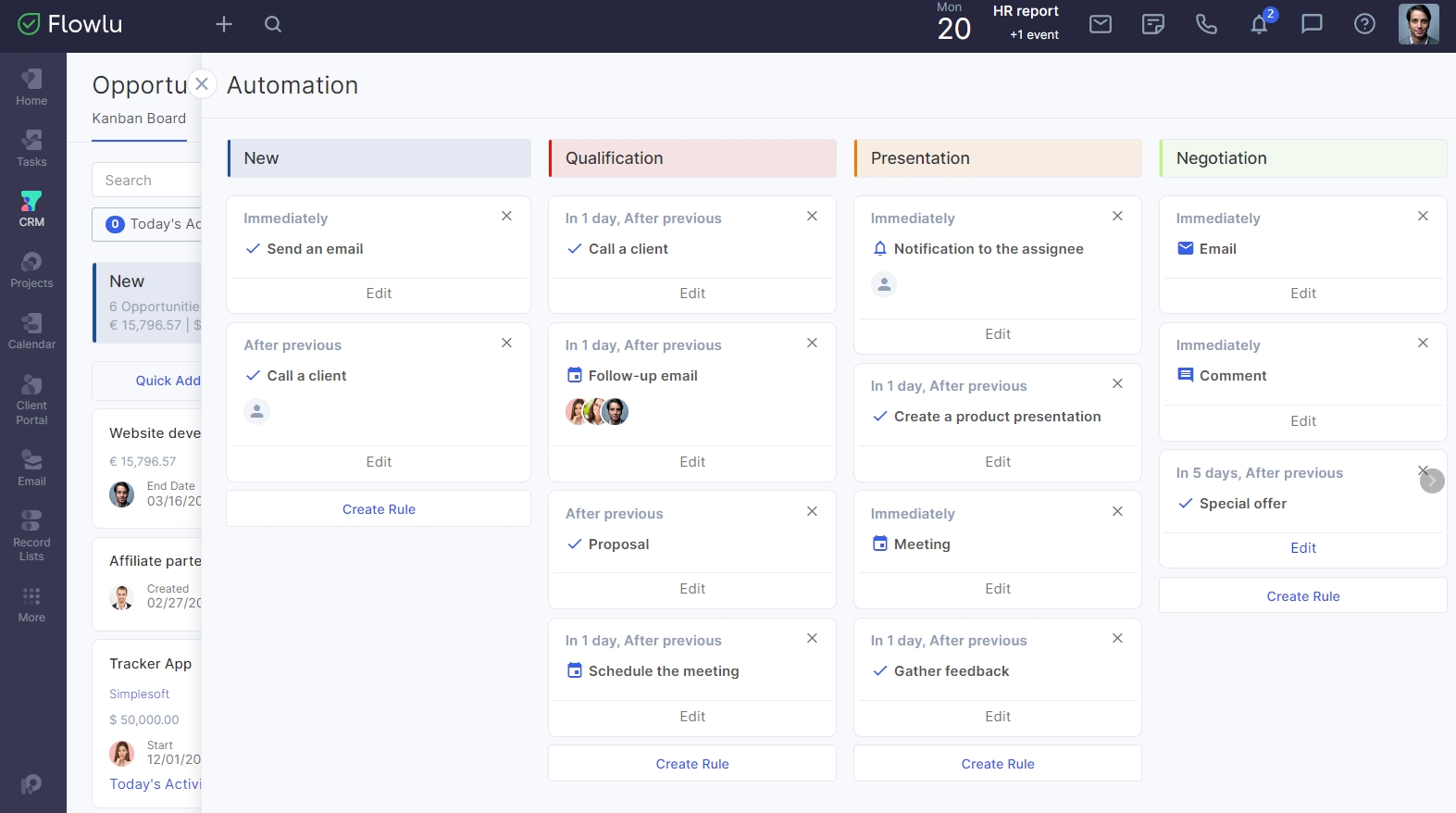 Step 9: Save Recurring Processes as a Template
If your last stage of the sales cycle ends with initiating a project, create project workflows for similar processes. This will significantly save your time and improve productivity.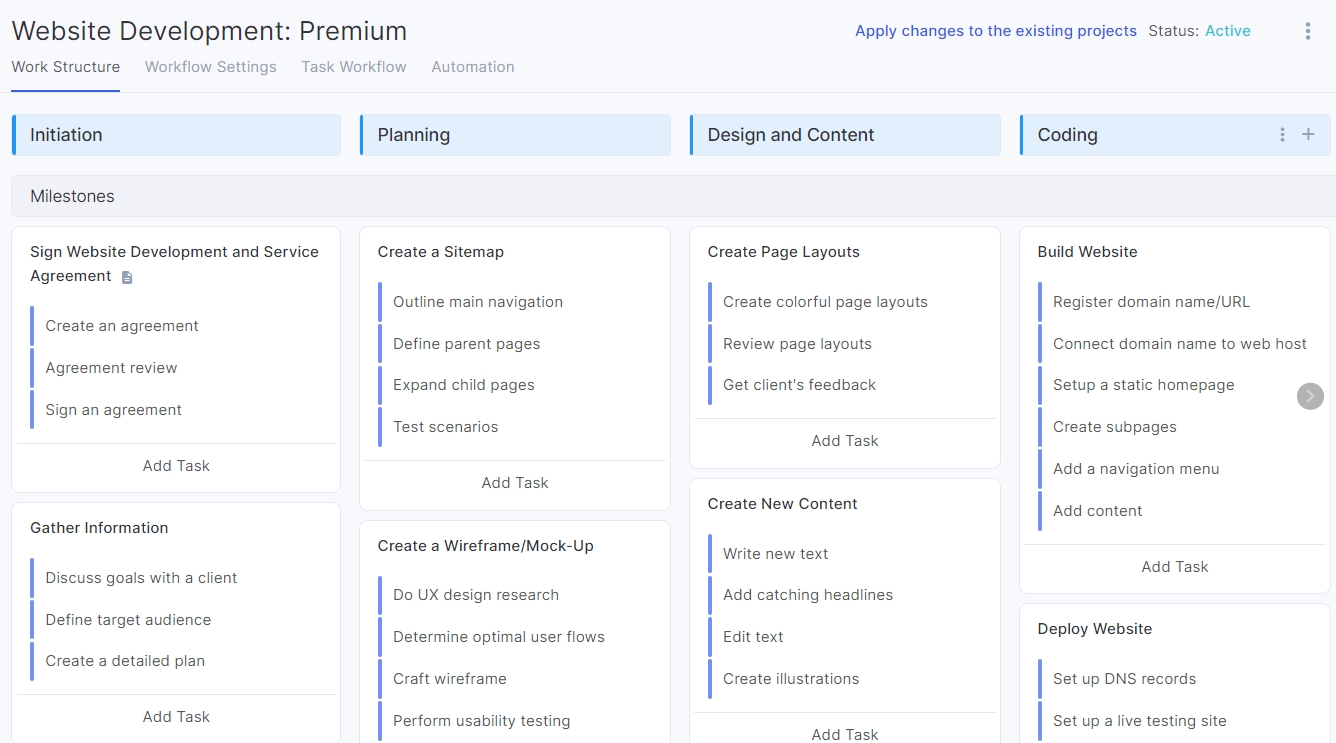 Step 10: Provide External Access to Your Clients
Flowlu's client portal gives you an ability to invite clients as guests for collaboration on tasks and projects. You can easily decide what module and fields should be accessible to your clients.