Setting a Custom Estimate Template
Setting a Custom Estimate Template
---
In Flowlu, you can modify the existing estimate templates.
You can do the following:
● change the title of an estimate (e.g. Quote);
● change the fields' names;
● add logo.
Step #1
Settings for templates can be altered in the Portal Settings → Finances → Estimates
Here you can find the default templates for each organization (if you have more than one). You can modify them or create additional ones. To modify existing ones, click on the template title. Alternatively, click on the Create button to add a new one.
Step #2
Afterwards, the window for editing the estimate template will open.
Specify here:
the template title that your coworkers will see when choosing the custom template for an estimate;
a description, for example, an explanation of what this template is intended for;
organization on behalf of which the estimate template will be created. If you have one organization, then it will be selected by default;
Find out more: Organization settings
set the sorting. If you plan to create several custom invoice templates, you can use sorting. The smaller the number, the higher in the list of results this template will be displayed when creating estimates. Set sorting to 1 for the most commonly used template.
After filling all fields, click the Next button.
Please note: Each template is linked to a specific organization. If a similar template is needed to prepare an estimate from another organization, you need to create the same form and link it to that organization.
Step #3
Go to the next step.
Here you can change the field names that do not suit you. If there are any fields that you do not need, just clear them from the text.
You can do the following:
● Add a logo to the estimate. The logo is uploaded in the settings of the organization.
● Rename fields to indicate the due dates of estimate.
● Change the name of the estimate.
Modify the fields to specify the data of the seller (1) and the buyer (2)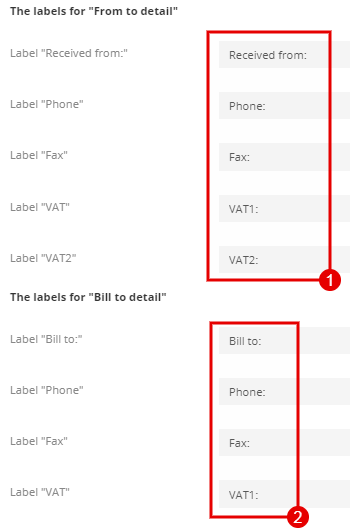 Change the offer details—the fields for displaying the product items and their cost. If there is any field that is not needed — clear it from the text.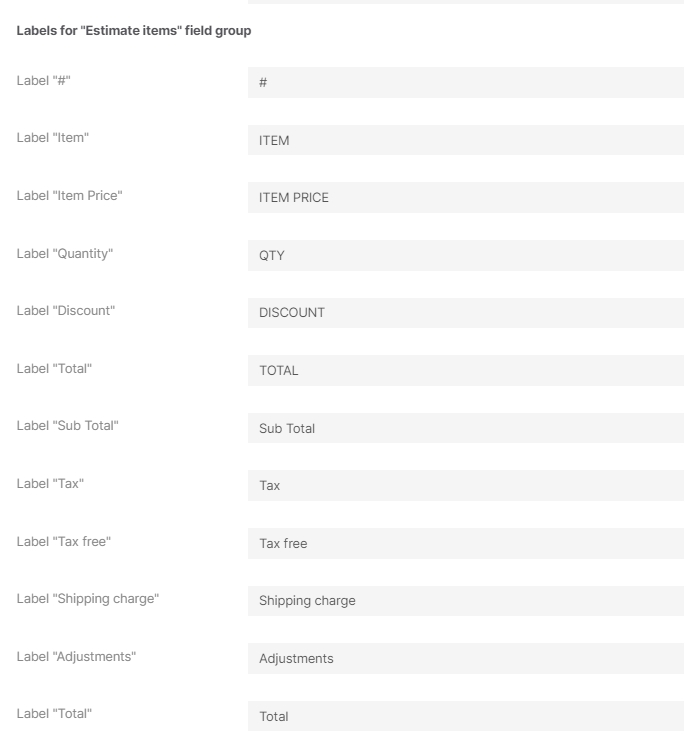 ● The Copy the terms and customer note to the invoice option allows you to pull the text of conditions from the estimate to the invoice. Use this option if you plan to have specific terms of payment and provision of services in your estimate.
● The Show tax for each line item option allows you to add tax for each product line that you choose during estimate creation. Taxes are aded in the settings of the organization.
● Add text to the estimate. For example, you can list your advantages; explain how the provision of services works and other terms and conditions. Format the text using a visual editor or CSS-code.
Step #4
In the last step, save the created estimate template. Now you can proceed to the estimate creation using the template you have just set up.