How to set up WayForPay
How to set up WayForPay
---
1. Get Merchant Details from your WayForPay account
Log in to your WayForPay account. Go to Shop settings (1) and choose the shop (merchant) you want to receive payments to. Scroll down to Merchant Details (2) and copy the Merchant login and Merchant secret key. You will need them when adding WayForPay as a payment option in Flowlu.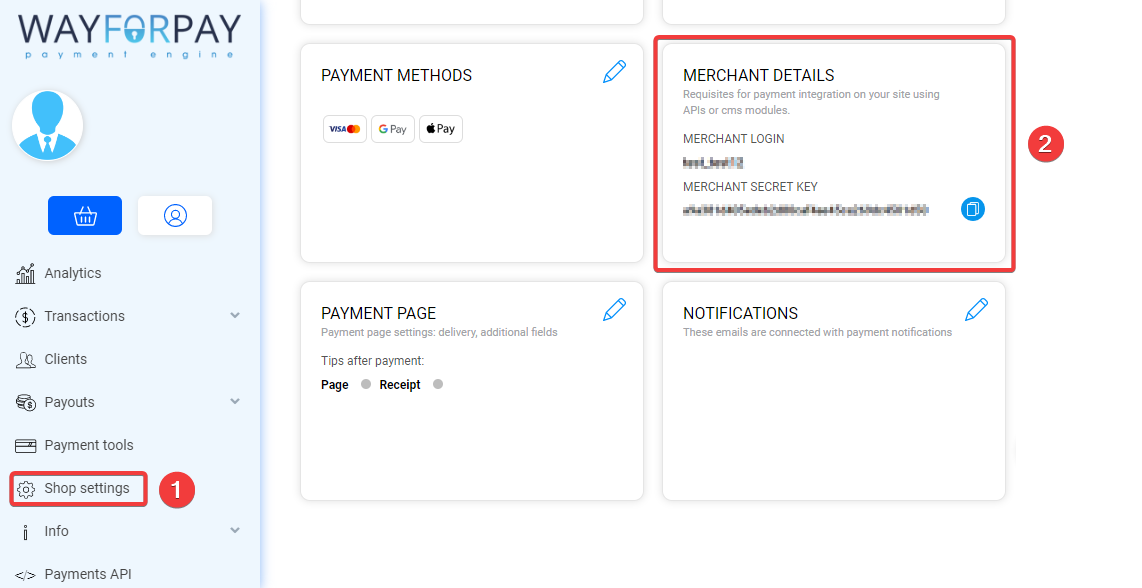 2. Add a new payment method in Flowlu
Go to Portal Settings → Finance → Payment Methods and click Create. In the opened window, select WayForPay and click Next.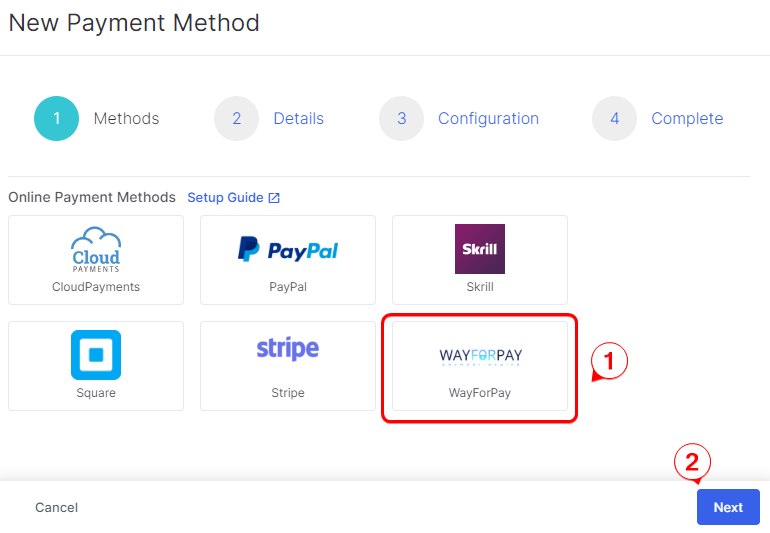 Details
Choose a name for the payment method, for example, WayForPay, name of the button (it will be displayed when viewing the invoice online) and, if necessary, the description of the payment method for your portal users.
Select the organization from which you will be issuing invoices when using this payment method. Organizations are created in Portal Settings → Finance → Organizations list.
Choose the Payer Type. It can be CRM Contacts (individuals), CRM Companies (legal entities) or both.
The Ordering field allows you to specify the sequence in which the payment button for this payment system will be displayed; assigning a smaller number to this field will result in a higher display priority in relation to other payment methods. It would be useful if you plan to use several payment options.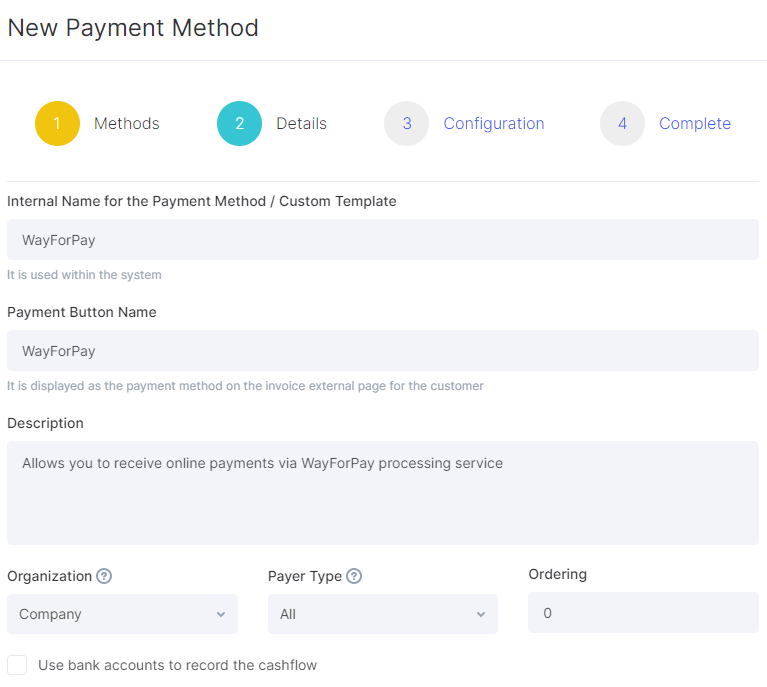 Configuration
In this step, enter your WayForPay Merchant Account name and insert the previously copied Secret Key.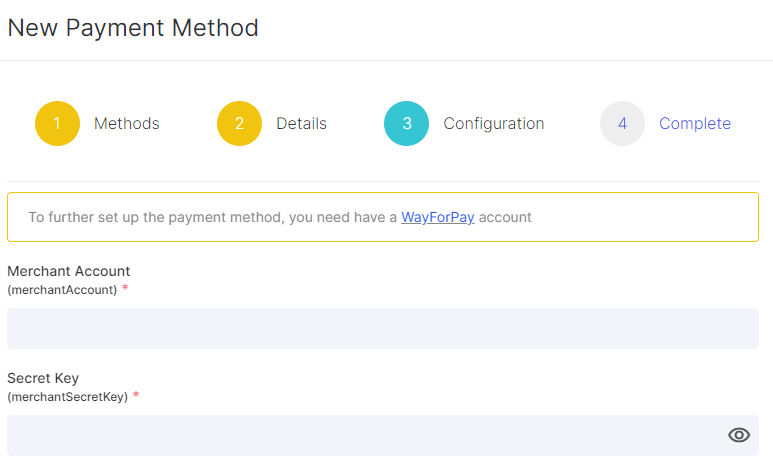 Complete
Done! Now click Activate under the Publish payment method option and save. The integration setup is complete.
Step 3. Test the Payment Method
To make a test payment, create an invoice for the organization selected in the payment method settings and select a customer account.
Copy the external link and open it. In the invoice, the WayForPay button will appear, which can be used to make a test payment.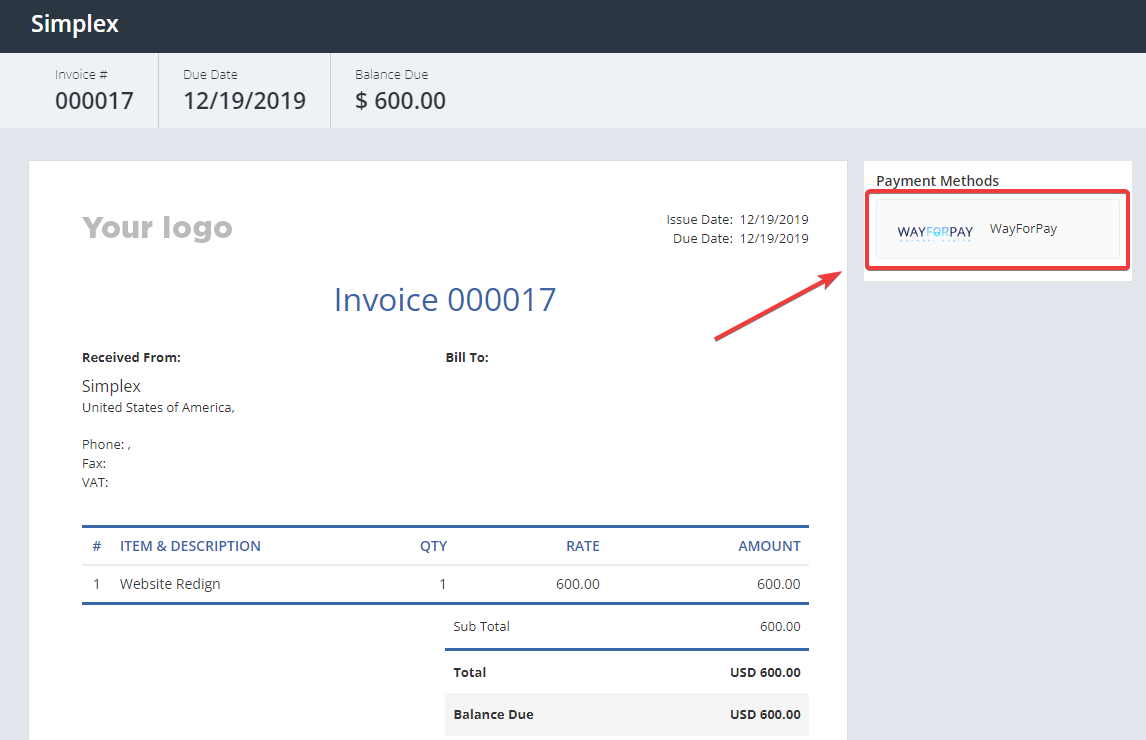 To make a test payment you can use the credentials provided by WayForPay.