Types of Calendars in Flowlu
---
By default, all users of the system have access to the Company Calendar and Personal Calendar with your name. If your colleagues give you access to their personal calendars, you will see them in the Shared with me column with the corresponding employee names.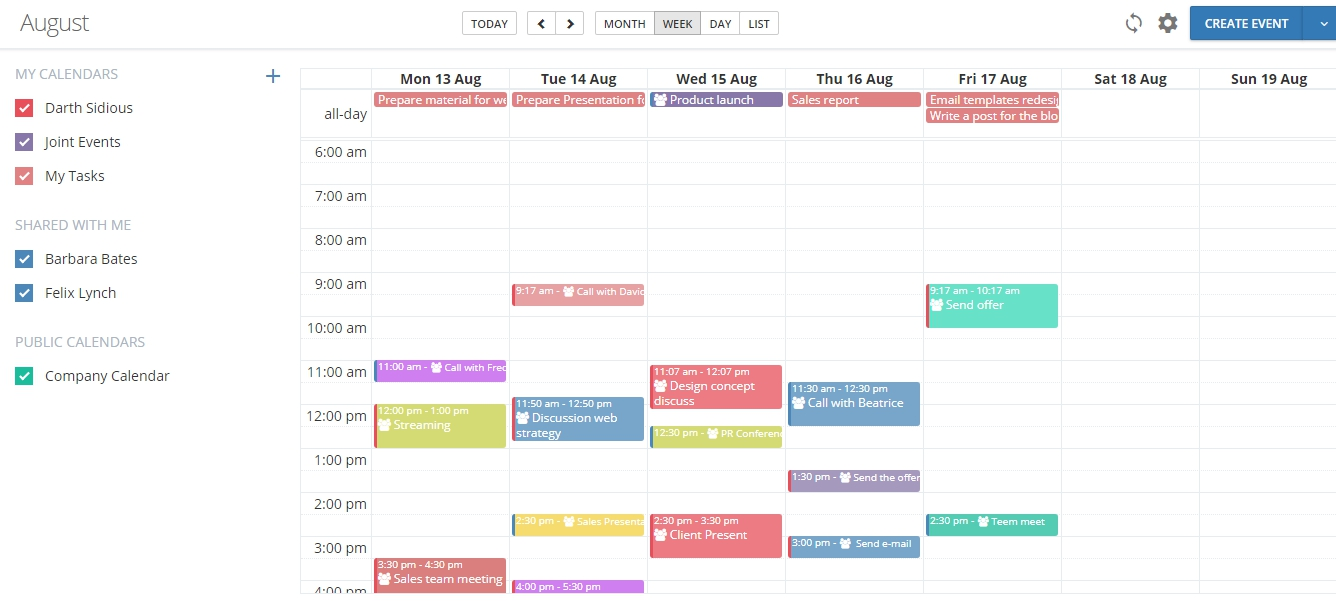 Company Calendar
The Company calendar is open to everyone. Here, all users of the system can create events and invite colleagues to the events. It can be activities related to the whole company. For example, the call schedule, reservation of the meeting room, training events and so on.
Note: The company calendar is a system calendar. It cannot be hidden, deleted, or synchronized with Google Calendar. You cannot change the access levels for users to it.
Please note: You can plan joint activities for only a certain group of employees or a department in the personal calendar or create a separate calendar for this purpose.
Find out more: How to create a new calendar
In the company calendar settings, you can change the name and colour. To do it, go to the calendar editing.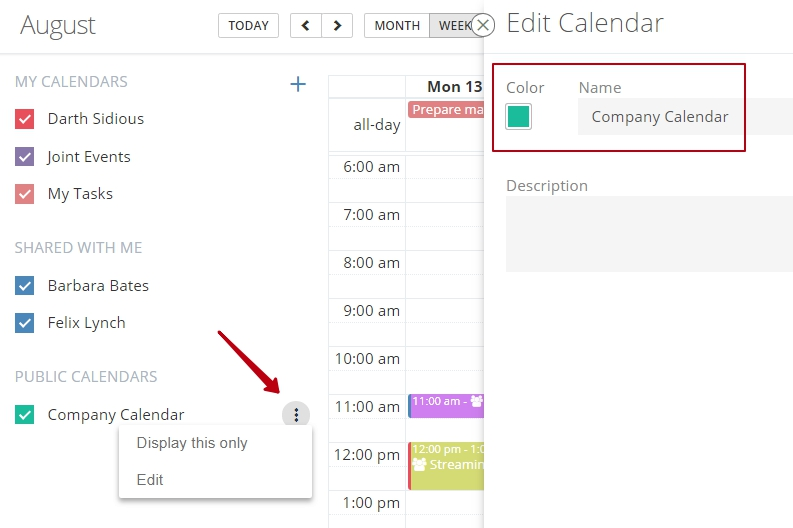 The selected colour will be displayed in the events linked to this calendar in the form of a colour indicator of the boxes on the left side.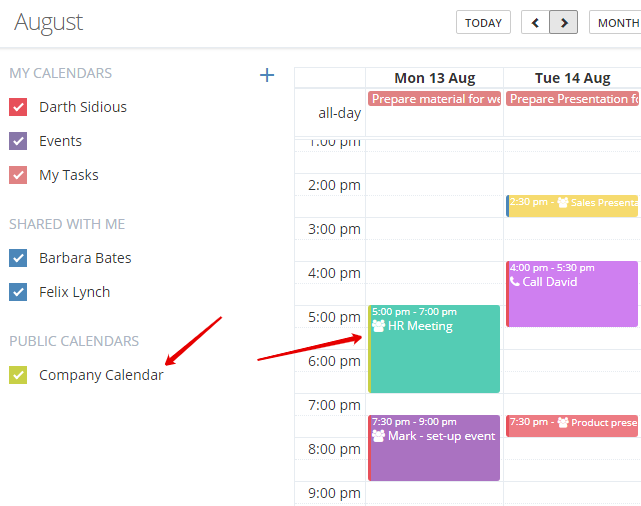 If you need to deny access to all calendars to any of employees, you can do it in the user profile settings or in the Apps > Calendar section.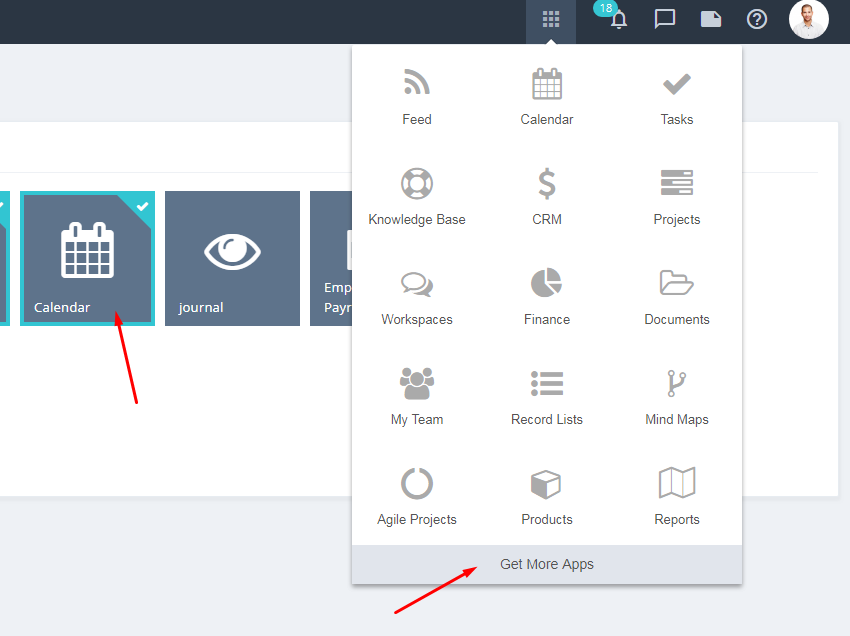 Going to the Applications section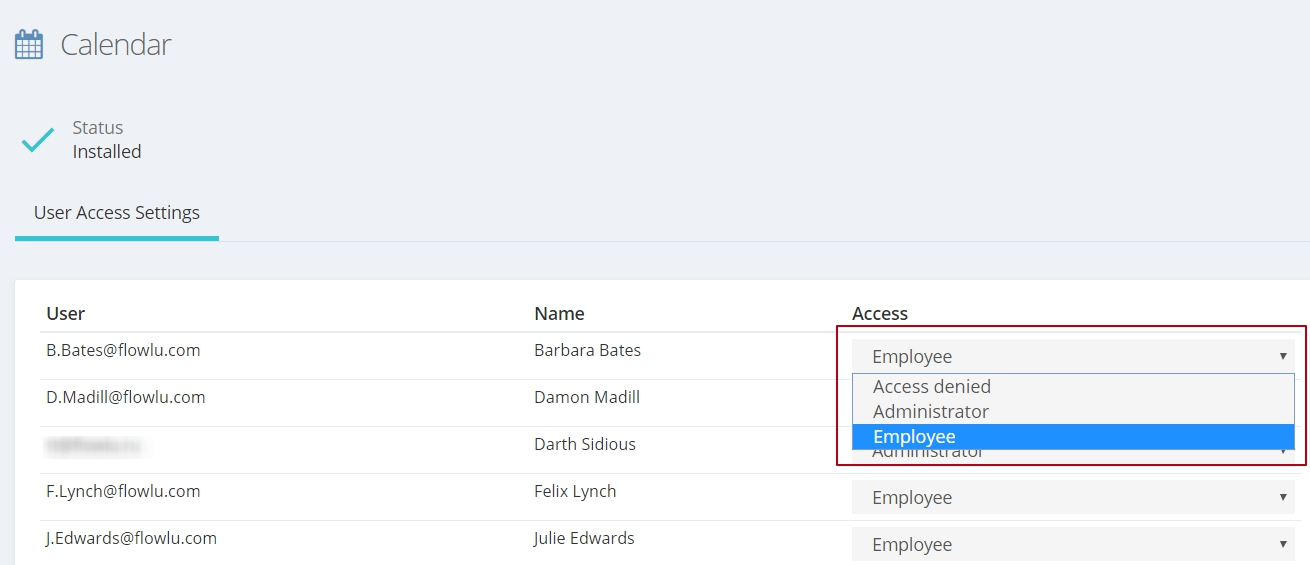 Giving access rights
Personal Calendar
This calendar is called by your name. Here, by default, all events to which you are related are displayed. These include:
all the events that you have planned for the transaction, account, or project.
all the joint events to which you have been invited by your colleagues.
any other events created with reference to this calendar.
You can share this calendar with your colleagues so that they can see your schedule.

Find out more: Calendar access rights
By default, all events are created in this calendar. But if, for example, you want to display events from CRM or from projects in your linked Google Calendar, you can change it in the settings.

Going to the settings
Changing the Calendar to display the events
My Tasks
By default, this calendar is disabled. In order to activate it, go to the calendar settings and set the checkbox to display the current tasks and, if necessary, the completed ones: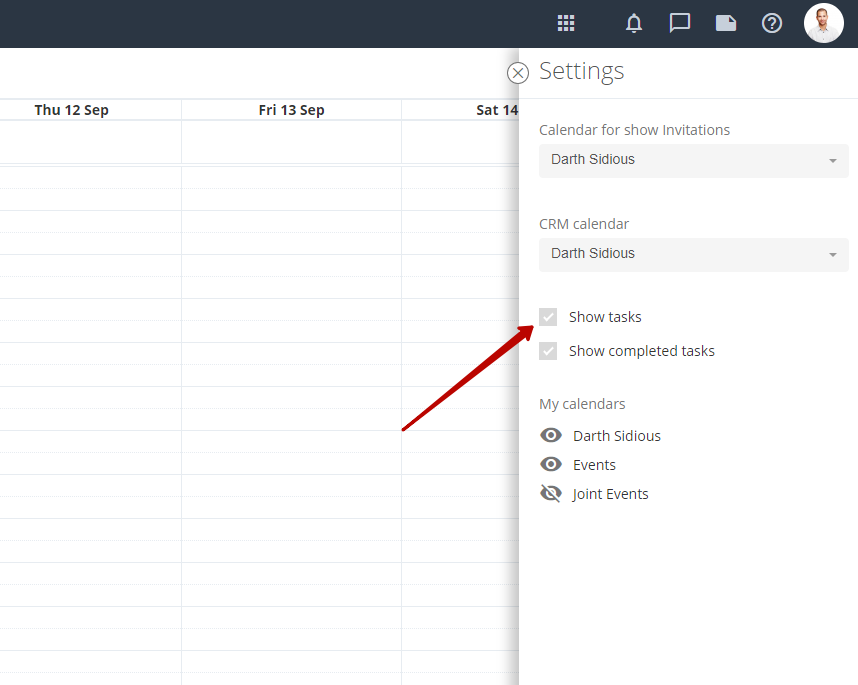 Changing the Calendar to display the events


Please note: Only you have access to this calendar. Tasks in the calendar are displayed only if they have a start and end date for them.
---