How to Integrate JivoChat With Flowlu
How to Integrate JivoChat With Flowlu
---
JivoChat is a real-time messenger that helps businesses connect directly with their prospects and customers across multiple channels: website chat, social media, messengers and calls.
Flowlu integration with JivoChat allows you to automatically create new tasks, contacts and opportunities on conversation with your agents via JivoChat. This article describes how to set up the integration with JivoChat inside the Flowlu CRM.
Step 1. Install the Module
Go to the "Marketplace" section and find the module for JivoChat.
Install the module.
You can set up access rights for employees in the module settings: administrator or access denied.
Step 2. Set up Integration in Flowlu
Click "Connect JivoChat".
In Flowlu settings, define what actions should be initiated at messages from JivoChat:
Create a task if no support agents are online.
Create a contact.
Create an opportunity when the chat has ended (including when agents are offline).
Specify the sales pipeline below, where the opportunities from JivoChat will be created, and set the default source.
Specify the responsible employee who will be assigned to all opportunities, contacts and tasks created from JivoChat. If you leave the value "Not specified", Flowlu will search for a match by email and, when found, automatically identify the responsible persons.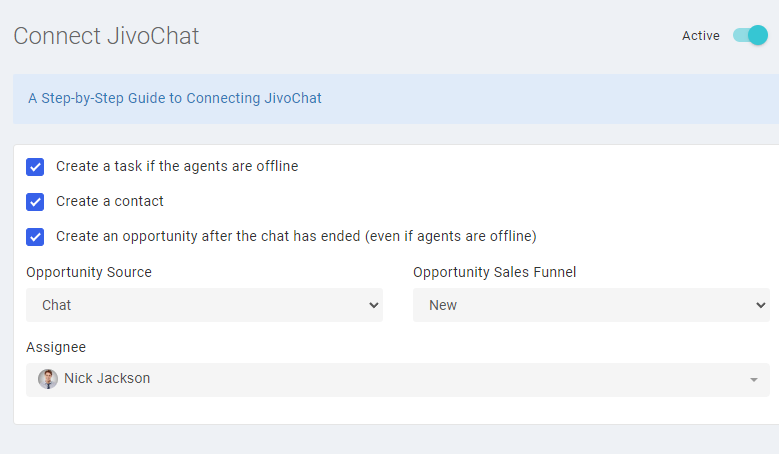 Save.
Flowlu allows you to configure your own settings for each connected channel in JivoChat. For example, only contacts will be created from all chats from the widget on the website, however, both contacts and opportunities will be generated from conversations in WhatsApp. Accordingly, each channel can be defined its own source and pipeline as well as the assignee.
Step 3: Set up Integration in JivoChat
Log in to your JivoChat account.
Go to "Management" → "Channels".
Click on the connected channel and go to "Integration Settings for Developers".
Enable webhooks.
Go back to your Flowlu account and copy the webhook URL from the list in the configured integration.
Paste this URL into your JivoChat account in the "Webhooks Endpoint URL" field.
Now Flowlu will automatically get all the necessary actions to create tasks, contacts and opportunities in the CRM.
If a customer reaches out to you and all agents are offline, Flowlu will instantly create a task and you will receive a notification.
In addition, contacts will be created when a prospect contacts you for the first time. Email and phone number will be automatically recorded in his card.
Also, as soon as the chat is closed, an opportunity can be created in Flowlu.
You're free to choose any option and configure them inside your Flowlu account.