Setting a Custom Invoice Template
Setting a Custom Invoice Template
---
If the existing invoice templates do not suit your business needs, you can easily modify them:

rename the fields, hide unnecessary ones;
add the text of the payment terms to the invoice.
To do this, go to Portal Settings → Finance → Payment Methods & Templates
By default, an invoice template is already created in this section. Click on it to modify the field names or remove them. You can always create a new template if you need to create invoices with different templates.
Step #1
To create a new invoice template, click the Create button in the upper right corner.

In the opened sidebar, select the item with the template (it is under the online payments).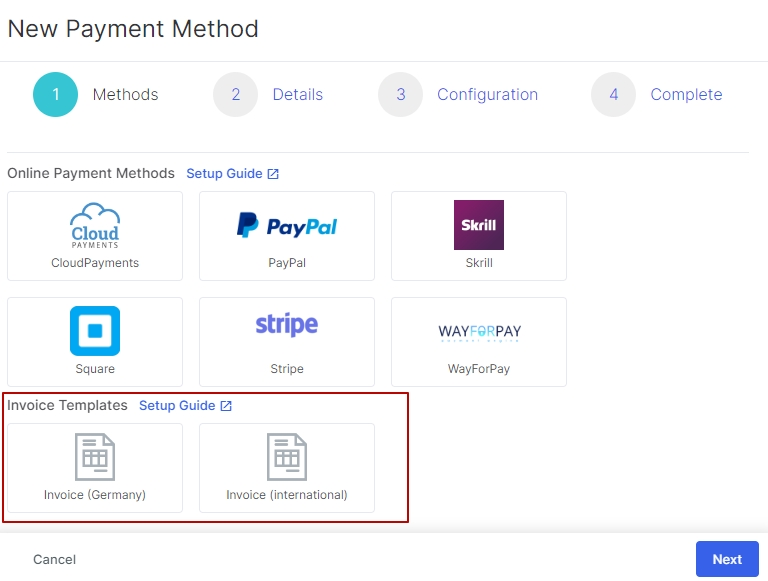 And click Next.
Step #2
Here you need to specify:
A payment method. This name is used only inside the system, you will use it for selecting the appropriate invoice template.
The payment button name. When the client opens the invoice via an external link—through this button, he will be able to print out the invoice. You can name it, for example, Print or Download.
Explain what this invoice template is required for in the description.
Choose an organization.
Type of Payer. Here you can choose either the contacts from CRM (individuals), the companies (legal entities) or both. If you plan to invoice the legal entities, then select the Company type.
Ordering. If your organization has several invoice templates, use the ordering. By default, when issuing the invoice, the template with the smallest numerical value will be chosen.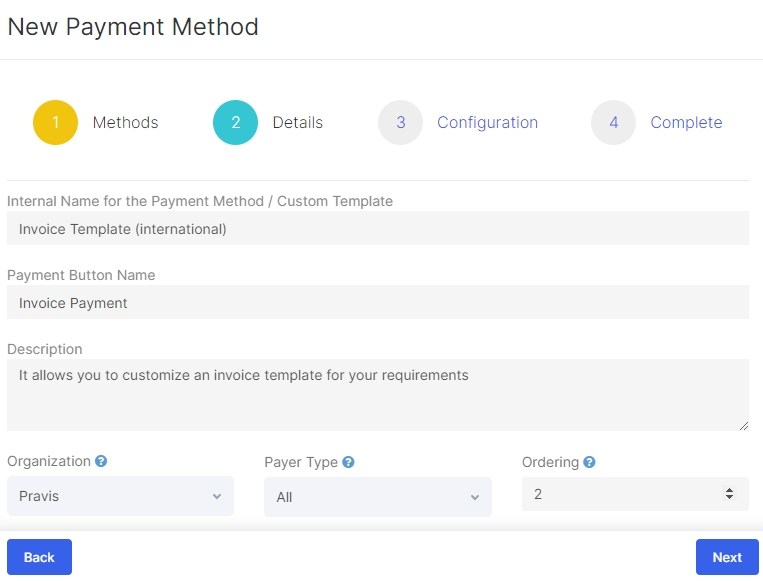 Please note: Each Invoice template is linked to a specific organization. If a similar template is needed for another organization, create a separate invoice template for it.
After filling the data, click Next.
Step #3
Here you can do the following:
specify another name for the organization to be displayed in the invoices, e.g. in another language (1).
check this option if you want to display a logo in the invoice (2);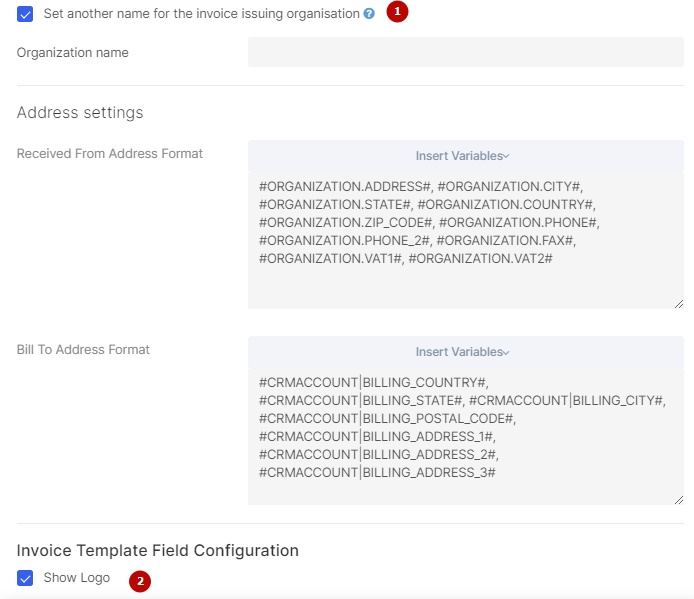 hide or fill out the Bank Details section;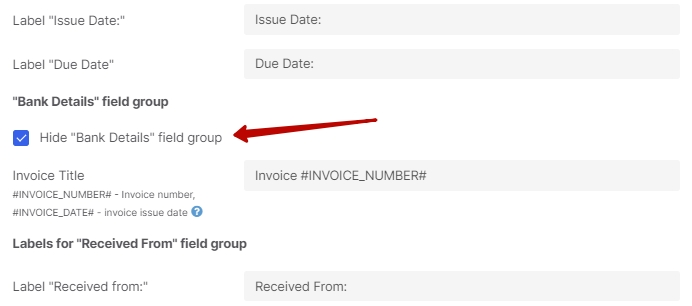 Rename fields. For example, you can change the invoice title (1) or the fields with the payer's contact information (2);
If you do not need to display any fields in the invoice, just clear them from the text (3);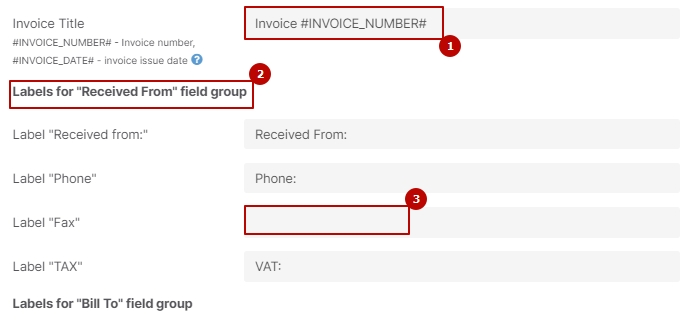 Add the text of the invoice payment terms. If necessary, it can be modified for a specific invoice. You can also choose whether to show currency symb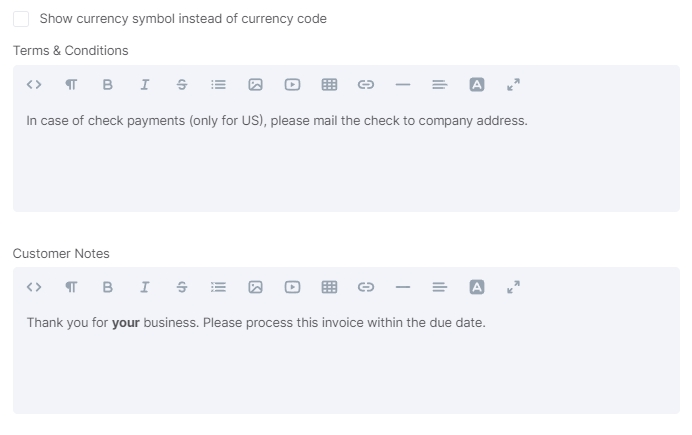 Step #4
Now you can activate a payment method (custom invoice template).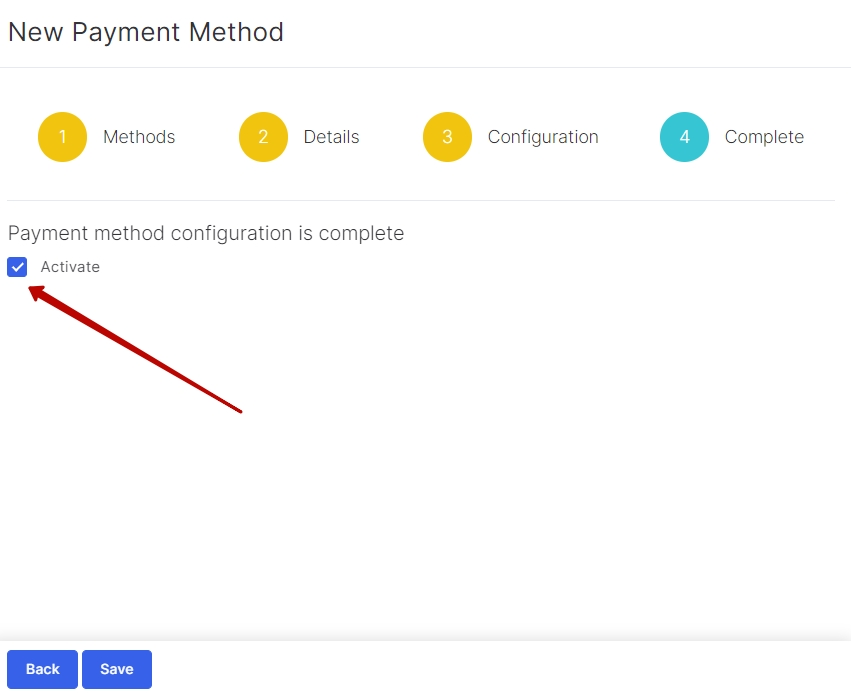 Click Save. Now you can use it to invoice customers.