How to Connect Gmail
How to Connect Gmail
---
Flowlu is not a Google App so it is recognized as a "less secure app" which means it is a third party app. If you want to connect your Google (Gmail or G-Suite) account securely, you have to take the following steps:

Step #1 Enable Less Secure Apps/Set Up 2-Step Verification
If you want to set up your G-suite email account, enable less secure apps (third party apps):
Sign in to your Google Admin console.
From the Admin console Home page, go to SecurityLess secure apps.
Click on the Go to settings for less secure apps.
Select the setting Allow users to manage their access to less secure apps.
Click Save.
Go to Step #2.
If you want to connect your Gmail account, set up 2-Step Verification:
Go to your Google Account.
On the left navigation panel, click Security.
On the Signing in to Google panel, click 2-Step Verification.
Click Get started.
Follow the steps on the screen. Learn more.
Go to Step #2.
Step #2. Create an App Password
Login to your Google Account.
On the left navigation panel, choose Security.
On the 'Signing in to Google' panel, choose App passwords.
If you don't see this option:

2-Step Verification is not set up for your account.
2-Step Verification is set up for security keys only.
Your account is through work, school, or other organization.
You've turned on Advanced Protection for your account.
At the bottom, choose Select app and choose Custom.
Type Flowlu (or any other name) and click on Generate.
Copy and keep somewhere the generated app password. The App Password is the 16-character code in the yellow bar on your device. Then, you'll use this password for connection

Attention. Make sure, that you've created and copied The App Password. If you'll miss this step, the integration won't work.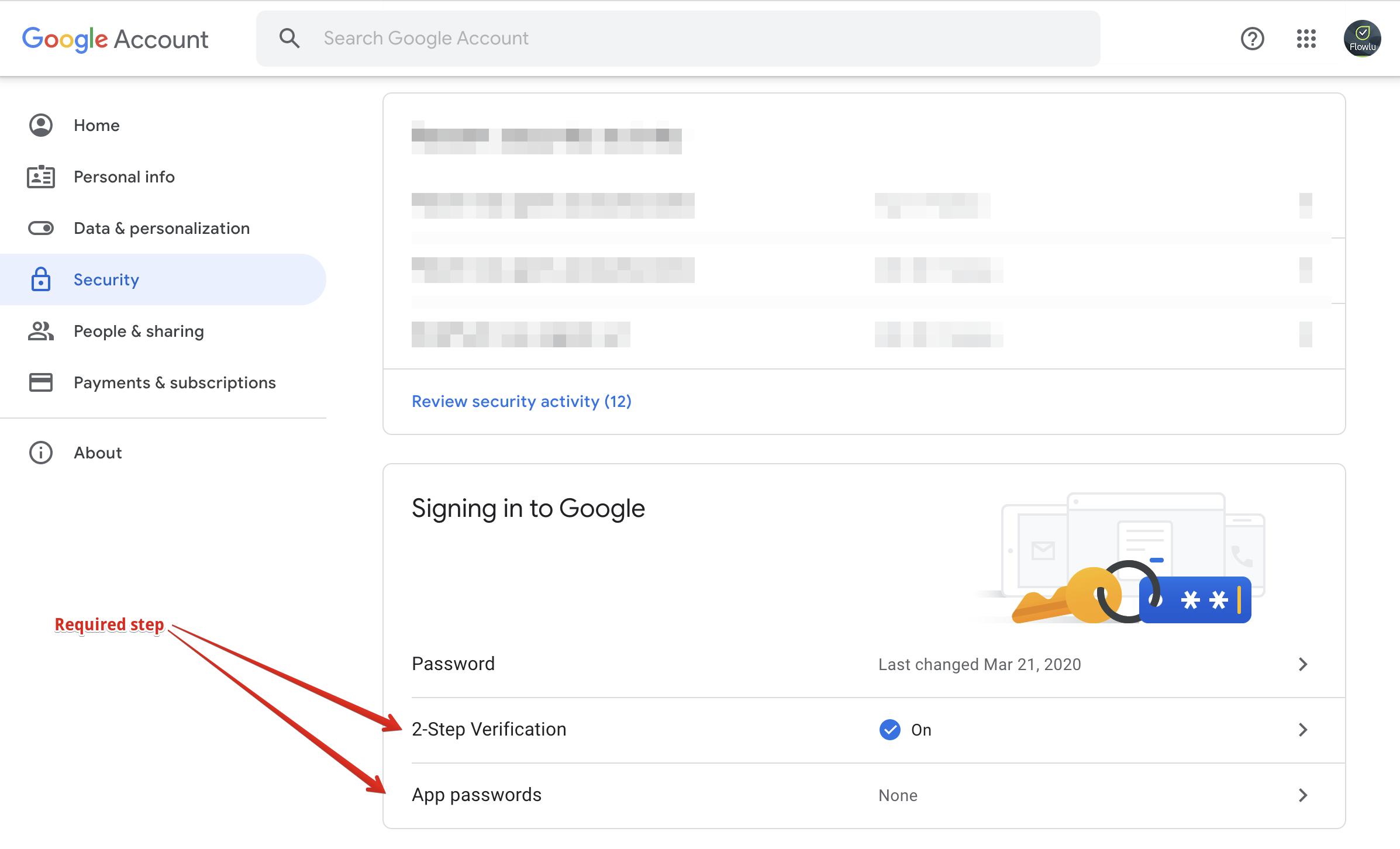 Step #3. Enable IMAP for your account
On your computer, sign in to Gmail (with your G Suite account).
In the top right, click Settings > See all settings
Click Forwarding and POP/IMAP.
In the IMAP Access section, select Enable IMAP.
Click Save Changes.
Step #4. Connect Account
Open the Email module in the Flowlu main menu. Please make sure the Email app is installed at your account.
Click Connect an Account. If you already have connected accounts, click the "'three dots" button in the right corner and select the appropriate option from the list.
Select Gmail.
Enter Gmail login and generated 16-character App password.
Once you have populated these details, you can proceed to the account settings described in the previous article.