Project Financial Management
Project Financial Management
---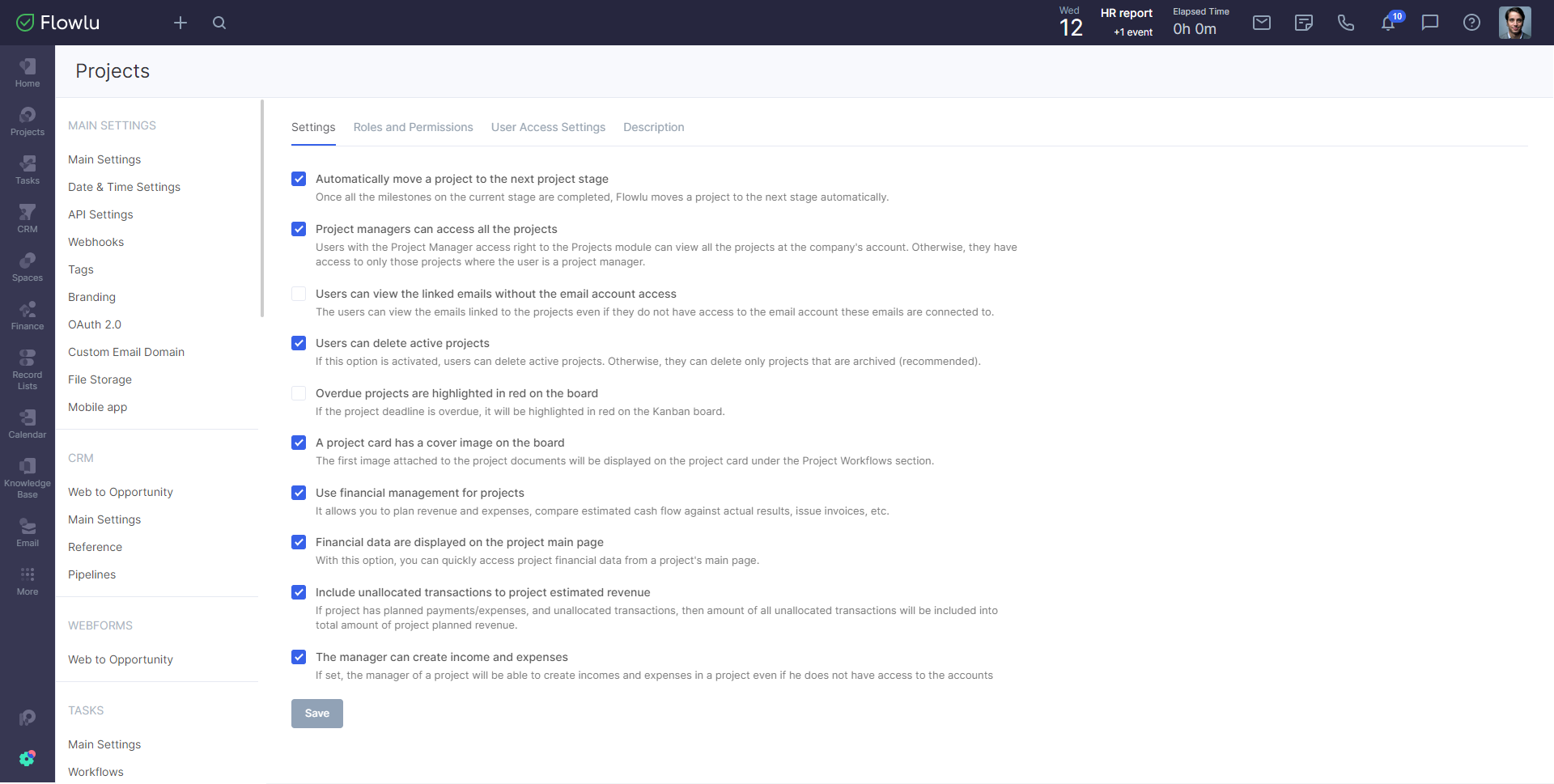 If you plan to track financial data for projects, invoice, calculate costs, track budget, then go to Portal Settings→ Projects → Main Settings and check the corresponding option.
If you do not plan to manage finances in projects throughout the company, then disable this option. In this case, all financial information in the projects will be hidden.
Also here you can choose whether to display finances on the project's main page and whether to include unallocated transactions in the amount of planned revenues.
You can also enable the option for managers to create revenues and expenses for the particular project, even if this employee doesn't have access to a bank account for this project. To learn more about how to set up access rights for bank account, explore this article.
When creating a new project, you can change the default settings of the time tracker: hourly rate, billing by estimated or spent time, method of sorting data in the invoices (by tasks or by time log), invoice item format using variables (e.g. add a note to the time record).

Using these settings, you can invoice customers for the time spent on project work. Please note that you can only issue an invoice for completed tasks.
Finance Section
Project Finance tab consists of three main sections: Money, Invoices & Estimates, Cash Flow Forecast.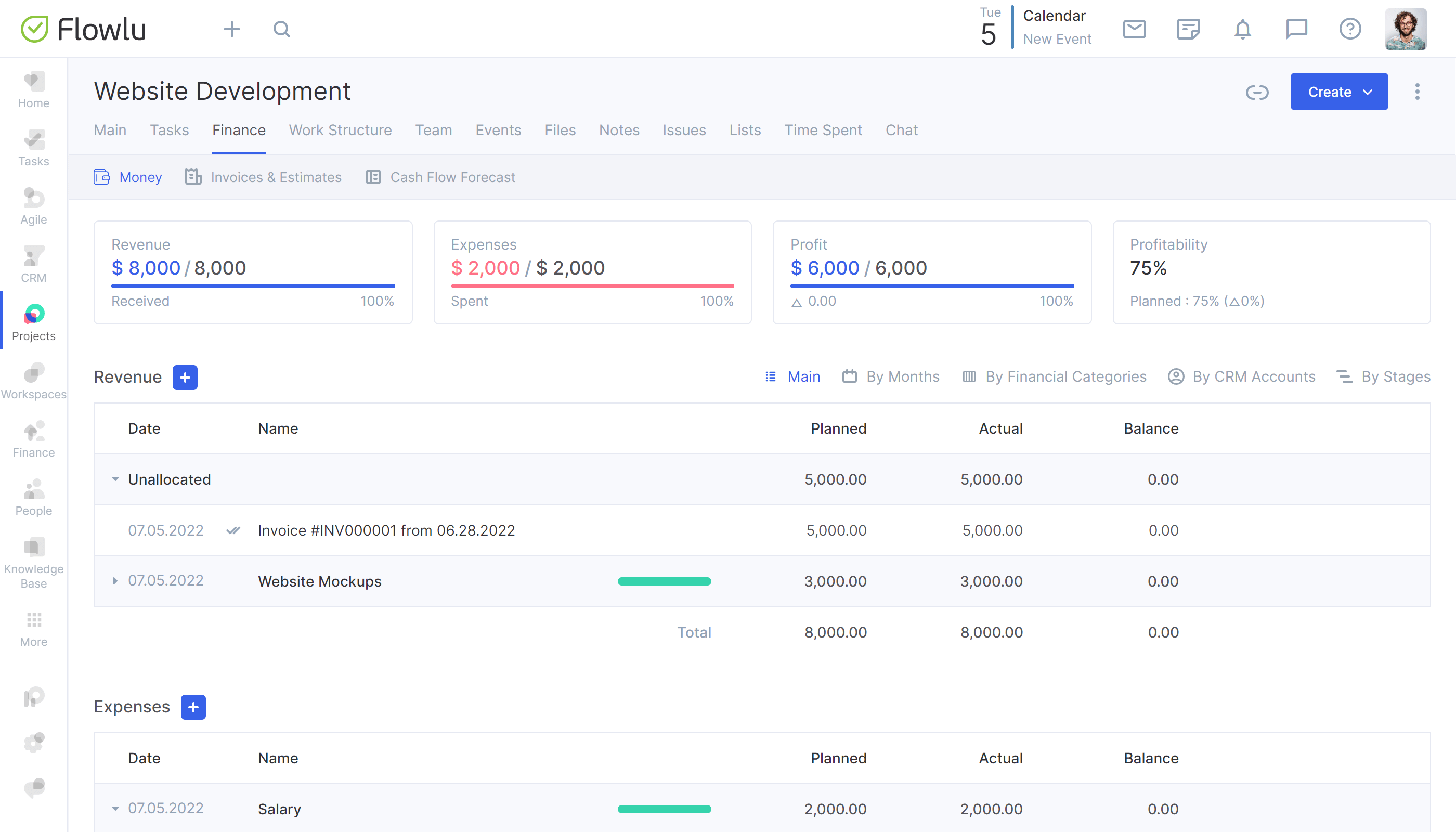 Money section includes all project revenue and expenses — both estimated and actual.
Revenues are the entire incoming cash flow from the client provided for the services performed by your company. Revenues from projects can be taken into account by creating actual revenues or through invoicing.
Expenses are the outgoing cash flow of your company. Here you can account for all costs within the project.
In the Money section, you will see:
how much has been estimated to be paid/spent;
how much has been already paid/spent;
the balance (how much is still unpaid).
You can sort your expenses and revenue by months, financial categories, CRM accounts, project stages.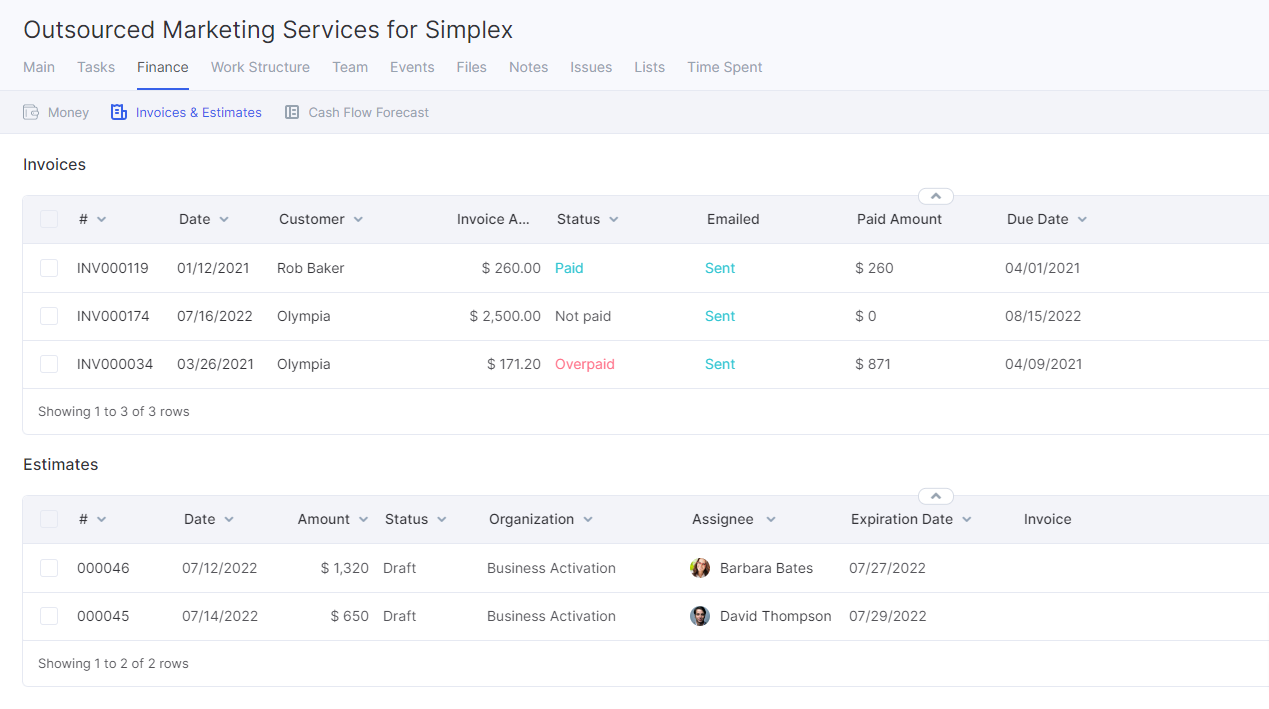 The Invoices & Estimates section comprises all generated estimates and invoices linked to this project. The list is customizable, so you can display only those data you need.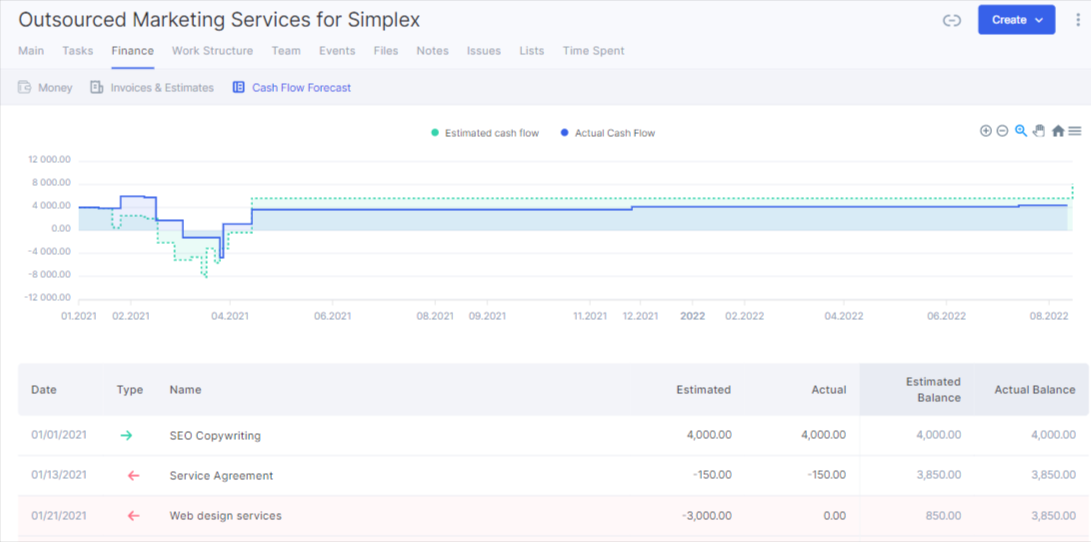 In the Cash Flow Forecast section, you can see planned and actual cash balances at any date. The planned balance is shown by a dotted line, and the actual balance by a continuous line. The graph clearly shows what happens to cash as the project progresses.
Who can view project financial information?
The project manager keeps track of revenue and expenses. This data is available only to the project manager and to the administrators of the Projects and Finance modules.

If necessary, you can hide project finances from managers who have access to all project data. If you hide access to the Finance module, the project manager will not be able to issue invoices, and will not see the budget, payments, and costs for all projects. To do this, go to System Settings → Finance → Main Settings → User Access Settings.