How to Connect Zadarma to Flowlu
---
Learn how to connect Zadarma to your Flowlu account to make and attend calls right from your CRM. Please note that you need to use this integration with the softphone application or VoIP Phone.

Step 1. Install the Telephony Module

Go to "Apps" and install the Telephony module. Note that only account administrators can manage the account's applications.

After the module is installed, you will be transferred to the System Settings → Telephony → Main Settings.
Select Zadarma telephony from the list.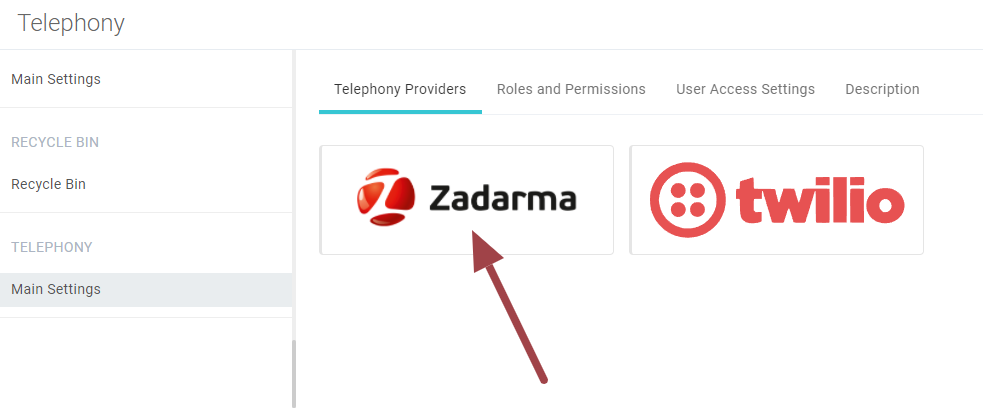 To connect Zadarma telephony, you will need the Key and Secret. You can get these data in your Zadarma account.

Step 2. Set Up Integration
Go to your Zadarma account.
In the top menu press "Settings" → "Integrations and API".
In the opened window find "Authorization Keys" section. Click on Generate keys.
An email containing information about API keys will be sent to your email address. To validate the request you will need to click on the link in the email.
Copy and save the API keys. They should be later entered into the integration settings at Flowlu.
Configuring Notifications

In the top menu, press "Settings" → "Integrations and API".
In the opened window, find the "PBX Call event Webhooks" section.
Enter "https://.flowlu.com/external/rest/telephony/hook/zadarma/events" (without quotes) in the "Link to your website" field.
Specify all events for which you want to send data:
NOTIFY_START;
NOTIFY_INTERNAL;
NOTIFY_END;
NOTIFY_OUT_START;
NOTIFY_OUT_END;
NOTIFY_ANSWER.
The settings will be updated automatically.
Entering Key and Secret

Go back to your Flowlu account, to the telephony settings window: "System Settings" → "Telephony" → "Main Settings" → "Telephony Providers" → "Zadarma". Or press on "Telephony" module and choose "Add Telephony" → "Zadarma".
Specify the "Key" and "Secret".
After entering the Key and Secret, go to "Call Processing" setting or press "Activate" right away.
Step 3. Call Processing
After connecting telephony, you need to define scenarios for processing calls in Flowlu. Flowlu offers the following options for both incoming and outgoing calls:

Creating a contact.
Creating an opportunity (always or only for received calls).
Creating a task (always or only for received calls).
You can pre-define a workflow for tasks, and a sales pipeline and source for opportunities. You can choose whether to create tasks for all calls, only successful calls, or only failed calls.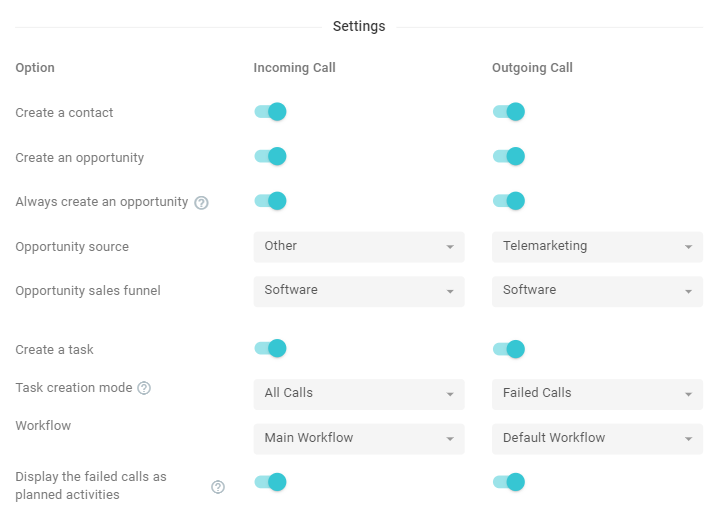 If you want to display the last failed call in the "Planned" section in the opportunity and CRM card, select the appropriate option. In this case, if you have a missed call or failed to reach a customer, this information will be located at the very top of the feed in the "Planned" section.
Step 4. Users
If you successfully connected the telephony, you will have a new section "Users" and Zadarma extensions (numbers) will be loaded.
You need to manually relate the appropriate teammate from your Flowlu account to Zadarma extension (number).
If this user is assigned a specific CRM account, they will be the first to get an incoming call from this person.
The "Import" button allows you to refresh the page of users and load the missing users, if you, for example, have just added them to your telephony account.

When all the data is filled in, press "Save."
To remove the telephony from you account, select the "Deactivate" option.

Step 5. Connect a Softphone or IP Phone

Next, you need to configure your SIP endpoint. You could use softphones (like Zoiper or Zadarma app) or IP phones.

Download softphone application and enter Zadarma details (server, login, passwords) to log into. For connecting your IP phones, please use the appropriate instruction to ensure smooth connection.
When you call someone from Flowlu, it will first call you back through the softphone interface. You need to accept this call and then the connection will be established.
Learn more about the telephony options.
---