Flowlu Earns a Spot as the Integration Leader in Project Management Software Category and Ranked as the #1 Knowledge Management Software by GetApp
August 11, 2023
3 min read
GetApp, a renowned company dedicated to assisting businesses in their software purchasing decisions, prominently featured Flowlu in its esteemed Integration Leaders Report, specifically within the Project Management, Knowledge Management and Sales Force Automation categories. This recognition highlights Flowlu's exceptional performance in terms of seamless integration capabilities, solidifying its position as a leading solution in the industry.
Best Knowledge Management Software and Integration Leader in the PM Category
GetApp's recognition of our software in various categories and ranking top in them is a significant achievement for us. It is a testament to our commitment to providing a high-quality solution that meets needs of businesses across a wide range of industries. It also serves as a valuable endorsement for businesses looking for effective software solutions.
We have always strived to achieve higher results, that's why we achieved an overall 4.8 rating on GetApp and remain one of GetApp's top-rated products. Not us, but our users have made it possible! Check out our average scoring in the Knowledge management category of 357 products.

Flowlu secured a prominent position among the highest-rated products, primarily due to its exceptional integration capabilities. As a testament to our seamless integration solutions, we proudly collaborate with renowned platforms such as Integrately, Pabbly, SyncSpider, and KonnectzIT.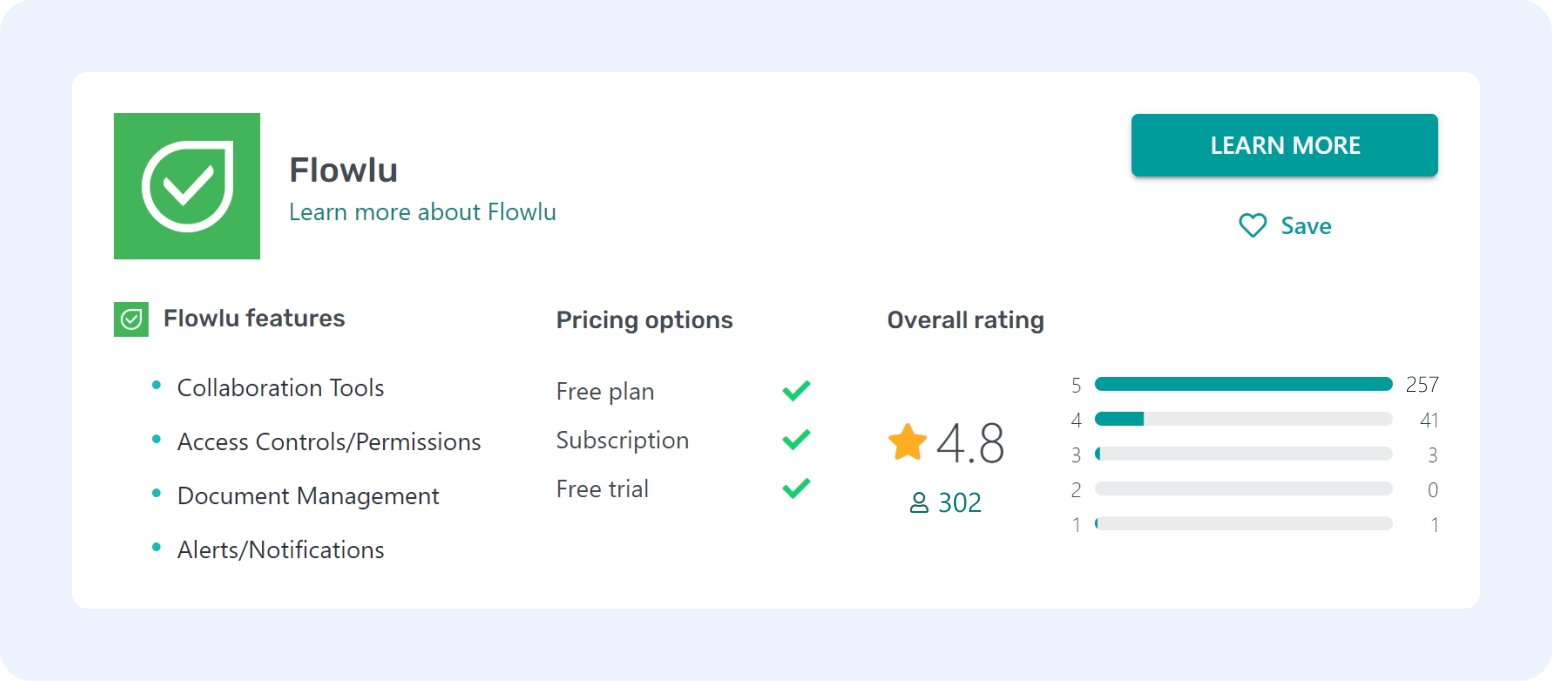 Previously, we have also been featured in its "Top 8 Project Management Apps For Team Collaboration" report which shows the testament to the hard work and dedication of our team in developing a user-friendly and efficient platform.
Not only this, Flowlu is a winner of not 1 but 13 GetApp Category Leaders reports in a span of a year! Check out our incredible wins:
Billing and Invoicing
Knowledge Management
Project Management
Collaboration
Task Management and many more!
We're very proud to be highly scored by our users, just take a closer look at what they're saying about Flowlu:
"Our whole team is managing and assigning internal tasks to each other on Flowlu. Api
integration is awesome, you can make your own app out of their APIs. Crm is awesome,
custom fields are great" - Deepak B.
"I've used and managed several CRM solutions. Many CRM providers nickel and dime
you. What attracted us to Flowlu was its competitive pricing and its deep and
comprehensive features. Flowlu is an all-encompassing CRM solution for a fraction of
the cost of its competitors.." - David W.
A Word From Flowlu
We're happy to be recognized as the best software in multiple categories by GetApp and will be continuing putting all our efforts to make Flowlu better for our users. If you want to share your feedback with us, feel free to leave a review on GetApp or any other platforms.
See the most answers to the most frequently asked questions. You can find even more information in the knowledge base.
Knowledge base
Sign up and start exploring Flowlu with a 14 day unlimited trial and find the subscription that suits you best. Sign up and start exploring Flowlu with a 14 day unlimited trial and find the subscription that suits you best.  
Sure! You can use Flowlu on both iOS and Android smartphones.
We have a constantly updating knowledge base, where you can find all documents about our modules and find answers to all your questions.
August 11, 2023
3 min read