How to Add an Estimated Project Expense
How to Add an Estimated Project Expense
---
Estimated project expenses are added on the project page. Here you can add the expenses manually or import them from CSV.
To add an estimated expense, click on the appropriate button in one of the sections on the project page:

on any project tab by clicking on the Create button;

In the Finance section → Money → Expenses and click on the plus button.
A sidebar will open to create an estimated expense.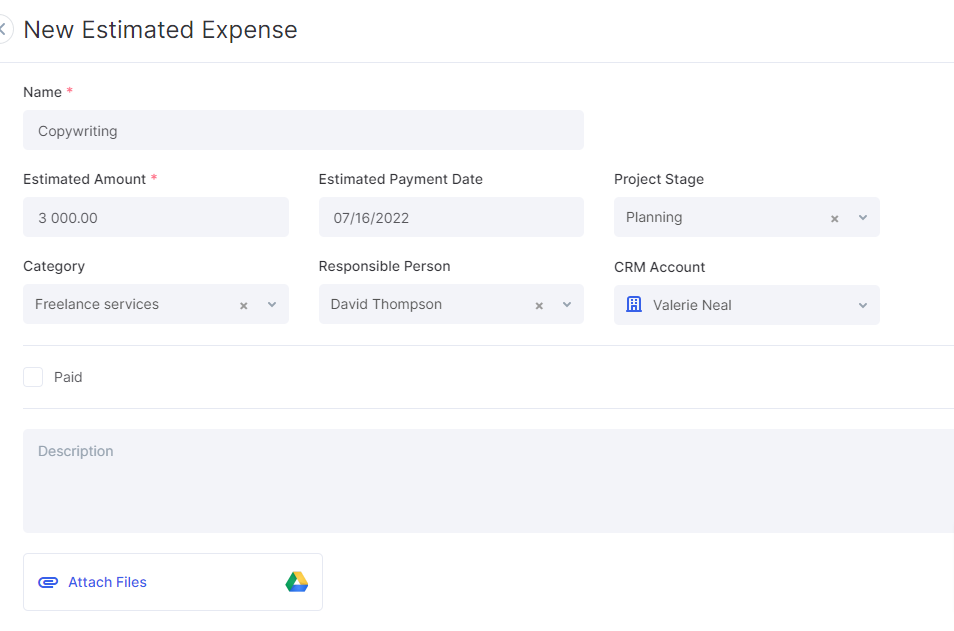 Here, it is enough to enter only the expense name and the estimated amount. All the fields listed below can be filled in later:
Estimated Payment Date. Do not specify it immediately if you only need to estimate the expense amount.
Project Stage to which the expenses relate. Specify it in case if it is important to track expenses by stage.
Financial Category of expense (salary, freelance services). Expense allocation by categories will allow you to analyze the company's cash flow. Categories are set in Finance settings.
Responsible Person.
CRM Account, to whom you transfer the money.
File for reference or reporting. For example, a sales receipt.
If the amount is already paid, then check the Paid box. In the opened window, all payment data will already be filled. Change it if necessary:
the organization bank account from which the funds are transferred;
date, if it is different from the current one;
amount of payment, if it differs from the planned one.
Note: Organizations are created in the System Settings section → Finance → Organizations. And bank accounts – in the System Settings → Finance → Bank Accounts.
Save the entered data.
The recorded expense will also be displayed in the Finance application, on the Money tab.
You can import a list of expenses with the name, dates and amounts of payments from a CSV file. To do this, click the "Revenue/expenses import" button in the Flowlu project and upload your file. All expenses with the specified parameters will be added to the project. Find out more about importing expenses.

When creating the expense schedule, you may not specify your estimated dates when, for example, you only need to calculate the total amount of expenses. Later, in the expenses, you can quickly specify the scheduled dates.

Note: Expenses without a planned date are not included in the cash flow forecast.
Click a date on the expenses to change or clear it. When clicking, a calendar will open where you can select another date.
To delete a date, press the Clear button.