How to Add Estimated Project Revenue
How to Add Estimated Project Revenue
---
There are several ways to create a project payment schedule. To add an estimated revenue, click on the corresponding button in one of the sections on the project page:
on any project tab by clicking on the Create button in the top right corner;
In the Finance section → Money → Revenue. Click on the plus button and select Estimated Revenue.
After that, the sidebar will open to create a payment:

It is enough to specify the name and the estimated amount. All the fields listed below can be filled in later:
Estimated Payment Date. You can leave this field blank if the payment schedule has not yet been approved by the customer.
Note: Payments without a date are not included in the cash flow forecast.
Financial Category. For example, SEO services, Website Development. This will allow you to be aware of how much money has been received from each business unit.
responsible person.
the project stage to which the payment relates. Specify it in the case if it is important to track payments by project stage.
CRM account—the project customer will be automatically filled out here;
attach a file if necessary. For example, price list or calculations.
If the amount is already paid, then check the Paid box. In the opened window, all payment data will be filled in:
change the organization's bank account if it is different from the default one;
change the date if it is different from the current one;
change the amount of payment, if it differs from the planned.
Note: Organizations are created in the System Settings section → Finance → Organizations. And bank accounts are created in the System Settings section → Finance → Bank Accounts.
Save the entered data.
The recorded project payment (actual revenue) will also be displayed in the Finance application, in the Money tabs.

Find out more about recording the cash flow.
When you create an estimated revenue, you can invoice for payment using the same form. This invoice will be displayed in the "Invoices & Estimates" tab of the project. As soon as this invoice is paid, the estimated revenue will also be marked as paid.

You can import a list of revenues with the name, dates and amounts of payments from a CSV file. To do this, click the "Revenue/expenses import" button in the Flowlu project revenue list and upload your file. All revenues with the specified parameters will be added to the project. Find out more about importing revenues.

You can quickly specify or change the planned dates from the list of revenues.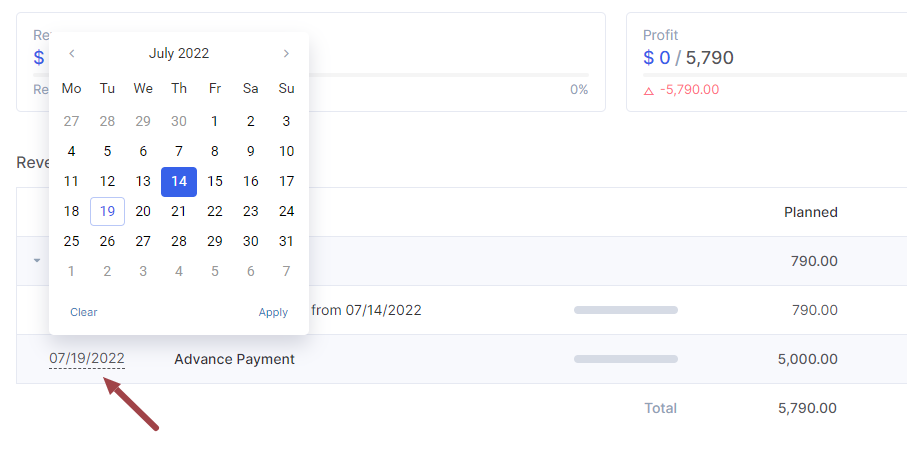 To do this, click on the appropriate field. The selected date will be saved automatically.
To delete a date, press the Clear key.