Meet The New Flowlu
July 11, 2022
4 min read
We're thrilled to share that we have released our newly designed Flowlu out of Beta! Our team has redesigned the general UI and added some new functionality, such as much-anticipated dashboards.
In this blog post, we will go through the major improvements we have made to Flowlu.
Redesigned Flowlu UI
First of all, we have made plenty of enhancements to the Flowlu UI to make core functionality more user-friendly and delightful for our users. These include:
To improve your experience in Flowlu, we've added two color themes—dark and light modes. Decide how the platform should look according to your own preferences!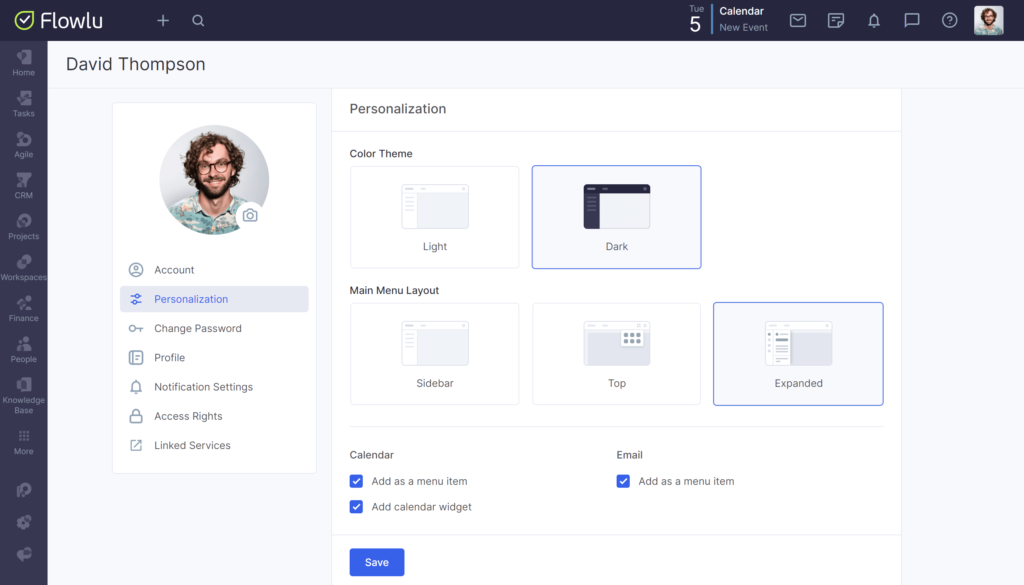 From now on, you can choose from three different types of menu: top navigation menu, sidebar menu and expanded sidebar menu (brand new). Navigate to Personalization to set your account the way you like.
Basic elements like notes, chat and notifications are still in place. What you should pay attention to is a new widget at the top of your workspace. It allows you to view the current date and instantly access the calendar. Plus, now the top panel has buttons to quickly view emails.
We've revamped the forms for creating tasks, projects, opportunities and knowledge base to make them more decluttered and organized. The more simplified forms will eliminate some of the noise to help you focus on the most important things. And if you open a project, user, opportunity or CRM record, you'll see it also has got a more sleek, clean look.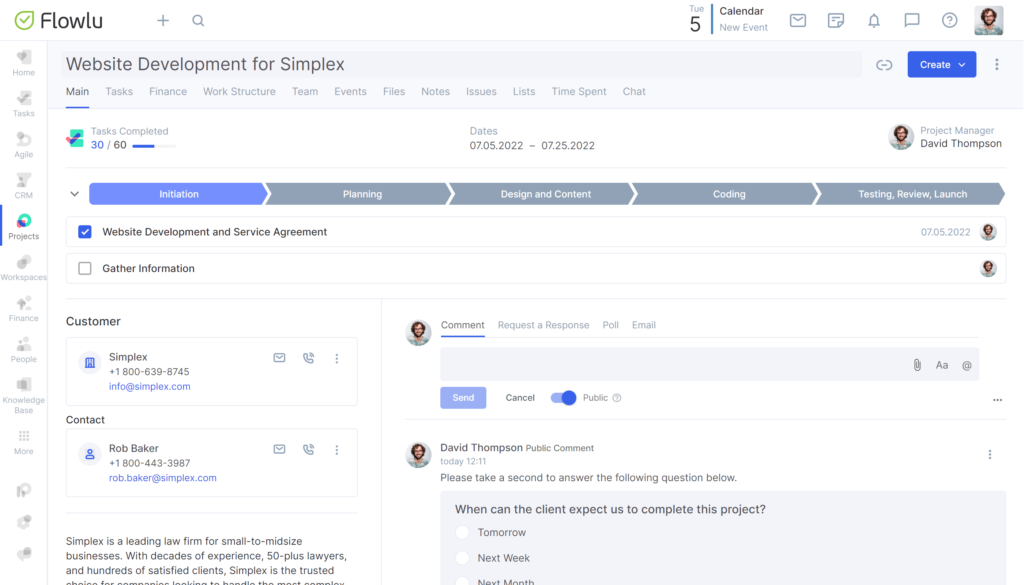 Kanban boards also were redesigned and now look and feel more modern.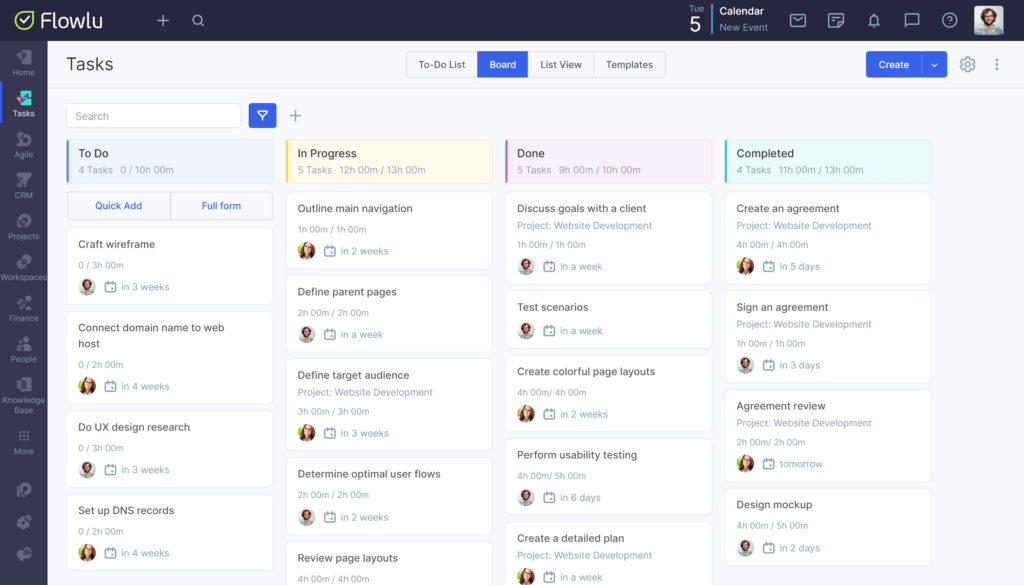 Projects now have tabs for a list view (table), board and archive, making it easier to manage your projects.
When you create a new project workflow, there is a new form to apply all the appropriate settings and then start to build a workflow structure.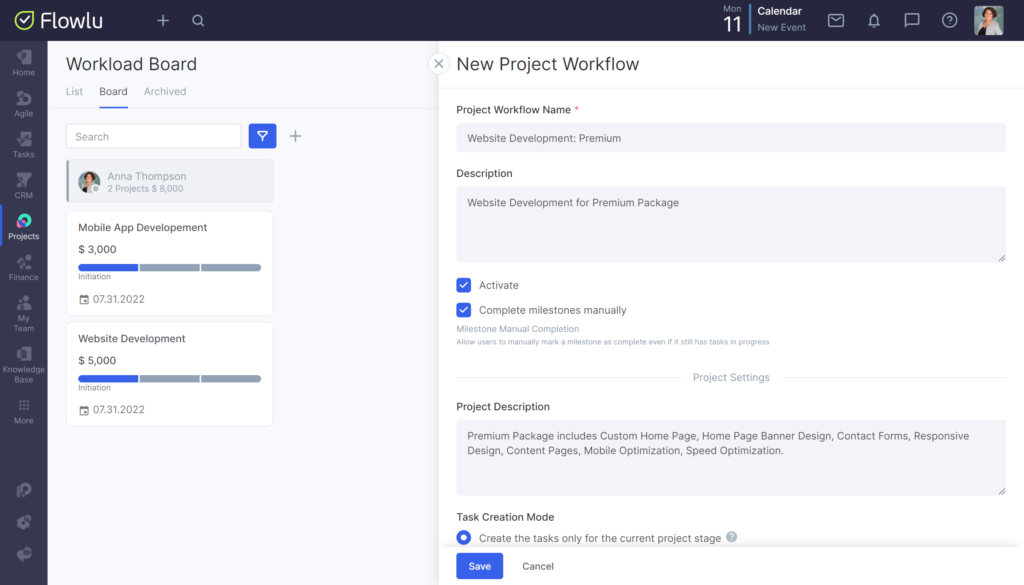 Automation is now a separate section in the CRM module to make it easier to navigate and use.
Dashboards
In addition to unveiling user interface enhancements, we would like to introduce some new product features. We've re-engineered our Feed and equipped it with the customizable dashboards.
The terminology has been changed for clarity, so the Feed becomes Home. You can create several views on your Homepage and include different dashboards, company feed or onboarding. Get a real-time overview of your financial health or important tasks within seconds!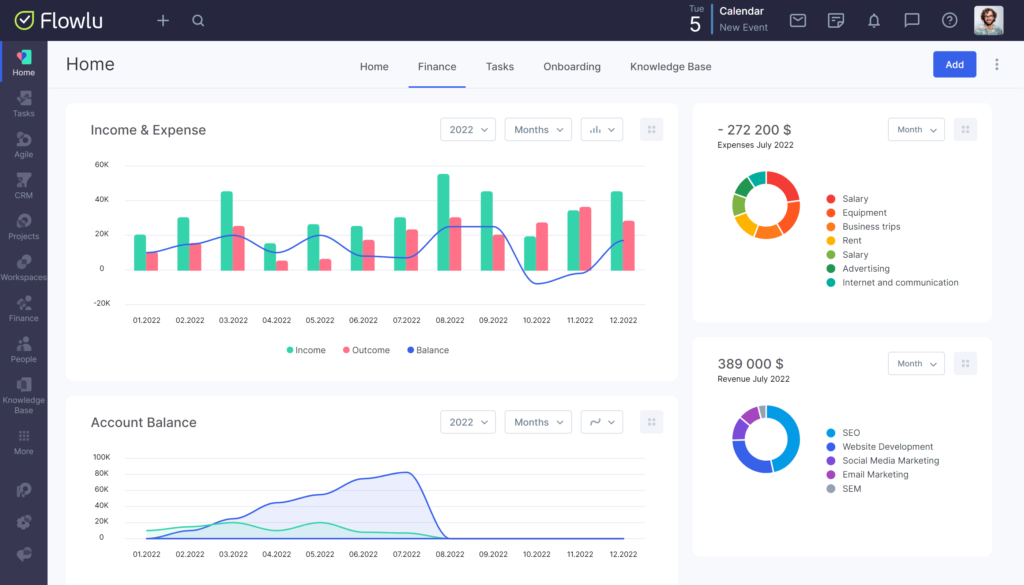 The available dashboards include tasks, agile projects, onboarding, knowledge base and finance modules, but there's still more to come.
Learn more about dashboards in our Knowledge base.
Automation for Agile Projects
Apart from automation for opportunities and tasks, there are also now automation rules for agile projects. This means that you can automate specific actions for issues triggered by particular conditions and stage updates.
Plus, if we're talking about Agile issues, you may probably notice that you can now create your own issue types!
Improved Project Finances
We've rebuilt the financial management in Flowlu projects and removed previous limitations. From now on, there's no need to select a financial management mode. You can plan revenue and expenses, record actual cash flow and issue invoices based on the spent time — all at the same time!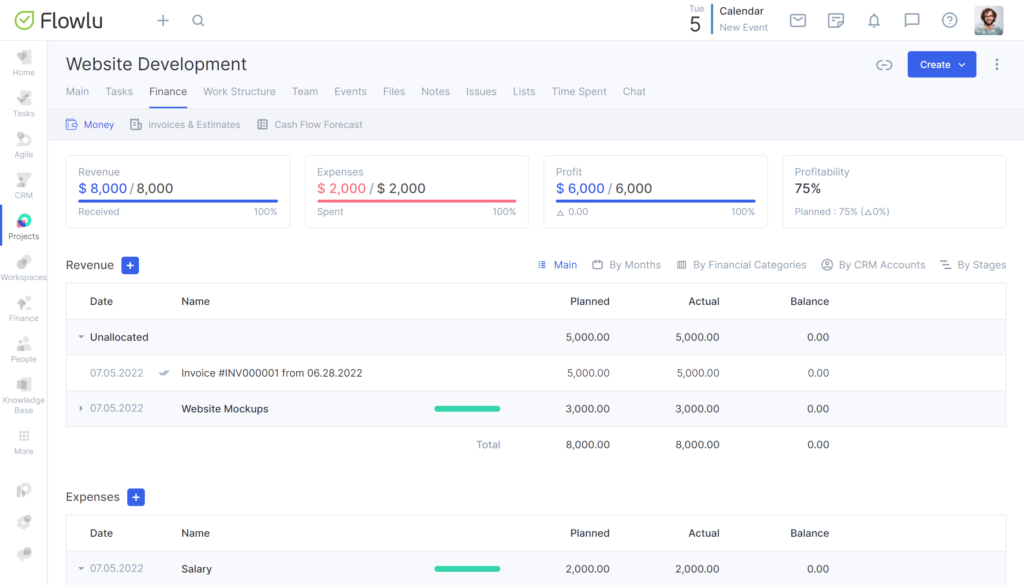 New Custom Field Type
There is a new custom field for storing passwords. Flowlu's password field keeps passwords behind a secure mask (like ******). Utilize this new type to store passwords in the record lists.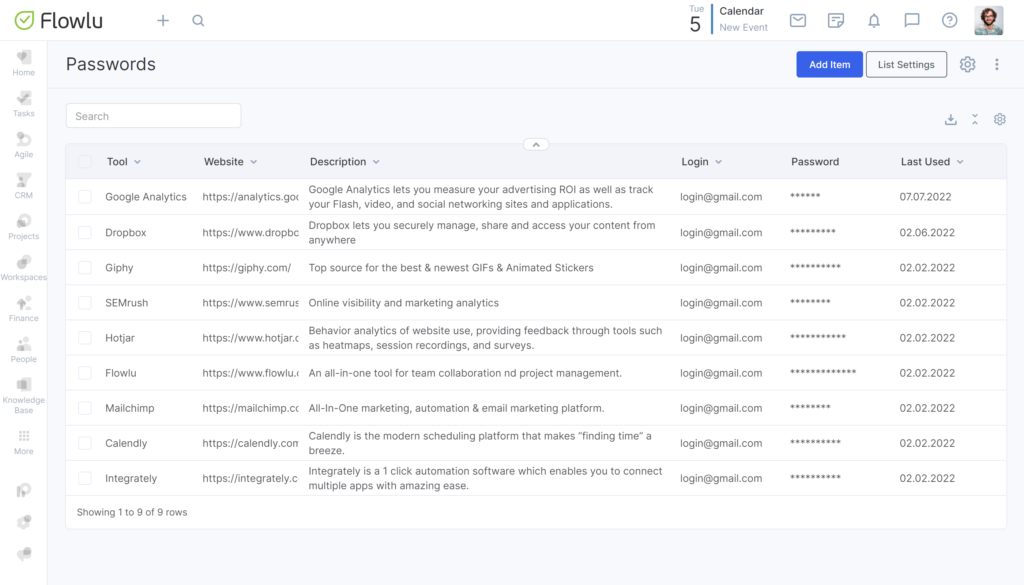 Final Words
Flowlu aspires to continuously grow and improve by building the best possible user experience for our customers for team and work collaboration. We hope this new update will bring more joy to your daily work. We're looking forward to your feedback and thoughts on our redesigned platform.
Although we have released a lot of changes, the UX/UI updates are not over, so we appreciate any thoughts on how we can improve more. Keep submitting your ideas and voting for features you want to see in Flowlu!
See the most answers to the most frequently asked questions. You can find even more information in the knowledge base.
Knowledge base
Sign up and start exploring Flowlu with a 14 day unlimited trial and find the subscription that suits you best. 
Sure! You can use Flowlu on both iOS and Android smartphones.
We have a constantly updating knowledge base, where you can find all documents about our modules and find answers to all your questions.
July 11, 2022
4 min read