Task Folders
---
The first folder Inbox is designed to record the tasks that you may need to perform. These can be thoughts and ideas that came during the meeting or brainstorming. You can decide whether to perform them and, if so, when exactly to execute them later.

You can create a task here instantly: just type in the Enter a new task line what you need to do and press Enter.
Further, from this folder, you can drag the task to another folder, for example, to the Assigned to (1), Tomorrow. You need to review tasks from this section regularly. They can be performed immediately, if it takes less than 2 minutes, assigned to someone (by dragging to the folder Assigned to), distributed into the folders with dates, projects, lists, etc. Or they can be immediately deleted (2) if they have no value to you.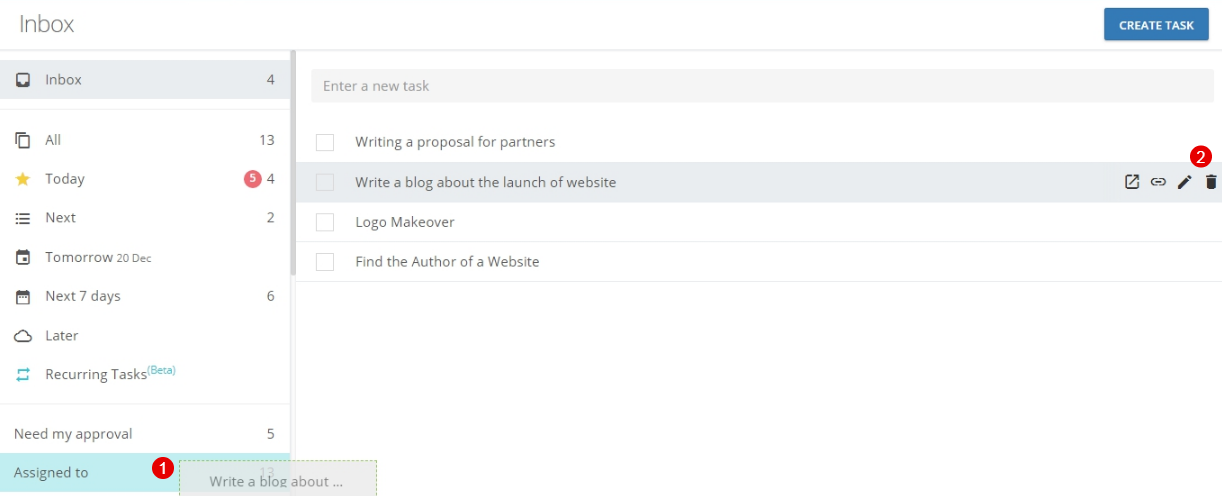 In the All folder, the entire list of your tasks is displayed, these are the tasks in which you are responsible. Tasks from the Inbox folder are not displayed here.
Default tasks are grouped by date: overdue tasks are displayed at the top, the tasks that need to be started today, tomorrow, in 7 days or later are displayed below.
This will allow you not to lose track of things and perform the tasks that you really need to do today.
Here you can minimize the task list of a specific group in order not to be distracted by the currently irrelevant information.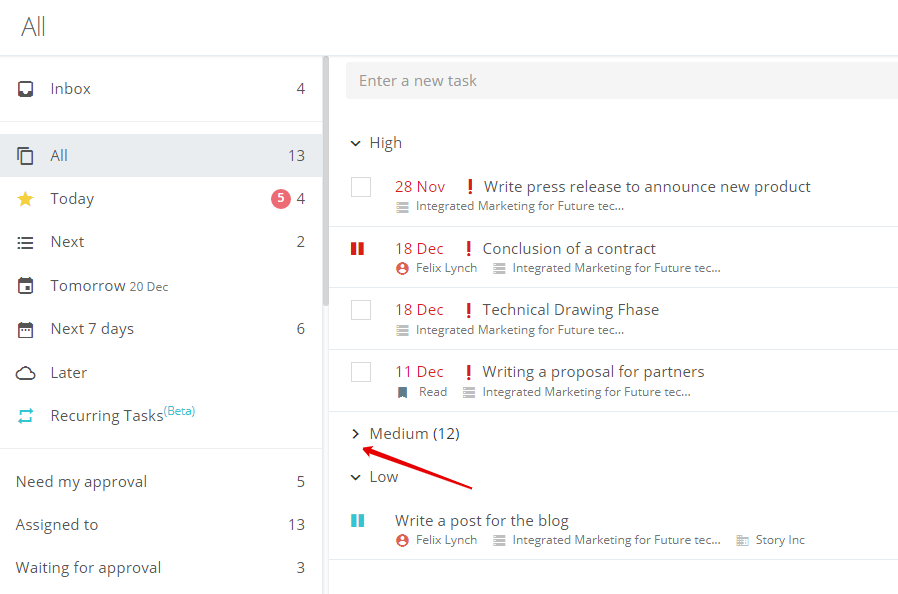 You can change the grouping with a filter. For example, you can group the Task List by priority, owner, lists, projects. Additionally, you can sort them by creation date, start date, and deadline.
The filter is located on the upper right of the task list.

Task list grouped by priority and deadline
Please note that the selected filter will be saved. And the next time you log in, you will not need to set it again.
When you go to the Tasks section, you automatically get to the Today folder. It displays overdue tasks, as well as tasks that need to be started or completed today. Thus, you can immediately start working on the tasks important at the moment.
The Tomorrow folder contains tasks that require attention only tomorrow.
The Next 7 days folder contains tasks that will require attention in the next 7 days, including today.
The Later folder displays tasks that need to be started no sooner than in a week.
Read more about the grouping tasks into date folders in this article.

The Recurring tasks folder contains the templates for recurring tasks (current and completed ones), in which you are an assignee or an owner.
Recurring tasks include tasks that are repeated with a certain frequency. This may be the creation of reports, verification of overdue payments, etc. To create a template for a recurring task, you need to set recurrence parameters in a task. On the basis of this template, the tasks will be automatically created according to a specified schedule.
In the Recurring tasks folder, you can quickly see when the next task will be created (1) and which tasks have expired (2):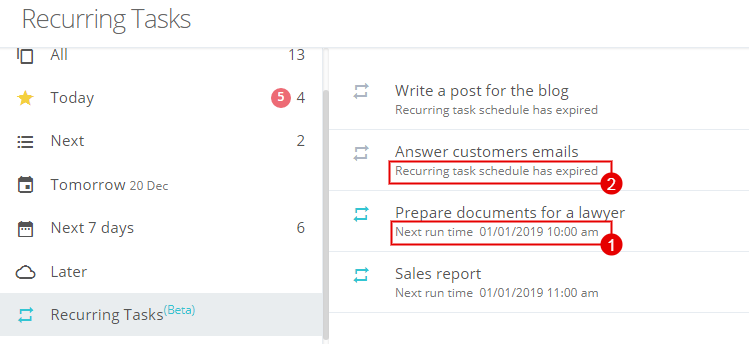 Read more about managing recurring tasks.
Completed tasks that you have assigned to your colleagues automatically get into the Need my approval folder. Tasks from this folder should be regularly checked and either be approved or send for revision.
Find out more: How to approve task or send for revision
Here you can also use a filter and group tasks by responsible, lists, projects. Also, you can apply sorting by creation date or time of last modification. Sorting tasks by the time of the last modification may be useful in order to see which tasks were closed first and require to be checked first.
In the Assigned to a folder, there are all the tasks that you assigned to your colleagues. With the help of the By deadline filter, you can quickly find out if there are any overdue tasks, and if there are any tasks for which the deadline is fast approaching.
The Task list is grouped by priority, assignee, lists, projects.
Find out more about assigning the tasks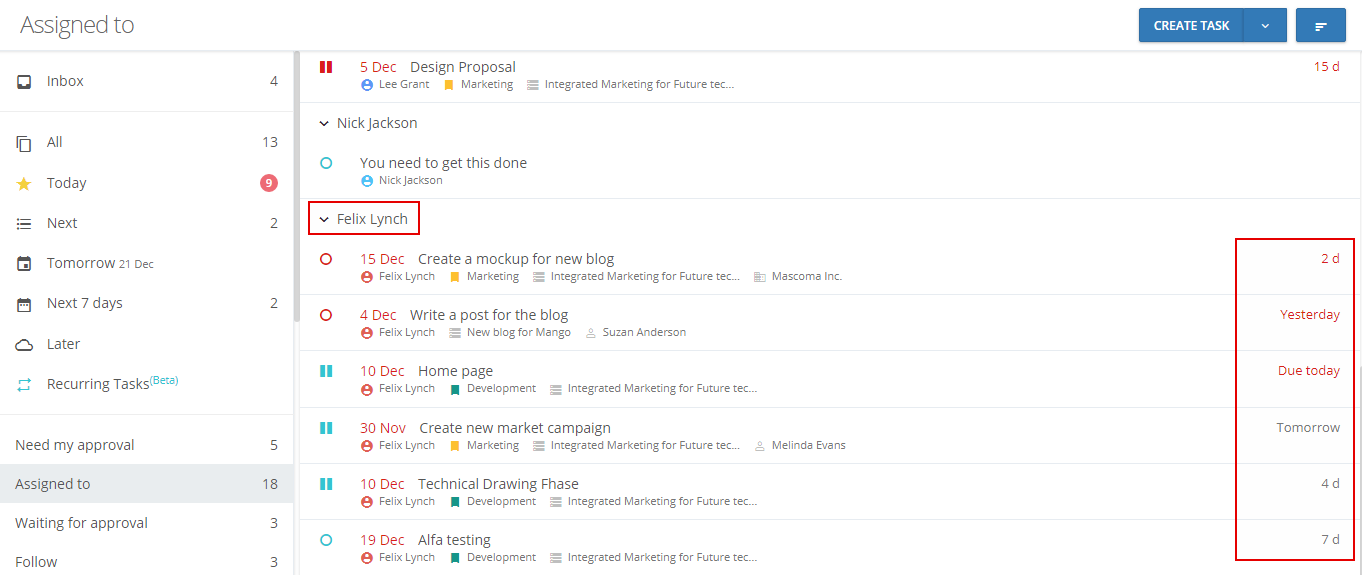 List of assigned tasks with grouping by responsible and deadline
The tasks that were assigned to you by your colleagues and which you have completed, automatically fall into the Waiting for approval folder. Tasks stay in this folder until their owner approves them.
The Follow folder displays the tasks in which you are a collaborator. Collaborators track the progress of work on a task, receive notifications of new comments, can add their own comments.
Find out more about a collaborator role
In the Lists column, you can create your own folders to structure your own list of tasks. These may be certain logical categories that unite tasks according to a common feature.
Read more: Why and how to create task lists?
In the column Projects, there are your projects, where you are Project Manager. In the project folders, you can see current and completed tasks, for which you are responsible or an owner.
Here a filter is available for grouping tasks by responsible, owner, priority, and deadline.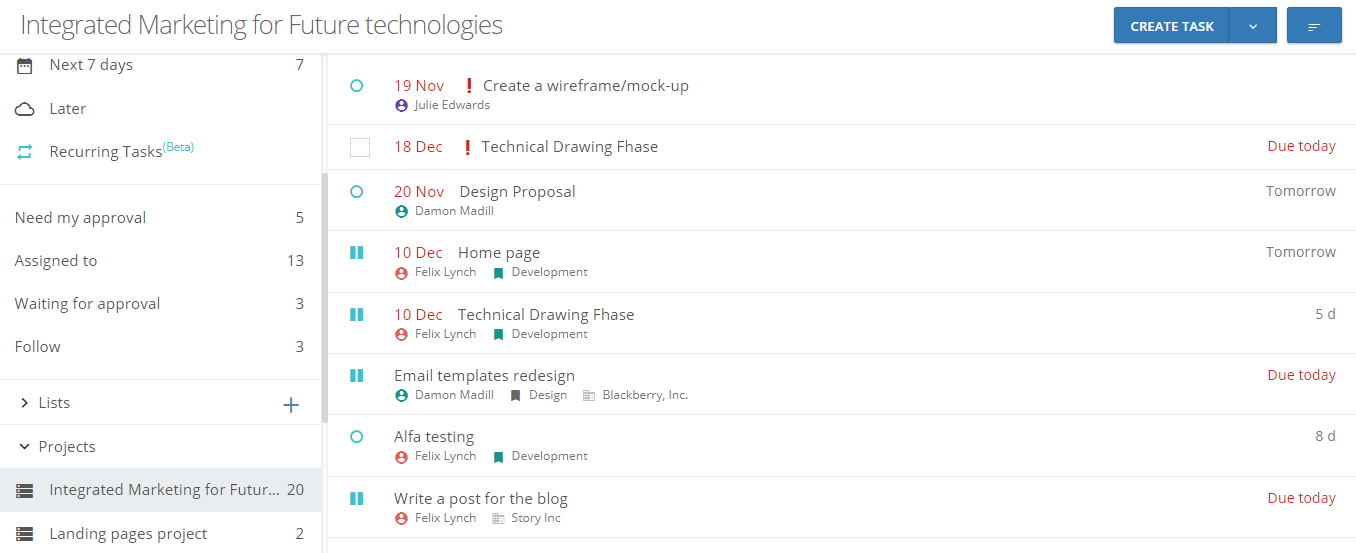 Task list in the project folder
In the Completed tasks folder, you can find recently closed tasks or go to the full list of completed tasks by month.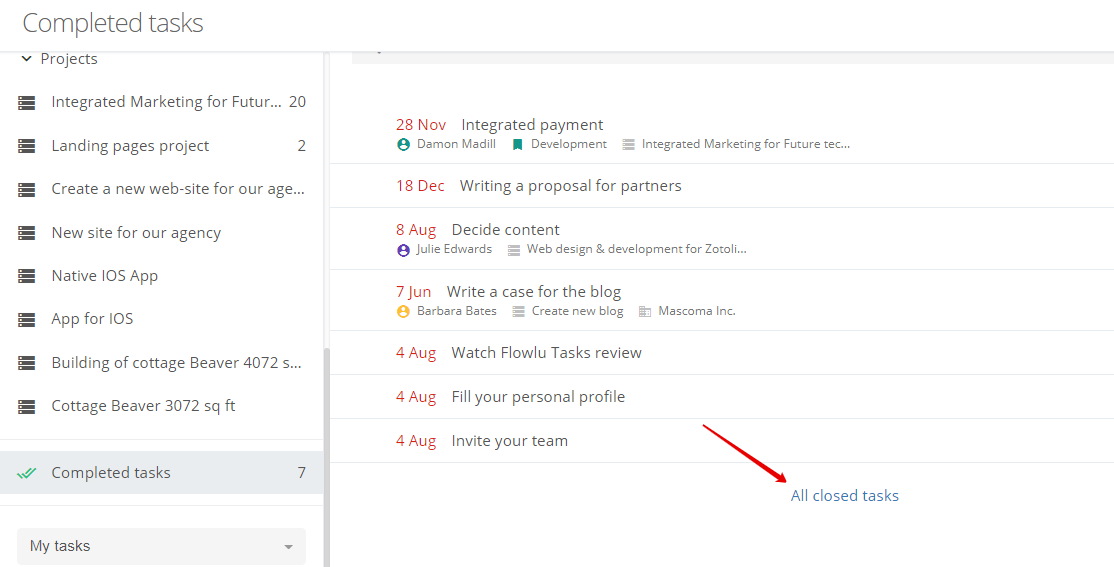 Going to the full list of completed tasks
The filter by an employee, located under the folder with completed tasks, allows you to go to the list of tasks of any employee and see all the tasks that he is performing, assigning to the colleagues, monitoring, etc. The filter is available to administrators of the Tasks module.
With this filter, you can quickly evaluate the workload of an employee, check completed tasks that he/she has assigned to colleagues, or respond to his/her comments in the tasks. Such tasks are highlighted.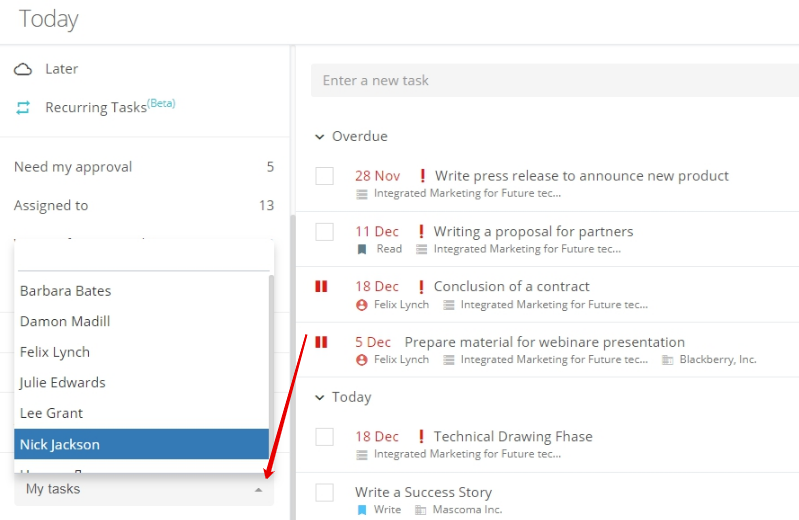 ---