How to Create an Opportunity
---
The opportunity in Flowlu is any chance to make a profit. It can be a lead, a sale of something, agreements on placing the order.
A lead is any possible client who has reacted to any of your marketing activities and left you the contacts.
The opportunities must be created each time the client is contacted. The created opportunity will store the entire history of working with this client—events, tasks, bills, offers, tasks, files, and more.

Opportunity detailed page
Upon successful completion of the opportunity, an invoice is issued, or it is converted to the project. Successful opportunities are marked as won and sent to the Archived Opportunities section. The lost opportunities are closed with an indication of the reason for the refusal.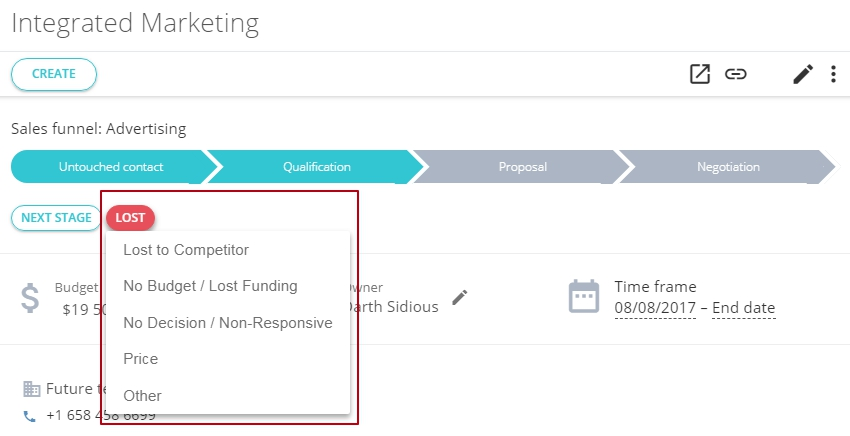 You can create the opportunity manually or automatically. Read more about automatic lead creation.
In this manual, we tell you how to add the opportunity manually.
How to Add an Opportunity
In Flowlu, there are several ways to create an opportunity. You can choose the one that is the most convenient for you.
Method #1
Through the Add Opportunity button, in the Opportunities section: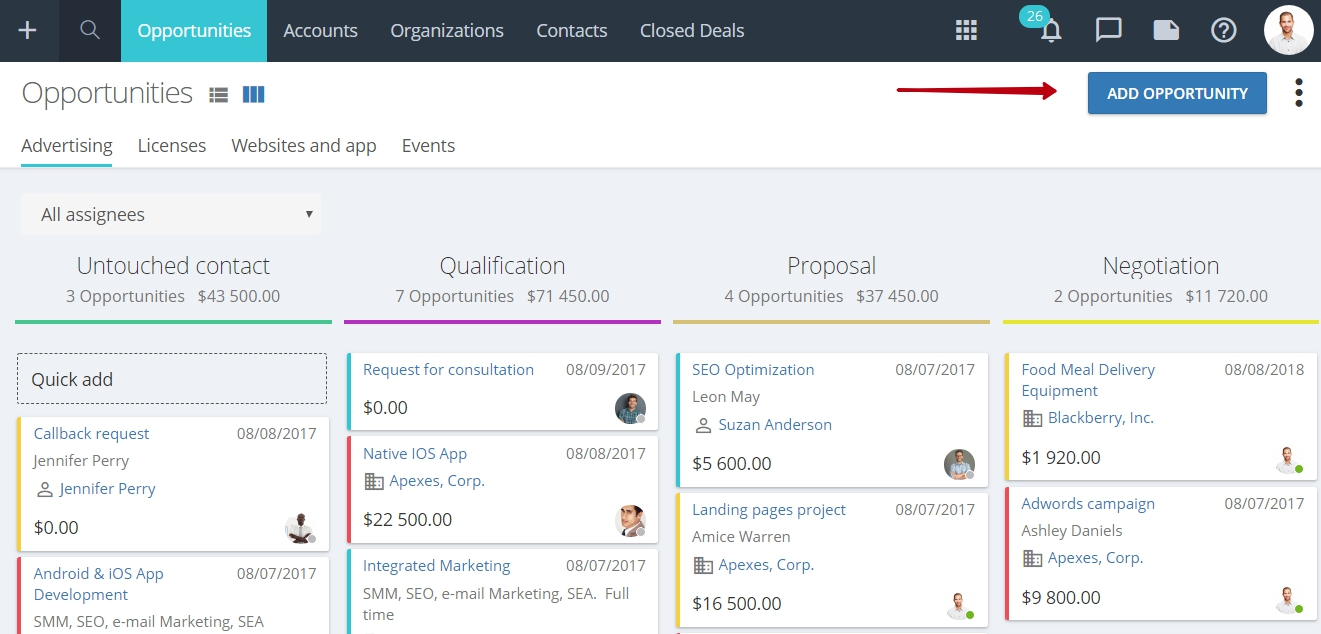 In the opened sidebar, add the necessary information for the opportunity. In particular:
name and budget of the opportunity;
the source of the opportunity—where did this client come from. In the future, this will help you track the most successful entry points for new customers;
identify the sales funnel;
select an account from the list or create a new one.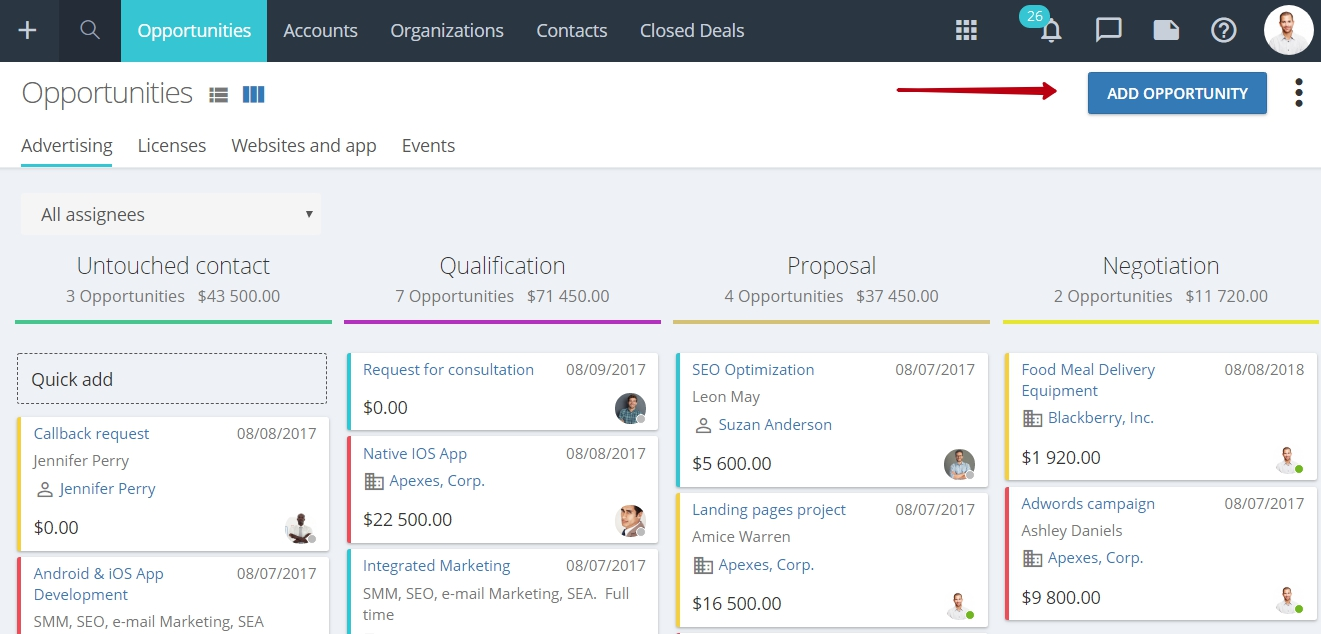 Find out more: How to create a company or contact.
If this is a cold contact that you probably will not work with, we recommend you not to create a card, but fill out the contact details on the Opportunity static information tab. If necessary, you can create a client card with all the previously filled data later with a couple of clicks.

After filling all the required fields, click Save or Enter.
How to Create a Customer Card Using Opportunity Static Information?
The static information you specified in the opportunity is stored in the Info tab. To create the customer card, press the buttons Link to CRM Account → Add Account: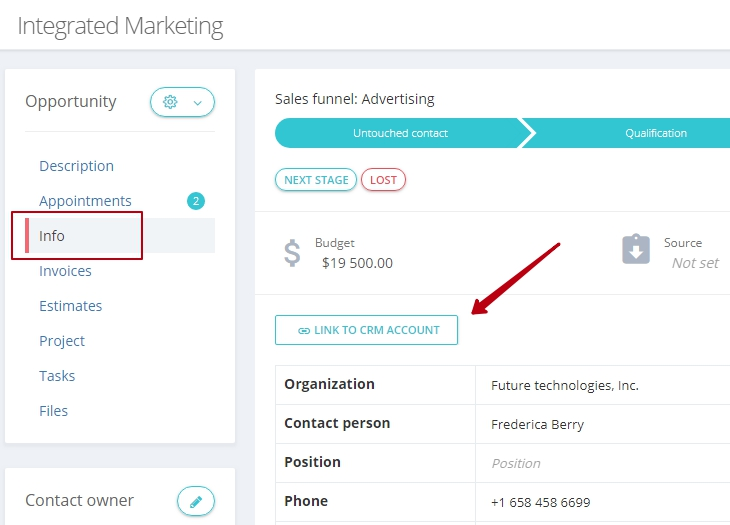 After that, all the specified static information will be dragged into the card for creating a new account:
Method #2
Through the Quick add button on the Opportunities board: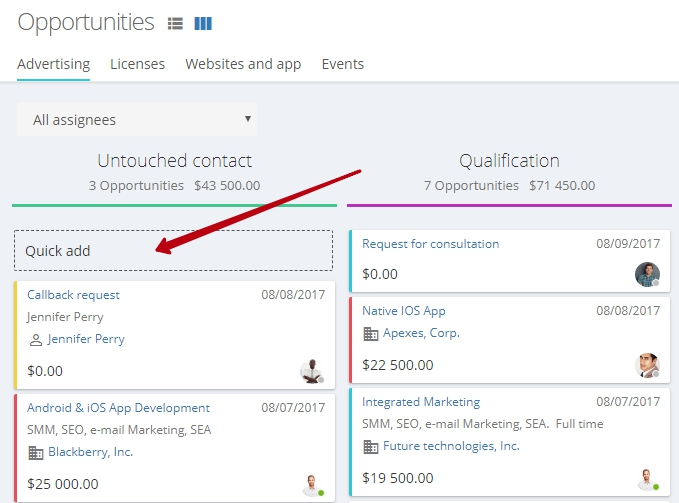 Enter the opportunity title, its amount, specify the account and click on the checkmark or Enter to save: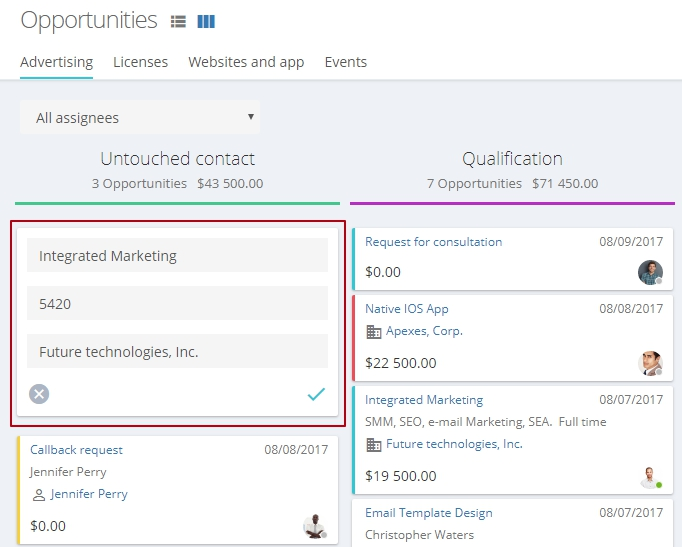 Method #3
Through "+" in the upper menu. And it does not matter in which section you are at this moment: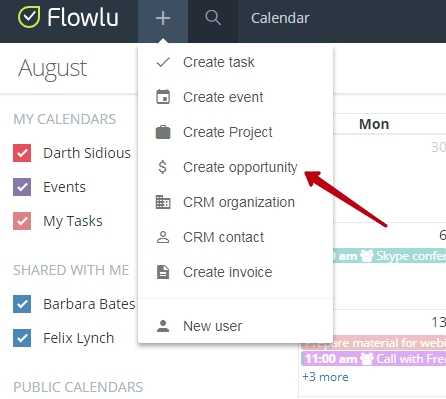 Method #4
From the account card, the company or the customer: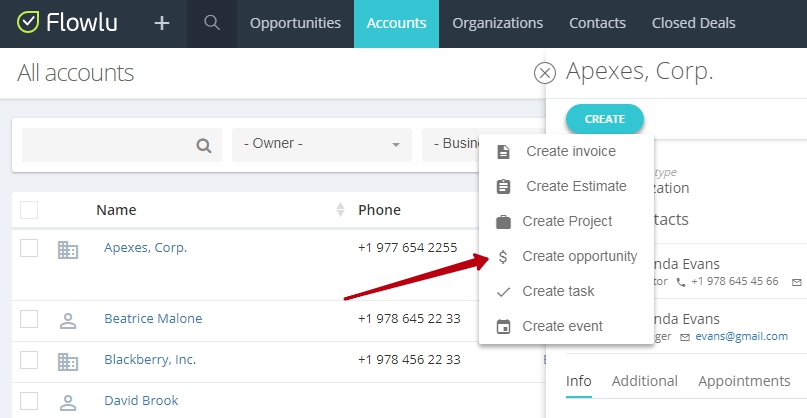 Creating an account opportunity from the sidebar

Creating opportunity from the account detailed card
---