Opportunities
---
Opportunities are the chances of making profits and sales for your company. Each request of your potential customer, whether it's an email, a completed web form on the website or an incoming call—all of them are opportunities. During the selling process, the opportunity goes through the stages that you can set up in the System Settings . The opportunity is a main record for sales management: events (calls, meetings), invoices, estimates, files, tasks, etc.
If the opportunity is won, you should issue an invoice or create a project. The lost opportunities are closed with an indication of the loss reason. According to the lost/won opportunity performance, a report is generated as a funnel, which visually allows you to identify bottlenecks in your sales process.
All work with opportunities is conducted in the CRM app → Opportunities.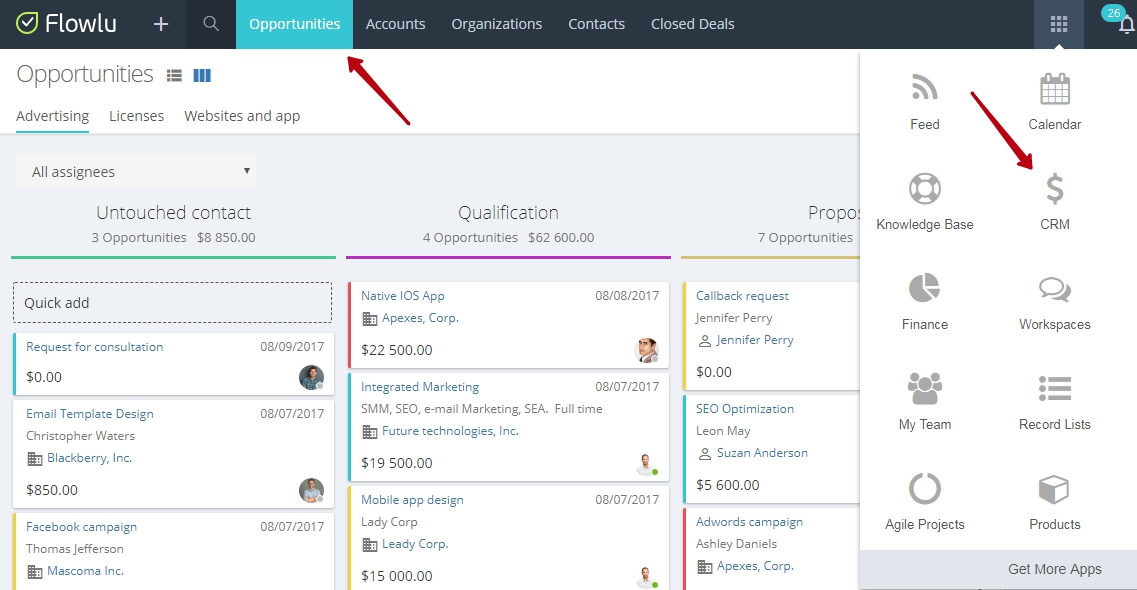 List or Kanban View
You can choose a convenient for you way for displaying opportunities—a list or a kanban board. To select the display type, click the corresponding button:

In the list, opportunities are displayed as a table. It displays the information about the opportunity stages, the budget, the company/contact name, person responsible for the opportunity, as well as the last comment on the opportunity.

In the list, you can filter and sort any data: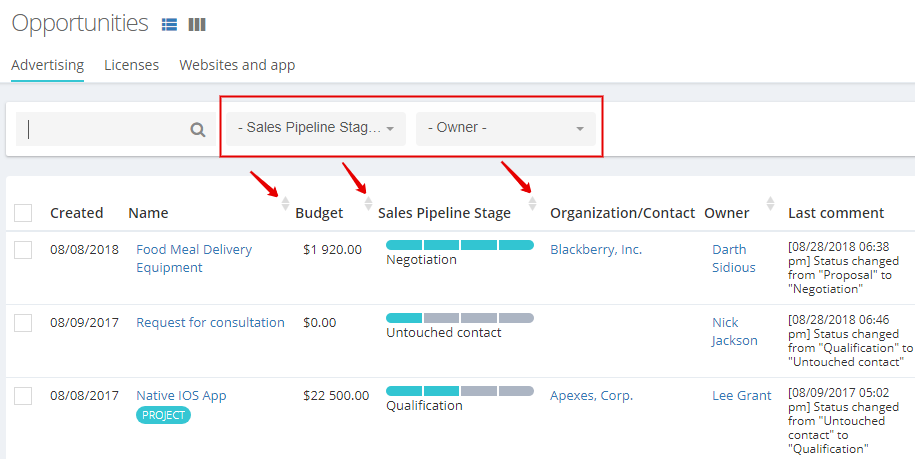 With the opportunity kanban board, you can assess the current state of the business at a glance. With the help of drag&drop, employees drag opportunities from stage to stage as they negotiate with the client.

Dragging opportunity from stage to stage
The column under each stage shows the amount that these opportunities will bring if they are won. If you move the opportunity, the amount is immediately recalculated.

Based on opportunities, the events are planned (meeting, call, email) and depending on the planned date, the color indicators are displayed on the board, which prompt the manager and the department head, which opportunities need their attention.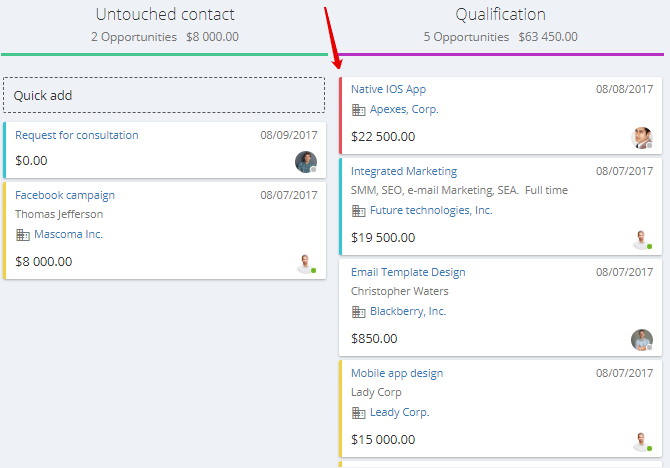 What do the indicators mean?
Yellow—no events are scheduled for the opportunity. Create a new event to increase the chance to close the opportunity as won.
Red—there are overdue events in the opportunity, which need to be closed urgently.
Blue—the opportunity has scheduled events for today and tomorrow. This will help managers not to forget about the opportunity during the day.
No indicator—the opportunity does not require any action, it has planned events for the next days.
---