Scrum Project Management
Scrum Project Management
---
The principles of Scrum are aimed at helping your team to create the product/service of the highest value in short time. The product is created here in the form of a series of fixed time iterations.
This approach allows you to split one big project into several small ones, which in Scrum are called sprints. Thus, the project management process will become simpler and more transparent. Also, you will have the opportunity to constantly adjust the work plan, thanks to feedback from customers or your product users.
The Scrum practices are used today not only in the IT field but also in the marketing and educational projects, in recruiting, media, construction and legal companies when launching a new product on the market and many other projects.
In Flowlu, the following tools are available for organizing the teamwork with Scrum:
visual and structured backlog for collecting the user stories, issues and tasks;
sprint planning;
Kanban board for tracking progress;
burndown chart for monitoring the working speed of the team.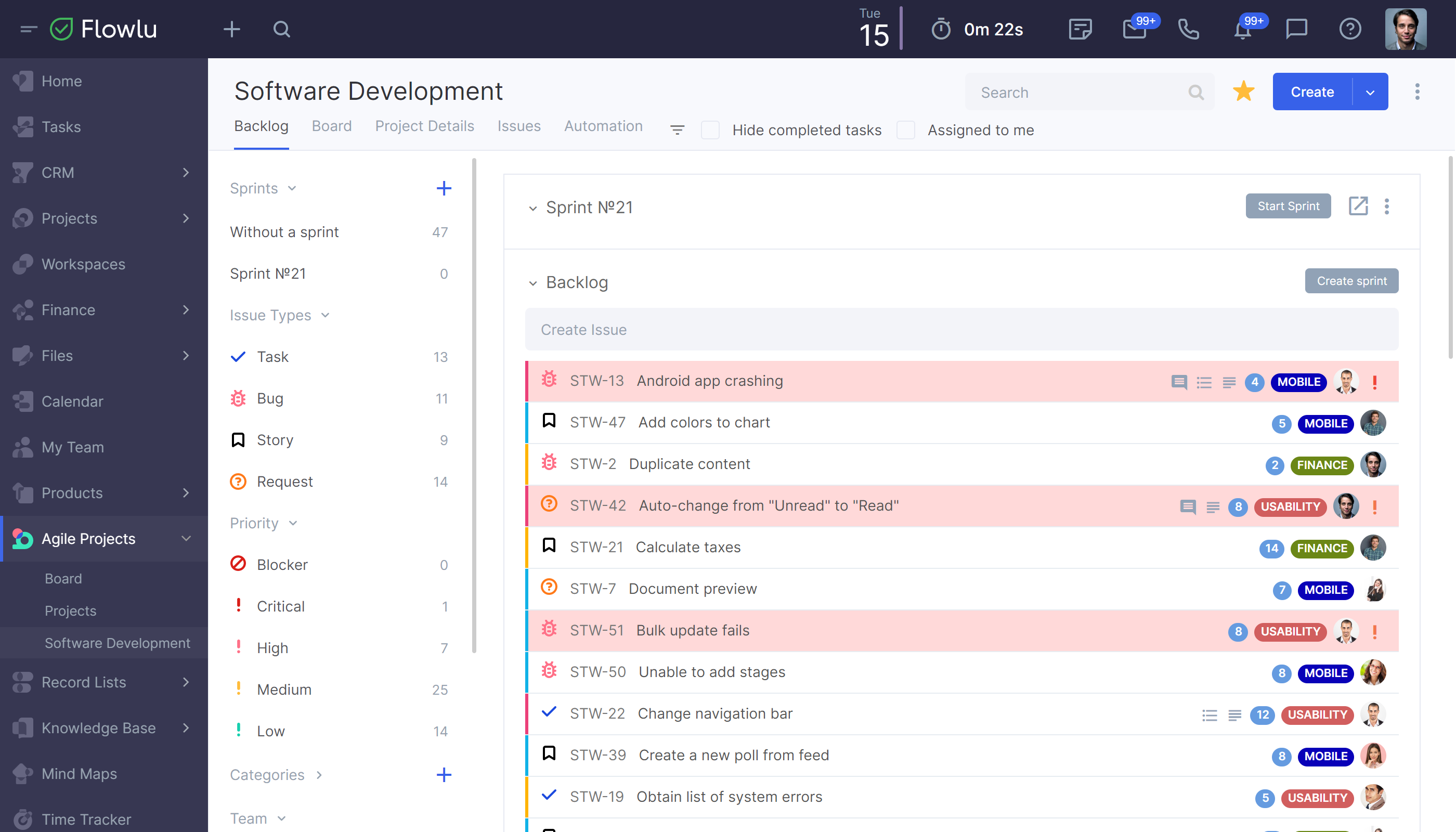 Project backlog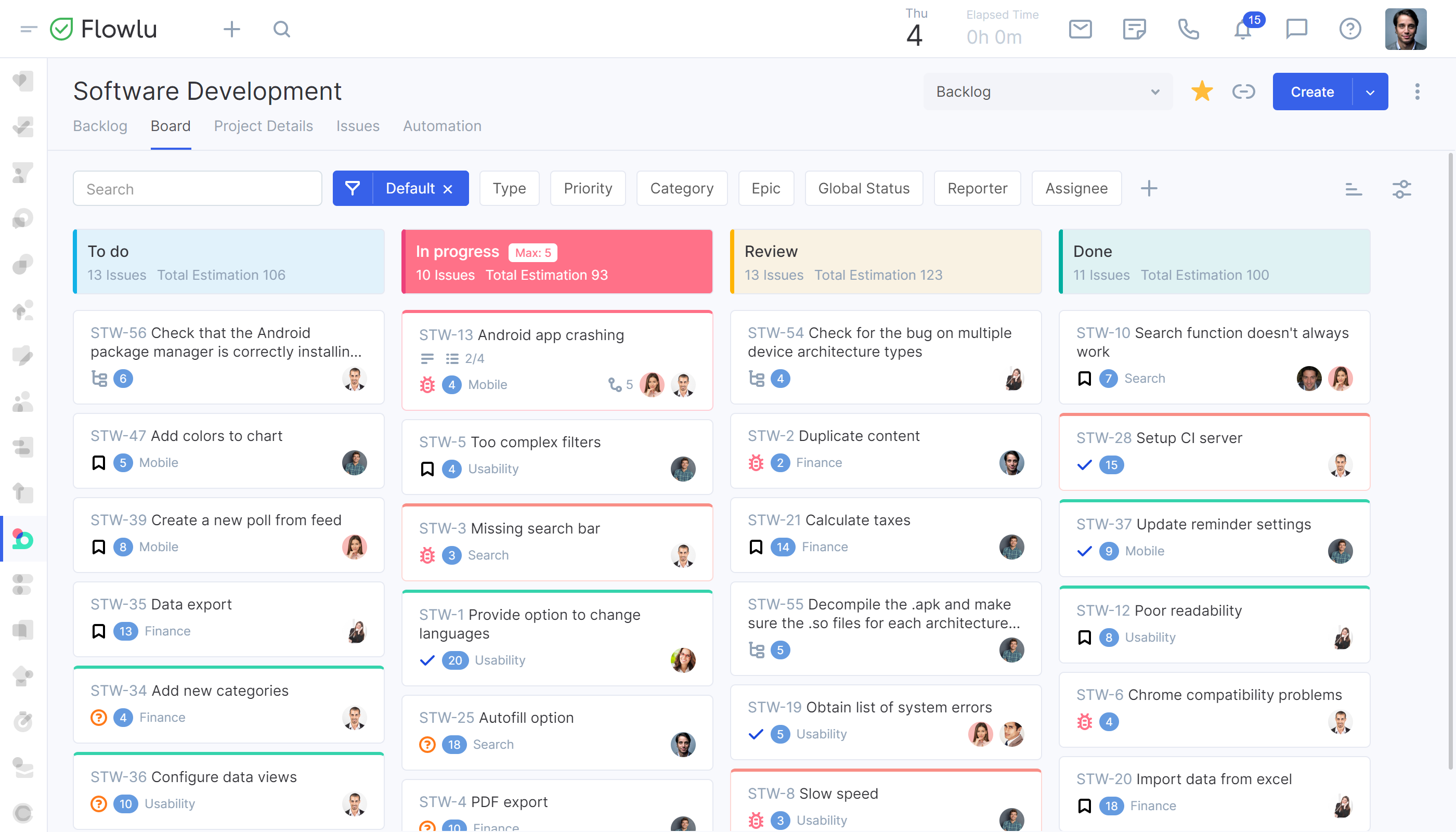 Kanban board
Kanban Board
All the users who started to use Flowlu before the release of a new version of the Kanban board (05.02.2023) are able to switch between the old and the new versions.
Click the three-dot button on the top right corner of the Kanban board you want to change and go to the Board Settings.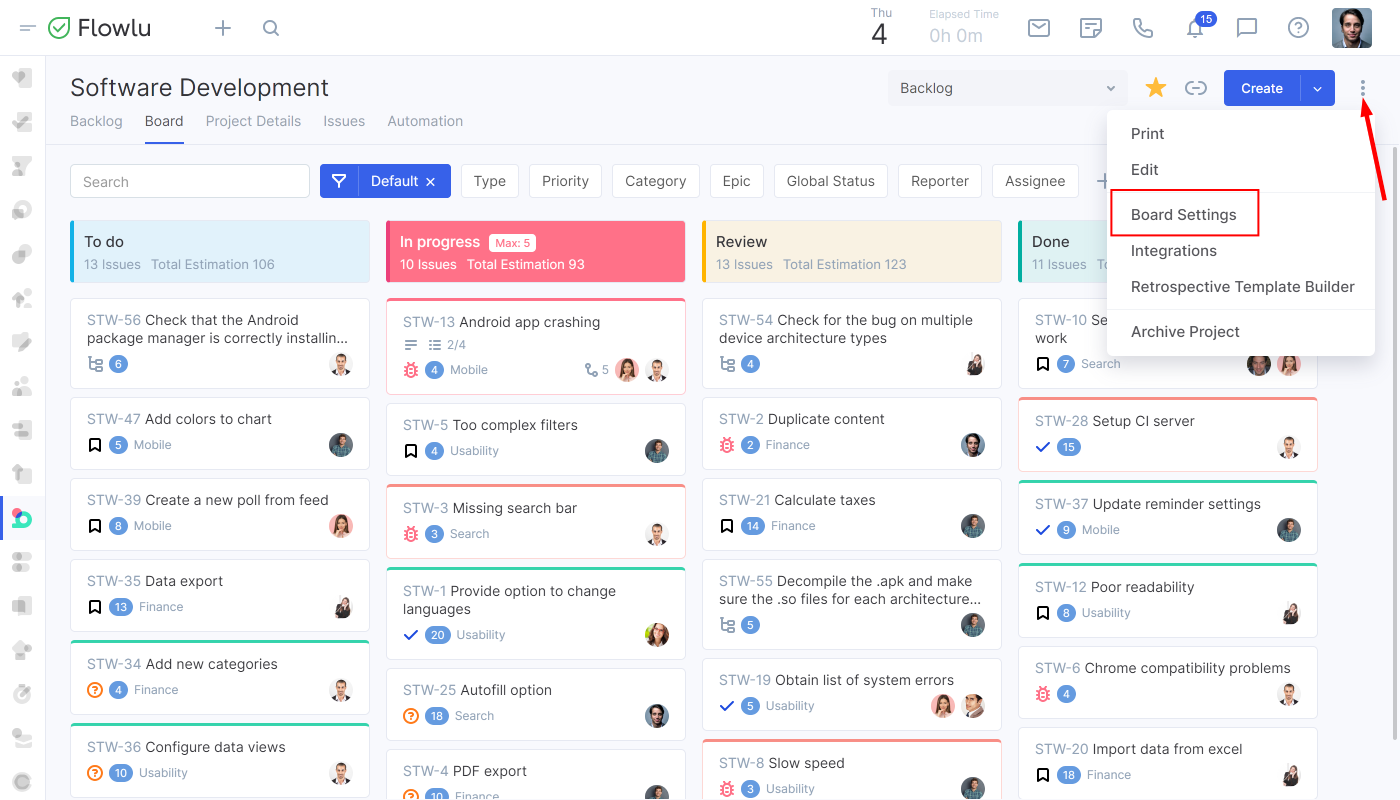 If the "Use an old board" option is enabled, you'll switch to the previous version without advanced sorting, groping, or Kanban card settings.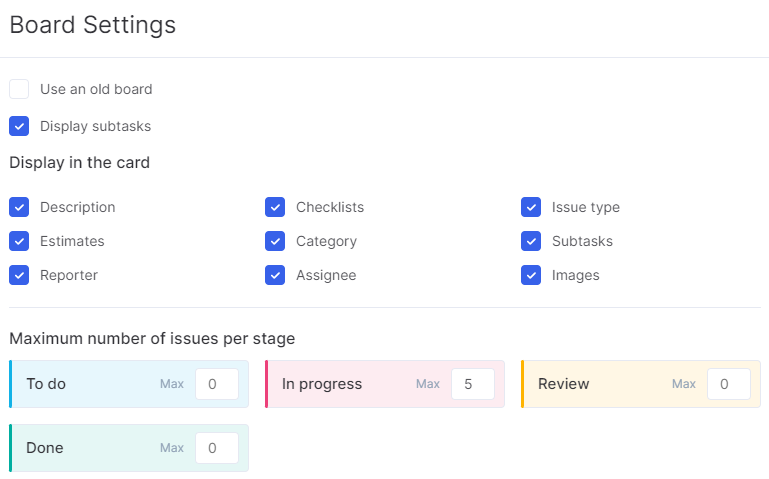 If not, your default Kanban board is a redesigned one. In the board settings, you can also change the appearance of Kanban cards.
You can show or hide the following information:

Description

Estimates

Reporter

Checklist

Category

Assignee

Issue Type

Subtasks

Images
Note that settings are applied only to the visual appearance of cards on the board and don't affect the detailed page of a card.
The redesigned Kanban board has the following organizing tools: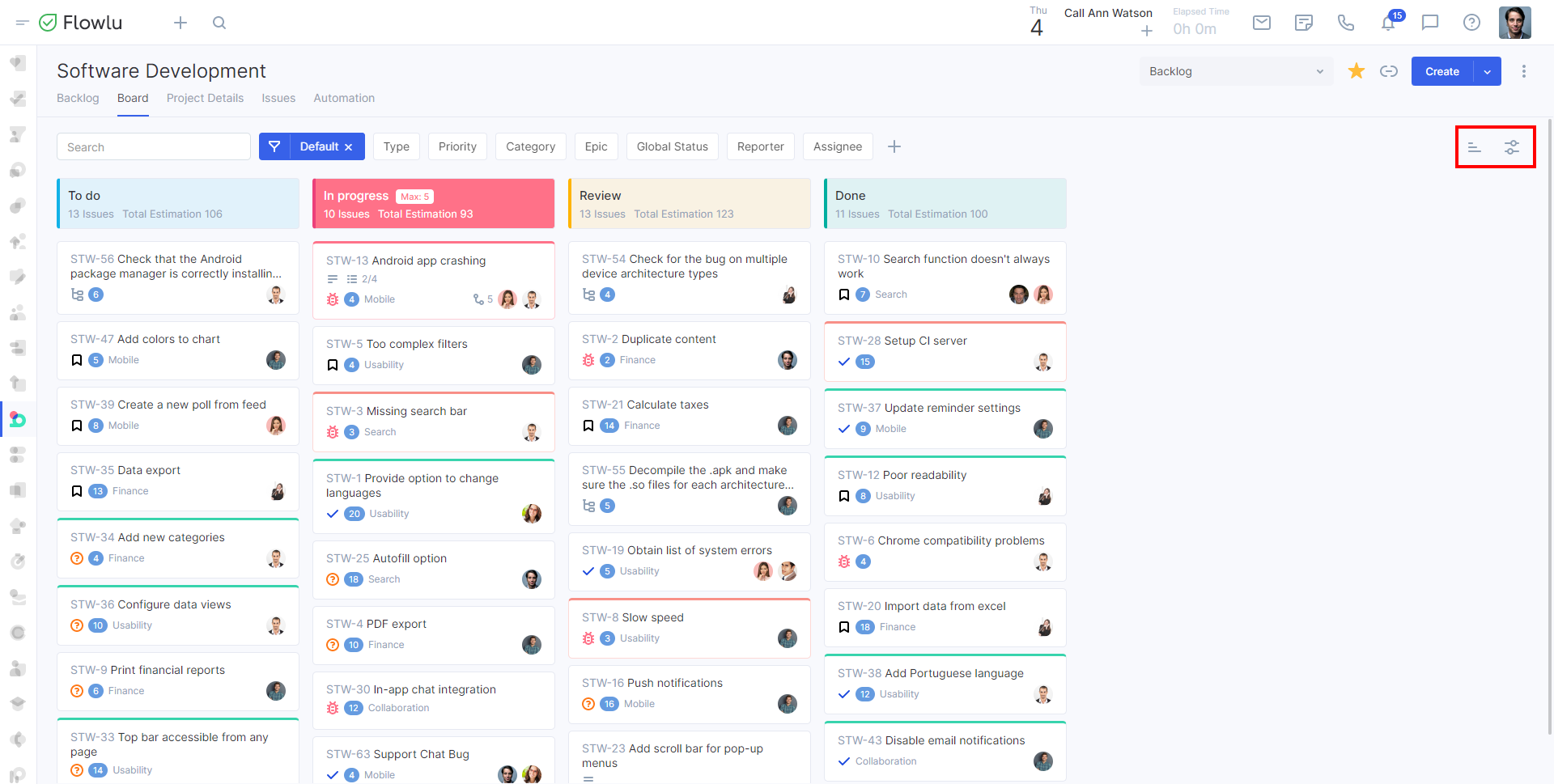 Sorting
By default, tasks are sorted by stage. You can also use the following options to sort tasks or issues:

Name

Assignee

Priority

Last Modified

Creation Date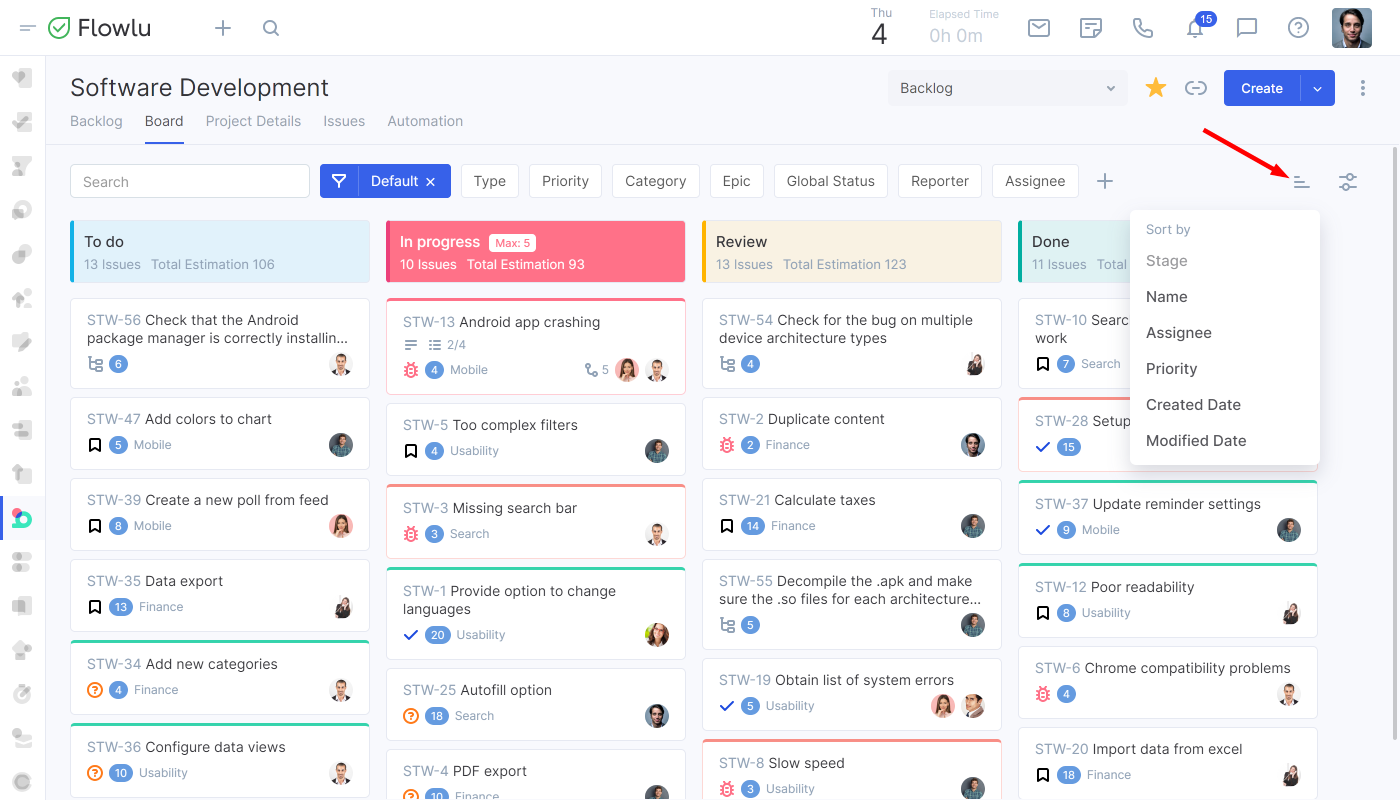 Grouping
In the Agile module, you can also organize cards on the Kanban board by groups. By default, they're grouped by stages. You can also group them by using the following options:

Assignee

Priority

Type

Category

Epic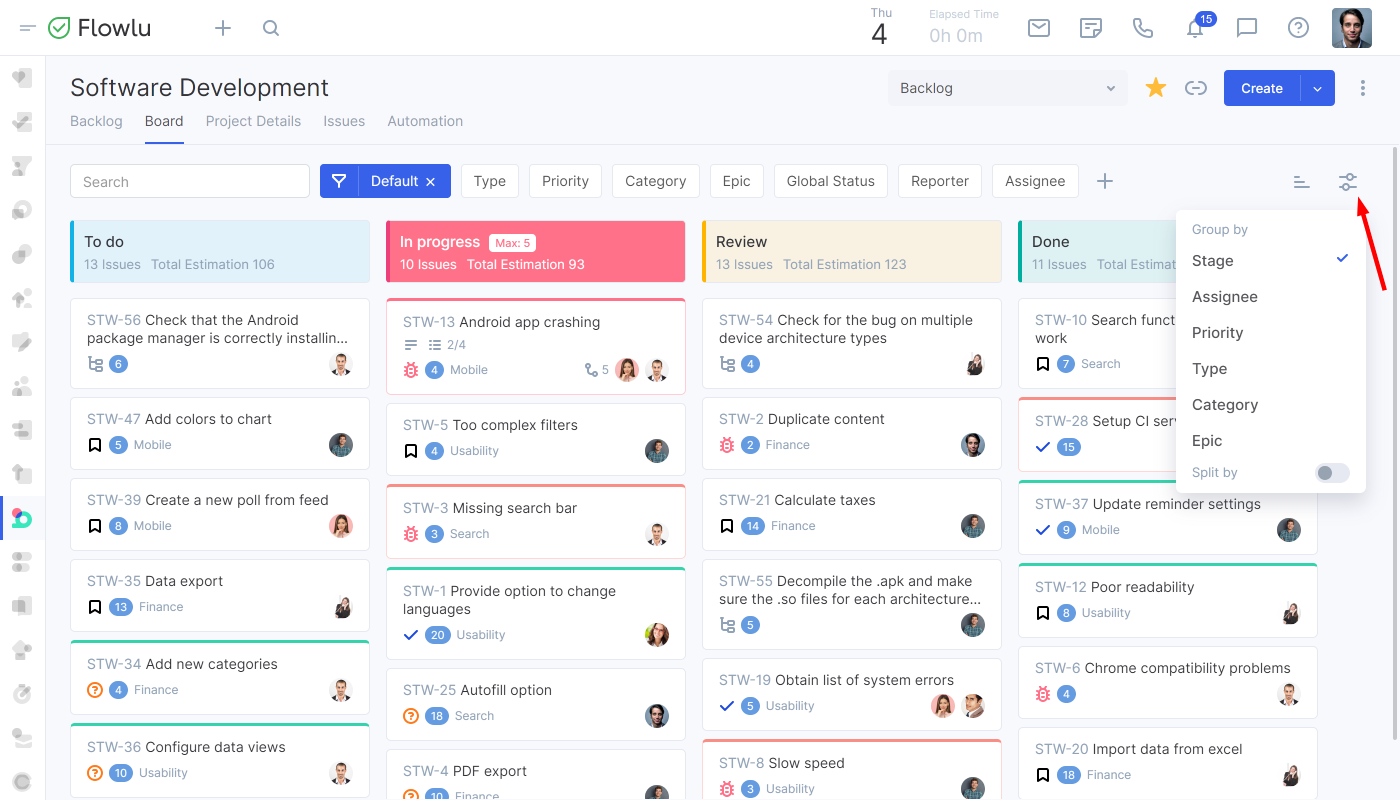 Also, there is an option to split them by epics and parental issues.
You can also set up limits for your Kanban board to avoid overloads. For example, only 5 tasks for the "In Progress" column. To do that, go to the specific Agile project → Board. Then click the three-dot button → board settings and set up limits for each stage.