What is Automation in Project Management: Best Ideas to Automate Your Projects
September 1, 2023
9 min read
Originally, project management was invented to facilitate the lives of project managers and the team in general. But, as it often happens, even the best tools or methodologies can sometimes lead to micromanagement and employee burnout.
Endless tasks, managers always walking around asking about task statuses, different workflows for each project, and chat notifications popping up almost every minute. Does that really help boost someone's productivity? We truly believe that it doesn't work like that.
What if we say that the problem is not yours? You don't have to think about how to save time on doing your duties to handle administrative to-dos instead. All the task assignments, reporting, notifications, email sending, and a number of other boring activities can be done automatically.
If project management automation still sounds like something magical to you, explore this article to learn how to streamline your repetitive to-dos, get the best benefits from robotization, and learn ideas on how to build a top-notch workflow.
What is Project Management Automation
Simply put, project management automation works exactly as it sounds. With specific software, all project management-related activities can be done automatically. At the beginning, a manager defines the most essential needs of the team. If the team doesn't use project management software at all, it becomes another step in the process of finding a perfect PM software.
Once the software is found, implemented, and all processes are automated, an organization can run its projects faster with the least impact of a human factor. In addition to simply making your performance better and saving time for employees to focus on more profitable activities, automation has some uneven values:
Streamlined reporting
Predefined project cycle
Overall visibility
Regular notifications
Automated emails and comments
In Flowlu, project management automation covers all essentials, such as team collaboration, project status, event management, task assignment, relations with other entities, and basically any important update or interaction with a project.
Sometimes, PM automation comes together with task management. In Flowlu, you can simply link task and project workflows together, so no action will stay out of your sight.
Many companies are offering tools for workflow automation, but sometimes they have completely different purposes and give different benefits, and not any software can suit your needs. So how do you understand which benefits you need from a project automation tool?
5 Benefits of Project Management Automation
If something doesn't profit you, it means that you just don't need it. So, before starting to pick new automated software and finding the best examples of robotization, let's quickly outline the benefits of using automation tools.
1. Helps streamline task management
Most apps have very advanced features to manage tasks. You can assign tasks to employees, set deadlines, create relations, add tags or priorities, and so on. All these tools are very handy to build the plan of a project and distribute responsibilities, but they can also ruin all the motivation for employees. You may be wondering how, but it's a pretty simple answer. When you have a lot of things to do, the last thing you want is to waste time creating new tasks every morning, setting priorities, changing statuses, and checking each previous task manually. Automations can completely liberate you from task administration. Instead of doing regular manual task revision, you can simply set up an automated workflow once and focus on a strategy and more important activities.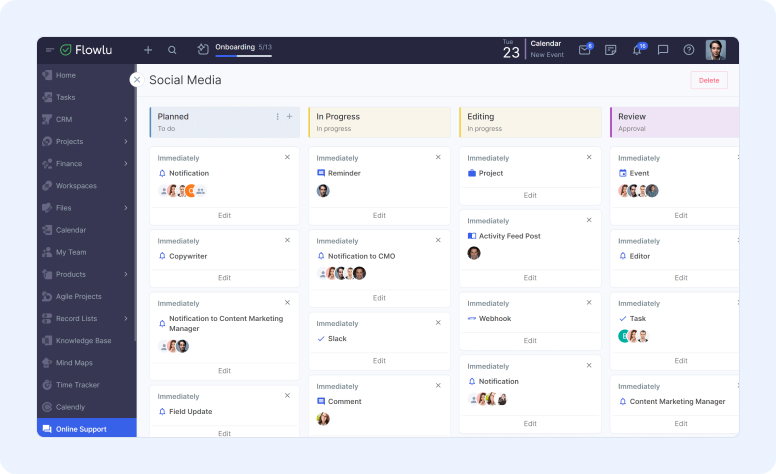 2. Ensures seamless collaboration
Working on a project is always a team effort and you can't stay out of it. But we are absolutely sure that you don't want to start your day with endless messages in the working chat or texting emails to your clients or colleagues until the afternoon. Automations won't let you miss any messages and can also streamline your emails. For example, if you need to write a follow-up email to the client by the end of the project, you can do this automatically for all your clients by setting a rule once.
3. Reduces bottlenecks
Bottlenecks are natural, especially when the team manages itself without any automated tools. A senior can just forget to approve or review the task from a junior because he didn't receive a notification. It's a very common situation. And if the task is not approved, it stops the whole workflow. Avoiding bottlenecks is quite simple with automations. Each team member will receive a notification if the task needs approval. And if a project reaches a new stage, all new tasks will be created automatically, so teammates don't have to wait until the manager creates an assignment for team members.
4. Provides better visibility
It's important to analyze your performance and make reports once the project reaches a milestone. It's hard to gather the raw data manually each time and process it then. Why would you do that if dashboards and automated reporting already exist? Real-time reporting will not only save you time, but also show you the most up-to-date information about your performance toward the project.
5. Handles integrations with other apps
You probably already have lots of tools or apps that you love to use. They may not cover automation and management, but they're still an important part of your project. For example, many teams prefer to collaborate via Slack. In Flowlu, you can simply automate Slack messages that need to be sent after your projects reach a certain point. What's more, outgoing webhooks will help you stay notified about all updates made inside Flowlu in any external app you use.
Now, we're done with benefits! Let's move on to the best tips and practices on how to find the perfect project automation software.
How to Pick a Project Workflow Automation Tool
First, let's consider why you need a project workflow automation tool. Ask yourself which part of your workflow needs to be automated, or maybe you need to automate your overall project, from task assignment to finances.
Here are some questions to help you figure out what needs to be automated and what type of software you need:
What is the most time-consuming part of my work?
How many repetitive to-dos do I have?
Do I need to review tasks after they're completed?
How much time do I spend on communication and management?
In most cases, companies require the following project-related activities to be automated:
Task assignment
Invoicing
Knowledge management
Communication
Resource allocation
Workflows
Of course, there are just a few examples, and you can automate much more than that. Most apps with automations offer only one or two of the types mentioned above. Gladly, all-in-one business management software such as Flowlu can handle all of these activities at once without any side integration. We don't want to say that using integrations or running a project in multiple apps is bad, but it takes much more time, money, and effort when you're managing everything in one single app.
The Best Ideas to Improve Your Project Workflow Automation
Well, now we understand what project automation benefits. You're now ready to take real actions, right? But don't rush it, because you'll probably face a very common question even after having all the theory: "What should I start with?".
Even though we don't know your specific needs, we still have some good ideas to consider while automating your project workflow.
1. Create Templates or Different Workflows
You can look-alike projects or work with different industries. For example, marketing agencies can work with clients from construction to law services, and each project will require special treatment.
Instead of creating automations for repetitive projects or for each industry manually, use different workflows instead. Once the workflow is created and automations are set, you can distribute new projects to workflows and avoid creating automations manually once again. And if it requires any changes, you can simply create or delete some automations in the workflow.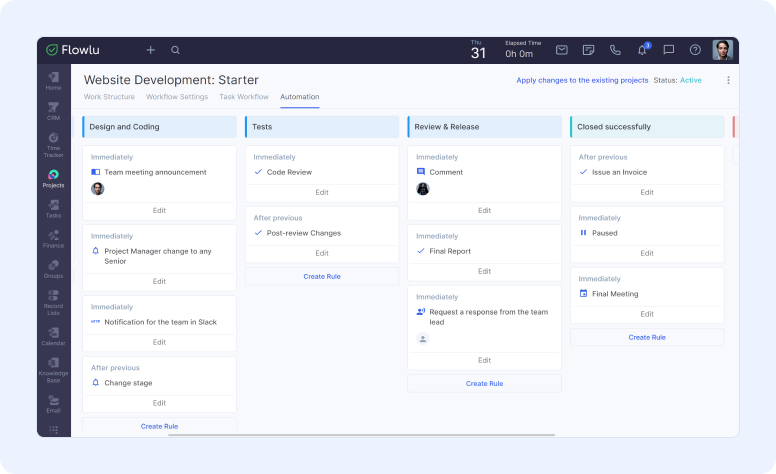 2. Made it a Habit to Check the Dashboard
Even after setting all automations, it's important to keep track of how your project is performing. And we mean not only tasks, but also the finances and productivity of each single employee. What if some automations weren't set correctly and the numbers on your analytics charts went down?
Dashboards help you keep an eye on the pulse of your projects without creating overloaded reports.
3. Set Automations for Administrators First
HR, bookkeepers, and managers have lots of repetitive manual tasks that can easily be streamlined with automations. Reporting and regular invoicing can be done with less human involvement. Why do you need to do more and waste time on things such as recurring payments or assigning tasks when onboarding new hires? Just save the time of your managers once and see how it boosts the overall productivity of the team.
What's more, advanced tools such as robotic process automation and business process automation can streamline administration processes in a whole company, even hiring, salaries, and regular events.
Project Automation Summary
It's hard to get rid of that "you need to give all your time and efforts to achieve something" mindset and rely on robotic automations, but once you try it, you understand that it's an ultimate must-have for teams of all sizes and industries.
If you don't know what to start with, explore project management automation at its finest with Flowlu. Whatever you need to automate: tasks, project workflows, invoicing, knowledge management, payrolls, resource allocation, communication with customers, and the team — Flowlu can handle it all.
See the most answers to the most frequently asked questions. You can find even more information in the knowledge base.
Knowledge base
Project automation is the use of software to automate repetitive and manual tasks in project management. This can free up project managers and team members to focus on more strategic and creative work, and it can help to improve efficiency and accuracy.
If you are looking for ways to improve the efficiency and productivity of your projects, project automation is a great option to consider. With the right tools and planning, you can automate many of the repetitive tasks that take up your time, freeing you up to focus on more important things.
Flowlu is a great option to consider for project automation. It handles task and project workflows, invoicing, resource allocation, sales pipelines, and communication with both clinets and the team.
September 1, 2023
9 min read