Get Rid of Boring To-Dos With Project Automation
February 15, 2023
3 min read
Our project module is on the way to becoming your favorite Flowlu tool. Meet our powerful Project Automation, designed to build a seamless workflow for you.
All of you have been asking for this feature for a long time. The wait is over, and we are presenting you with the project automation!
Create end-to-end automated workflows for each project and forget about manual routines and wasting time on repetitive tasks.
Why You Need to Automate Your Projects
Automation will save you time from manual day-to-day monitoring. You can receive notifications about important activities, streamline task delegation, build a step-by-step path for each stage of your project, and more.
Here are just a few examples of how automation can help you avoid possible struggles:
Notify you about approaching deadlines.
Create a task to make up a report and automatically assign it to your teammates.
Send a email to your client once the project is complete.
Pause the project is you don't have enough resources.
What's Inside Our Project Automations
You can create automations for each stage of your project. As with CRM, tasks, and Agile automations, project automations can be based on values from custom fields.
New Automation Rule Types
Before this moment, Flowlu had automations for tasks, CRM pipelines, and Agile projects that were almost identical to each other. For projects, we saved all of the already existing automation types and added some more of them.
From now on, you can also create the following automations for projects: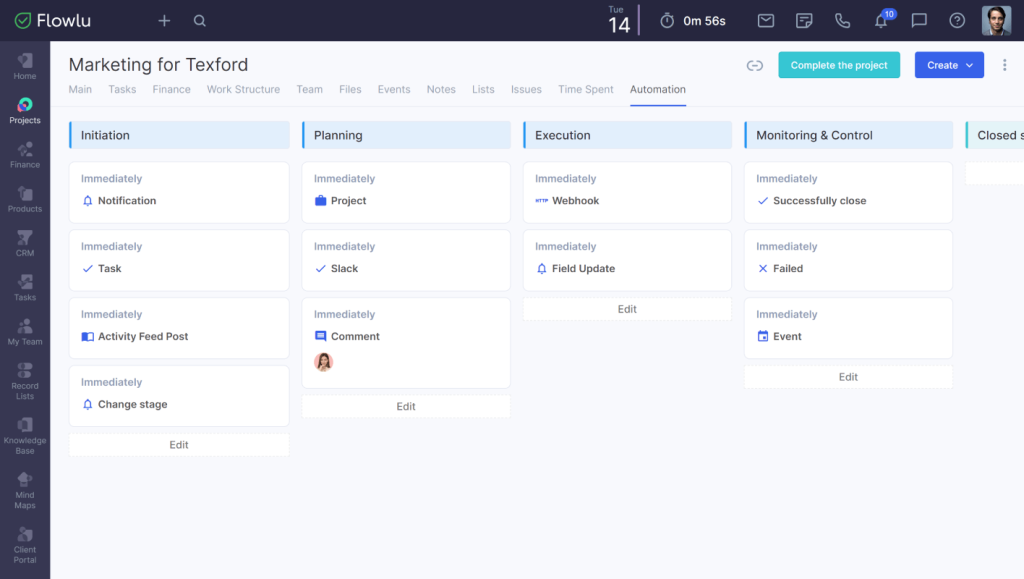 With new automation types for projects, you can put regular monitoring on autopilot and get notified when an important change is occurring.
How Automation Can Benefit Your Projects
Make projects more transparent and visible: if you run multiple projects with a similar roadmap, you can assign the same automations to them. Once a project starts, you know that you'll be notified about important updates and won't miss anything.
Avoid bottlenecks: automations can save plenty of time on manual administrative activities. Let your managers focus on something more profitable and automate your workflow, so all the tasks, events and other to-dos will be created automatically with premade settings.
Improve time management: don't waste your time on changing stages, moving tasks, and checking if everything's done. With project automation, you can simply plan the project beforehand and focus on actions.
Project automation is already in your Flowlu account, available for all trials and paid subscribers. Try them all, and let your project management be a breeze.
See the most answers to the most frequently asked questions. You can find even more information in the knowledge base.
Knowledge base
Sign up and start exploring Flowlu with a 14 day unlimited trial and find the subscription that suits you best. 
Sure! You can use Flowlu on both iOS and Android smartphones.
We have a constantly updating knowledge base, where you can find all documents about our modules and find answers to all your questions
February 15, 2023
3 min read