What is Project Portfolio and How to Use it in Flowlu
March 1, 2023
3 min read
Long time no see since our last update! Today, we have a new feature for you to easily manage all projects in one go.
Meet Portfolios, the best tool to analyze multiple projects at once, optimize resources, and get the whole overview of what's already done and what needs to be done.
What is a Project Portfolio?
Project portfolio management (PPM) is a way to manage multiple initiatives simultaneously. It works perfectly when you have a bunch of lookalike projects and want to have complete visibility of them.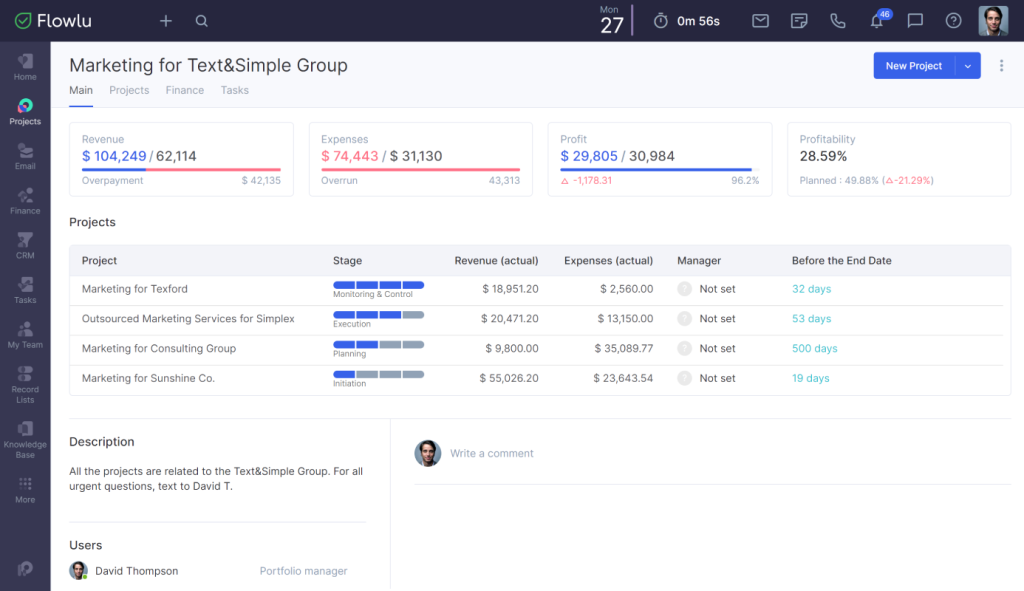 Projects within a portfolio can be unlinked from each other, but since they are managed in a similar way, they can be bind together. Portfolios can also include upcoming initiatives, so you can track which activities are worth investing in.
If you're a fan of high-level control and want to smoothly manage ongoing projects with a similar strategy, PPM is exactly what you need.
How Portfolios Benefit Your Workflow
Sometimes, regular project management is enough, but sometimes a portfolio is exactly what you need to boost your analytical to-dos.
Even though a PPM is a part of overall project management, it still has its own benefits, which can be delivered only by using this management method.
Here are some cases for which a portfolio is a great option:
Managing large-scale initiatives;
Build coordination between multiple departments;
Finding the best initiatives to invest in and develop;
Prioritizing activities based on cost-effectiveness;
Creating visualized reports for stakeholders;
Staying on the right path to the goal;
Enhancing risk management.
Simply put, this tool helps you stay afloat when you run multiple projects, as well as better organize and prioritize time and resources.
How it Works in Flowlu
With our newest feature, you can create and manage portfolios directly in Flowlu. This feature allows you to observe multiple activities at once and calculate their profitability.
In the portfolio, you can learn detailed information about all related projects: owner, assignee, start and end dates, stage, revenue, expenses, and more. On the main page, you can also check the total profit of the portfolio.
Apart from the main points, you can also see all the incomes and outcomes for each business line, as well as get detailed information about invoices or estimates.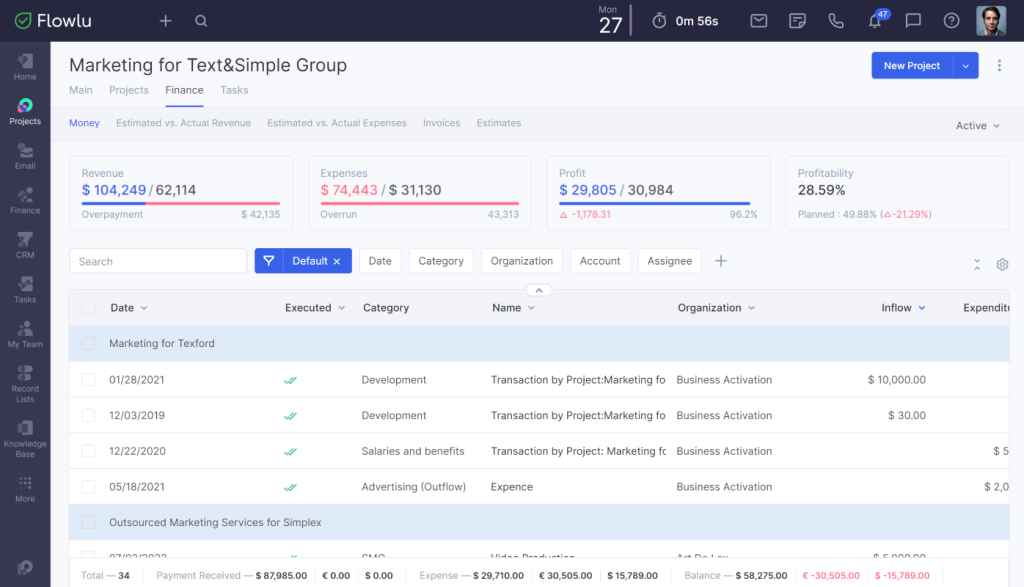 In the task list, you can see all tasks related to each project in the portfolio. If the task is billable, you can also see its hourly rate.
List view is the best option if you need to quickly change some details inside the task or invoice. You can get the fastest access to any subject by simply clicking on it.
To learn more about project portfolios in Flowlu, explore our knowledge base.
See the most answers to the most frequently asked questions. You can find even more information in the knowledge base.
Knowledge base
Sign up and start exploring Flowlu with a 14 day unlimited trial and find the subscription that suits you best.
Sure! You can use Flowlu on both iOS and Android smartphones.
We have a constantly updating knowledge base, where you can find all documents about our modules and find answers to all your questions.
March 1, 2023
3 min read