How Large Companies Use Flowlu
March 6, 2023
7 min read
Even large companies are always looking to grow their business. While lack of resources isn't a problem like for smaller companies, they need to use the best tools that allow this growth.
What more and more large companies have been doing is adopting a CRM system.
One thing that's important to keep in mind when looking for a CRM system is that while some are tailored for smaller businesses, others are designed for larger companies.
With Flowlu, for example, you can finally access all the features larger companies use. Check below to discover all the features you can benefit from when using the Flowlu CRM system.
What Is a CRM System
A CRM system, or Customer Relationship Management system, allows companies not only to offer better support to their customers but also improve marketing campaigns, increase sales, have their financial information in hand, and even make teams from different departments work better together.
CRM helps businesses of all sizes improve their relationships not only with regular customers, but also with leads, suppliers, and stakeholders, among others. In addition, it can also help businesses make their processes and activities more efficient as well as make teams collaborate better. This will allow the overall company to grow steadily.
Here are some of the main features large companies can benefit from when using the Flowlu CRM system:
Improve Relationships With Customers, Leads, Suppliers, And Stakeholders
As a large company owner, you know that all businesses need to be customer-centered. This means that you need to know your customers well and to do so, you need to collect data from them.
The truth is that there is a lot of different data you can collect but a CRM like Flowlu is the perfect location to store it and organize it. It's not only about Flowlu as a cloud-based storage, but as it is easy to use. So, your employees won't have any problems with training and using the platform.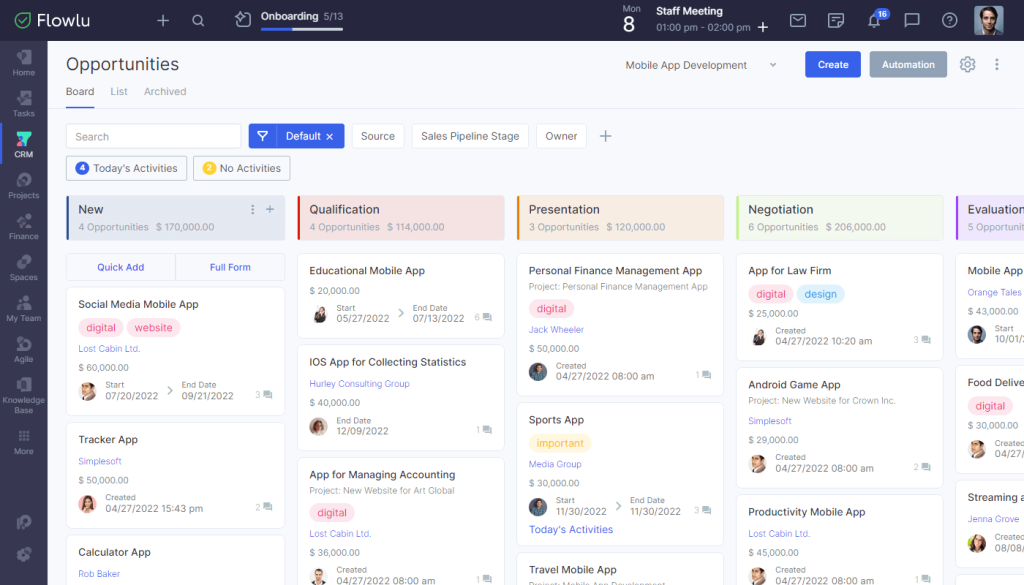 While in the old days most companies only used to collect contact data from their customers, it is important to know them better and better. You need to know what they like, their interests, their jobs, their hobbies, and their demographics. Overall, you need to know what they need and want so you can offer them the solution. But Flowlu offers more. You can not only gather this data and organize it the way you want inside the platform, but you also have access to your customer's historical purchases and communications made either by email or using telephony.
With all this information in your hands, you can create personas and segment your customers so you can address messages specifically to each group. After all, your company needs to make customers your center and nothing shows this better than offering your customers what they want, when they want, with a personalized message.
Improve Teams Collaboration
One of the problems many companies have to deal with, especially big companies, is communication.
The truth is that it isn't easy to manage hundreds or thousands of employees and make sure that they communicate with each other whenever they need to. And to make things even worse, some large companies still don't use any tool to make communication easier. As you can easily understand, this ends up affecting your customers and your overall company. Misinformation occurs, not to mention delays. And this is something any business can't afford to do.
The solution for this problem is using a CRM like Flowlu. After all, within the platform, you can find a chat specifically for your teams to work together. The main goal is to ensure that all your teams work together and that everyone is on the same page. With Flowlu, you can create groups or private chats where you can add text, images, files, and even emojis. Each team member can also request assistance from a teammate to ensure that the customer or lead has the help he needs in time.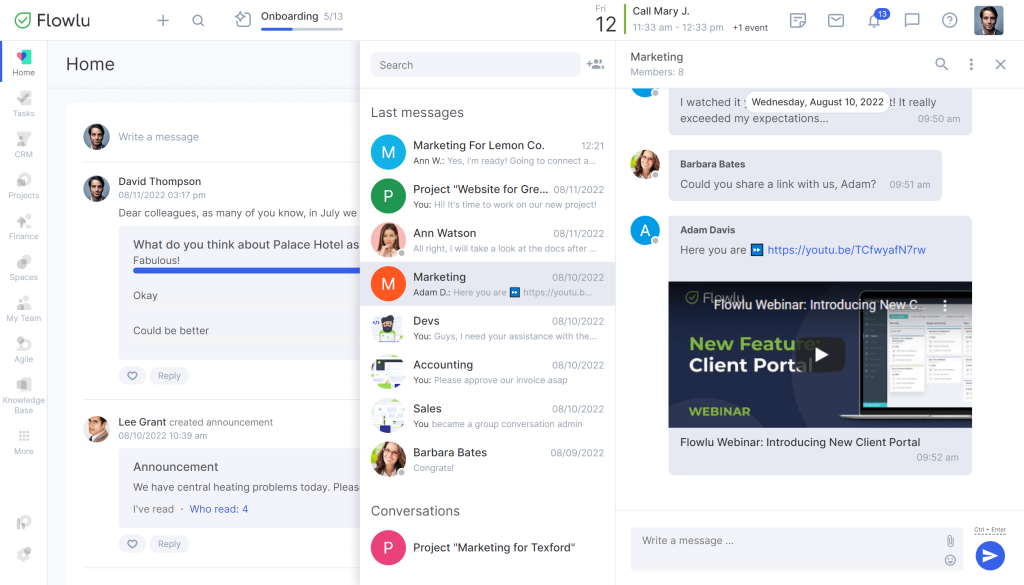 But Flowlu takes even one step further. You can have smart notifications in place to ensure that all your employees are on top of every important notification or change within the company.
Send Invoices And Get Paid Immediately
As a large company, you want to ensure that your customers pay on time. And with Flowlu, this is made easy once again. After all, with this CRM system, you can manage all invoices easily. You can use one of the many templates at your disposal and customize it accordingly. You may want to add shipping charges, discounts, or taxes. But the best part is that Flowlu will do all the calculations for you.
As soon as you have your invoice ready, you can immediately send it to the customer. You can either share a link on the chat or send it by email.
One of the main problems with invoice processing is when it is done manually. After all, there is always the risk of human errors. However, with Flowlu, you can minimize these risks by setting up automation rules specifically for invoices. This way, this process can be automated and you'll be more accurate.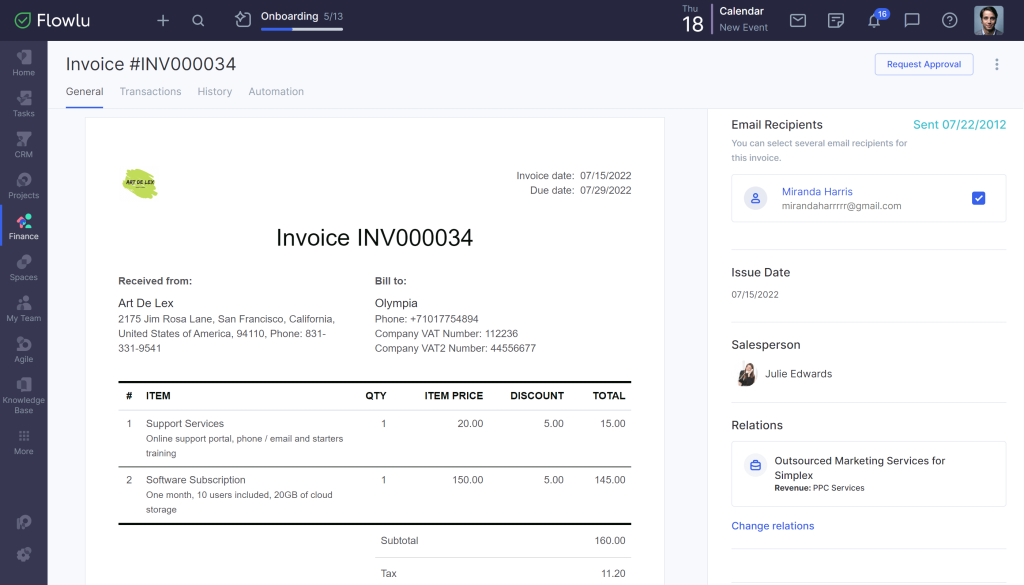 But what about payments? Well, with Flowlu, you can easily integrate other apps that offer major online payment gateways. As soon as the customer pays, you'll be not only notified as the record of payment will be automatically made by Flowlu.
Manage Finances Better
With Flowlu, it's easy to stay on top of your overall finances and cash flow. After all, with this powerful CRM system, you can not only keep track of your company's revenue but you can also optimize your expenses.
As a business owner, you know how important cash flow is. So, you always want to ensure that you're on top of it. This means that you need Flowlu to help you. With this CRM, you can receive payments, record company expenses, and even add notes to any specific transaction. No matter if you're handling office supplies, travel expenses, or salaries, you can easily access all these records, edit them, or even duplicate them to make your job easier.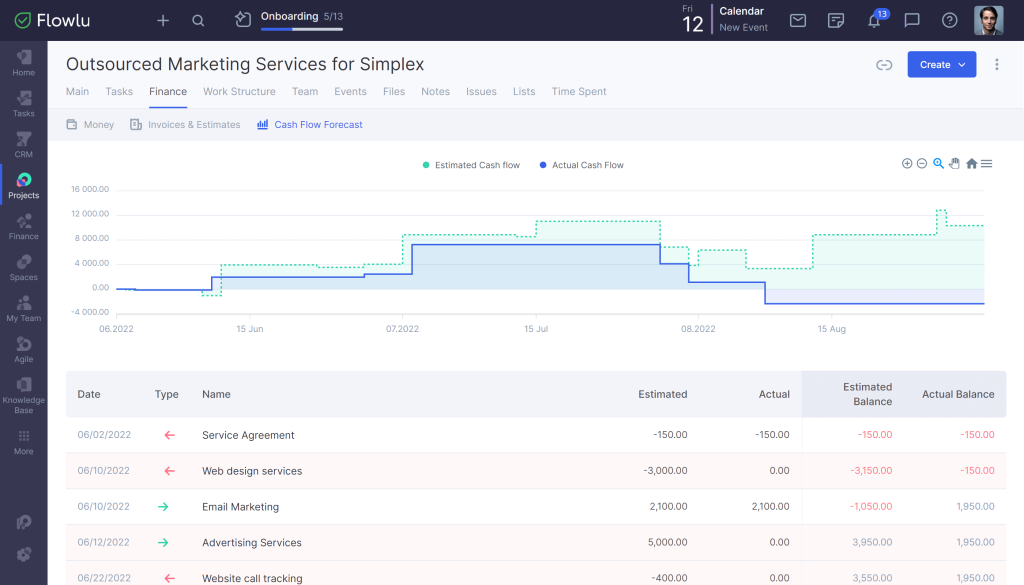 To make sure that you keep track of the money coming in and out of your company, you can also opt to add bank accounts to Flowlu. You can categorize and link each transaction you want to cash, PayPal, credit card, or a bank account.
Get Full Insights of Your Company
One of the best features you can use with Flowlu is reporting. The truth is that you can get powerful and insightful reports for financial management to ensure that you get a clear understanding of your company's performance at any time. Besides the text report, you may also look at the information displayed in graphs and charts. This will allow you to determine where you're spending money, why, the return of your investment, and even where you need to change things to make your company more profitable.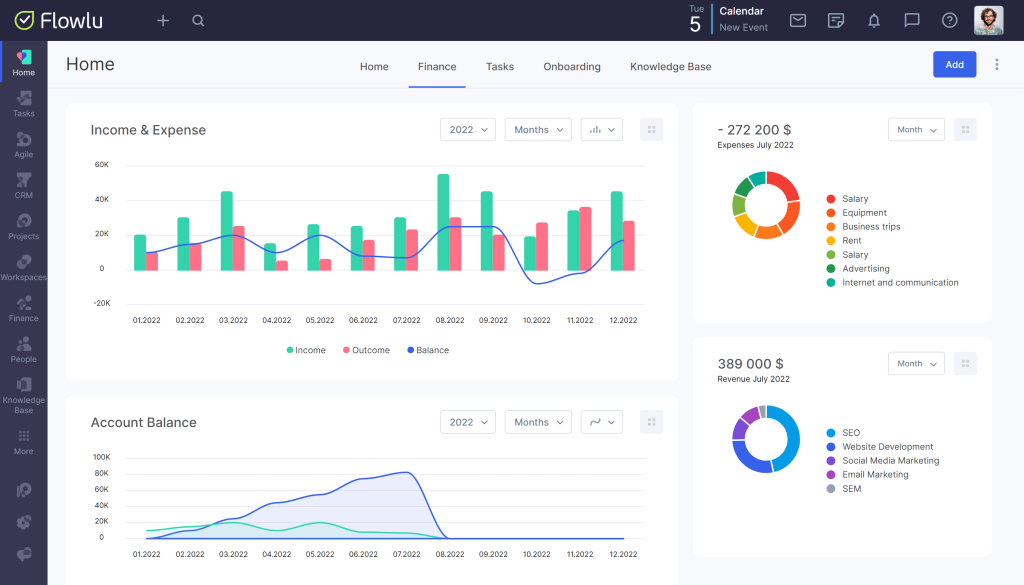 Bottom Line
There's no question that there are many different CRM systems on the market today. However, Flowlu is the one chosen when you have a large company. After all, it can be adapted or customized to all industries and is scalable. It's time to take your company to the next step.
See the most answers to the most frequently asked questions. You can find even more information in the knowledge base.
Knowledge base
CRM systems are extremely popular among big companies. For example, Coca-Cola, Amazon, Apple, and many other companies use CRM to communicate with their clients. 
The best CRM to manage all activities in a large company at once is Flowlu.
CRM for large companies helps to capture leads, manage clients, store and clarify their contacts and personal information, as well as observe the activity log.
March 6, 2023
7 min read