What is a CRM Database Software in Customer Relationship Management
September 8, 2023
11 min read
If you're reading this article, you probably know what a CRM is. It's a widely used tool to build strong relationships with customers and ensure their retention. Strangely, we always forget about the core of a CRM — the data inside it.
Building and automating a CRM database is a half-way to success because it helps to easily collect, store, and organize all the important details about leads and clients. Especially in today's world, where omni-channel collaboration means everything and all data is decentralized and located in many different applications, storing it in one place is vital.
In today's article, we explain how to define a CRM database, its benefits, and examples of the best db software.
CRM Database Explained
CRM database (or CRM db) is a simple mix of a customer relationship management system and a database. When they come together, you can simply manage clients and leads with lightning-fast access to all the related data.
Moreover, in addition to simple contact information storage, a CRM database handles activity logs related to each client. It means that you can track when the last interaction was, what kind of interaction it was (email, call, SMS, etc.) and which manager contacted this person.
CRM databases are handy when it comes to companies starting with 5 or more employees. Salespeople, marketing managers, bookkeepers, and other staff need to have quick access to information about clients to provide the best services. When you need to go through multiple applications to find all the details of a project related to the customer, that is an ultimate no-no.
Properly organized data is the core of all sales and marketing automations. If you can't segment your leads and clients, how can you identify properties to create targeted campaigns or build automated CRM pipelines?
Why Do You Need One?
Databases can be created in many types of software, not just a CRM. Anyway, a CRM system makes it much easier to collect and centralize data. Why so, and why do you need a CRM db?
In most common cases, customer relationship management databases cover the following needs:
Lead & Client Management
Database-powered CRMs can help easily segment both leads and already-existing clients. Once their contact information reaches out to your software, they can be identified as cold, warm, or hot leads based on the criteria taken from the database. When the contact is targeted and has priority, managers will know where to contact this person and if a call or email needs to be done urgently.
Sales & Marketing Automations
As was mentioned earlier, CRM is a tool not only for sales persons. Other company departments can use it too: marketers, analysts, bookkeepers, community managers, and many others find CRM a very handy system to analyze data. When all the customer-related information is in one place with client management and automation tools, you can easily streamline both sales and marketing. It includes communication timelines for managers, email reminders, invoicing, and email marketing campaigns, among many other repetitive to-dos.
Sales Pipeline Analytics
How does your sales team perform? We know that every chief asks this question to himself. Databases allow teams to build their reporting based on the real data taken from clients. When combined with CRM tools such as pipelines, you can easily understand how many percent of clients reached out to its final stage. Also, it helps to analyze win and loss reasons for sales deals.
Interactions Logging
If you want to turn leads into customers and retain already-existing clients, you need to build a communication strategy. No one wants to receive messages from you every day. If you've never used a database-driven CRM, you probably faced the problem of not knowing when you last texted a specific customer. It's not a problem if you can see interaction logs for each client. A database will help you see when the last call or email was and track if it was opened.
Payment History
It doesn't matter if you're providing products or services, your business is aimed at making a profit anyway. So, you need not only to analyze and communicate with clients, but also track their payments and send on-time notifications to customers if you're still waiting for their payments. It works even for nonprofits that need to keep track of donations. When your CRM is relational to finance management applications, database CRM is a top-notch solution.
Benefits of a CRM Database
Well, now we understand what a db can do to boost relationships with clients, but how exactly does it benefit the entire company or each department?
It will keep contact information "clean"
We all face the problem when you can't simply find the contact you need. Or you need to find a few look-alike contacts, but you still can't manage to do that. Databases always come with filtering, tags, and segments, so you can easily sort them by names, pipeline stages, date of the last contact, and other properties.
All information is stored in one place
Nobody wants to juggle between different apps to make a call, send an email, contact clients via messengers or look for another way to reach out to the client. Communication from one place is much better because it saves time and also helps to stay informed about the details of previous communication with this person. Sometimes it happens that multiple managers are related to the client, so instead of asking colleagues for details, they can simply find them in the activity log.
Based on the data received from customers and then processed with a CRM tool, managers can keep track of the communication via dashboards. How many incomes were received for a particular project, and how many sales deals were closed? Real-time dashboards will free you from endless reports and calculations.
Automated data management
Filling out all the data manually is a total waste of time. Why not rely on automated data entry instead? Database CRM has all the features to automatically log all the communication details as well as automatically capture contact information from leads via web forms.
We all understand that it's easier to communicate with clients when you have CRM software. But what if we say that it also boosts internal communication between departments? Since everything is stored in one place and all staff (or not all, because CRM systems have flexible access rights) has access to contacts and their details, there will be no communication gaps. Built-in chats can even handle document sharing, so your teammates don't need to spend time looking for documents through the whole system.
Types of Customer Relationship Management Database Systems
Db CRM systems have lots of different types. In general, we use two parameters to define the type of db application: how data is sorted and where data is stored.
Let's start with data storage. Based on this variable, we define three types of systems:
Open source software is available for everyone to download, but then a company stores this software on its own servers. This type is a good option for all companies that need to customize the application to better match their needs. Also, it ensures better security of business data since all the information is located on your own servers.
Anyway, such systems have their own disadvantages. For example, most of them have very basic features, and you need to customize software to match your business. It requires time, money, and developers to work on improving the system.
This is the most expensive type of CRM software. It's always located on the company's servers and requires staff to maintain the work of such a system. Of course, it's also the most feature-rich option, but it mostly suits large enterprises, which can find a good CRM option on the market. Beside the customization, this type of system is the best option if you want to ensure top-notch security for your customers' databases.
For companies that are looking for a comprehensive solution and want to start working with a CRM right away, the best option is cloud-based systems like Flowlu. You don't need to download it and use your data storage to keep all the information since everything is located on the cloud servers of a CRM provider. If you think that it can lead to data leaks, let us calm you down. Such systems have a high level of protection. Moreover, you don't need to have your own IT staff to maintain servers and purchase hardware to store everything. Cloud-based solutions take care of all technical things for you.
What's more, cloud CRMs mostly work on the SaaS model, which ensures quick delivery of updates and improvements for the systems, as well as quick bug fixing and customer support.
They can be customized as well. Commonly, such systems can provide you with an account manager and even developers sometimes to run implementation services to match your needs better or create new features exactly for your company.
But if we define types of customer management relational databases based on how the data is sorted, we have another 3 types of CRM to consider:
This type is mostly aimed at helping sales, marketing, support, and analytical teams perform better and communicate with clients faster. For example, a support team can run a ticketing system via an operational CRM. This type of software also refers to different automations to provide smooth sales & marketing pipelines.
Analytical CRM is obviously related to analysis. It helps businesses understand which stages of pipelines are performing worse and what needs to be done to improve them. In all-in-one CRM systems such as Flowlu, dashboards can help you observe and analyze the overall situation of your business: finances, sales pipelines, customer retention, and many other possible points of growth.
And last, but not the least important type is collaborative CRMs. As stated, it provides smooth collaboration between different departments that are working with customers. Instead of using external file-sharing apps and messengers to communicate, collaborative CRM offers built-in chats and data storage, so any department can have access to it.
Best CRM Database Software Examples
Well, you now know what a CRM database is, its types, and benefits. It's now time to consider which one to pick. Of course, there are many of them on the market, but we're going to show you the best picks suitable for businesses of all sizes and needs.
Flowlu
Flowlu is a perfect pick if you need an all-in-one system with a powerful database. Among simple contact information, you can create custom fields and lists to sort contacts, sales deals, projects, etc. based on your custom values. Almost each module in Flowlu can perform manual actions automatically based on the rules you set, so you can have no worries about data entry or overall performance.
Flowlu combines four types of CRM database: operational, analytical, collaborative, and cloud-based. It makes Flowlu the best pick for all small to medium businesses across different industries that need to convert leads into clients, retain and invoice them, as well as keep and analyze all the data inside a CRM.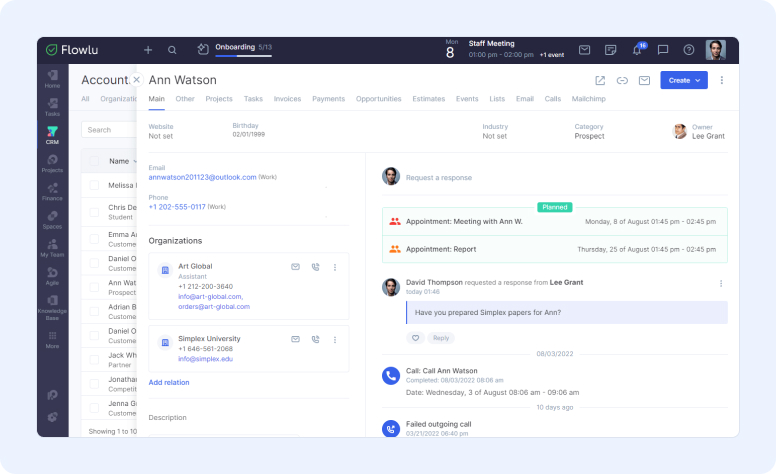 Hubspot
Hubspot is a good option if you need to store a huge amount of data. The same as Flowlu, it can be integrated with 1,000+ apps to easily transfer data between them, which makes Hubspot one of the most flexible CRM databases available on the market.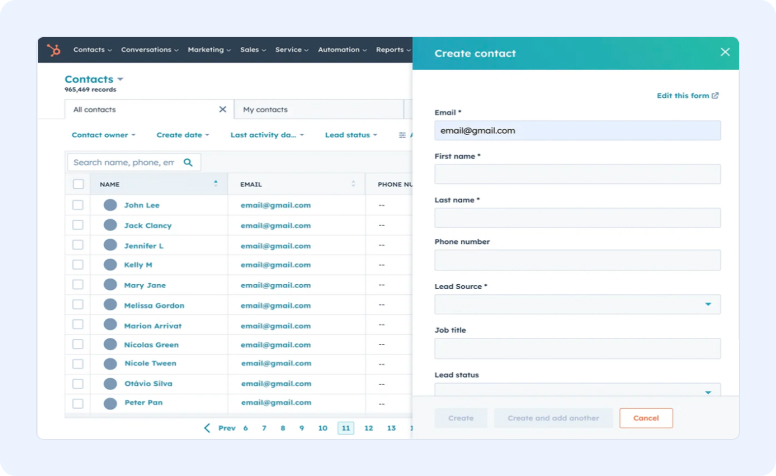 Zoho
Zoho offers intuitive and user-friendly tools suitable for those who have just started their CRM journey. It helps not only to build a database, but also automate it to avoid repetitive to-dos and build strong collaboration between teams.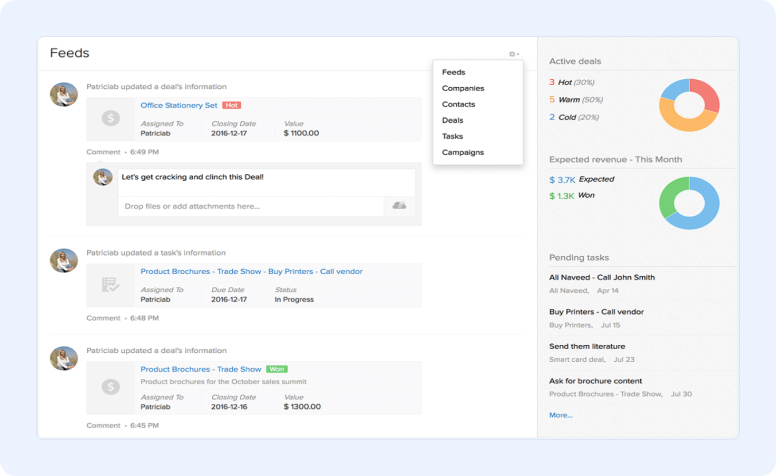 Salesforce
Salesforce is one of the leaders in the CRM industry. No wonder why, because they offer a wide range of tools to manage, collaborate, and analyze sales performance. Mostly suitable for teams that need advanced CRM tools, Salesforce has very insightful onboarding to integrate into the system quickly, even if you don't have any experience.
Keep Your Data Organized With a CRM Database
Not just a CRM software boosts your business, but the tools inside! Database-powered CRM helps not only store and organize information but also streamline all business processes, from direct collaboration with clients to marketing and analytics.
Use databases, find something common in your clients, segment them, build powerful sales and marketing automations, and make wise decisions relying on data and statistics instead of blind actions.
See the most answers to the most frequently asked questions. You can find even more information in the knowledge base.
Knowledge base
A CRM database is a database that stores all the information about a company's customers, including their contact information, purchase history, and interactions with the company. It is used to manage customer relationships and improve customer service.
Improved customer service
Increased sales
Better decision-making
Increased efficiency
Improved compliance
On-premises CRM databases: These databases are hosted on the company's own servers.
Cloud-based CRM databases: These databases are hosted in the cloud and accessed over the internet.
Open Source (Hybrid) CRM databases: These databases combine on-premises and cloud-based solutions.
When choosing a CRM database, you should consider the following factors:
The size of your business
The features you need
Your budget
September 8, 2023
11 min read