Boost Your Financial Management Experience With Flowlu's Imprest Funds & New Automations
We truly believe that financial management doesn't have to be one of those boring to-dos.
This time, we added a few tools to make your financial management smooth and easy, not only for chiefs and accountants but for staff members as well.
Take a seat and be ready to meet our brand-new automations for cash transactions and the Imprest Fund module.
How to Streamline Your Financial Management With Flowlu's Automations
Finances are an important part of any project, so we want to make our Finance module closer to other modules, such as Tasks and Projects. It's now possible with brand-new automations for transactions made within Flowlu.
Automation rules were recently presented for financial management in invoices. Now, we've also implemented them in the Money tab.
Once the transaction is created, edited, or deleted, you can automatically set what's going to proceed next. In Flowlu, you can create multiple entities from transactions:
Tasks
Projects
Events
Issues
Notifications
Update the transaction's field
Slack messages
Webhooks
Use conditions for automations, so they'll run only when it's needed.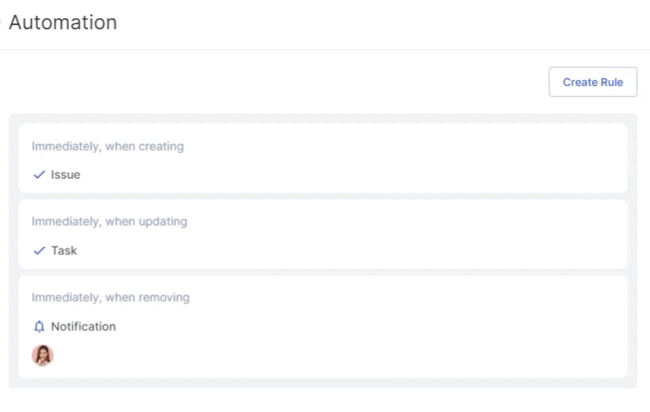 Use Cases
Transaction automation can be used in a variety of cases. For example, when a transaction is created, you can assign a task to any of your teammates to create a report based on that transaction. Or, if a transaction is deleted, you can automatically create an issue so an accountant can check the reason.
Want to be informed about even the smallest changes made to transactions? Simply set up automated notifications and get lightning-fast updates once changes are made to transactions.
To learn more about automations for the Finance module, explore our knowledge base.
Manage Funds Given to Your Employees With the Imprest Fund Module
An imprest fund is a certain amount of money assigned to an employee for regular duty-related expenses.
Regular transactions in Flowlu allow management of every type of income or expense. However, it leads to a complete mess when you can't split all transactions into personal accounts. So here comes the question: where are all the funds, and how do I check if they were wisely spent?

No worries, because the Imprest Fund module in Flowlu is already here! Create personal accounts for each employee, provide funds and monitor spends. Set the module according to your needs; for example, if you want to be aware of each transaction made by your employees, enable the "Request Approval" option.
The Imprest Fund module is different for administrators and managers. Administrators have access to all the tools: account creation, refunds, expenses, and receipts, while regular managers can only create expenses and return funds.
This module will help you manage funds wisely and get full visibility into the personal imprest accounts of each employee.
In Flowlu's knowledge base, you'll find all the guides and tips on how to manage imprest funds.
Mobile App Updates & Improvements
We made our mobile app more flexible and customizable, so each user can set it to match exactly what they need.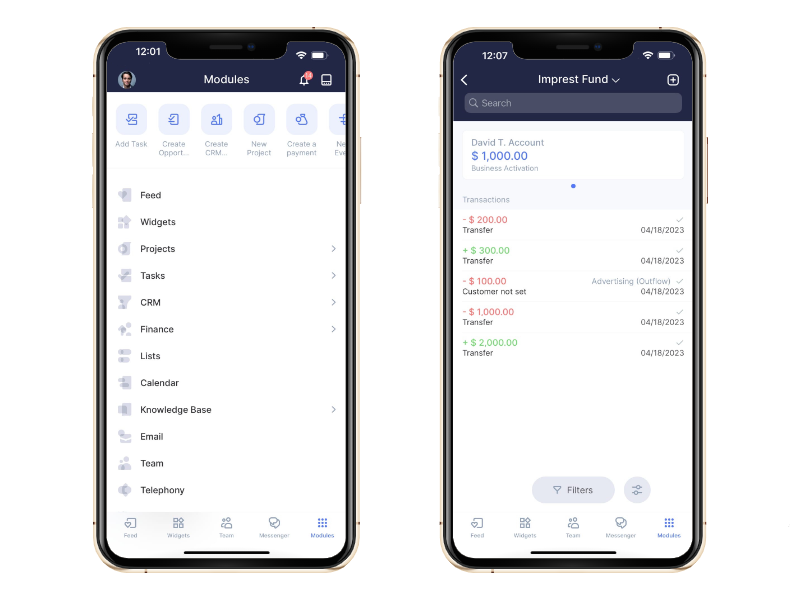 April 2023 mobile updates mostly covered usability of sidebars and quick actions. Here is the list of all improvements being made with the last update and awaiting discovery:
Deep-link support, so you can quickly access any entity by clicking the link without switching to the browser version.
Login and password auto-filling for the authorization page
Advanced bottom bar settings: place the quick-create form icons to make up any entity in the mobile app in a few clicks. Bottom bar settings can be applied by the portal administrator via the desktop Flowlu version, but each user can change them later via the mobile app.
The Imprest Fund module has been added to the mobile app, so you can manage personal imprest accounts wherever you are. The mobile version of this module is highly useful for employees because they can quickly create expenses when they're off for a business trip, while administrators can urgently provide funds.
Minor fixes and improvements.
Login to your Flowlu account to try them all, or click the button below if you're still not a part of the Flowlu community and explore all the exciting updates with the unlimited-featured 14-day trial.
Mobile updates are available for both Android and iOS apps. If you don't have Flowlu in your pocket yet, download our mobile app on the App Store or Google Play.
See the most answers to the most frequently asked questions. You can find even more information in the knowledge base.
Knowledge base
Sign up and start exploring Flowlu with a 14 day unlimited trial and find the subscription that suits you best. 
Sure! You can use Flowlu on both iOS and Android smartphones.
We have a constantly updating knowledge base, where you can find all documents about our modules and find answers to all your questions.