Creating a New Task
---
The faster the tasks are performed, the more efficient the work is. In Flowlu, tasks are set at just three clicks. Create a task, assign a responsible person and collaborators, set the priority and deadline, and monitor the task progress. When the task is completed, you will receive an instant notification.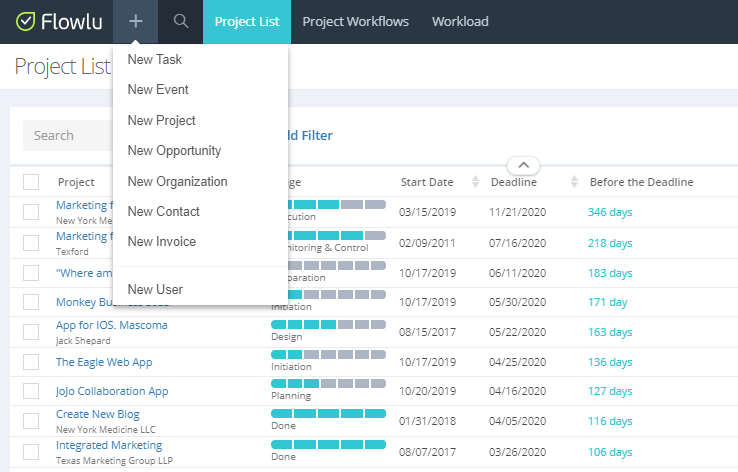 Creating a task via a quick form
How to create a task

You can create a task by clicking the Create button in the top right corner in the Tasks application.
In any other application with tasks, e.g.—CRM, Projects, Workspace.
Using a 'Plus' button, a task can be created in any module of your account.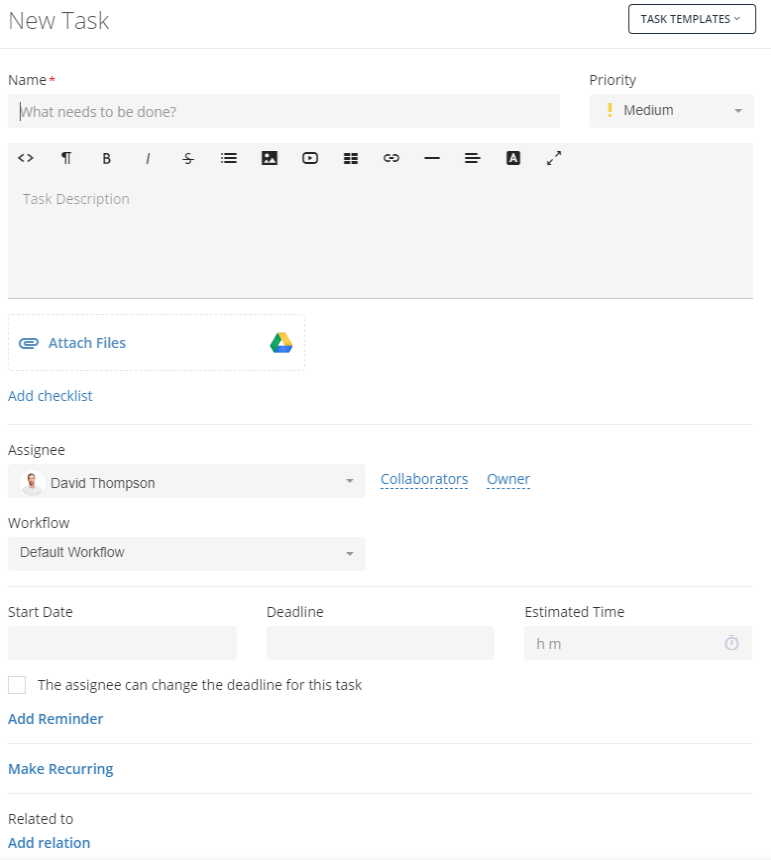 Select a name for your task.
Assign priority — high, medium or low.
Add detailed description.
Attach files from your computer or Google Drive.
Add checklist.
Choose an assignee, collaborators and task owner.
Set up the task workflow — predefined pattern that your tasks follow as they go through from start to completion.
Select the start and end date. Indicate an estimated time if needed. If it is necessary to specify minutes, type "m" next to the number. If it is necessary to specify hours, type only numbers. If it is necessary to specify hours and minutes, type numbers through space, for example, 2 - space - 30. Hours and minutes are set up automatically. Save time properties by clicking Enter.
If you want the task owner to change the deadline for this task, select the appropriate option.
Add reminder for the assignee, owner, collaborator or yourself.
If needed, make the task recurring so it will be automatically created based on the recurrence preferences you set.
Relate a task to a project, workspace, contact, organization, opportunity.
Add tag and link a task to your personal task list.
Once all the fields are filled, press the Save button or Enter.
How to create tasks quickly
This method comes in handy for those who prefer to take notes on-the-go. Create a task in one click, describe it and add any further details at any time later.
Go to the Tasks application.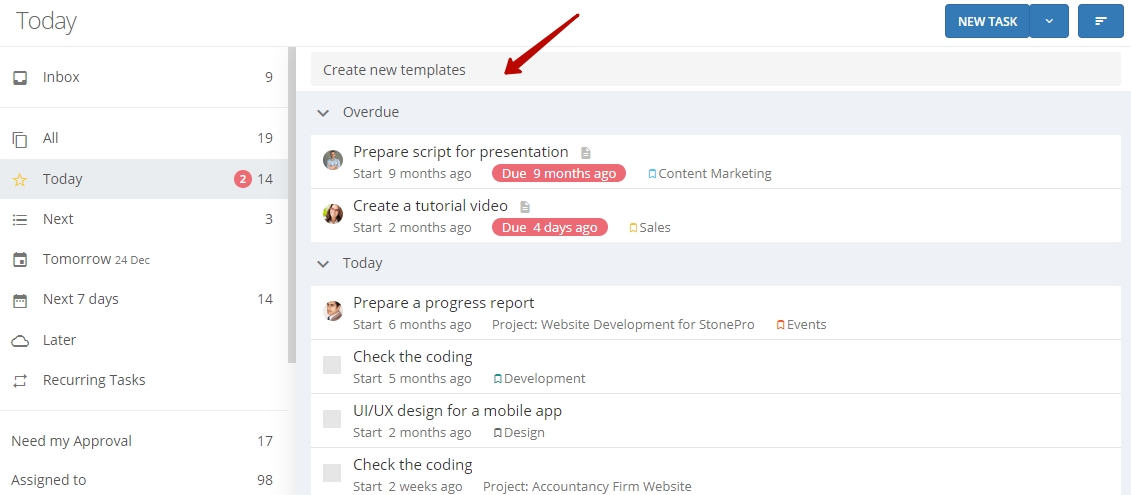 Click on the Enter new task field. Type the name of the task and press enter. Now you've created your task!

Just click on the task to edit it and add any further information, e.g., checklist, assignee, detailed information, files.
Task page
On the task page, you can find everything you need to complete a task—deadlines, description, checklist, comments, attached files, assignees and even more. Let's have a closer look!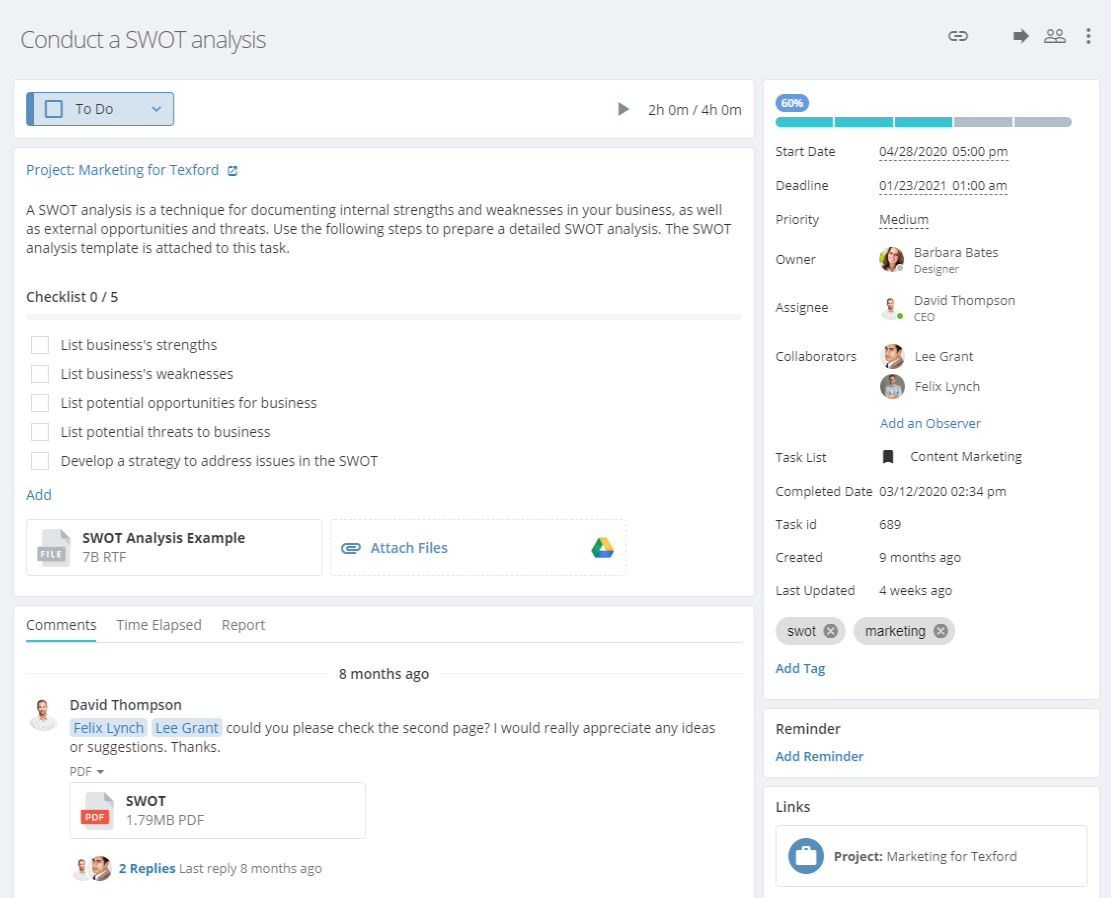 Title. To change the name of the task, just click on the field and fill in the required information. Save changes by clicking outside the task field.
Description. Explain the tasks' main idea, provide recommendation on execution.
The checklist is a great solution for complex tasks, that can be split into stages. Break your task into smaller parts and make sure not to miss a single thing.
Set the start date and deadline.
Paper clip icon lets you attach files: sources, texts, pictures.

Arrow icon at the top of the page delegates task to another assignee.
The two-person icon allows adding collaborators to the task.
The three-vertical-dots icon allows to print, edit or delete a task.
Flowlu is integrated with Google Drive. You can attach any document from your Google Drive by clicking the appropriate icon.
Every task is set to medium priority by default. You can change the priority of a task by clicking on the Priority field.
You could also easily link a task to an opportunity, project, contact, organization, workspace. Learn more.
What happens after you've created a task

An assignee and collaborators are notified on the created task. If the user logs off, notification is sent to the email.
There are two access rights to tasks:

Administrator. This individual has access to all tasks in the Flowlu account. An administrator can edit tasks, adjust fields, reassign roles to tasks created by him/her and by other users.
Employee. This individual has access to tasks he/she created or is assigned to (collaborator or assignee).
If a task is assigned to a user with Employee access right, this user cannot edit or delete the task or add collaborators.
When assigning a new task, you can also allow an assignee to change the deadline of the task.
The employee is able to perform the following actions:
making checklists and checking the boxes.
fill in the report.
delegate a task if a user fails to implement a task.
---