Meet Advanced Estimate Templates, Multiple Finance Module Improvements & More!
July 5, 2023
4 min read
We've prepared a bunch of mind-blowing updates for you. This time, we were mostly focused on finances, but we have not forgotten some requests from our users. Also, this month we've made a few improvements to the Agile module, so your project management experience is going to be more smooth and user-friendly.
I'm not going to take much more of your time; let's have a deep dive into June's updates.
Advanced Templates for Estimates
Since the Advanced Invoice Template Builder was released, many of our users have asked us to make the same feature available for estimates.
Well, the time has come! As with invoices, you can now create custom templates for estimates. No additional knowledge or experience is required because the interface of the estimate builder is the same as for invoices.
Despite the fact that the estimate template builder works in the same settings as the invoice builder, we've written a whole new article in the knowledge base with a guide on how to use it.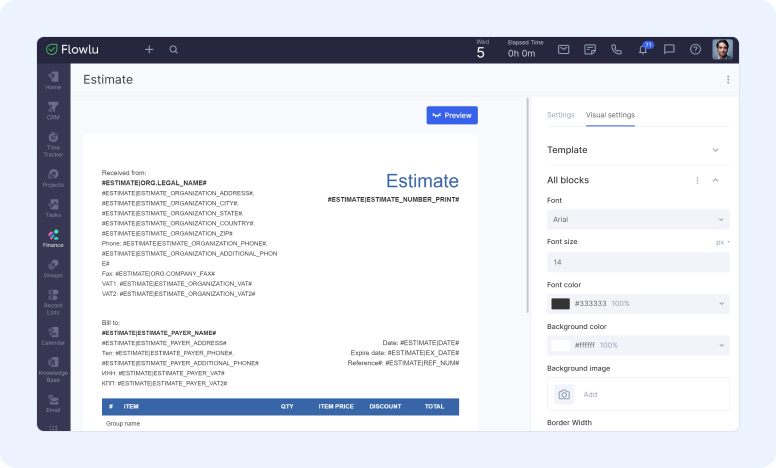 Small but Mighty Finance Improvements
We're constantly working on improving our Finance module to make it more useful for you. You might have noticed that most of the recent huge updates mostly cover the Finance module. This time, we're here with some small financial improvements to make your Flowlu experience more smooth and user-friendly.
Possibility to Hide Zero Balance
Cash Flow and P&L reports are quite comprehensive, and finding important information can be hard sometimes. To make them more space-saving, we added a new setting so you can turn zero balances off. To learn how to do that in Flowlu, feel free to explore our knowledge base.
Budget Synchronization
When planning a budget, you need to proceed and organize the huge amount of information. Previously, when changing the cash flow, some transactions didn't record in the planned budget, and you had to manually add them, which led to a complete mess.
To avoid such a situation, you can now synchronize the budget with the actual transactions to avoid filling in a huge amount of information.
The "Files" Column in the List of Transactions
Now, in the list of transactions in the Money tab, you can see if any files are attached to the record.
This feature will help the manager or director see if files with the payment documents are attached to the transaction and compare files and records to check if they're correct.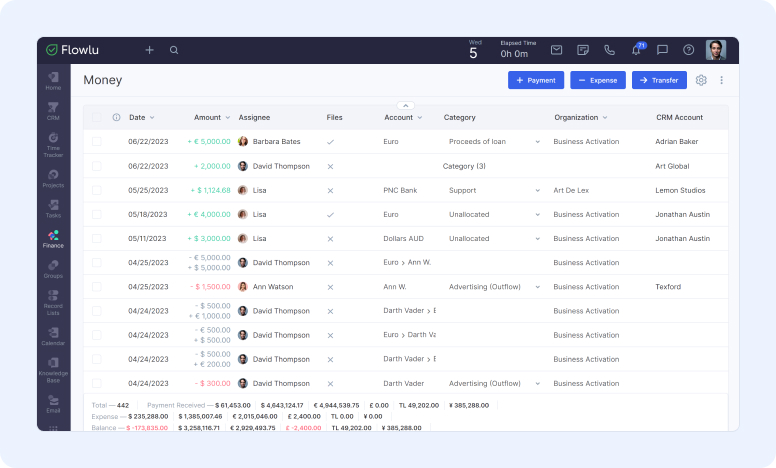 Percentage Payment Distribution
If you use the Finance module, you've probably noticed that it's possible to split a transaction for different projects or invoices. Previously, it was possible only to split transactions by exact numbers. Now, we've made it possible to split payments by percentages.
For example, if you run multiple projects with the same payments and expenses, you can split one transaction, e.g., delivery, into multiple transactions for different projects. If there are four projects, the total amount needs to be split by 25% for each project.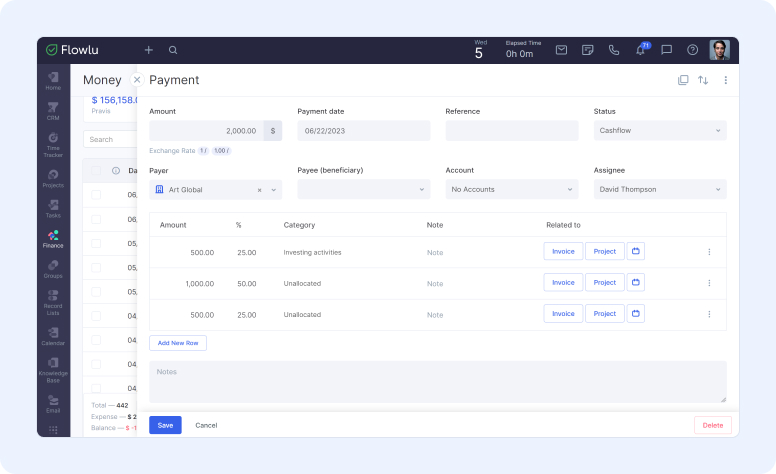 Drag & Drop for External Files
File attachment became easier than ever in Flowlu. Drag any file on your computer and drop it into the task, project, Agile issue or any other entity in Flowlu. This way, the file is simply attached without clicking multiple buttons.
What's New in the Agile Module
Don't think that we forgot about adding something new to the Agile module!
Previously available only for the regular Task module, task followers are currently available for Agile!
If a teammate is not a reporter or task assignee but still needs to be aware of important updates, you can link this teammate as a follower with the ability to monitor the task without access to change its settings and status.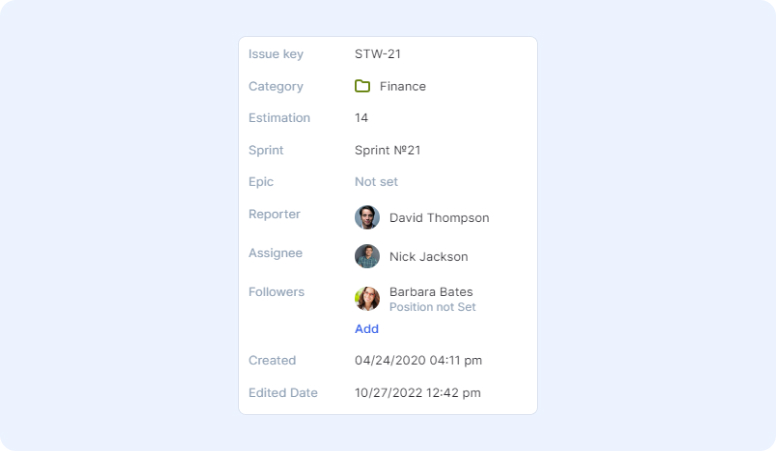 All the updates are already in Flowlu and ready to be explored! Feel free to visit our knowledge base if you want to have a closer look at guides and manuals on how to use Flowlu and its features at their finest.
See the most answers to the most frequently asked questions. You can find even more information in the knowledge base.
Knowledge base
Sign up and start exploring Flowlu with a 14 day unlimited trial and find the subscription that suits you best. 
Sure! You can use Flowlu on both iOS and Android smartphones.
 
We have a constantly updating knowledge base, where you can find all documents about our modules and find answers to all your questions.
July 5, 2023
4 min read