Product Update: Client Portal, Onboarding, Mailchimp Integration and New Chat UI
November 18, 2021
5 min read
We've been working tirelessly on so many helpful product updates and improvements this autumn. Let's jump straight into it and find out how these new amazing features can transform the way you manage your business with Flowlu.
Client Portal for Collaboration with External Users
Flowlu Team is excited to announce that the client portal is finally here! Now you can create a dedicated space to seamlessly share information with your clients, freelancers, contractors or anyone outside your company account.
Invite people to the external portal by email or a link and determine what they should exactly see at the account using flexible permissions. Build a secure digital hub for all customer information so your clients will get quick access to only the data and fields you appoint to them.
The Client Portal lets your customers access their own projects, tasks, invoices, estimates and knowledge base in order to save your team's time, simplify collaboration and enhance transparency.
Flowlu Client Portal allows you to use your own custom domain, add a logo and customizable onboarding to make it look more professional.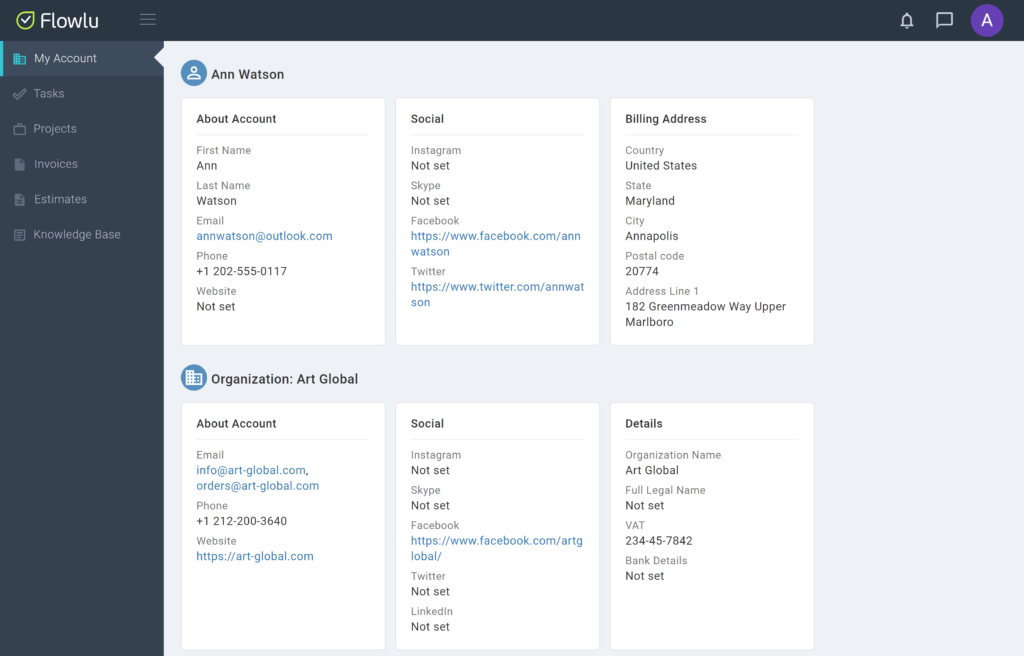 What your external users can see:
Tasks. The tasks are displayed on a Kanban board or as a list. An external user can also create new tasks for your teammates and attach files to them.
Projects. Show the project performance and let the client leave comments or add new tasks. You can allow your stakeholders to view project progress, issues, files, payment and expense history.
Knowledge Base. Post articles with FAQs or any other useful resources. An external user can comment on articles, upload or delete files.
Invoices. Your clients can pay invoices right from the client portal. They can view the history of invoices as well as comment on them.
Estimates. An external user will be able to review and approve your estimate right from the client portal and, if they have access, convert it into an invoice on their own.
Chat. Each external user can chat with your coworkers from the Client Portal.
External users can also receive real-time notifications on important updates, e.g., when a task's stage is changed or a new comment is created. The account administrator can allow or prohibit inviting external users, as well as select if all comments should be public.
The stakeholders can track project progress, create tasks for your team, approve estimates, pay invoices, access any information or chat with your company via the built-in messenger in real-time. They will only see what they need to see, and you can keep sensitive data private. So, if you ever need to share work progress with your clients, there's no need to send emails or make calls. All you need to do is to give your clients access to the Client Portal.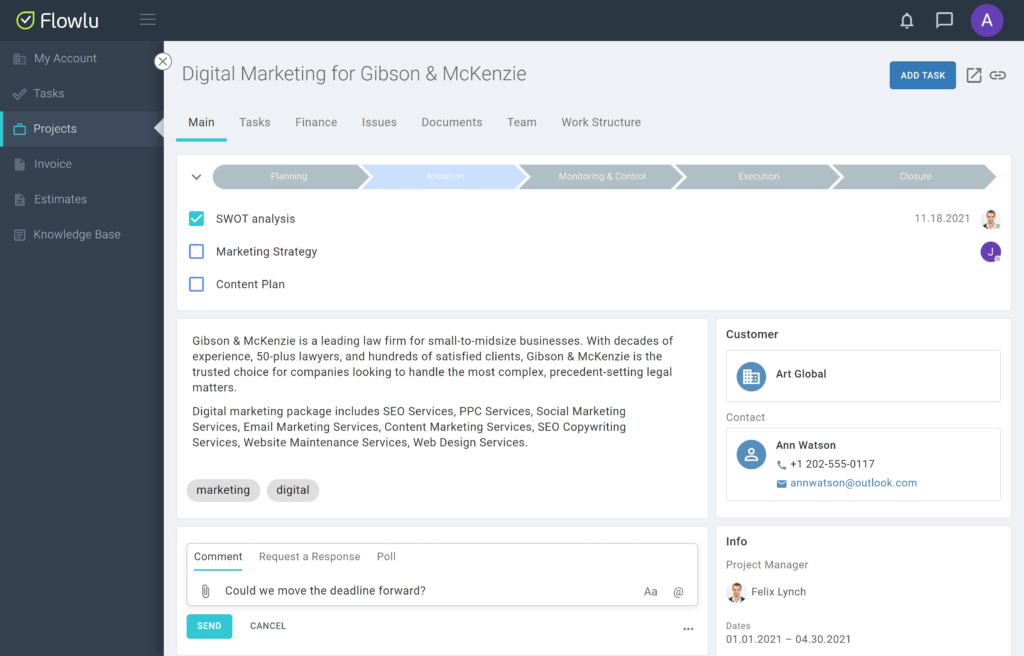 Our dev team made a new client portal so detailed and comprehensive so no wonder it might seem to be a bit overwhelming at first. That's why we hosted a webinar on how this brand new feature can unlock a next-level client collaboration experience for your team. You can watch a webinar replay in case you missed it by following this link.
Take your business to the next level by incorporating the professional client portal for seamless 24/7 collaboration with external users! Consolidate all information in one place and keep everyone connected!
Learn more: How to set up client portal
Customizable Onboarding for Your Employees
We heard that many of you enjoyed our onboarding — a step-by-step guide for learning how to use our platform. Guess what? Now you can create your own fully customizable workflows for everyone inside or outside your company and organize it the way you want.
You can create an individual onboarding for all administrators, coworkers, external users or make it different for each person.
You can choose how to track onboarding progress — by each user or by the whole group. The second option means that if one user accomplishes a task, the performance will be reflected for the whole group.
For onboarding, you can set up a banner and configure it using CSS
The most exciting aspect of this new feature is that you can use the onboarding module in Flowlu in a number of ways. Add easy-to-follow checklists that guide the new hires through the adaptation process or create guidelines for your freelancers, or introduce your customers to your services, or define employee development plans or other 100+ scenarios for any individual case.
Read more: How to create and customize onboarding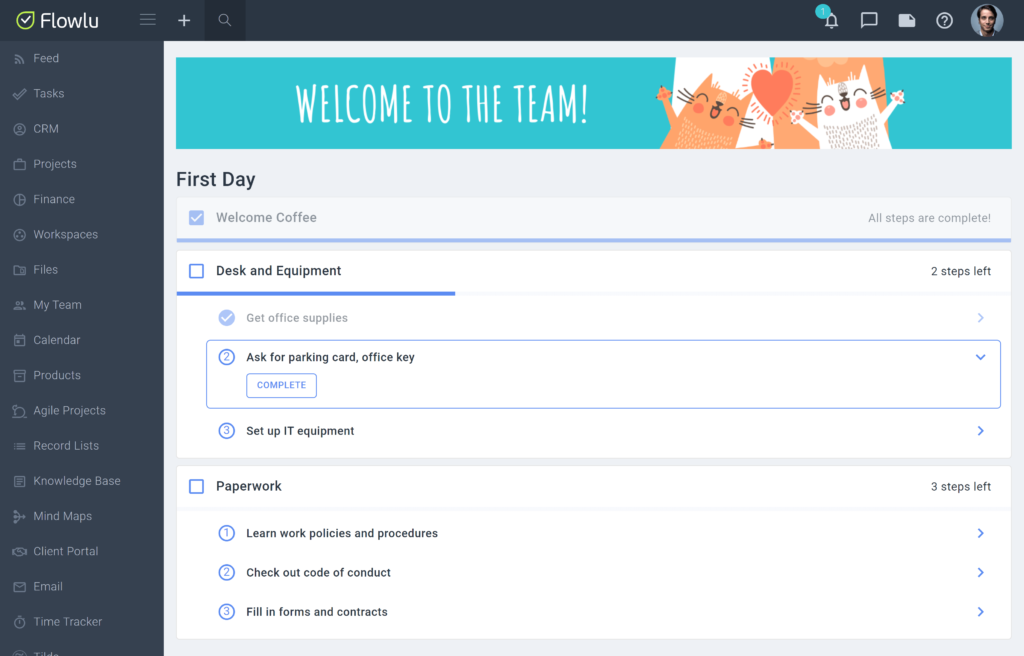 New Mailchimp Integration
Mailchimp is a marketing automation platform used by teams to manage their mailing lists and create email marketing campaigns. With this new integration, you can now automatically export contacts to the Mailchimp audience from Flowlu or import them from Mailchimp into your CRM. For instance, once you capture a new lead to Flowlu, it can be automatically added to your Mailchimp nurture campaign based on the specified settings.
Find out more: How to connect Mailchimp to Flowlu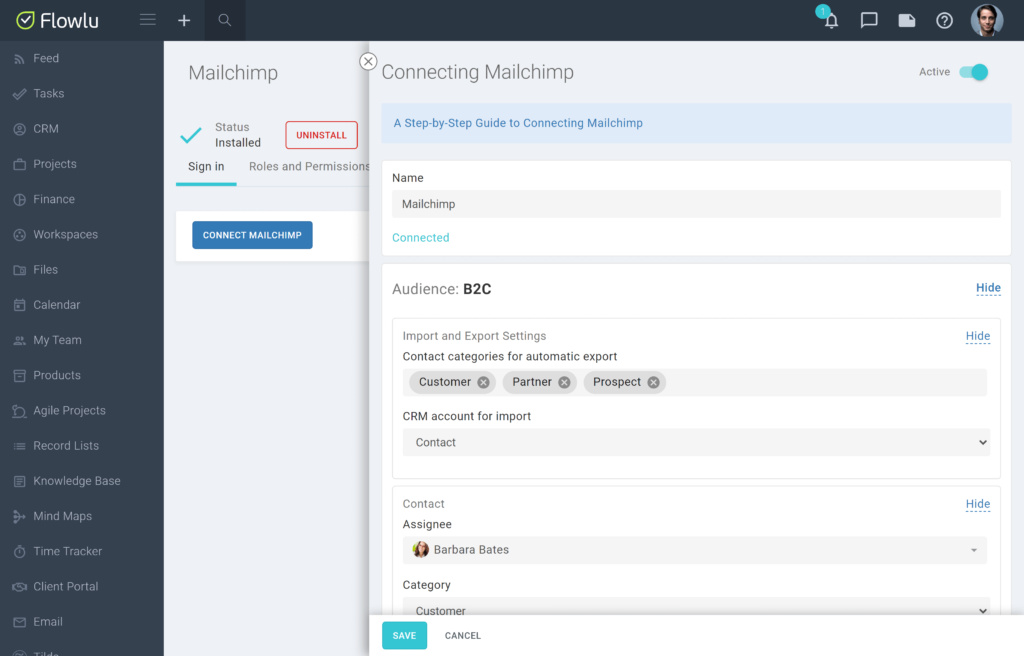 Redesigned Chat UI
We've significantly refined our built-in chat for team collaboration. It got a more modern look, you can also now assign chat admins, add photos to the chat, see if someone is typing or has read your message. Do not take our word for it – try it yourself!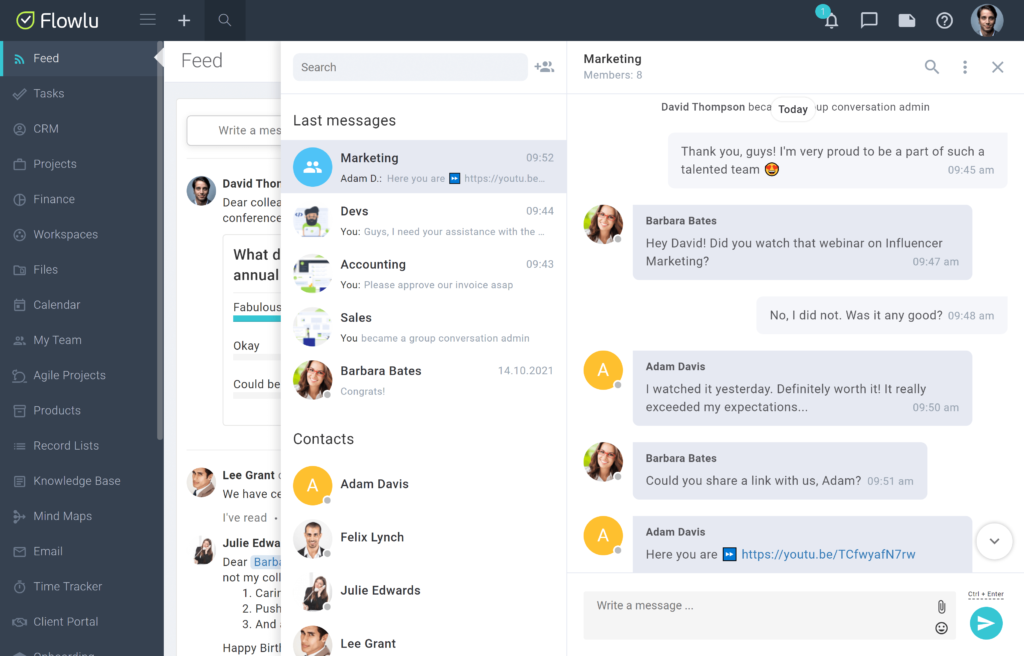 Flowlu aims to make your team collaboration even more efficient and centralize all your business processes within one single platform. If you have any suggestions for our product improvement, we encourage you to leave your ideas in our dedicated ideas hub.
See the most answers to the most frequently asked questions. You can find even more information in the knowledge base.
Knowledge base
Sign up and start exploring Flowlu with a 14 day unlimited trial and find the subscription that suits you best. 
Sure! You can use Flowlu on both iOS and Android smartphones.
We have a constantly updating knowledge base, where you can find all documents about our modules and find answers to all your questions.
November 18, 2021
5 min read