Project cost tracking
Flowlu's project cost tracking software lets you always stay on budget. No matter how long a project ends up being, or how many outside workers you need to hire, you will know how much it is all costing you. Forget about being surprised by costs when you see them, or thinking your margin was bigger than it actually was. Cloud based software keeps you informed at every step.
Project Performance Evaluation
Gain a clear real-time overview of everything you need to know about your project at glance. Instantly view project progress, key milestones and deadlines, budget status, estimated and spent time on tasks. Stay on top of your projects!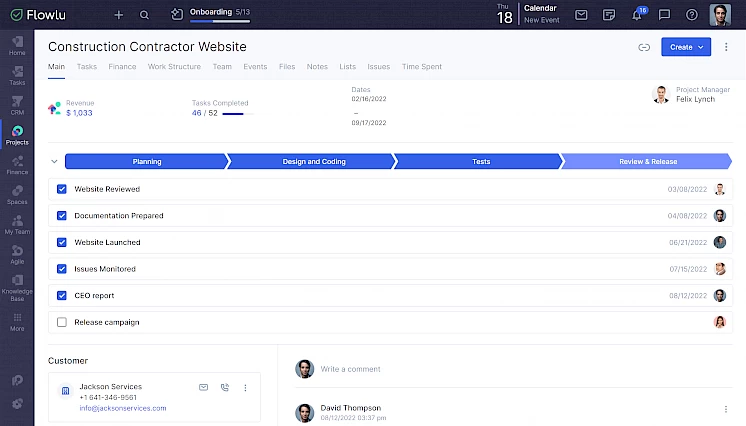 Multiple Project Boards
Use multiple project boards to manage different contracts at the same time. Plan everything out for each client, department, or business. Give your team a detailed list of tasks and objectives, and update each board as they work.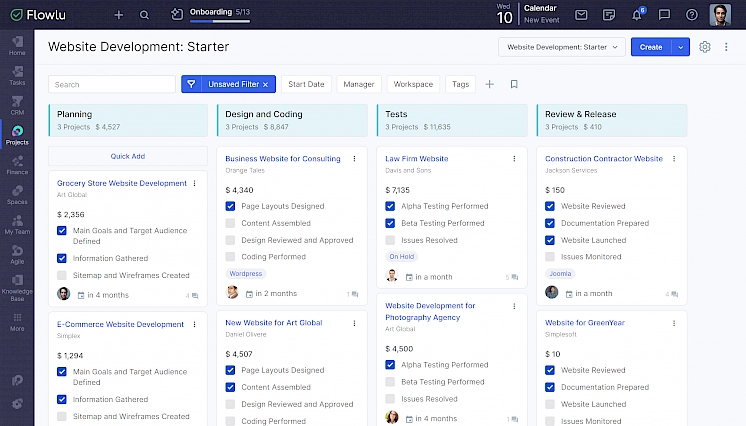 Project Issues Tracking
Use project issues tracking to fix any problem as soon as it comes up. You and your team will be able to mark different issues or bugs, and suggest improvements. Then communicate with your team to resolve each issue quickly.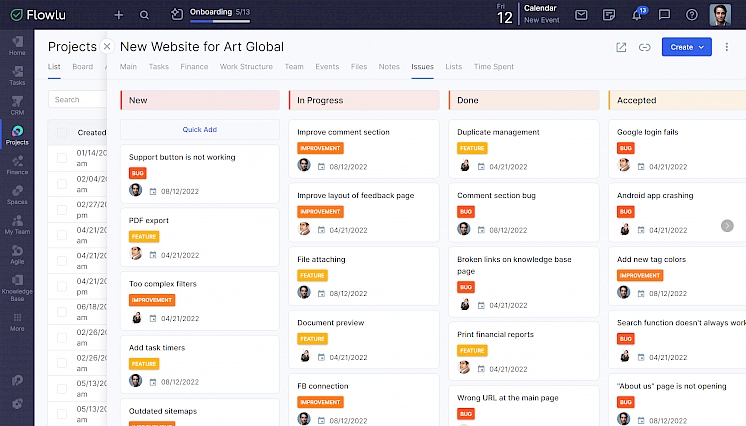 Project Time Tracking
Use project time tracking to let team members log their billable hours easily. Everything will be stored on a timesheet inside the project. Project time tracking is connected to our invoice system. Invoices will be automatically generated from each timesheet.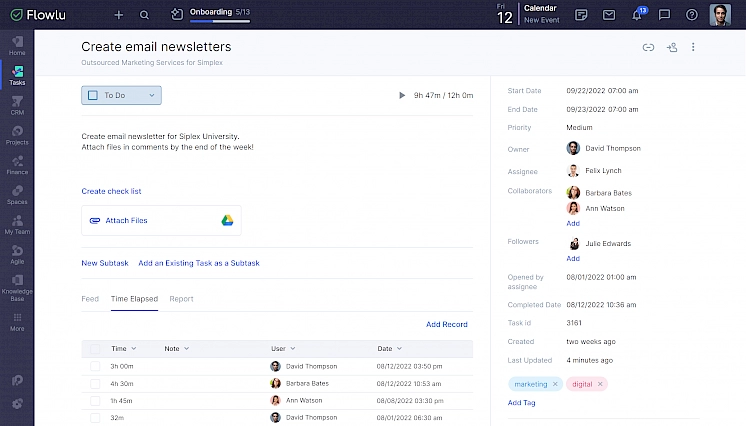 Project Cost Management
Project cost management lets you easily
calculate the costs
for each project. You can divide your different bills by category, whether it be advertising or employee paychecks. Know how much profit you can make from each project, and where you are overspending.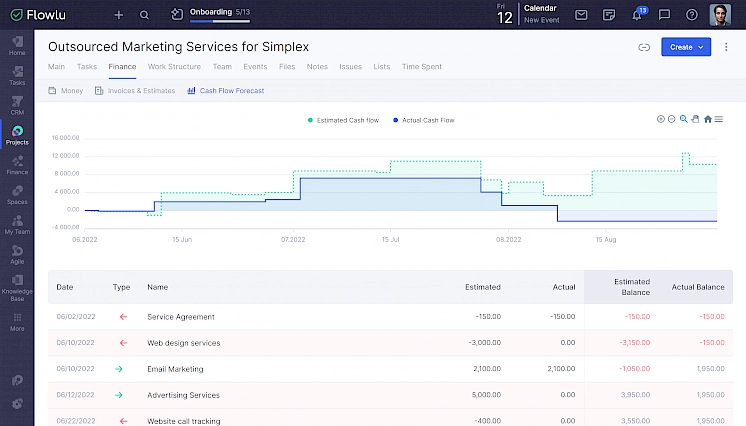 Documents Sharing
Documents sharing makes each job easier for your team. Instead of worrying about uploading the file to different places, just put it right next to the project. Your team will see the assignment, and know the files are right there for them to access.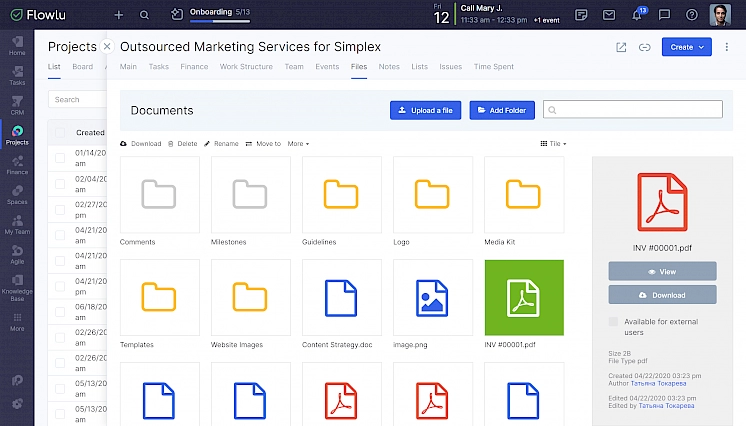 Project Team & Collaboration
Use Flowlu to
collaborate with your team
on any project. Just add team members to the projects they should work on. Our software gives you the technology to brainstorm together, solve problems, and create virtual meetings. See how long employees have been working on projects, and what they're charging you.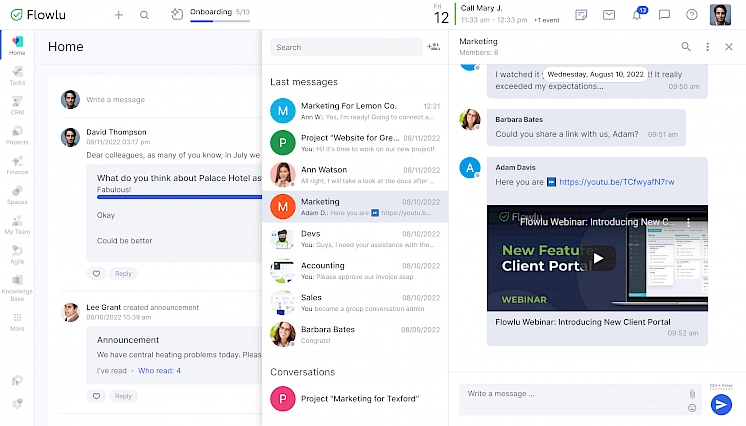 Invoices In Projects
Connect
invoices to projects
to always stay on top of your billing. See which clients still owe you money, and which invoices were already paid. Located right next to each project, you'll never mix up invoices again.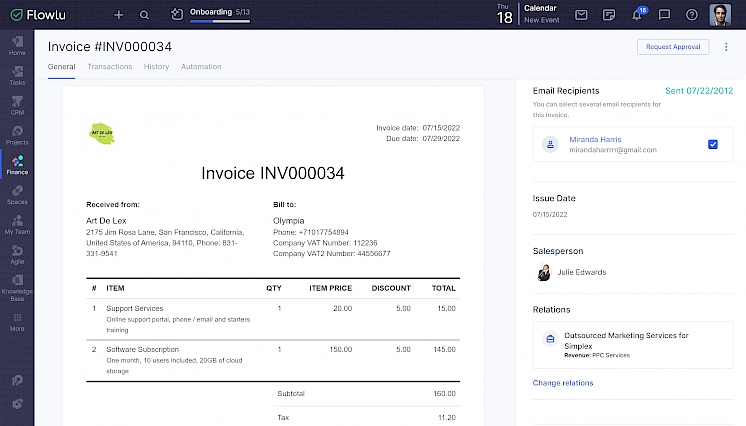 Project Workflows
Instantly create similar projects with a predefined pattern of steps and activities using project workflows. Set up stages, milestones, and tasks to avoid creating the repeatable, similar processes from scratch. Concentrate on the outcomes and streamline day-to-day operations.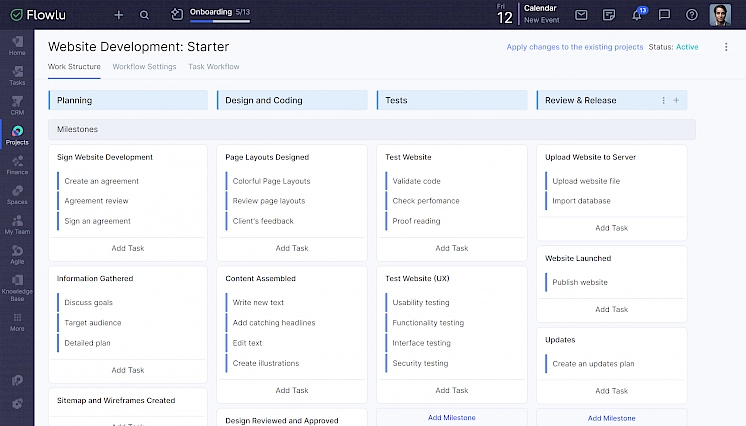 Custom Lists
Generate custom lists with your own fields to handle any sort of information — contracts, passwords, equipment, etc. Utilize custom fields to log and manage vital data and quickly find the right information using filters and sorting.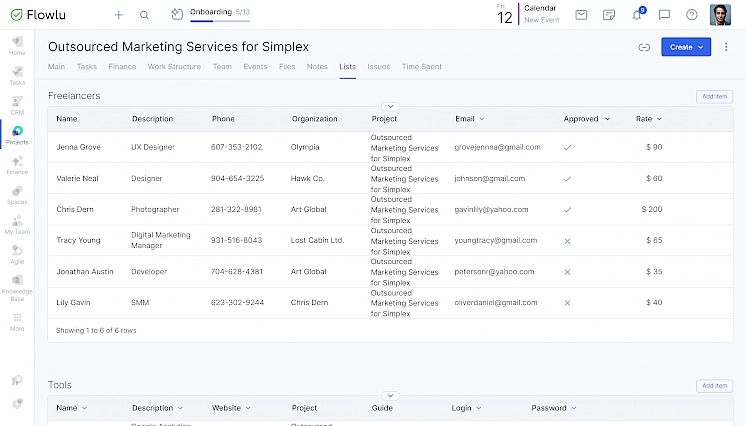 Track Workload
Instantly gain insight into how occupied your managers are and how your team's work is distributed across all projects. Keep your team members on track and ensure nobody is overworked.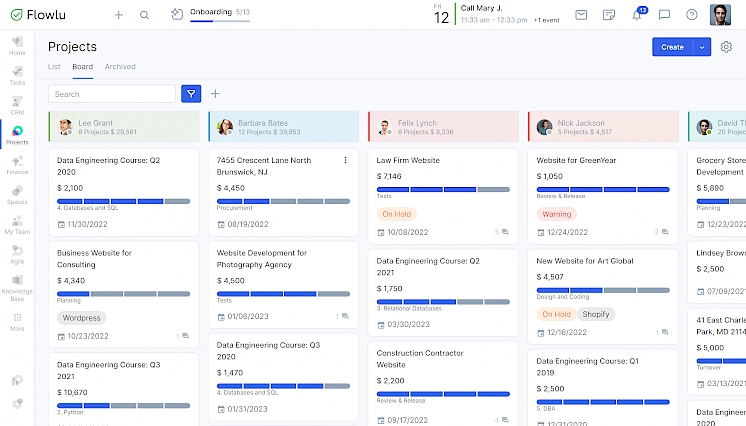 Events & Follow Ups
Create tasks for you or your team. These can range from important meetings to any little job. Flowlu reminds you that they're coming up, and gives you enough notice to be prepared. Set reminders to get smaller jobs done or follow up on leads.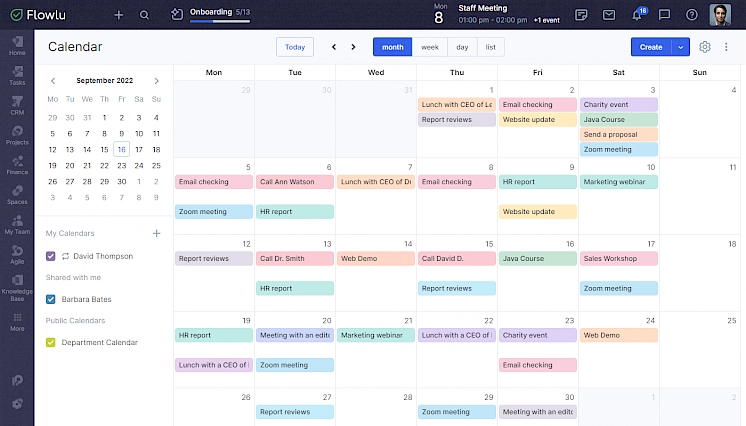 Project Comments
Utilize comments to discuss tasks, leave notes, attach files or provide updates in real-time. Use @mentions to discuss important details with teammates or request a response if you need their expert assistance.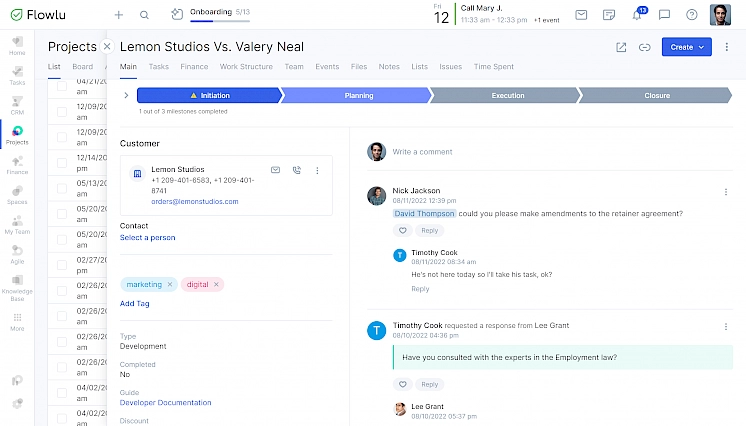 Integrate Your Email
Connect your mailbox to Flowlu and send emails to your clients directly from your account. Associate your messages to tasks, contacts, projects or opportunities and track your customer interaction in one spot. Activate open and click tracking to assess the performance of your emails.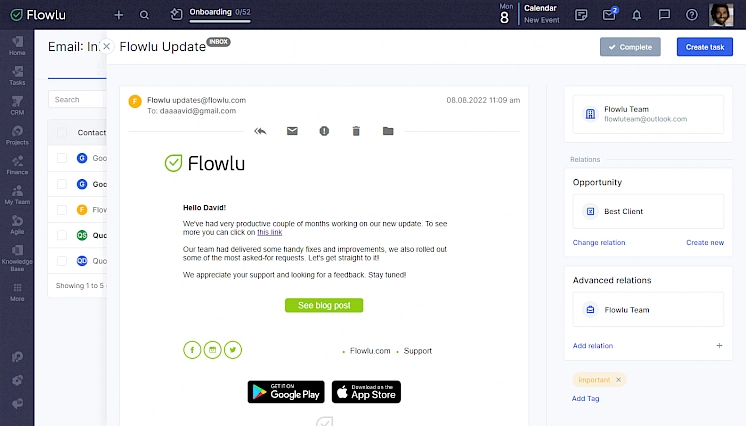 Secure Client Portal
With Flowlu, you can build a secure digital hub for your client collaboration and relevant information exchange. Chat with your clients in real time, allocate tasks, demonstrate project progress, share company FAQ's and guidelines, bill your customers and let them pay online from a portal's interface. Configure flexible permissions and customize how your portal looks by adding a logo, brand colors and banner.