Invoicing software for small business
The premium choice of invoicing software for small business. Create invoices and send online to clients and management, reducing admin time. Simple yet effective design tools make beautiful looking invoices in seconds. Store PDFs and email direct in the app. Unlimited product, pricing and service database makes for super quick billing. Region based tax and shipping makes complex calculations simple. Visual progress can be seen with charts and real-time reports.
Free Unlimited Invoices
Our software lets you invoice your customers directly from the cloud. Create new invoices and send them to customers at lightning speeds. Have previous invoices available on the cloud for easy 24/7 reference.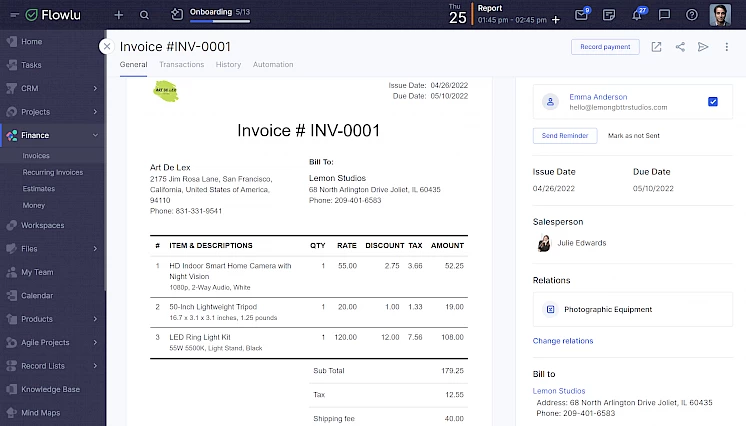 Share Direct Link & Send by email
Be able to send your team the invoices they need immediately. With just a few clicks, you'll have several options for sharing company invoices. Send invoices from Flowlu by email, get a direct link to them, or download them for offline storage.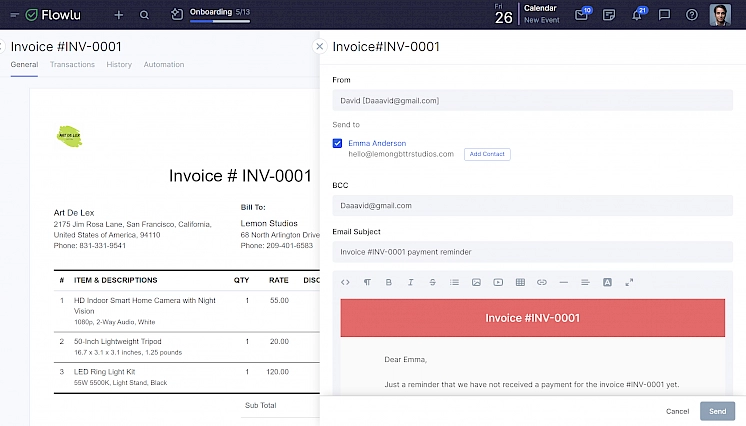 Products & Services Catalog
Create a products and services catalog to make customer billing easy. You'll have a database with the cost of each one of your products or services. When the time comes, just add them straight to the invoice before you bill your customer.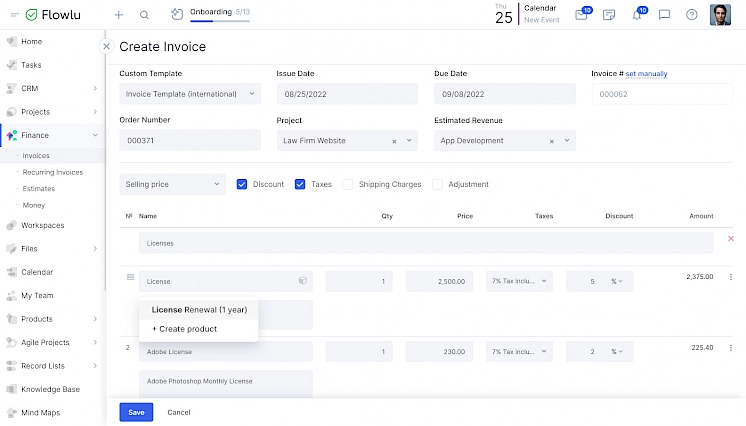 Taxes, Discounts, Shipping Charges Online
Create different charges that you can individually add or subtract to every invoice. Explain to your customers how much added costs are and where they're coming from. Separate between added taxes, discounts you can offer, and shipping charges in each invoice.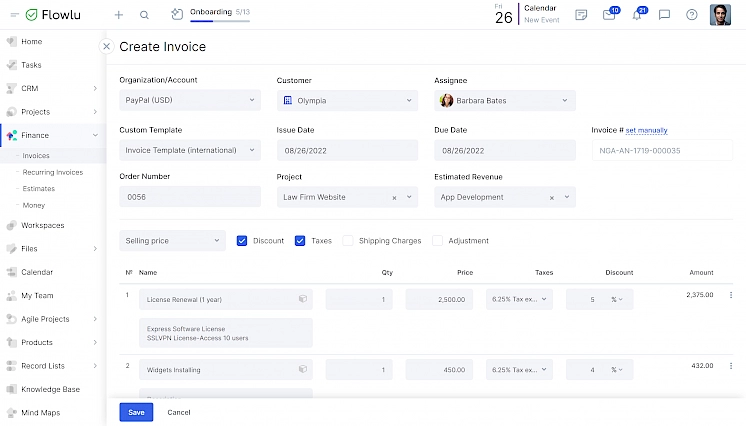 Reminders For Customers
Don't worry about billing a customer, and forgetting to follow up. Our reminders for customers lets you send an automatic notification to you and your client. He'll be followed up on and you'll know he hasn't paid yet.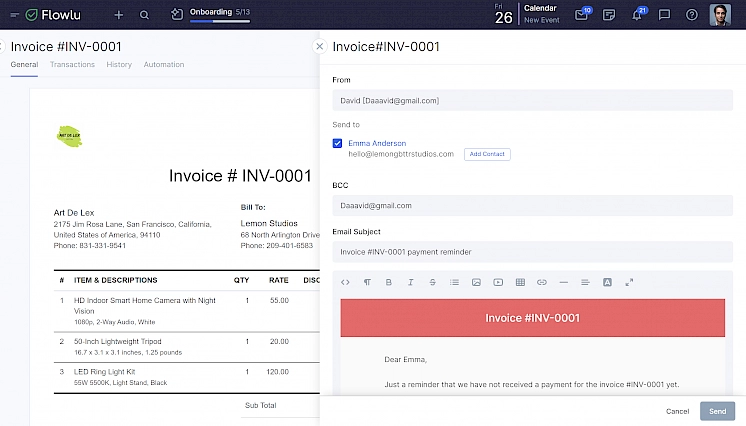 Online Payments
Make it easier for your customers to get your money to you. Online payments let your customers pay you directly from the invoice page. They'll see a detailed list of what the charges are, including taxes, shipping, and any discounts. They can then pay hassle free right from their computer.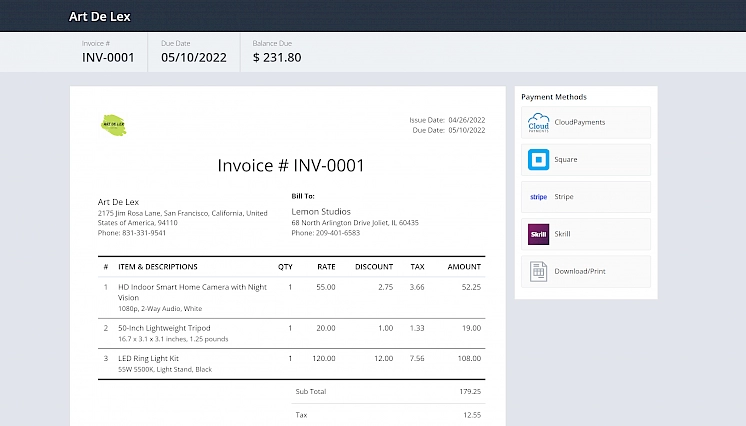 Invoice Approval
Activate invoice approval and review team's invoices before they are emailed to the customers. Maintain good relationships with your clients by ensuring that each invoice is accurate and error-free.
Time Tracking for Billable Hours
Keep track of how many hours you spend on providing services for your clients and issue invoices directly from a project. Define the billable rate for your tasks and charge your customers accordingly.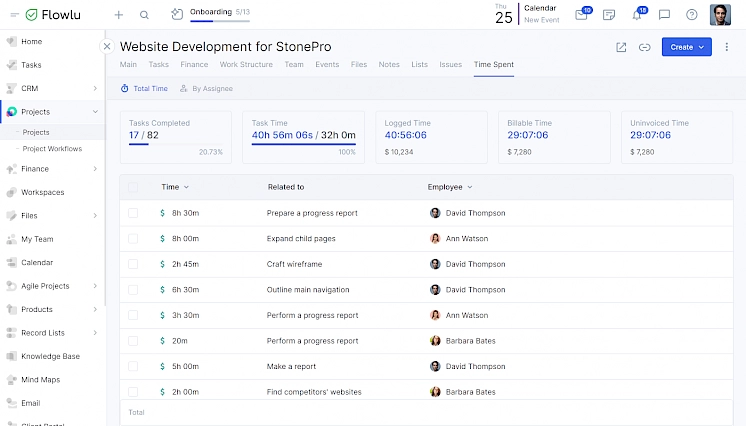 Invoice Templates
Save yourself time and craft invoice templates with predefined line items. Next time, you do not need to create an invoice from scratch — choose the right template, include customer details and send the invoice to your client. Speed up invoicing procedures and eliminate the number of administrative tasks!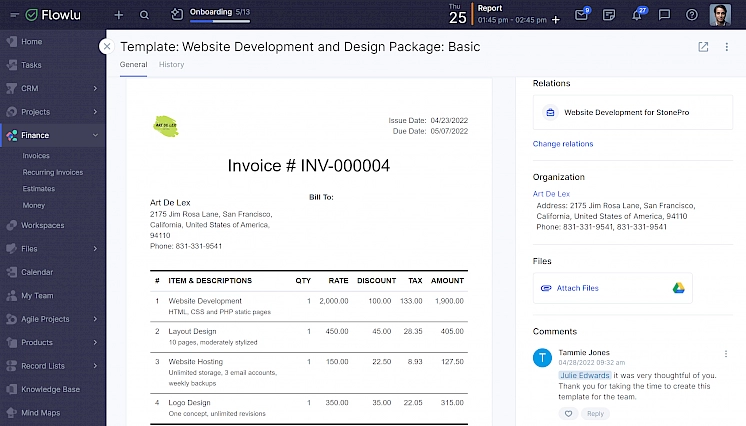 Recurring Invoices
Automatically create and email invoices to your clients based on recurrence preferences you set up. Streamline your payment processes to ensure you always get paid in due time. Let Flowlu take care of your invoicing and spend more time on growing your business.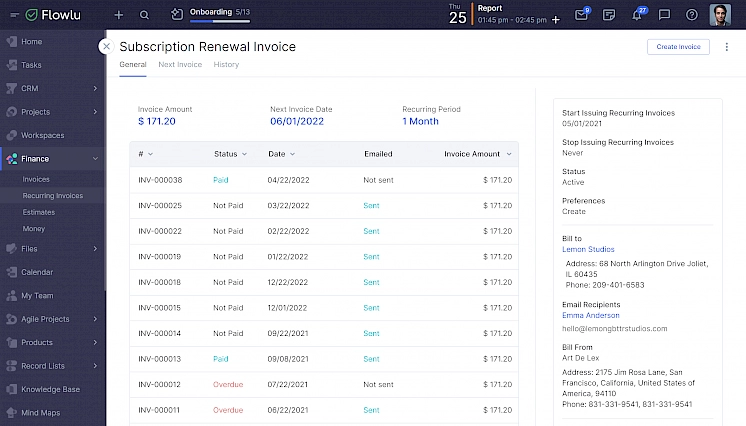 Secure Client Portal
With Flowlu, you can build a secure digital hub for your client collaboration and relevant information exchange. Chat with your clients in real time, allocate tasks, demonstrate project progress, share company FAQ's and guidelines, bill your customers and let them pay online from a portal's interface. Configure flexible permissions and customize how your portal looks by adding a logo, brand colors and banner.