Trello Alternative for Task and Project Management
Are you searching for Trello alternatives to handle your tasks and projects? Then, you're ready to take your business to the next level and boost team productivity. Task and project management have never been easier with Flowlu. It's an all-in-one, highly customizable solution that helps you to centralize your business processes in one place, including complex projects, cash flow, invoicing, clients and sales management. Kanban boards, time tracking, checklists, workflow automation – Flowlu has everything Trello offers and so much more.
Task Control Center
Use our task control center to manage every task from one screen. Create new ones, assign them to different team members, and see how soon they will be done. Always stay on top of deadlines and know you will be able to keep your customers happy.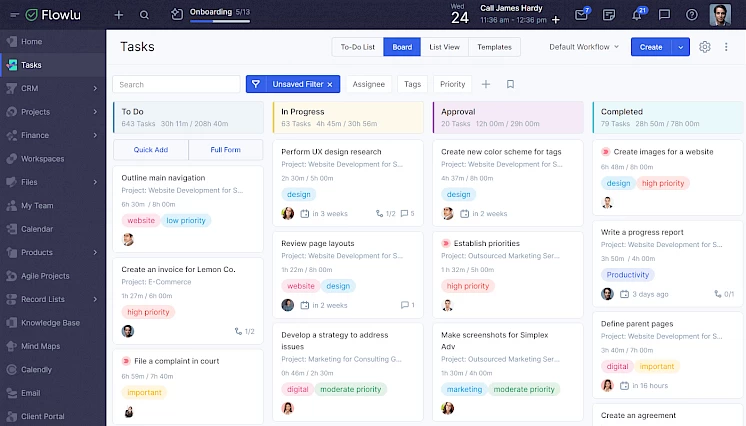 Lightning Fast Task Management
Just hit create a new task, type up the details, and assign it to individual team members. There are no long processing times or complicated forms. You can quickly communicate to your team members what needs to get done.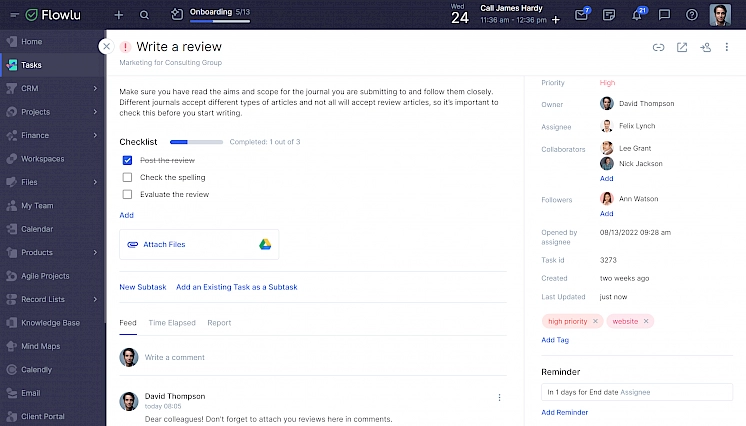 Powerful Time Tracking
Time tracking lets you see how long you and your team members have worked on each project. Make sure your employees are charging you the right amount. Give your customers an accurate invoice including time spent on their project.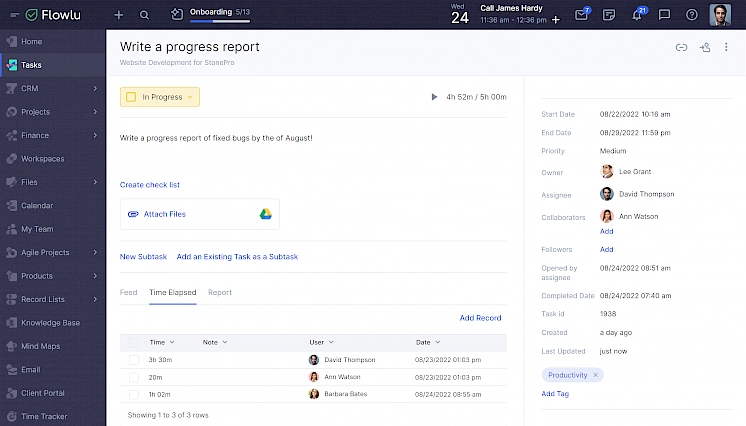 Team Project Management
Use our team project management to lead remotely. Plan out projects, and create Gantt charts to list every step. Assign tasks to different team members and see how close they are to finishing them.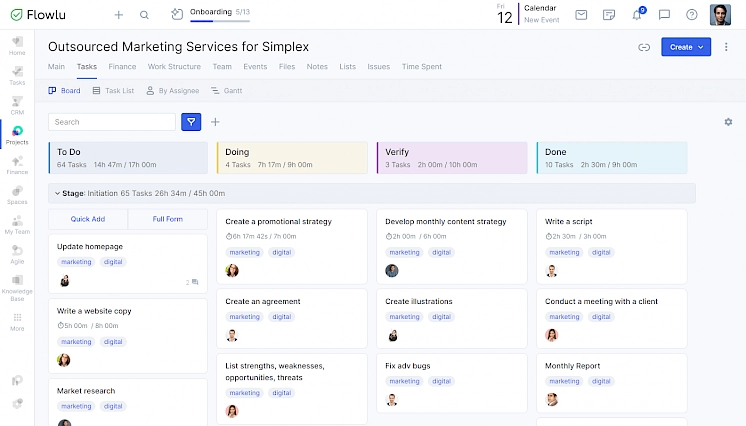 Recurring Tasks
If you need to perform the same set of activities on a regular basis, create recurring tasks to generate tasks automatically at the designated time. Configure recurrence options and automate all the manual, repetitive work. Save your team's efforts to concentrate on what matters most.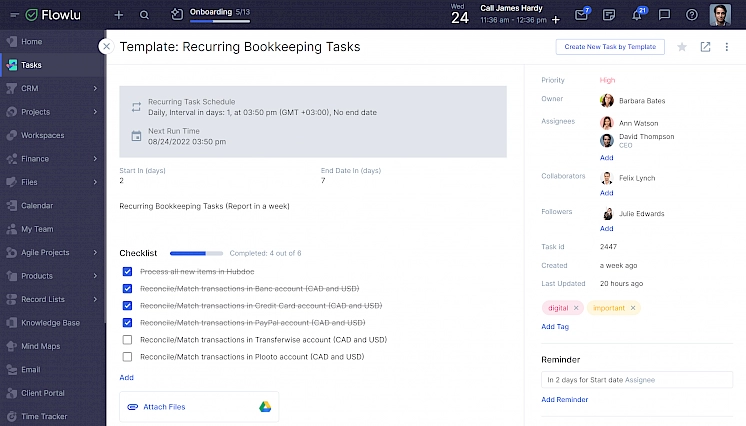 Instant Messenger
Use our built in instant messenger to communicate with your team. With a few clicks you can always be sure they got your messages. Instantly share opinions and thoughts, send documents, pictures or any other relevant information in real time. Stop having to communicate with different tools and wonder if they checked their Skype or Email.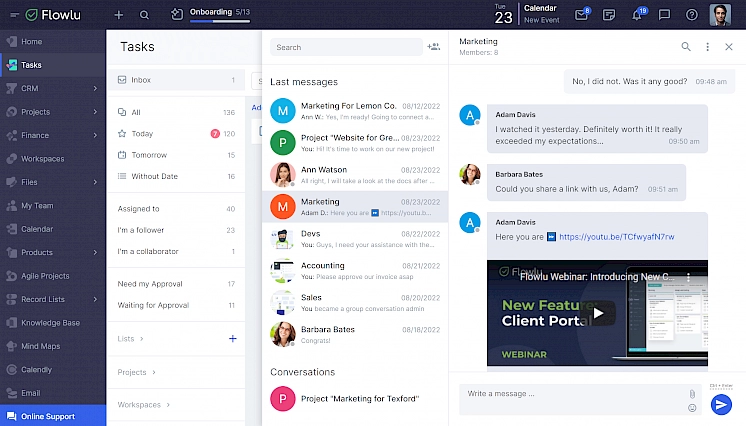 Multiple Project Boards
Use multiple project boards to manage different contracts at the same time. Plan everything out for each client, department, or business. Give your team a detailed list of tasks and objectives, and update each board as they work.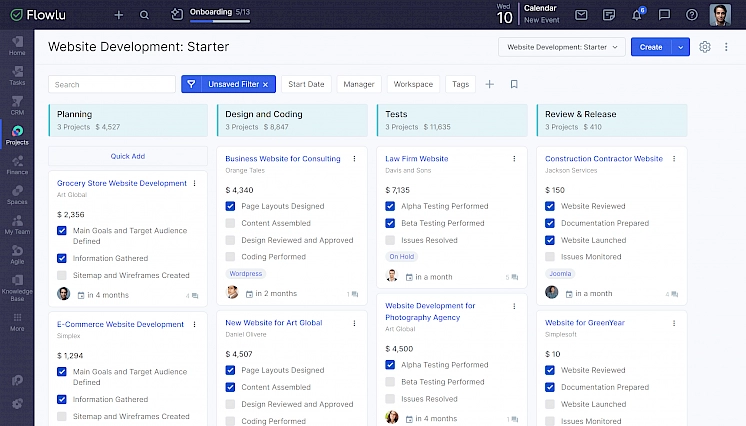 Project Workflows
Instantly create similar projects with a predefined pattern of steps and activities using project workflows. Set up stages, milestones, and tasks to avoid creating the repeatable, similar processes from scratch. Concentrate on the outcomes and streamline day-to-day operations.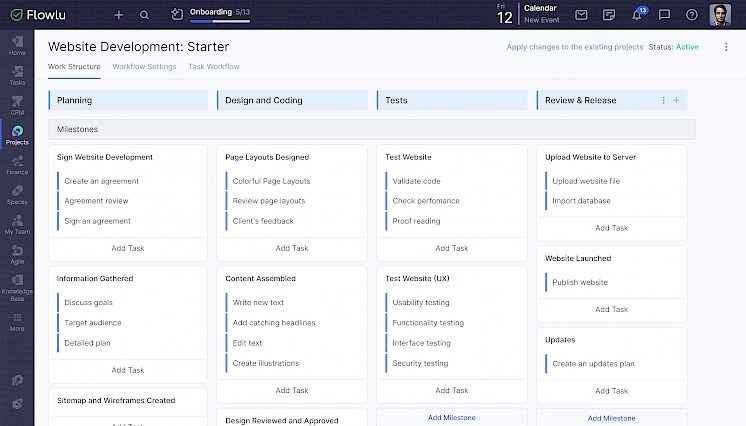 Invoicing and Billing
Flowlu invoicing software lets you create and send professional invoices to your clients directly from your account. Recurring invoices, online payments, templates, tax calculations and more — Flowlu gives you all the tools to automate invoice generation and save time.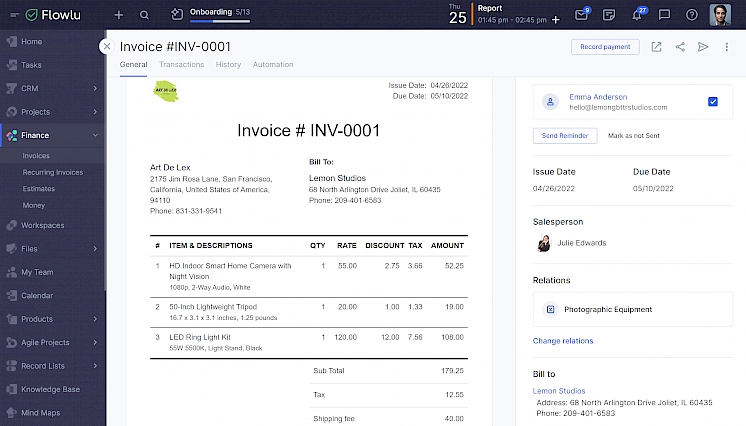 Lead & Contact Management
Use our lead and contact management to keep detailed information on every possible customer. Know how far along in the sales process they are and who needs to be followed up on. Keep your customers happy and never forget to try a lead.