Best Wrike Alternative for Project and Task Management
Do you find Wrike confusing and not intuitive? Flowlu's versatility and user-friendliness make it the best Wrike alternative for project and task management. Although Wrike is a solid and prominent tool, it doesn't offer payment and expense management, project cash flow forecasting, knowledge base, custom lists, built-in chat for team collaboration, which are essential features for SMBs. Efficiently manage all tasks and projects in one comprehensive interface with the right mix of features and ease of use!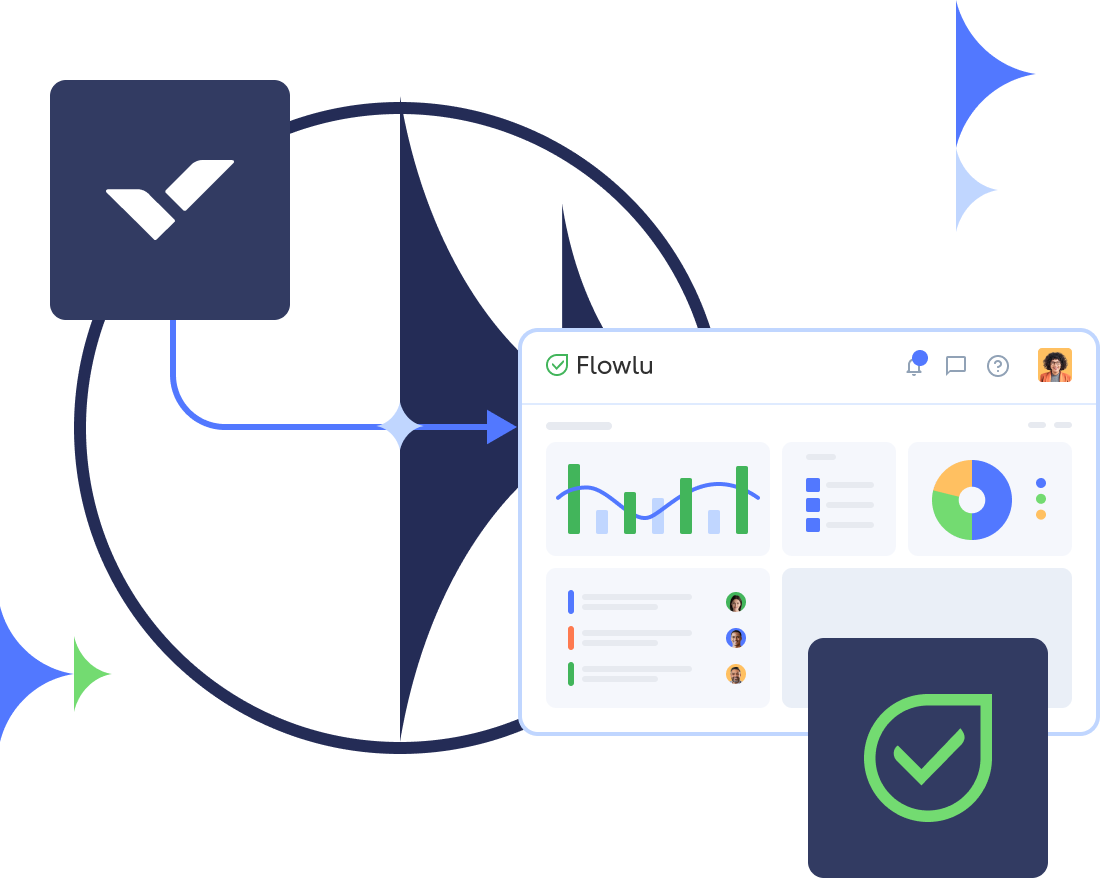 Project Performance Evaluation
Gain a clear real-time overview of everything you need to know about your project at glance. Instantly view project progress, key milestones and deadlines, budget status, estimated and spent time on tasks. Stay on top of your projects!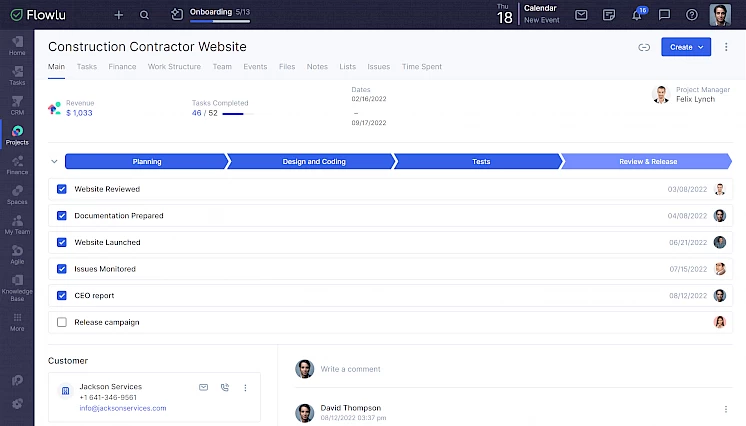 Multiple Project Boards
Use multiple project boards to manage different contracts at the same time. Plan everything out for each client, department, or business. Give your team a detailed list of tasks and objectives, and update each board as they work.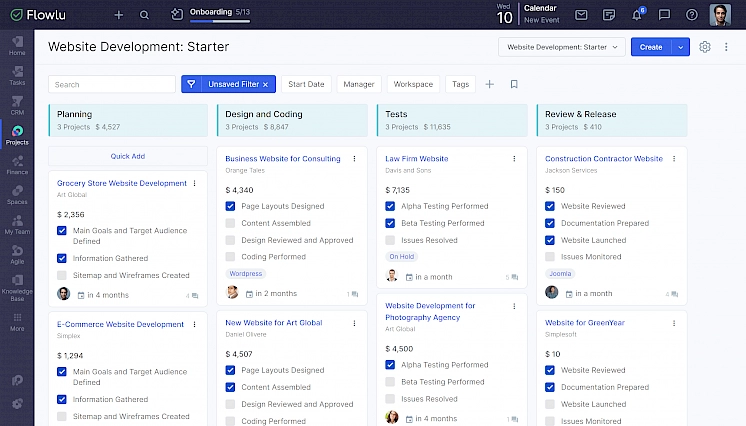 Project Time Tracking
Use project time tracking to let team members log their billable hours easily. Everything will be stored on a timesheet inside the project. Project time tracking is connected to our invoice system. Invoices will be automatically generated from each timesheet.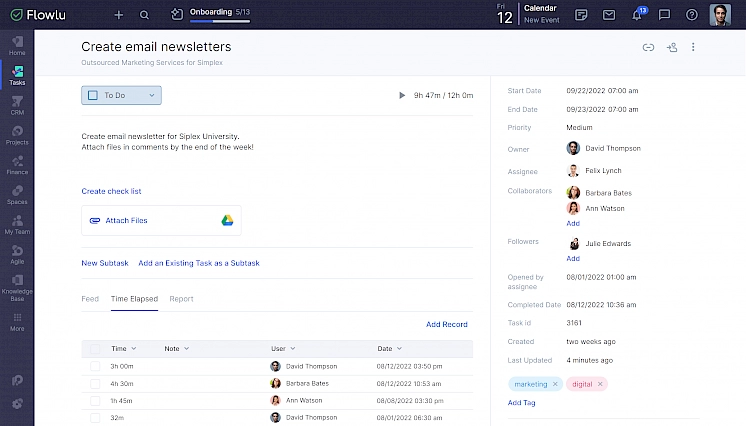 Project Cost Management
Project cost management lets you easily calculate the costs for each project. You can divide your different bills by category, whether it be advertising or employee paychecks. Know how much profit you can make from each project, and where you are overspending.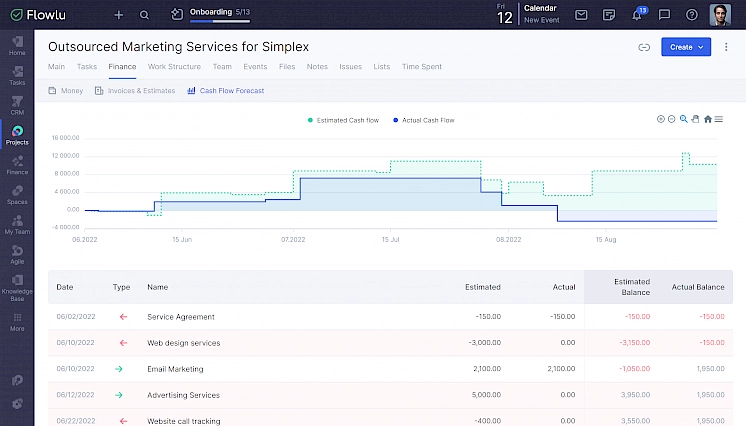 Project Team & Collaboration
Use Flowlu to collaborate with your team on any project. Just add team members to the projects they should work on. Our software gives you the technology to brainstorm together, solve problems, and create virtual meetings. See how long employees have been working on projects, and what they're charging you.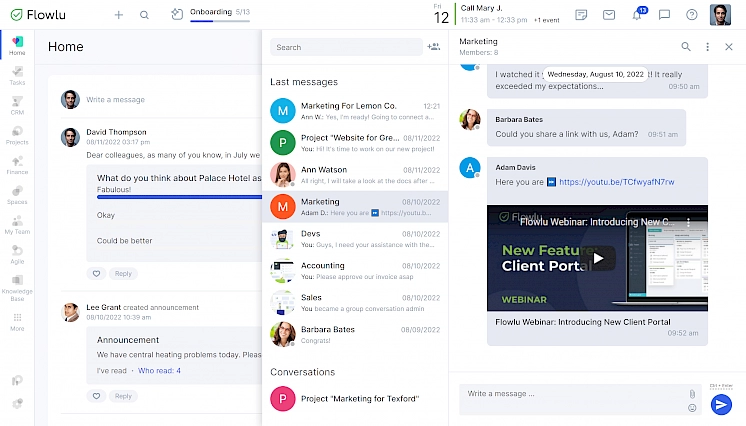 Invoices In Projects
Connect invoices to projects to always stay on top of your billing. See which clients still owe you money, and which invoices were already paid. Located right next to each project, you'll never mix up invoices again.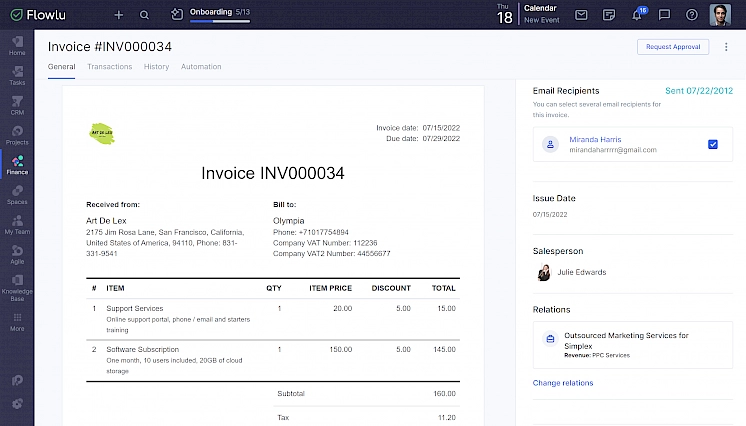 Powerful Team Task Manager
Use our powerful team task manager to create new tasks in seconds. Describe them, and assign them to your team. Set up to do lists to tell your team exactly what to do for every project. Watch your team work and see how close they are to completion.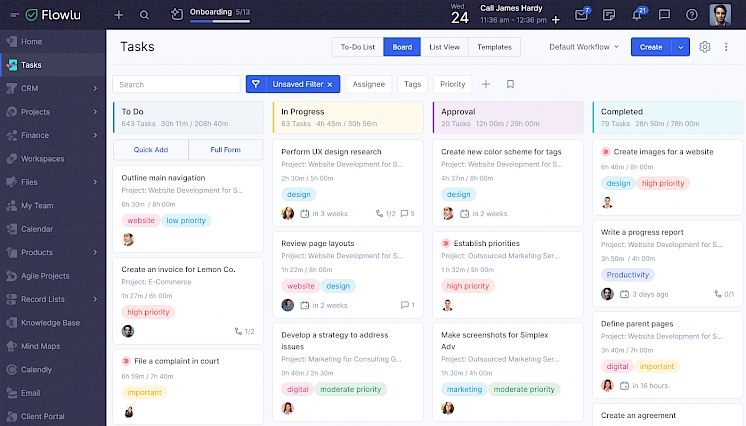 Scrum & Kanban Board
Flowlu's Agile boards lets you visualize your workflow stages by columns. Always be able to see your work and know what stage everything is in. See what hasn't been started, what is in progress, and what's been finished and delivered.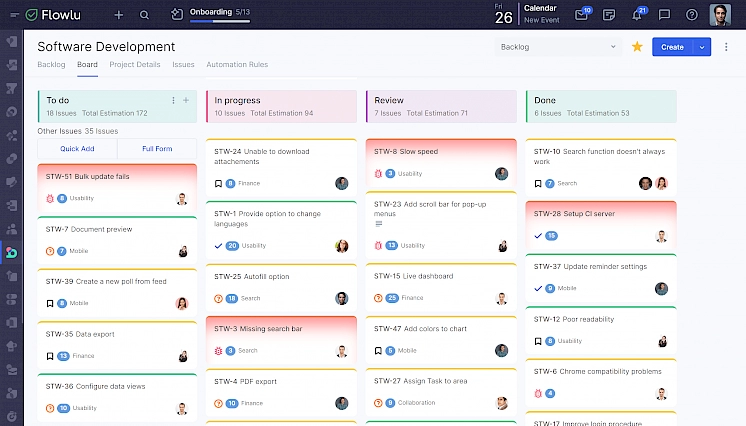 Documents Sharing
Documents sharing makes each job easier for your team. Instead of worrying about uploading the file to different places, just put it right next to the project. Your team will see the assignment, and know the files are right there for them to access.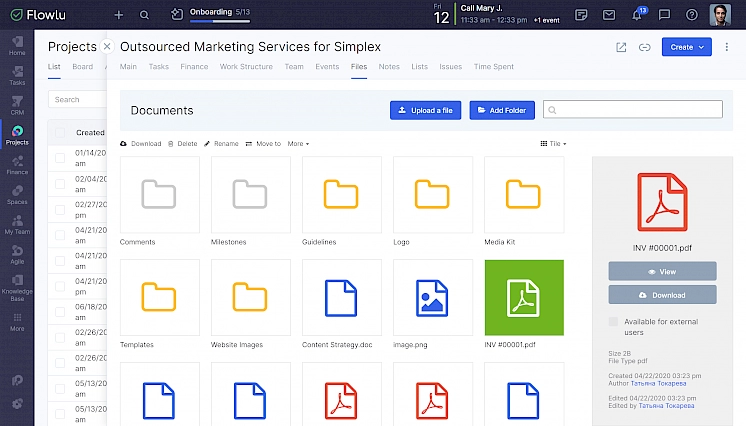 Project Workflows
Instantly create similar projects with a predefined pattern of steps and activities using project workflows. Set up stages, milestones, and tasks to avoid creating the repeatable, similar processes from scratch. Concentrate on the outcomes and streamline day-to-day operations.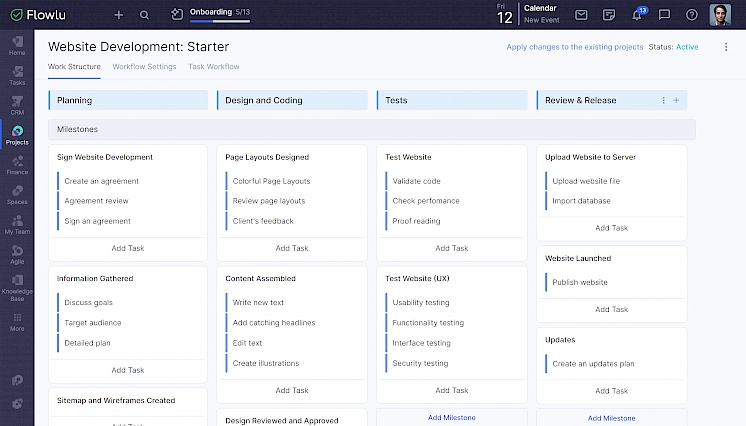 Custom Lists
Generate custom lists with your own fields to handle any sort of information — contracts, passwords, equipment, etc. Utilize custom fields to log and manage vital data and quickly find the right information using filters and sorting.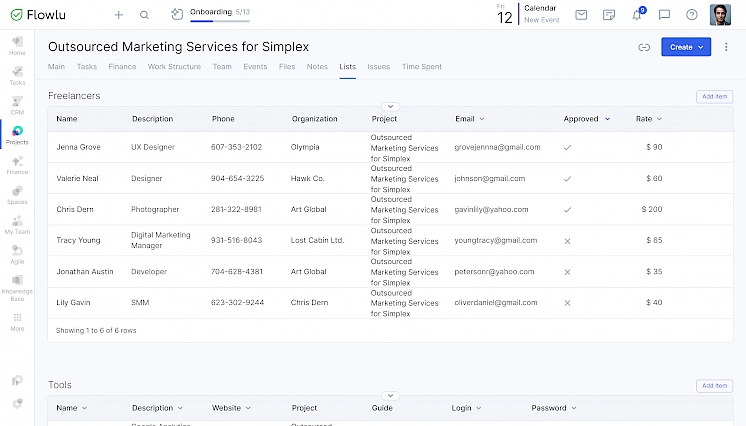 Lead & Contact Management
Use our lead and contact management to keep detailed information on every possible customer. Know how far along in the sales process they are and who needs to be followed up on. Keep your customers happy and never forget to try a lead.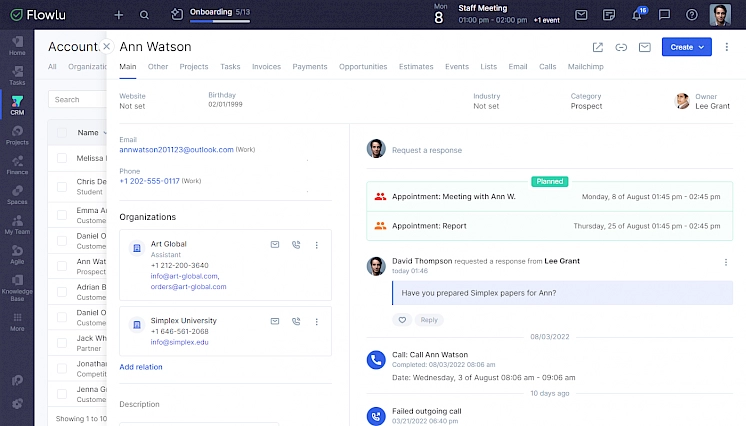 Company Knowledge Base In a Single Point
Use Flowlu to create a company knowledge base with all your important data. Input everything from financial information, to notes on clients and what leads still need to be followed up on. Have everything available from the same cloud based interface 24/7.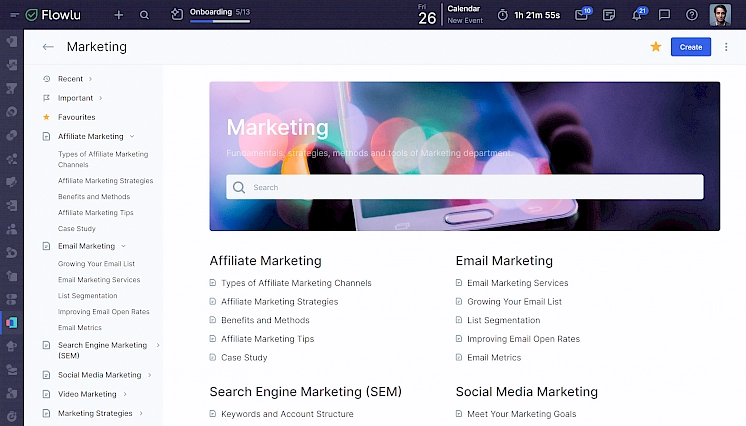 Mind Mapping Tool
Use mind maps to brainstorm before every project. Communicate with your team to come up with an effective battle plan to tackle issues, and deliver to your users quickly. List good ideas, possible problems, and what to work on first.