What Is An Asset Management CRM?
March 24, 2023
7 min read
What is a CRM for asset management? If this question is still relevant for you, explore this article to learn about the top CRM features and why you need them in your regular to-dos.
There's no question that asset management has become a lot more complex in the last few years. If asset managers have always needed to deal with competition, it's becoming harsher. In addition, they can't forget about evolving and expanding regulatory demands not to mention the rising client expectations.
When speaking about asset management and the job role itself, we can't only think about the relationship with customers. We need to focus on the many different relationships that exist and need to be nurtured. Relationships with influencers, consultants, broker-dealers, and also leads.
Asset management firms know how important it is to properly manage not all these relationships but also processes, external communication and activities. This is why they keep looking for a tool that can help them improve their performance and support their activity. This tool usually is a CRM system (Customer Relationship Management).
After all, with a CRM system like Flowlu, you can get the most out of your business relationships, build a loyal customer base, improve operational efficiencies, gain a competitive edge, and even capitalize on opportunities to grow assets under management.
Why You Need An Asset Management CRM
The reality is that even though portfolio performance is the key factor that can either make or break a deal, asset managers are realizing that maintaining a high rate of customer satisfaction can't be ignored. No matter if you're talking to a customer, an influencer, or a consultant, you need to provide the best level of personalization and service you can. When you don't do this, you'll lose a customer. And you just can't afford it.
This way, it's crucial that your different teams or departments – service activities, marketing, and sales – work together to build stronger and more profitable relationships.
With a CRM, you can start establishing new relationship-centered strategies and growing them. As you know, knowledge is key when communicating with others. So, the more you know the other side, the better, more efficient, and effective your communication will be. For example, if an asset manager only has to deal with a few customers, he knows them well. He knows their values, needs, offerings, and interests. However, the real world is a bit more complicated. An asset manager needs to deal with many different customers at the same time. This means that all your asset managers need to work well together to ensure that they can deliver what customers want. You need to have all the information in just one location like Flowlu, a place where all your employees can easily access it.
This will always be incredibly beneficial for the asset management company. After all, when someone is working with you, he will see that there is a consistent, unified image that will, ultimately, improve your customer loyalty, reputation, and brand strength. Since Flowlu also allows you to automate some key processes, you'll also notice an increase in productivity.
Asset Management Main Challenges & Solutions
Tracking & Storing Huge Volume Of Data
With the increase of data in the asset management industry, you want to make sure that you get the most out of it. When using a CRM system like Flowlu, you'll be able to aggregate all customer-related data as well as track all activities.
When your employees access it, they will get a broader view and perspective of the parties with whom they interact. This will allow them to offer personalized and improved service that your customer will love.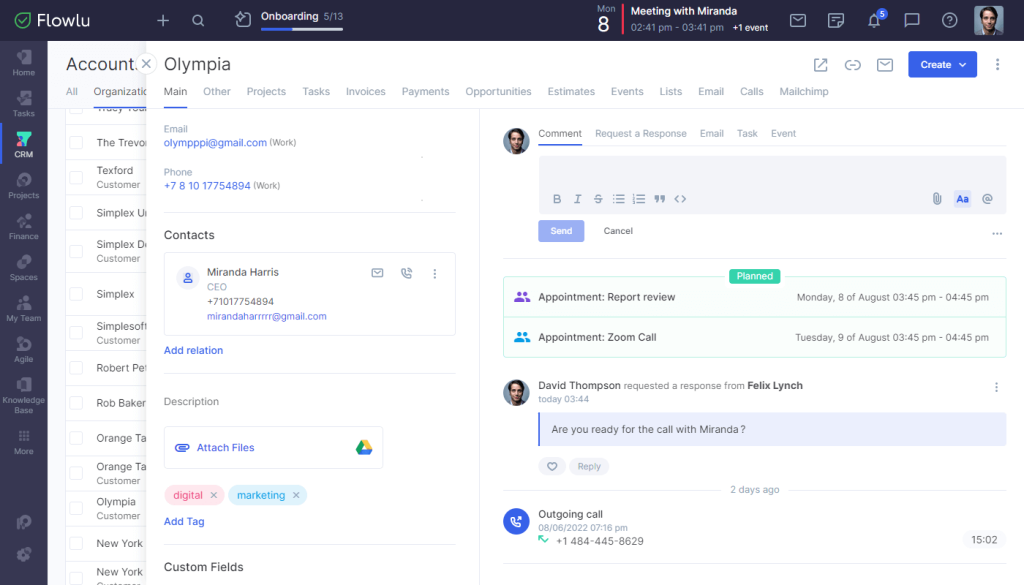 Another important aspect that asset managers need to pay attention to is the standards they need to comply with. But more than the ones that are already in place right now, it's important to mention that these standards won't be the same in the future. In fact, the trend seems to show they'll be expanding. A system like Flowlu can help you not only comply with today's standards but adapt in the future as well.
One of the main advantages of tracking and storing data in the asset management industry is that it'll be easier to analyze where the deals are coming from. But more than this, you'll be able to easily measure the expenses related to creating and maintaining these relationships and then compare them to related revenues. This will allow you to know the profit you're getting from each deal, in particular.
Stopping Operational Inefficiencies
One of the biggest challenges of asset management companies is the difficulty they usually have in stopping operational inefficiencies.
When you're using a CRM system like Flowlu, you'll be able to automate some of the most time-consuming activities, enable asset managers to apply resources more effectively, and streamline processes. This will allow you to increase profitability.
One of the main challenges these companies face is that they have many different employees involved in the servicing of accounts including broker-dealers, and consultants. Naturally, this brings a huge problem in the coordination of activities, not to mention in building relationships. If you use Flowlu, for example, you'll be able to manage sales steps, schedule call plans, automate workflows and other processes, and much more. From just one place, everyone will access documents, call reports, and emails. Ultimately, your employees will work better together, improving overall productivity and efficiency.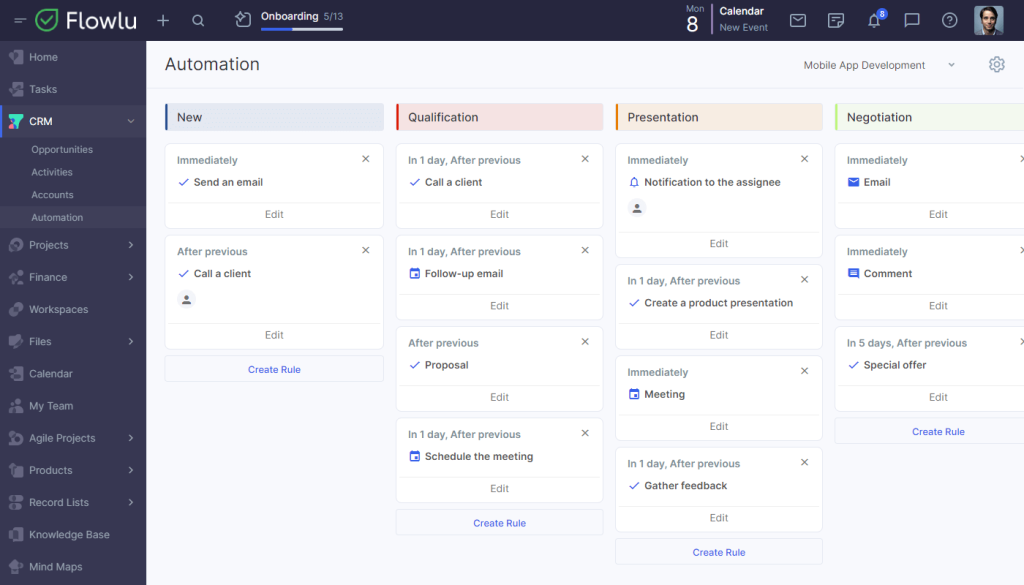 Many asset management firms aren't capitalizing on every opportunity they have to secure renewals or win new business. Perhaps you don't truly understand your success rate or maybe you're not using a specific channel the best way. With a CRM system, it will be easier to implement opportunity management processes that will make sure that you don't lose any more opportunities in the future. Besides, you can also rely on automated prompts that can help you identify opportunities based on many different criteria including renewal dates, interests, and current holdings, among others.
Making Your Firm Stand Out
With more and more competitors on the market and with more demanding customers, asset management firms need to find a way to stand out. However, many continue to struggle. It's important that you think beyond your portfolio or fund performance. You need to make sure that your customers know they're the most important aspect of your firm. Again, the solution is found in using a good CRM system like Flowlu that allows you to offer responsive and personalized service. This is certainly a factor that will make you stand out. Just think about your customers and broker-dealers and what they need and want.
Another thing that you should consider doing to grow your asset management business is using marketing campaigns. But not generic marketing campaigns; instead, you should use precise, targeted campaigns. And with Flowlu's customer segmentation it's easy to achieve. You can segment your audience based on their demographics, interests, historical activity, or others, and then tailor the best message for each group.
To Sum Up
In today's world, asset management firms are losing many customers and potential customers if they still don't use a CRM system. Ultimately, a good CRM system like Flowlu can help their business in the different departments. You'll be giving your asset managers the best tools they need to build stronger and better relationships.
See the most answers to the most frequently asked questions. You can find even more information in the knowledge base.
Knowledge base
CRM can help you automate some of your day-to-day operations: sales pipelines, simple communication, invoicing, task administration, and reporting. Also, a CRM is a perfect tool to create databases and segments.
Sure! Flowlu is an all-in-one SaaS software with task and project management, CRM, knowledge management, invoicing and finances, collaboration, and resource management tools as well, so it's a good solution for asset management.
Asset managers use cloud-based technologies and software, such as Flowlu, to manage activities from anywhere.
March 24, 2023
7 min read