Free ERP with CRM
Flowlu's free ERP with CRM is a mature yet intuitive solution for enterprise resource planning and customer relationship management with fast and intuitive interface. Our solution is designed for effective resource planning, customer interaction tracking and business processes automation. Flowlu can be quickly integrated into a wide variety of industries and adapted to a range of activities. Our ERP is capable of scaling for organizations of different sizes and flexibly adjusts to its needs. With Flowlu ERP and CRM, everything is organized within a single platform for effective operations.
Free Unlimited Projects
Don't worry about expensive monthly fees that limit your productivity. Have free unlimited projects to keep improving your business and customer experience. Keep clients happy by adding new features and always meeting deadlines.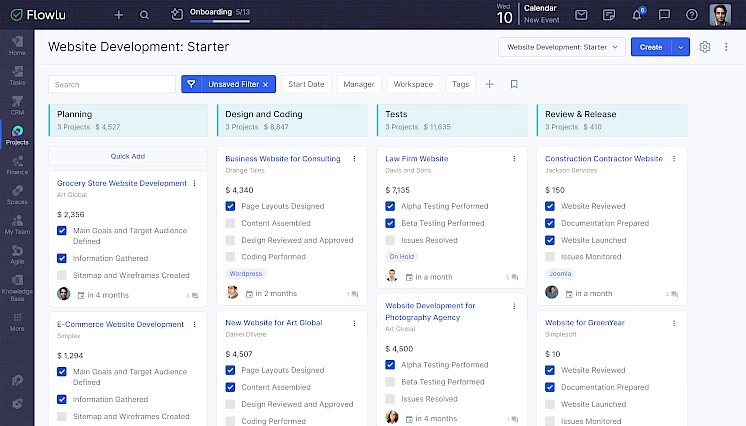 Team Project Management
Use our team project management to lead remotely. Plan out projects, and create Gantt charts to list every step. Assign tasks to different team members and see how close they are to finishing them.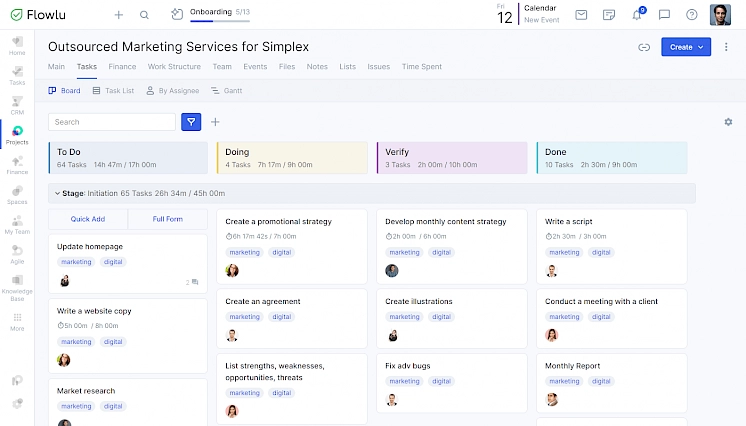 Powerful Time Tracking
Time tracking
lets you see how long you and your team members have worked on each project. Make sure your employees are charging you the right amount. Give your customers an accurate invoice including time spent on their project.
Project Performance Evaluation
Gain a clear real-time overview of everything you need to know about your project at glance. Instantly view project progress, key milestones and deadlines, budget status, estimated and spent time on tasks. Stay on top of your projects!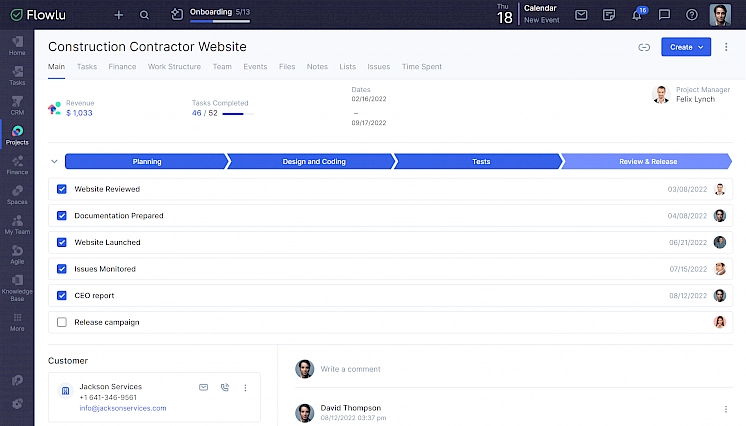 Free Unlimited Invoices
Our software lets you invoice your customers directly from the cloud. Create new invoices and send them to customers at lightning speeds. Have previous invoices available on the cloud for easy 24/7 reference.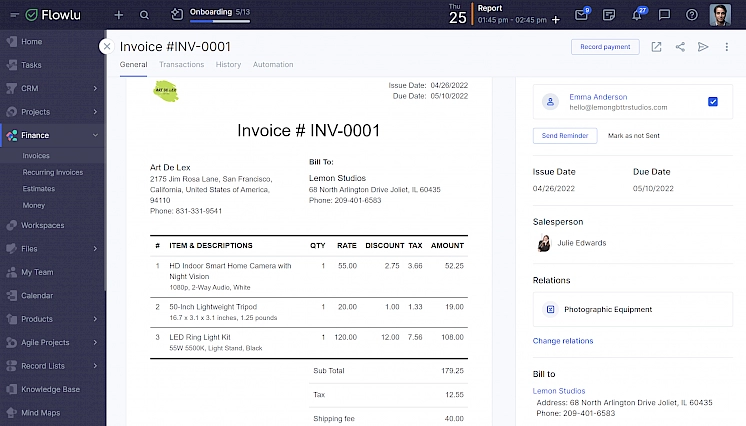 Multiple Businesses Management
Flowlu is designed to make running several different companies easier. You can set up all of our tools and reports to work for each of your seperate businesses. No need for different accounts, just separate your businesses and run them from the same interface.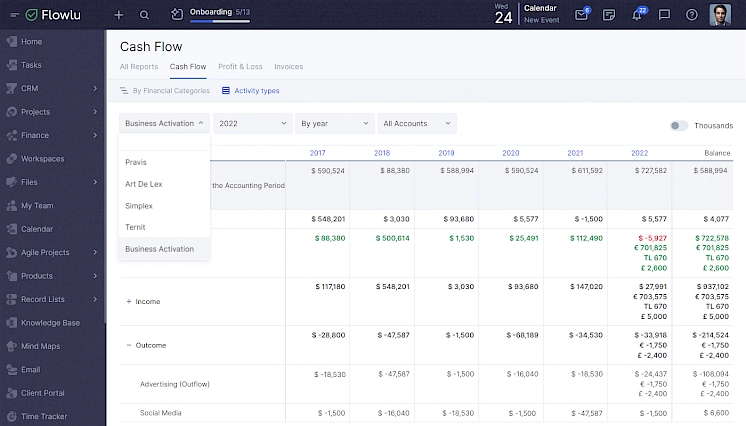 Lead & Contact Management
Use our
lead and contact management
to keep detailed information on every possible customer. Know how far along in the sales process they are and who needs to be followed up on. Keep your customers happy and never forget to try a lead.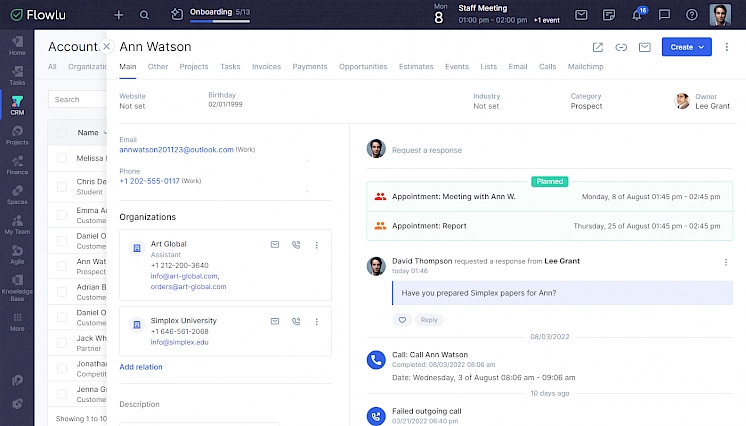 Automation Rules
Using automation rules, it is no longer necessary to manually set the follow-ups or create tasks for your team. Instead, you can configure Flowlu to run your processes automatically, guaranteeing no vital steps are forgotten.
Company Knowledge Base In a Single Point
Use Flowlu to create a
company knowledge base
with all your important data. Input everything from financial information, to notes on clients and what leads still need to be followed up on. Have everything available from the same cloud based interface 24/7.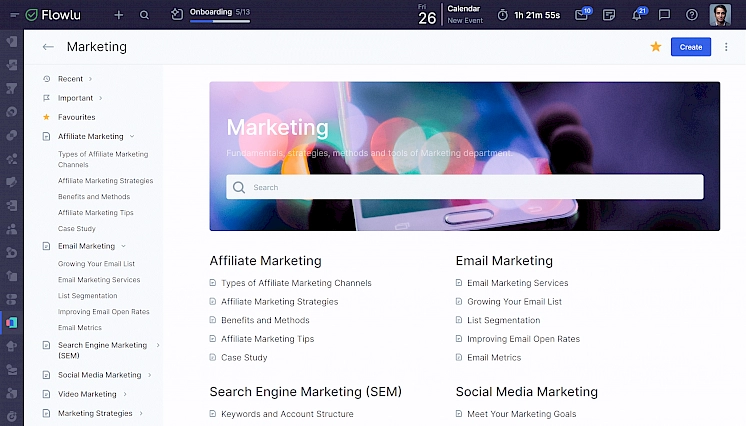 Documents Sharing
Documents sharing makes each job easier for your team. Instead of worrying about uploading the file to different places, just put it right next to the project. Your team will see the assignment, and know the files are right there for them to access.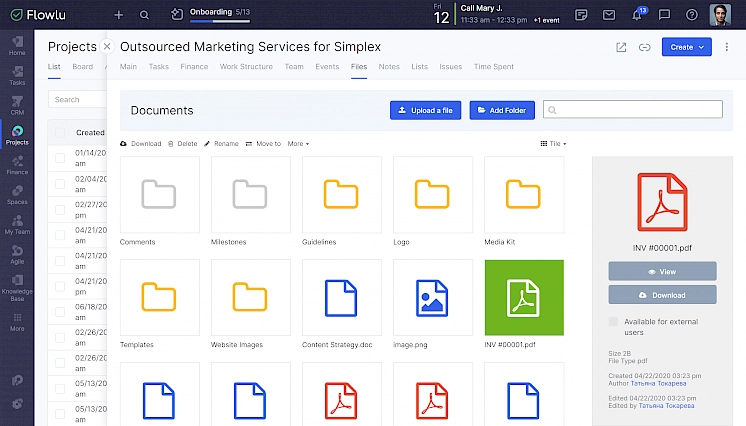 Collaboration & Team's Workload Management
Our collaboration features let you create and assign tasks at lightning speeds. Use online workspaces to see how long your team has worked, and how close they are to completion. You'll always know which team members are swamped with work, and who's free for new projects.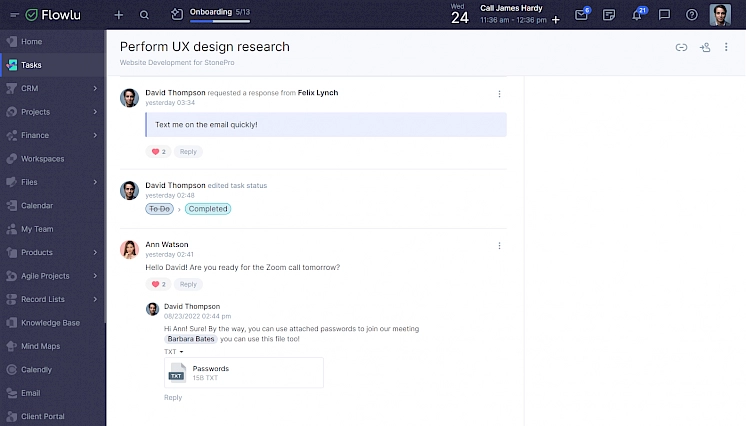 Secure Client Portal
With Flowlu, you can build a secure digital hub for your client collaboration and relevant information exchange. Chat with your clients in real time, allocate tasks, demonstrate project progress, share company FAQ's and guidelines, bill your customers and let them pay online from a portal's interface. Configure flexible permissions and customize how your portal looks by adding a logo, brand colors and banner.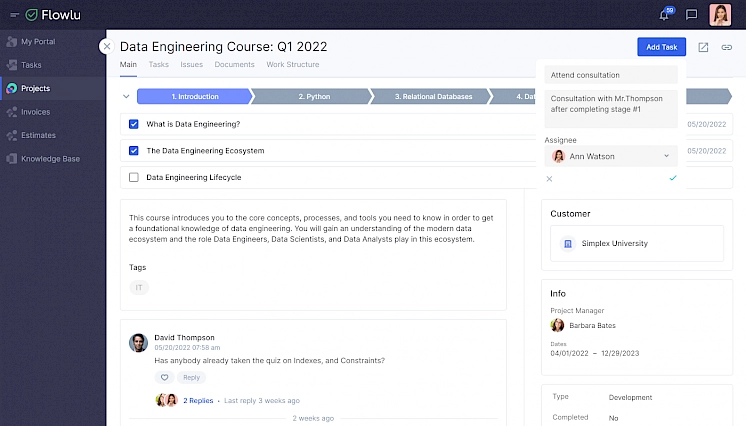 Full Featured Mobile App
Our app takes all of Flowlu's functions to your mobile device. Be able to lead your team, keep customers happy, and work on projects no matter where in the world you are. Always know what deadlines are approaching and what needs to get done.