Multiple Currencies, Invoice Improvements and More
August 5, 2022
3 min read
Say hello to one of the most requested updates! We've added some more enhancements to make it easier to manage your finances, invoices, tasks and opportunities.
Say hello to the brand new Flowlu update. It was one of the most asked-for updates and we're ready to show it to you! We've added some more enhancements to make it easier to manage your finances, invoices, tasks and opportunities. So, what's new we have?
Use Multiple Currencies
If you're operating in a global market, it's critical that your business management solution has multi-currency support. That's why we've released this feature so you can apply more than one currency to your account. How can it improve your workflow?
invoice a customer or issue an estimate in a foreign currency;
use several currencies on your product and services database;
generate detailed, multi-currency reports;
track all expenses (e.g. travel) and revenue more efficiently.
The exchange rates are updated every day to show you the most up-to-date data! Just set the base currency, create additional currencies and start to interact with your clients from anywhere in the world more effectively, no matter what currency they are using.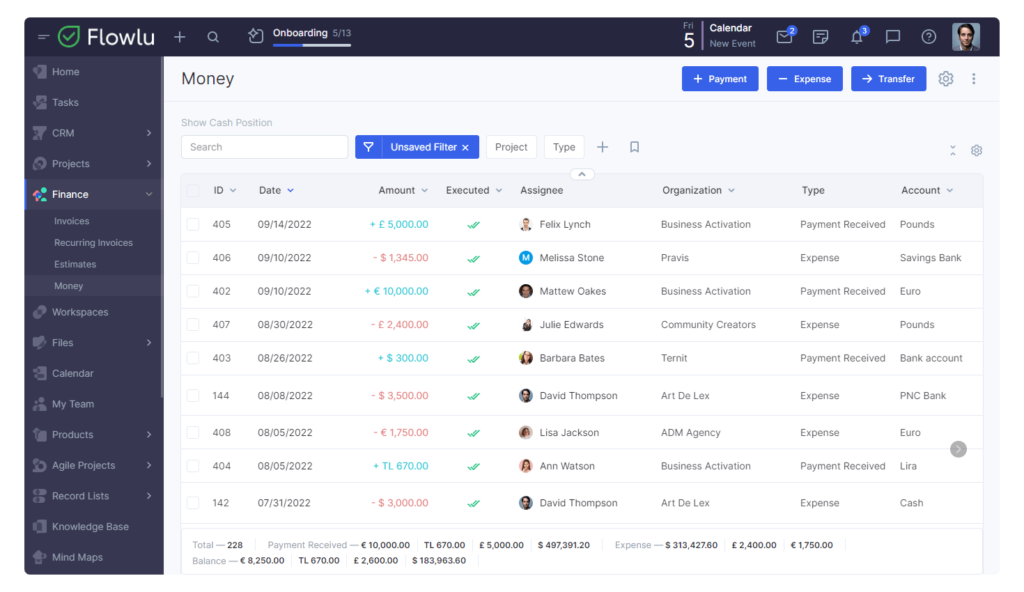 Learn more in our Knowledge Base.
Create Groups For Your Products and Services
We've improved our invoicing feature and added one of the most required options—line items grouping on invoices and estimates. Name the group in your invoice or estimate and place everything you need there! You can create as many groups as you need in one document. For example, you may want to arrange your line items by jobs your company provides or group together the components of a specific product.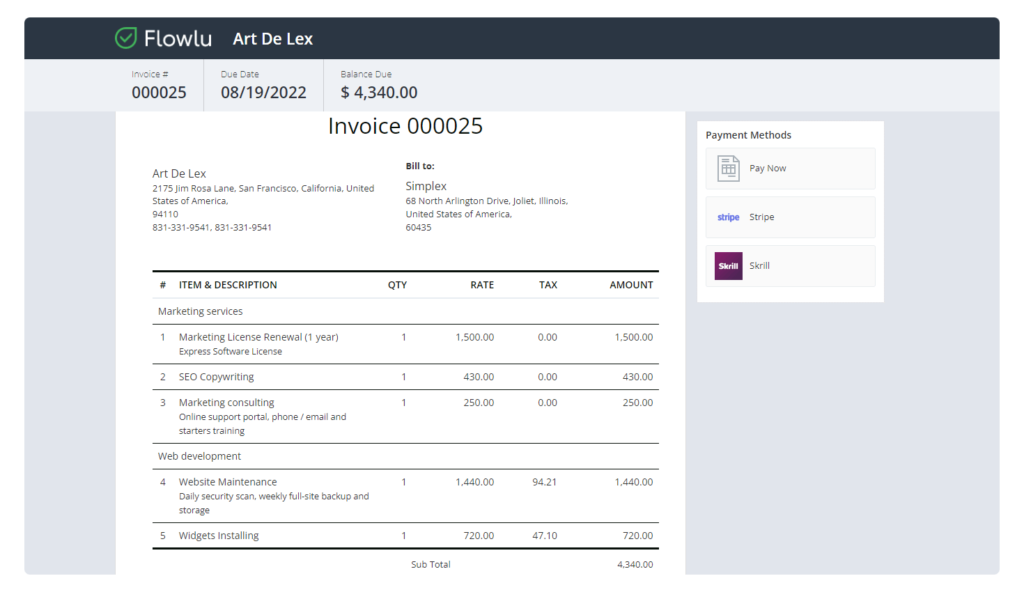 Sort and Clone Line Items
Previously, some of our customers reported the inability to change the products and services sorting on invoices and estimates, so we finally came up with a solution for you. Now you don't have to delete recent items on the list to put one before—you can just hover over the relevant button on the right and drag it to the right place. By the way, from this day, you can press the 3-dots button next to the line item to duplicate any item on the list.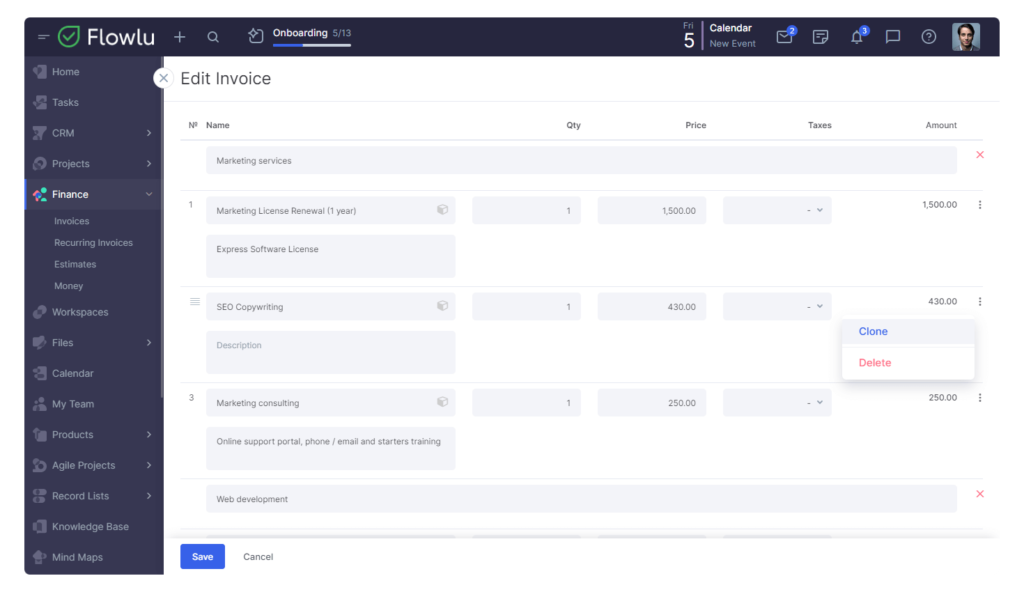 Add Color to Tags
Now it's easy to visualize and categorize everything you need with our new colored tags for boards and lists. From now on, you can assign a color to your tags and be sure you'll easily find any task, opportunity or CRM account later. Customize Flowlu to your liking and quickly focus on what's important!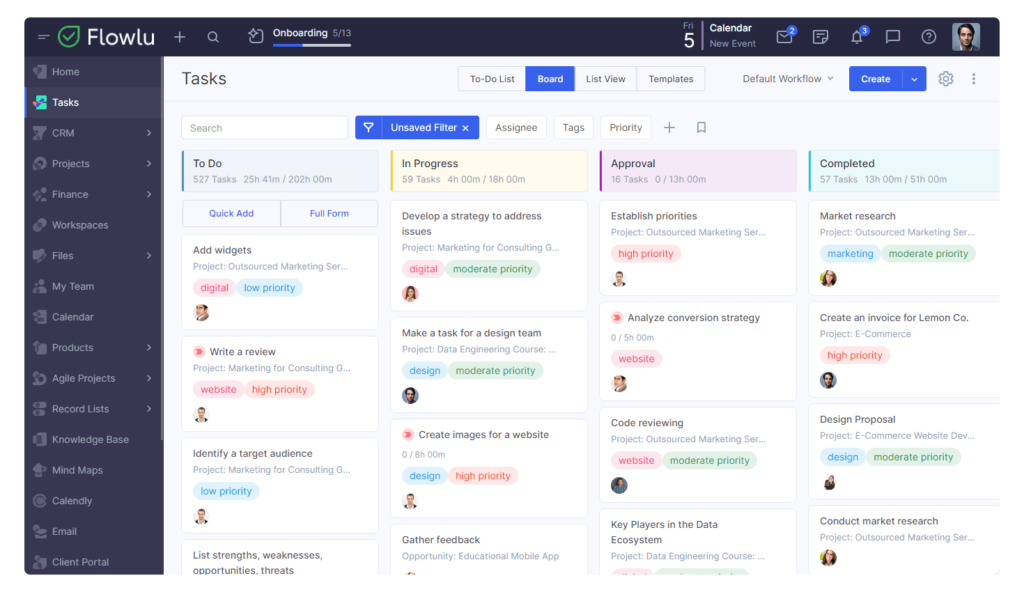 See the most answers to the most frequently asked questions. You can find even more information in the knowledge base.
Knowledge base
Sign up and start exploring Flowlu with a 14 day unlimited trial and find the subscription that suits you best. 
Sure! You can use Flowlu on both iOS and Android smartphones.
We have a constantly updating knowledge base, where you can find all documents about our modules and find answers to all your questions.
August 5, 2022
3 min read