November 2023 Updates: Meet Interactions, Dark Knowledge Base Mode & More!
November 21, 2023
3 min read
Our team is finally ready to present you with some highly anticipated updates! Meet Interactions, a place where all communications with your clients are bound together. But don't think that's all we have for you today. Read this brief article to explore all the new features we released this month.
You voted on our roadmap, you requested adding this feature on our social media channels so many times, so we finally brought it to the world.
Meet the highly anticipated Interactions module, a place where all your communications with clients and leads and integrations with messengers are met together.
If you are already a Flowlu user, you probably tried our built-in chat to communicate with teammates or clients invited via the Client Portal. Just imagine how handy it'd be to receive messages not only from users logged into your Flowlu portal but also from external apps or messengers. We made it possible with Interactions.
How Does It Work?
If the Interactions module is installed, you will see that your messenger in Flowlu is split into two tabs: Team and Customers. The Team tab remains as it is: a space for all your personal chats with teammates and project chats as well. If Interactions are installed, you can also access the Customers tab. This tab shows all chats from external apps. You can use chat, known as threads, to text leads or clients to the messenger from which the message was received. Threads can also be automatically or manually assigned to managers.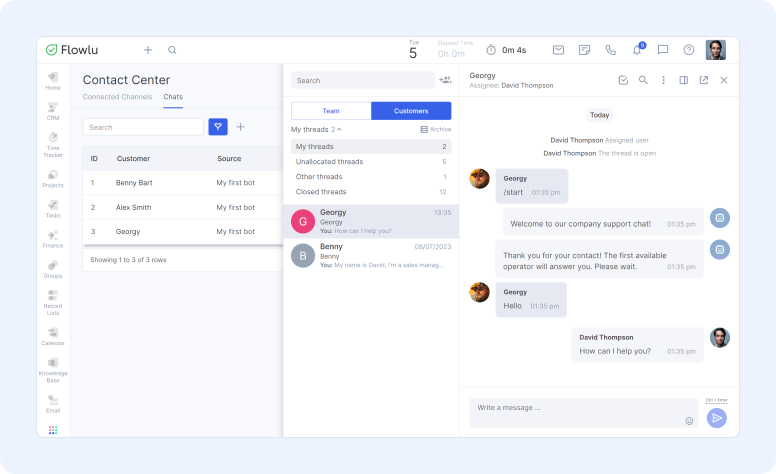 For now, you can link two types of messengers to Flowlu via Interactions: Telegram and Viber. But no worries, we're going to add more options to integrate with Flowlu soon ;)
Integrations work via chatbots. We've carefully made some step-by-step guides to integrate external apps with Flowlu, and all of them are already in our knowledge base. Once new available integrations are added, we'll update the help center with new guides and articles.
If it happens that you've never heard of such tools and don't know what a sales booster they are, here is the list of benefits of a CRM system that supports integrations with messengers:
2-way synchronization with external apps to send and receive messages via your CRM software.
Quick sales deal creation and contact management avoid manual data entry.
Auto-replies and customizable welcome messages.
Automated manager assignment.
Interactions are already available starting with the Business subscription and higher, but all new users can explore it with unlimited 14-day trial
Dark Mode for External Knowledge Base
External knowledge base can now be adapted to the needs of each person who reads it. With a new scheme toggle, users can pick between two options: default light mode or a new dark mode.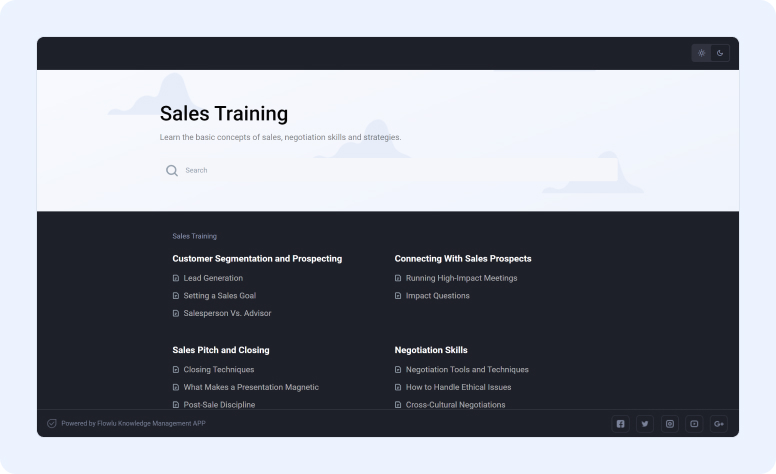 Mobile App Improvements
We didn't forget about our mobile app as well! Even though today's mobile updates are small, they're still very handy and will help you to perfectly manage the team even when you're on the go.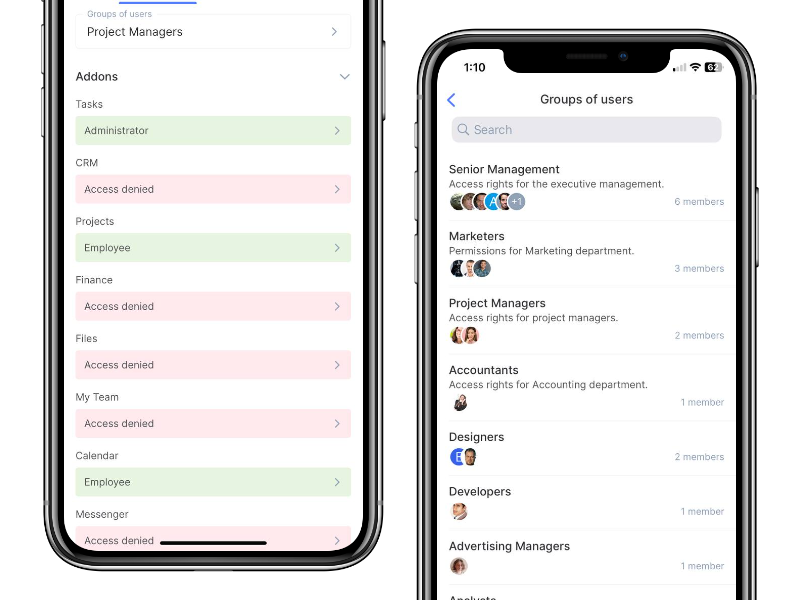 Here is all we have made with the last mobile update:
New task creation form. We removed all unnecessary fields and placed them under the drop-down list. By defaultб you'll see only a task's name field, description, and attachments. But don't worry! If you need any additions, they're all in the drop-down list, including custom fields.
Portal administrators can now have access to groups of users. What does that mean? It simply means that you can access user roles and set access rights from the mobile app. Handy when you work out of the office, isn't it?
The last update for today is the "Access Permissions" tab in the Portal Settings. This tab is available for portal admins and can help to quickly set access for certain users or for a whole group of users.
See the most answers to the most frequently asked questions. You can find even more information in the knowledge base.
Knowledge base
Integrating your CRM with messaging apps like Telegram, Viber, Facebook Messenger, WhatsApp, and others can significantly enhance customer interactions and streamline your sales and support processes. 
Here are some popular messengers for CRM integration: WhatsApp, Facebook Messenger, Telegram, Viber, WeChat, Line. 
November 21, 2023
3 min read