October 2023 Latests: Kanban on the Mobile, Groups in the Feed, Custom Fields for Agile & More!
October 25, 2023
4 min read
No tricks; we have only treats for you this October. Explore what's new we have in Flowlu for the spooky season. Mobile updates and new features for the browser app are waiting for you to explore them!
Attention, please! Here we have a few long-awaited updates for both the browser and mobile Flowlu. We want to kindly ask you to pay some special attention to flexible access rights to CRM pipelines, because it was one of the most popular features to request in our roadmap.
But we have much more to reveal today. Take your seat, we're ready to rocket-start!
Groups in the Activity Feed
Sometimes you need to share important updates just with a small group of users, for example, with your devs or marketing department. Let's imagine that you already have Groups (formerly Workspaces) for each of your departments in Flowlu. If your teammates are barely reading group chats, it's not a problem anymore.
Now, you can create a feed post for any group of users. It'll be displayed not only in the workspace but also in the company's feed with the name of the workspace linked. Wait, don't worry, these posts are still visible only to a certain group of users!

Kanban Board on the Mobile
It's a whole new era in your remote agile project management! You may be wondering why, but the answer is pretty simple: we just released a Kanban view for mobile apps.
Now, each project has its own board, and you can easily observe the performance of your team by tasks stages: how many tasks are still in progress and how many are completed. With a drop-down menu, you can switch between sprints within one project or keep an eye on tasks in the backlog. If you feel more comfortable with a traditional list view, it's still in the mobile app, so feel free to use any view you need.
But it's not just a pretty vision of your tasks. The Kanban board is interactive, and you can hold and move tasks' cards around the board. This option is very useful for all project managers who are reviewing tasks on the run. The mobile Kanban board is currently available only for Agile projects but is soon to be for all mobile modules.
Here is a brief overview of what you can do with the mobile Kanban board:
Create new tasks.
Manage tasks: add priorities, define types, assign teammates, etc.
Communicate with teammates in the comments.
Track team performance and see task statuses on the board view.
Track time for tasks via the time tracker.
Switch between sprints.
Filter tasks.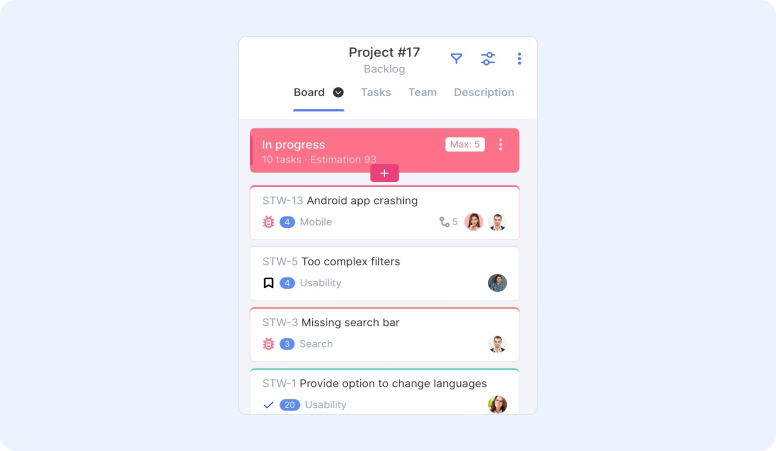 Custom Fields for Agile Projects
Many of our users are big fans of custom fields. And it's not surprising, because custom fields are a must-have for all who want to add more context to their projects, tasks, sales opportunities, and other entities in Flowlu. Also, custom fields can be used as conditions for automations to trigger them exactly when you need them to run. For example, when the price of a task is $100, your teammate recieves an automated task to issue an invoice.
And today, we have another good news for all loyal users of Agile projects. From now on, you can create custom fields for agile projects. What's more important is that custom fields can be unique for each project. But it's important to note that custom fields are applied to all tasks inside a specific Agile project.
On the first iteration of custom fields for Agile, you can use the follwoing field types:
Text field
Text area
Whole number
Date
Date and time
Drop-down
Checkboxes
File
User
Yes/No
Autom Increment
Decimal Number
Password
Phone
Percents
Formula
Object picker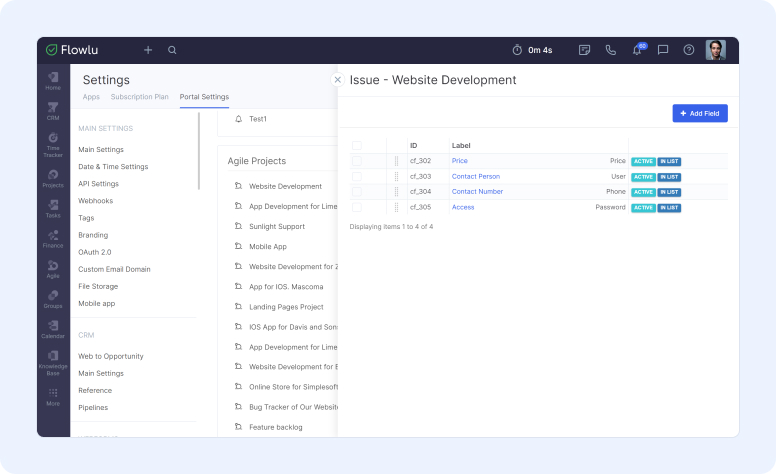 Flexible Access to CRM Pipelines
The last feature for today, but the most requested one, is flexible access to CRM pipelines. Previously, all sales managers and employees with access to the CRM module could see all pipelines, and it didn't matter if this pipeline was created for design or marketing projects, everyone had access to the pipeline, related automations, and sales opportunities.
We know that you care about the security and privacy of some information, so we created different access types to CRM pipelines, which are applied to all projects inside.
Currently, Flowlu has three access types to CRM pipelines:
Assigned only - users can access this pipeline and see only those opportunities that are assigned to them.
All opportunities - users can access this pipeline and see all opportunities that are linked to it.
Funnel management - users can access this pipeline and manage pipeline settings.
If you feel like it's exactly what you need to restrict access to CRM pipelines and build a better hierarchy, here is a knowledge base article to learn how to do that.
See the most answers to the most frequently asked questions. You can find even more information in the knowledge base.
Knowledge base
Sign up and start exploring Flowlu with a 14 day unlimited trial and find the subscription that suits you best. 
Sure! You can use Flowlu on both iOS and Android smartphones.
We have a constantly updating knowledge base, where you can find all documents about our modules and find answers to all your questions.
October 25, 2023
4 min read