Call Center Knowledge Base Software
Flowlu's call center knowledge base software enables your customer support agents to provide clients with the most accurate answers about the company's products or services in the shortest possible time. External knowledge base allows your clients to find any information without contacting your company's reps. Use an internal knowledge base to train new agents and help them learn the company's policies and troubleshooting techniques. Flowlu's helpdesk solution offers a well-organized and searchable repository accessible in real time from any device.
Company Knowledge Base In a Single Point
Use Flowlu to create a company knowledge base with all your important data. Input everything from financial information, to notes on clients and what leads still need to be followed up on. Have everything available from the same cloud based interface 24/7.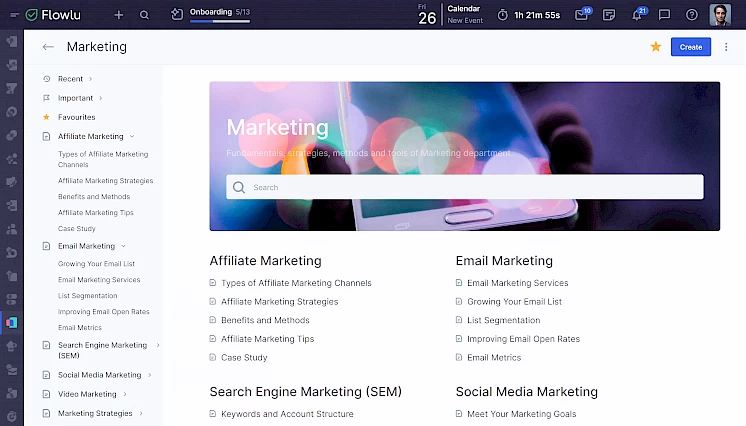 Free Unlimited Knowledge Bases
Free unlimited knowledge bases help you stay on top of your work. When working with different departments or different businesses, keeping information organized can be difficult. Use unlimited knowledge bases to carefully sort everything. Your data will be available on the cloud 24/7 for easy access.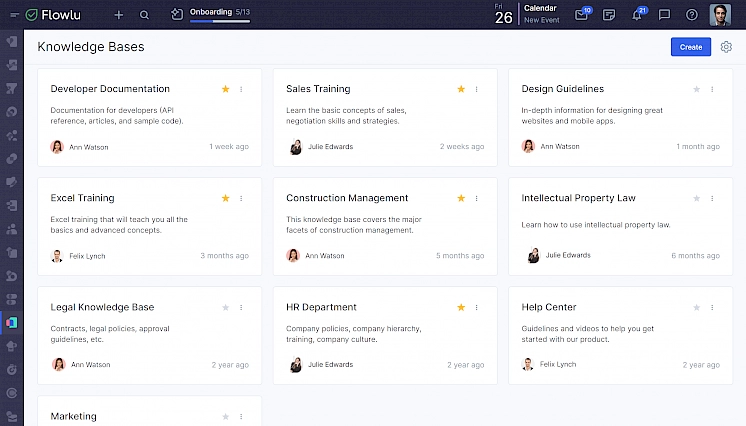 Search in Knowledge Base
Once your create a knowledge base, don't worry about not finding the information when you need it. A search bar will get you to what you are looking for in a few seconds. Use keywords to search through your knowledge base and filter out results.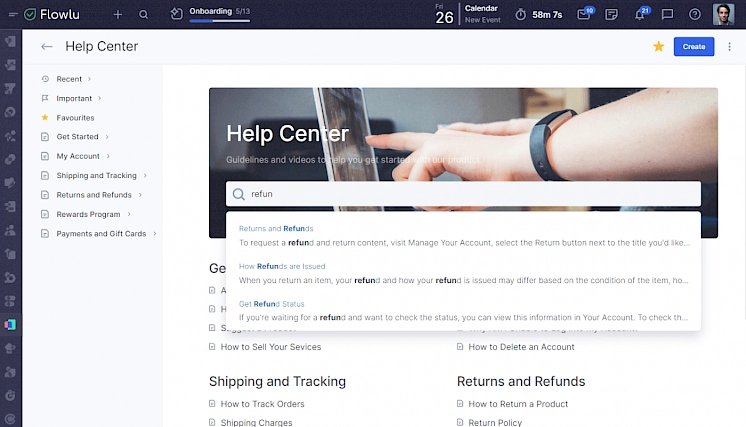 Knowledge Base Access Management
Some facts are just more sensitive than others. Use our knowledge base access management to restrict who can access what information. Restrict it to yourself, your senior employees, or certain team members. All your data will be secure and only viewable by the right people.
Help Center Knowledge Base
You'll be able to share a help center for your customers. Your customers and users can view it anywhere on the internet, regardless of their device, the software they are using or the status of the information.
Streamlined Collaboration
Use comments to easily add feedback, evaluate ideas or advise enhancements to teammates' articles. Mention a colleague to discuss your thoughts and suggestions on a relevant topic. Request a response from a teammate if you spotted an error, and the article requires changes.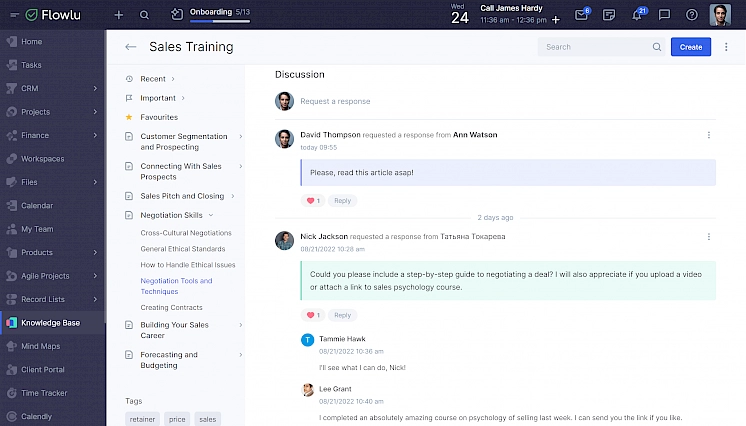 Full Featured Mobile App
Our app takes all of Flowlu's functions to your mobile device. Be able to lead your team, keep customers happy, and work on projects no matter where in the world you are. Always know what deadlines are approaching and what needs to get done.