Best Pipedrive CRM Alternative for Sales Management
If you are looking for best Pipedrive CRM alternative for sales management, good news — you've already found one, and it's Flowlu. We have everything that Pipedrive has and even more, but as an affordable solution for SMBs. Sales funnel, team collaboration tools and even unlimited contacts and organizations storage — that's what you can have for free. Expand your CRM horizons with Flowlu, an award-winning software and comprehensive customer management solution.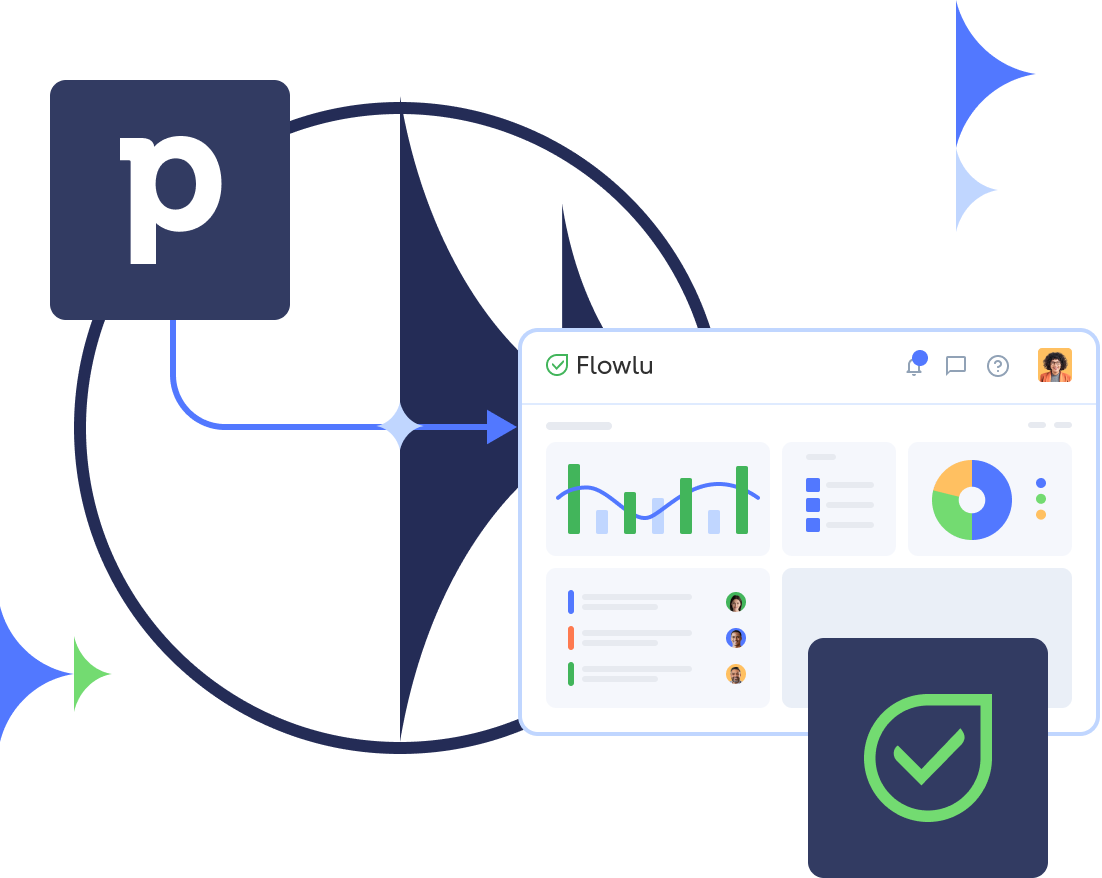 Sales Management Automation and CRM Software
Build a strong connection between your team and customers with workflows, pipelines and unlimited automation for your processes. Switch from high prices and weekly outages to the stable connection and affordable price with Flowlu. Unlike Pipedrive, here you pay a subscription fee not per person, but for the entire team. Plus, Flowlu is not just a
CRM
, it is an all-in-one tool that can manage all aspects of your workflow.
Integrate Your Emails and Telephony
When most CRMs allow you only
email synchronization
, Flowlu works with your telephony as well! Set up email templates, track your calls and keep all your communication in one place. Email synchronization can help you improve your pipeline by automatically sending follow-ups when needed. Set it up once and Flowlu will take all the rest.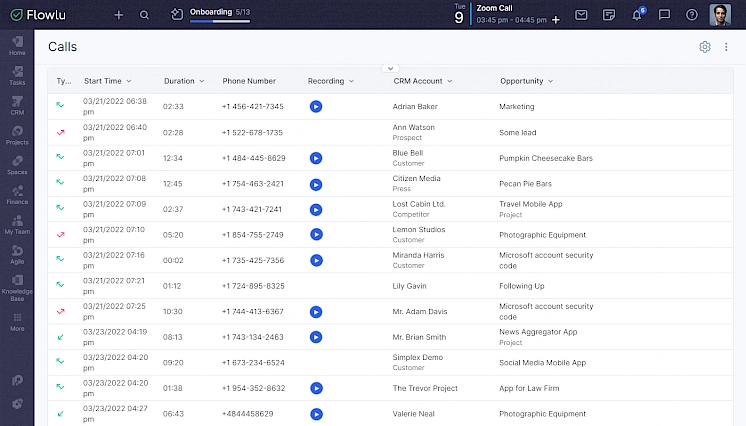 Keep Your Pipeline and Leads Visualized
Want something more than just a simple Pipedrive interface and visual tools? Flowlu can help you build a strong communication with clients, but in a more casual way —
Kanban board
. All your opportunities are in one place, organized by stages like an open book.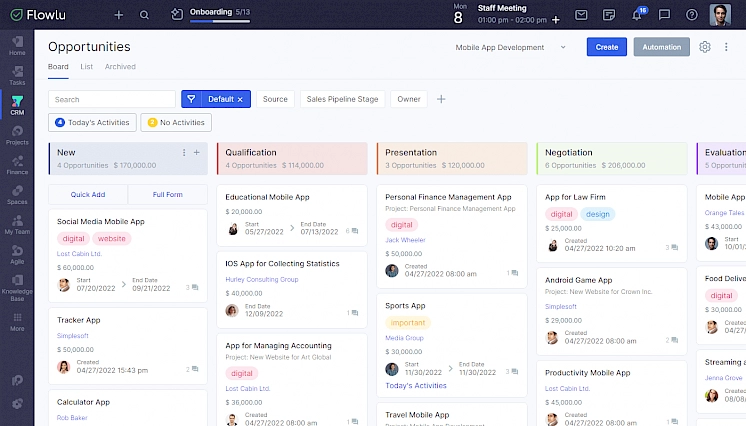 Automate Your Workflow
Give yourself a full insight of the clients' path from a new lead to a won opportunity. Create your own sales funnel, set up stages, and adjust automation rules for each stage. We don't use complicated data fields like Pipedrive does to create an automation rule, just set up a rule name, type and conditions — that's all! Flowlu has highly configurable automation rules settings, so you won't miss an opportunity.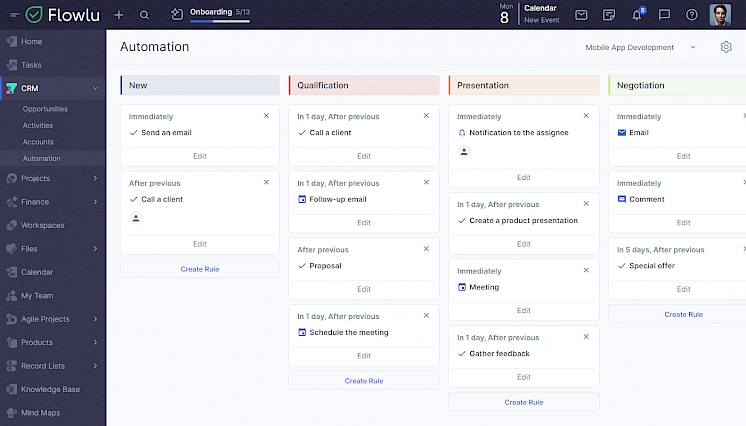 Create Сustom Fields
If the platform doesn't adapt to you, adapt it by yourself. You can do it with Flowlu custom fields. Organize your customers and communicate with an ease, just by adding missing fields in a way you want.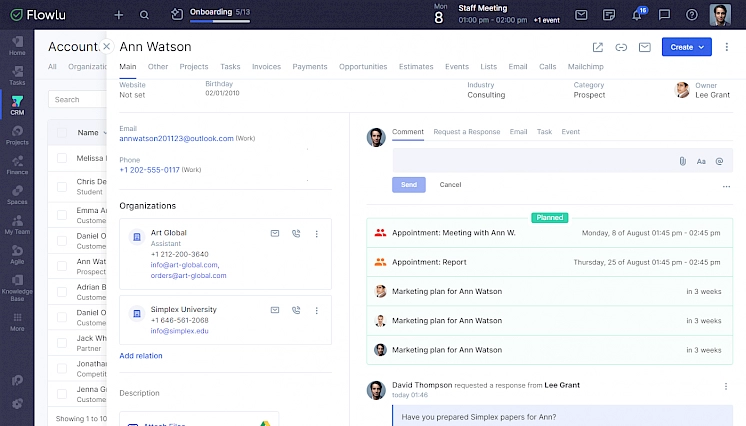 Communicate With Your Clients And Team With Ease
Flowlu can offer plenty of collaboration solutions — private and group chats, comment sections for each task and opportunity. Set up permissions and integrate your customers into the workflow with the
client portal
. Strong communication leads to better results and most CRMs can't offer it, while Flowlu can.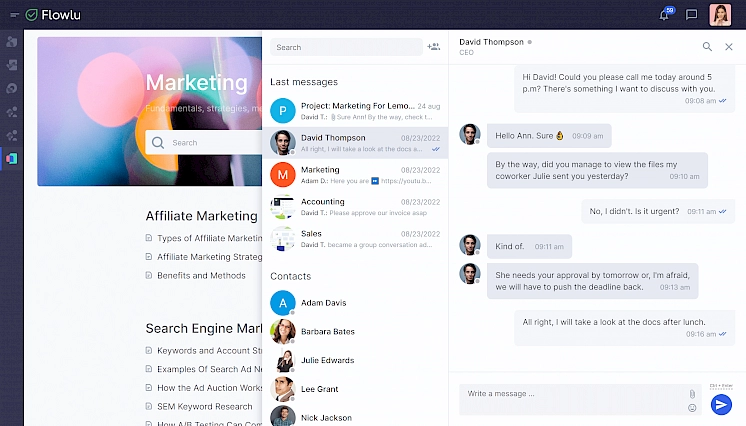 Create Dashboards and CRM Reports
Get a full picture of your progress just on a homepage. Flowlu dashboards designed for you to visualize your path to the goal, so you can organize it as you want. With CRM or financial reports, you can get a whole overview of your project. To deliver a better result, you can obtain a comprehensive review of your workflow on Flowlu with CRM reports.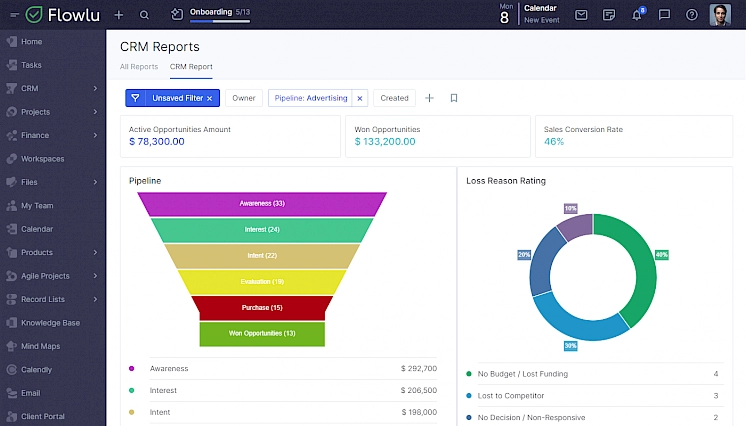 Explore Invoicing and Billing Features
While Pipedrive has to be integrated with another app for invoicing, with Flowlu, you can easily manage your invoices and estimates and connect them to CRM opportunities. Create invoice templates and let your customers pay with a variety of paying methods. To accurately estimate your efforts, there is a billing feature, so with Flowlu, you won't lose a pound.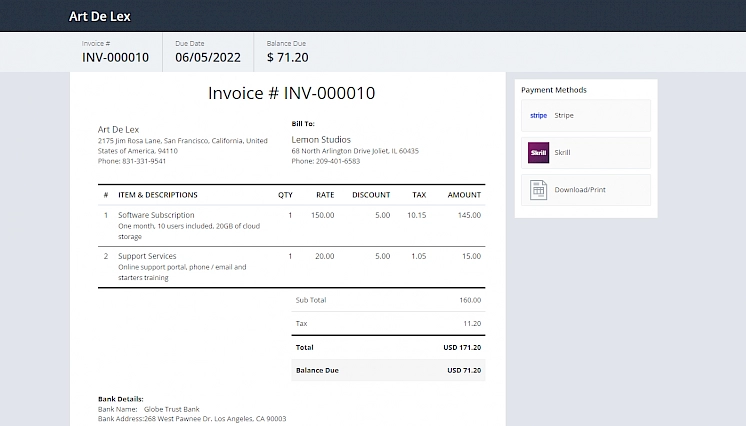 Stay Tuned With Mobile App
Don't worry about missing something when you have to go out of your office — with Flowlu mobile app, you can track your workflow wherever you are. As Flowlu is cloud-based, all your data is connected between all devices and you can easily track and manage your customers.
Keep In Touch With Flowlu Integrations
Do you find it hard to integrate your Pipedrive with other apps? Flowlu has a bunch of built-in integration solutions, such as Mailchimp, Jira, Calendly and many others. Moreover, you can add your own integration with Flowlu open API or via 3-party connectors like Integrately or Pabbly. Move from switching between apps to keeping everything in one place! Still find it hard? Our Knowledge Base and Support Team is always in touch to help you.